This was a three-day two-night cycling, wild camping and hill walking trip in the Glen Feshie area.
All in the heart of the Cairngorms National Park, Scotland.
The weather forecast for the weekend was good. The day temperatures were going to be very pleasant, and the nights warmer than in the previous trip.
Day 1 – Friday, 27 May 2016
Total distance:
16.42 mi
Total climbing:
817 m
Total Time:
03:20:52
We took the 10.36am train to Inverness at Waverley.
The train wasn't nearly as full as it had been on previous trips.
The weather in Edinburgh was overcast and humid. After Perth, it started to improve, like the forecast said.
Throughout the weekend we had a lot of sun, but at times the cloud came in and gave us a break.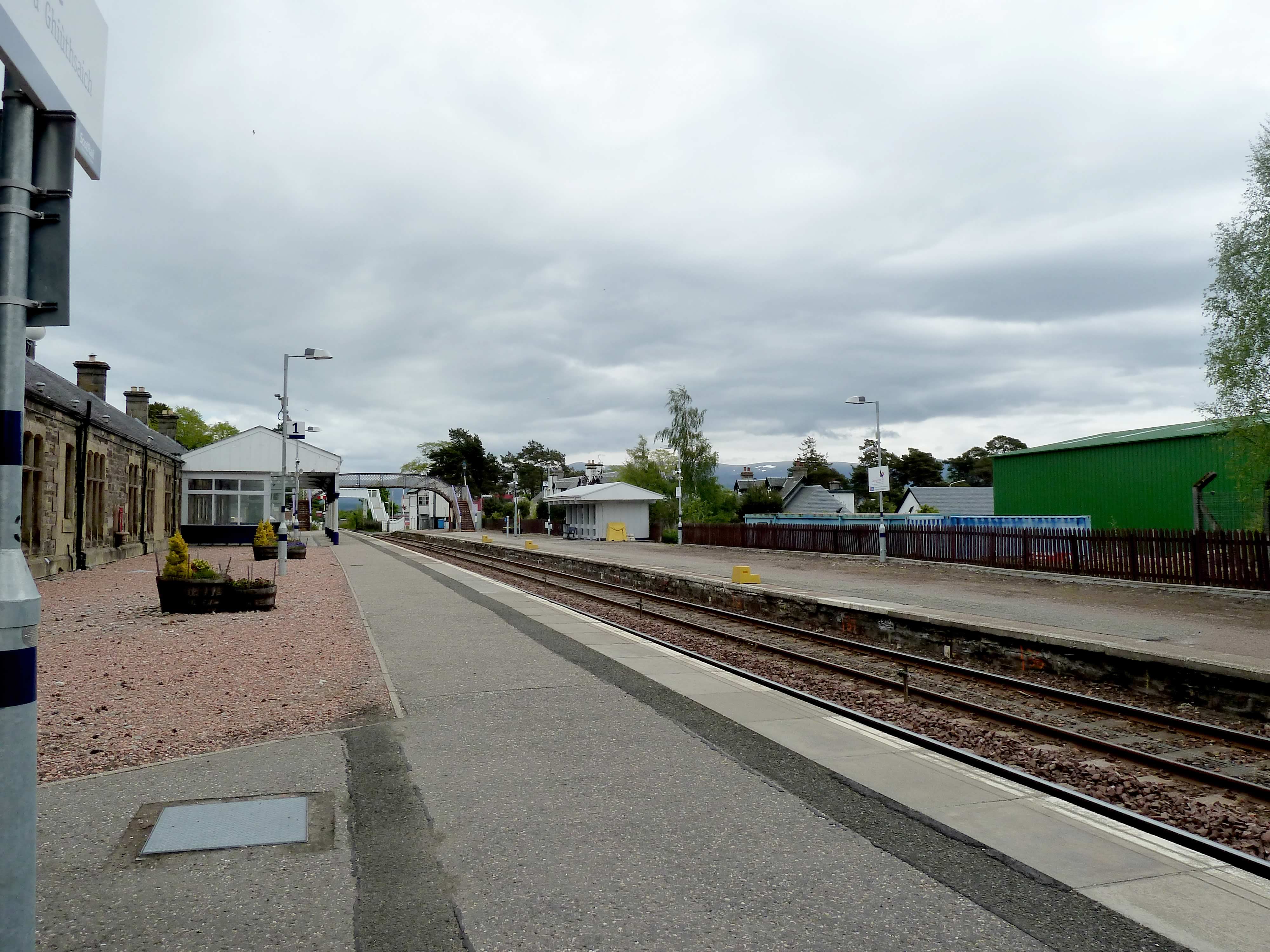 13.18 – At Kingussie station
In Kingussie, we went to the deli and bought a pie, a pasty and water. We had lunch at the park next to the deli and opposite the Duke of Gordon hotel.
We also ate the Spanish tortilla Simon had bought the day before. It was just OK.
We set off at around 13.30. We had our jackets on, but not for long.
By now the sun was shining and the temperature was ideal for cycling.
We rode past the Ruthven Barracks. There were just a few cars parked near it.
We saw quite a few cyclists on the road. Two of them had arrived on the same train as us.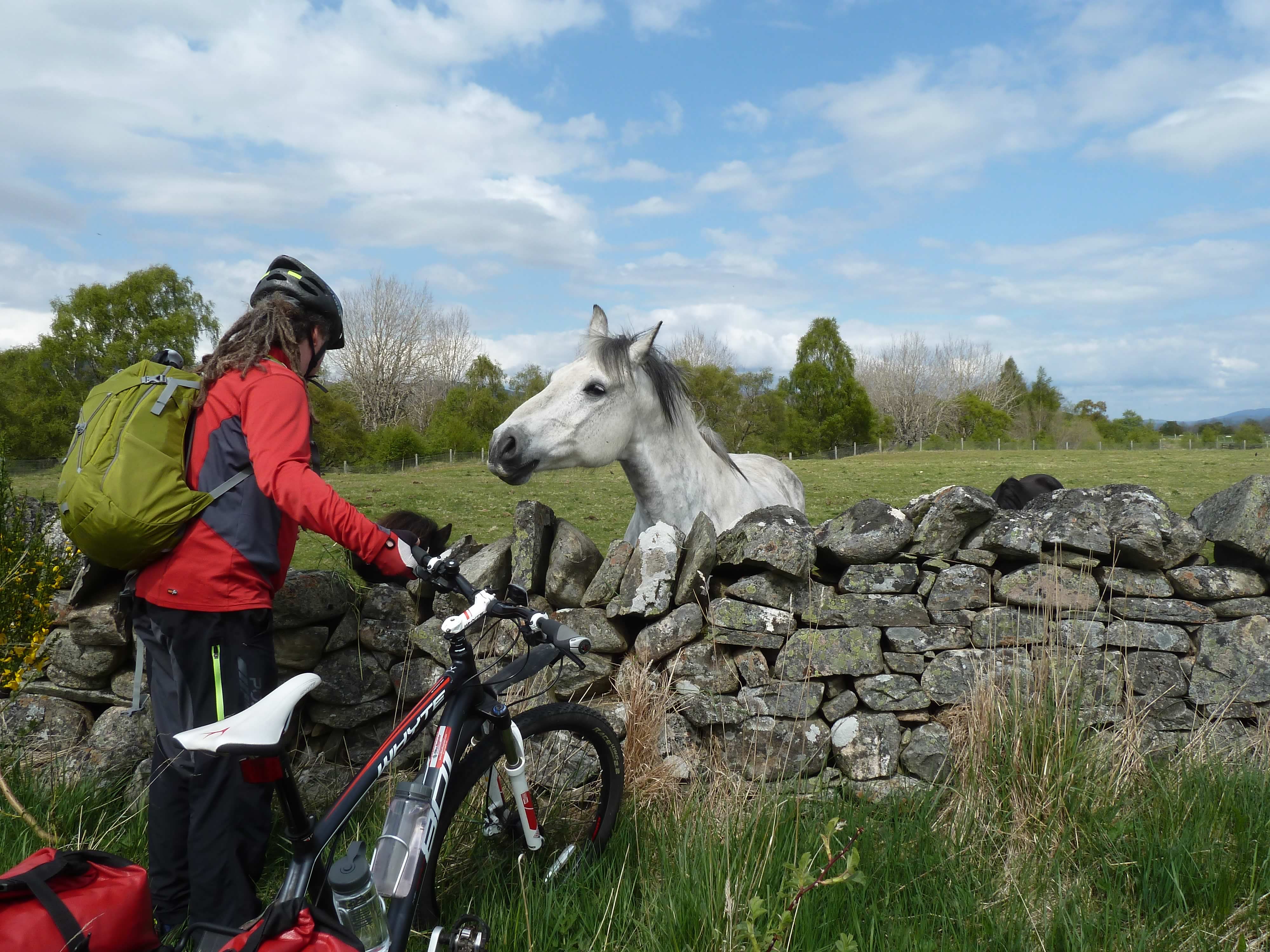 14.27 – Simon feeding the friendly horses
There were two horses: a shy black horse and a friendly white one. And there was also a Shetland pony.
Here we took our jackets off. It was starting to get fairly warm.
At Insh House we turned south and headed for Glen Feshie.
Simon had no bar bag, so I had the map. I'm starting to figure out how to read those things.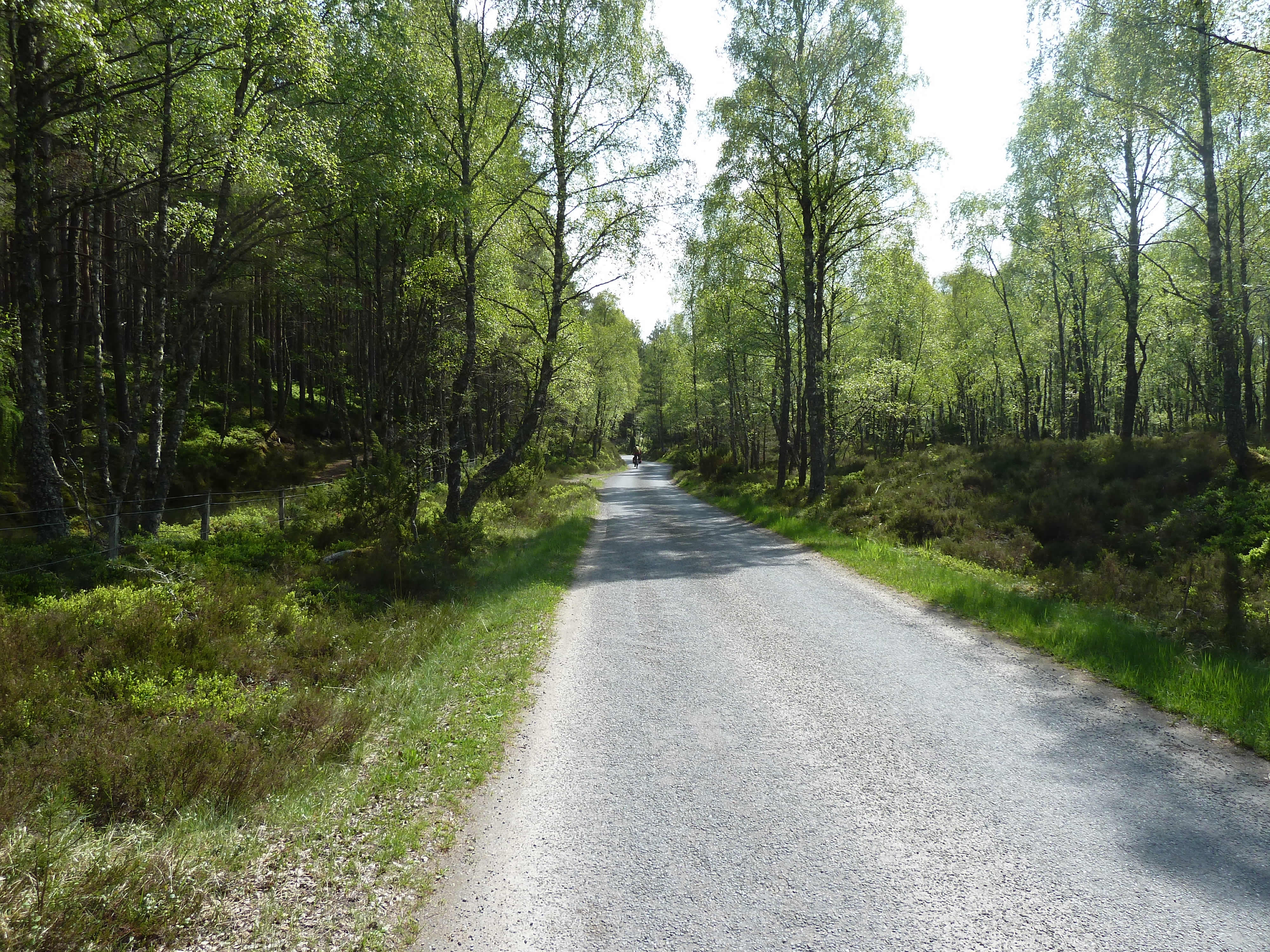 15.06 – Simon without a care in the world
We got to Glen Feshie. Still on tarmac, we rode past the farm house that's on the other side.
On our side, we cycled past the holiday cottages. They looked empty.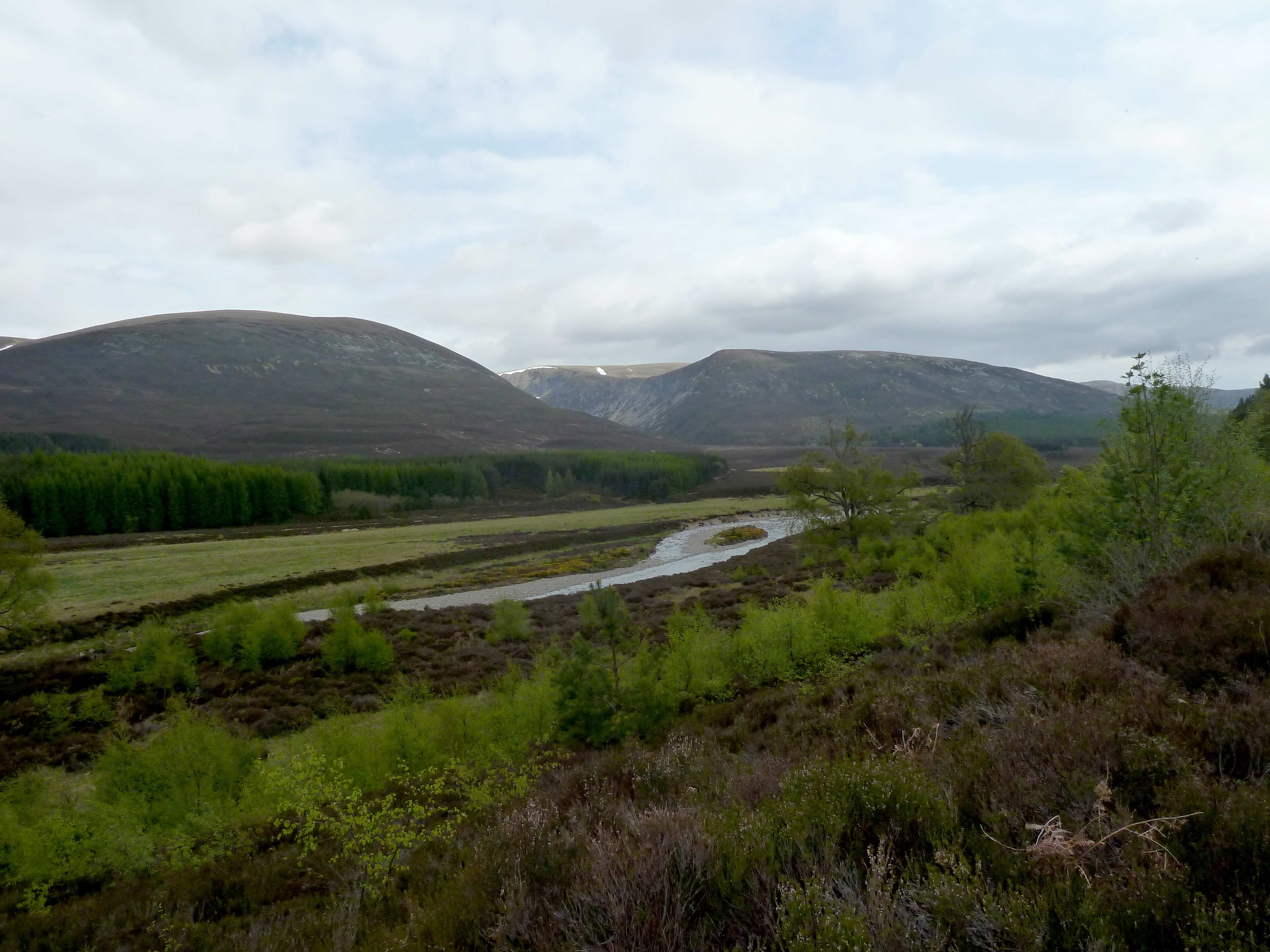 15.53 – Glen Feshie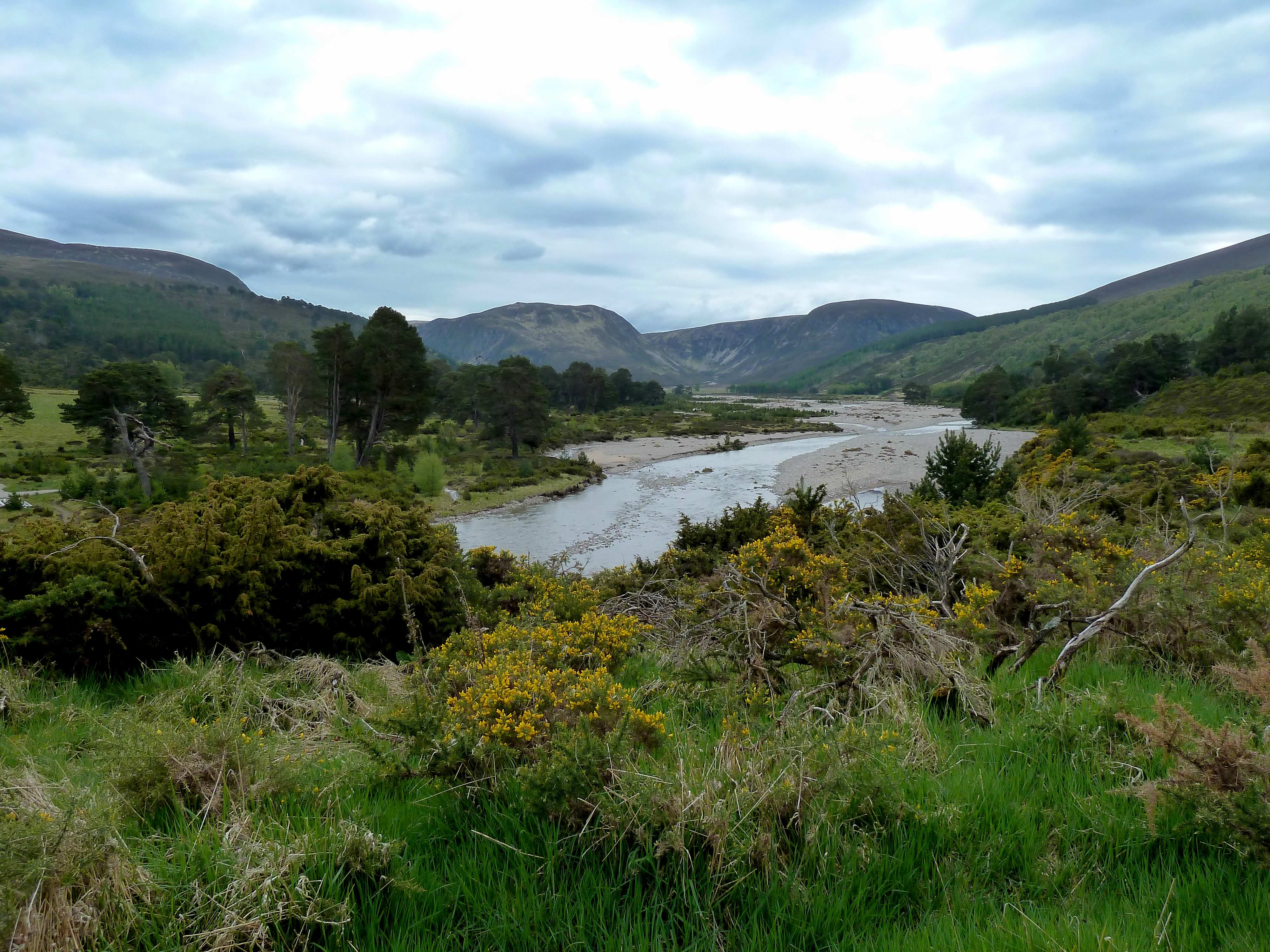 16.15 – The river Feshie, quite low
Eventually the tarmac finished and we continued on the stony path.
From Kingussie to Glenfeshie Lodge is a fast ride. It only takes about 2.5 hours.
Here, the flat path is fine. And this time I found it much easier than last time we were here a couple of years ago. Somehow the stones seemed smaller.
By the big tree at Ruigh-fionntaig (ruins), we turned right and uphill, towards Lochan an t-Sluic.
The first part of the uphill is quite steep. So we pushed our bikes. Then it flattens out a bit, and then it gets really steep.
Simon had to help me push Bumblebee up the last part of the path. I can't believe I was carrying all that weight.
It took a bit to find a dry and flat spot for the tent.
Eventually we set up camp by Lochan an t-Sluic. It was an idyllic spot.
As we arrived, we scared away two ducks that are living on the lochan. The grouse were coming and going, making their usual noises.
There was a stream coming down the hill and into the loch. The water was crystal clear and tasted great.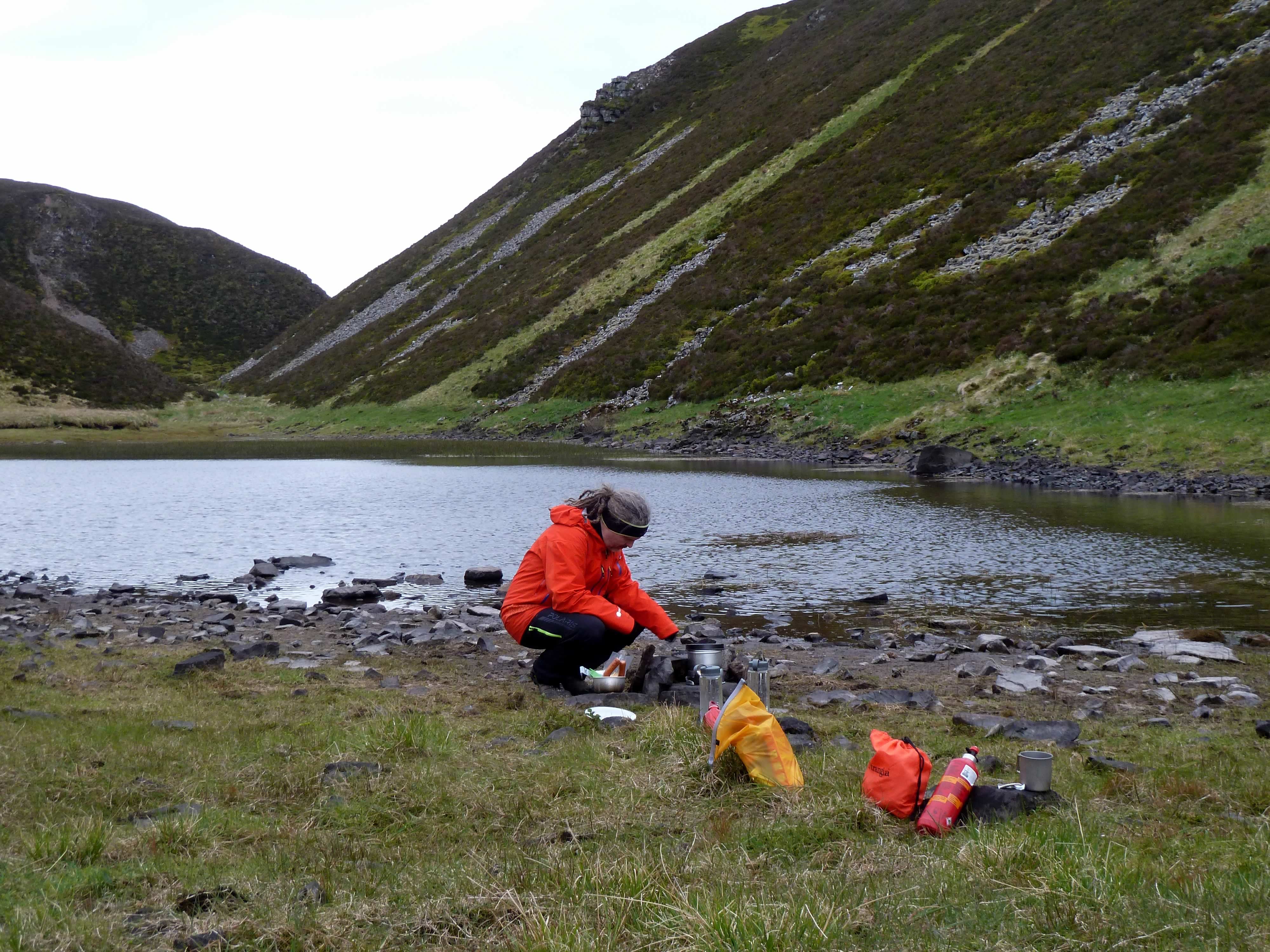 19.17 – Simon cheffing a surprising dinner
We brought two packets of dry pasta with dried cheese sauce: the finest of Scottish fare.
While I was inflating the mattresses and preparing the tent, Simon cooked the pasta and added sliced sausage to it, moving us into gourmet territory. That was the first of three large sausages we had on this trip.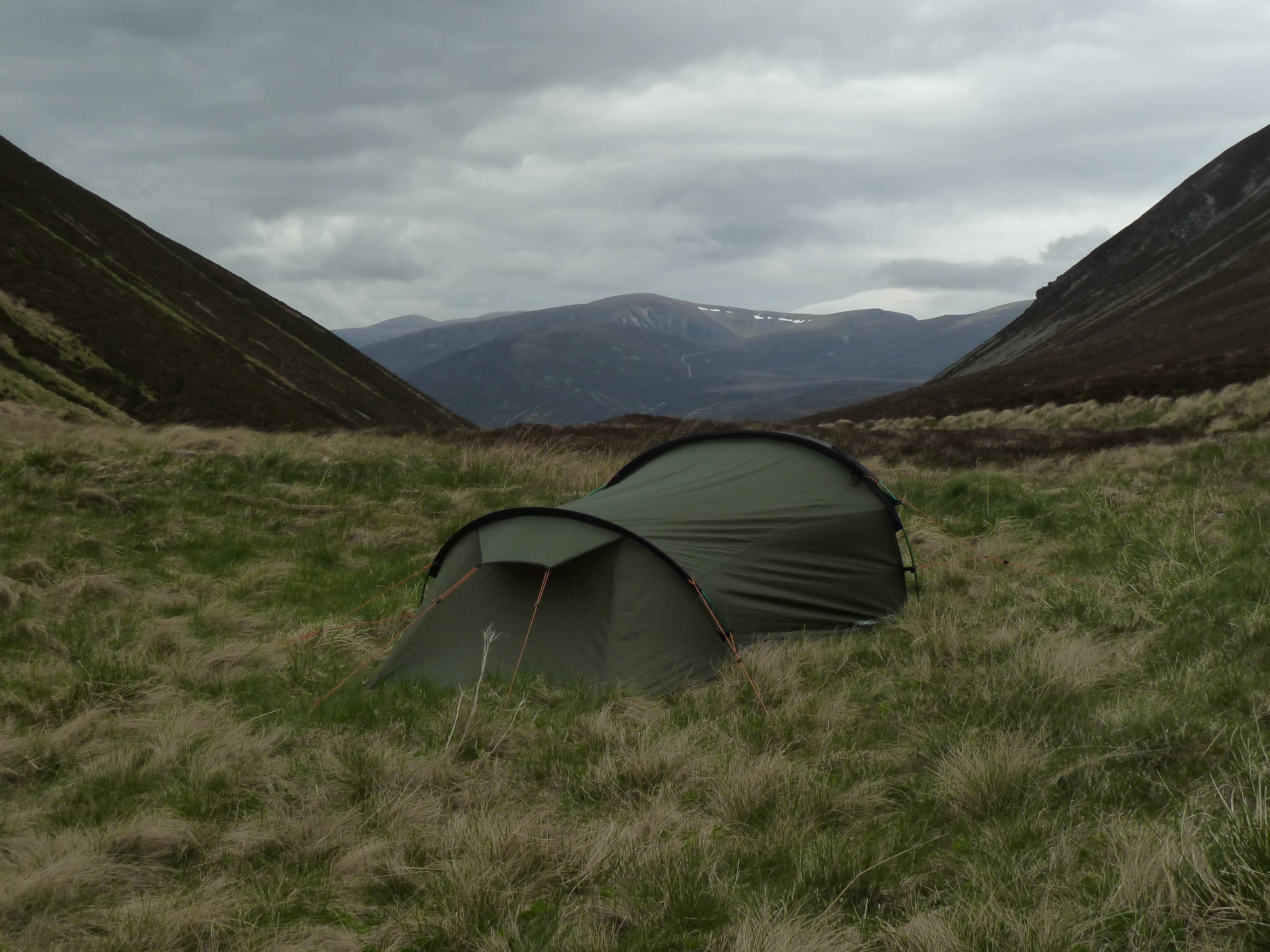 19.18 – Our beloved second home
I didn't see it, but apparently the Trangia got overexcited and suffered a partial meltdown while the pasta was cooking. We're now waiting for a replacement windshield to arrive. We need to devise some sort of shield to stop the flame being fanned by the wind quite so effectively.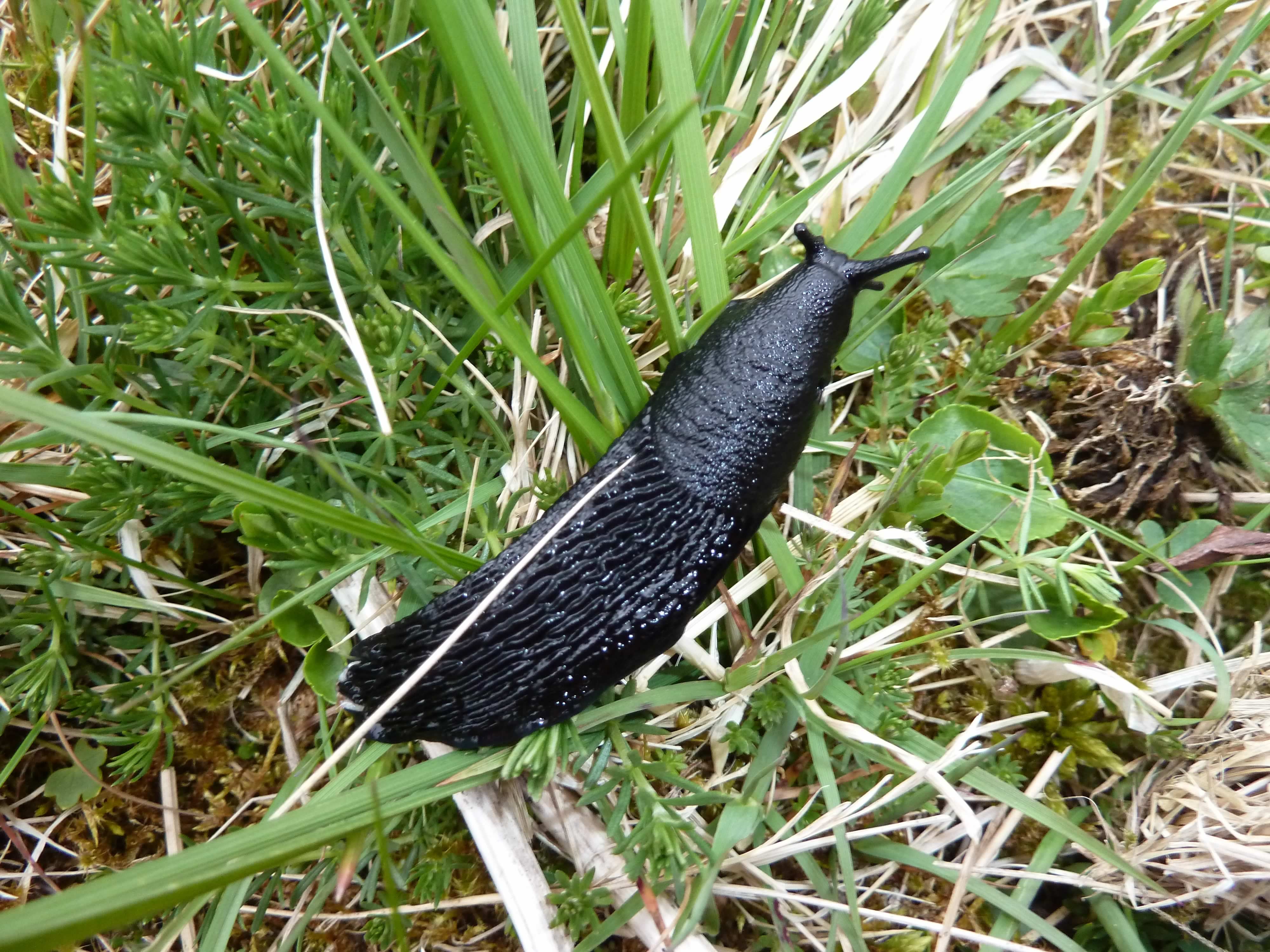 19.35 – A European black slug (Arion ater)
In spite of the incident, we found the new menu pretty good. We both agreed it was repeatable.
Soon after dinner the wind dropped off completely and the lochan looked like a mirror.
We went to bed at around 9.30pm. The ducks came back as soon as we went inside the tent.
I read a few pages of Cela's "Café de artistas". Simon sat on the vestibule for a bit and read The Week – which was by then a few weeks old.
After he came in, there was a bit of rain on and off. Not much. It always sounds more dramatic when you're inside the tent.
The night was a bit cold, but nothing like in the previous trip. We both slept well.
We had a long day ahead.
Day 2 – Saturday, 28 May 2016
Total distance:
13.18 mi
Total climbing:
1157 m
Total Time:
11:44:27
This was the big day. We were going to attempt several hills. We weren't sure how many miles we'd do. We hadn't dared measure the distance.
We got up just after six. The weather was gorgeous. There was no wind, the sun was shining and the temperature was very pleasant.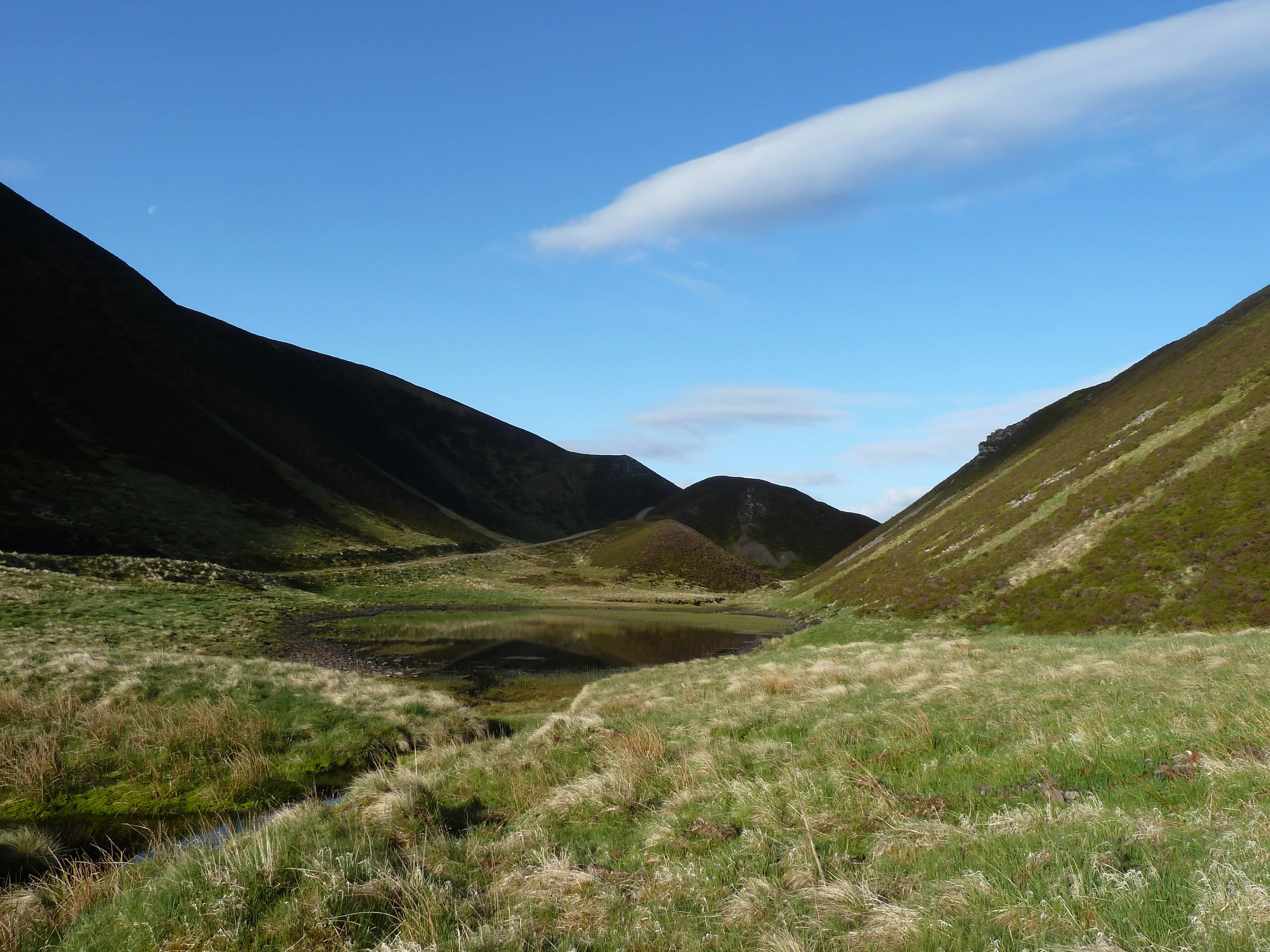 7.23 – A glorious early morning
We decided to have breakfast on the way. So we took plenty of sandwiches and other food.
Simon made himself some coffee with powdered milk and water in one of the bottles. It worked well.
We set off at around 8.10am. We went up the path.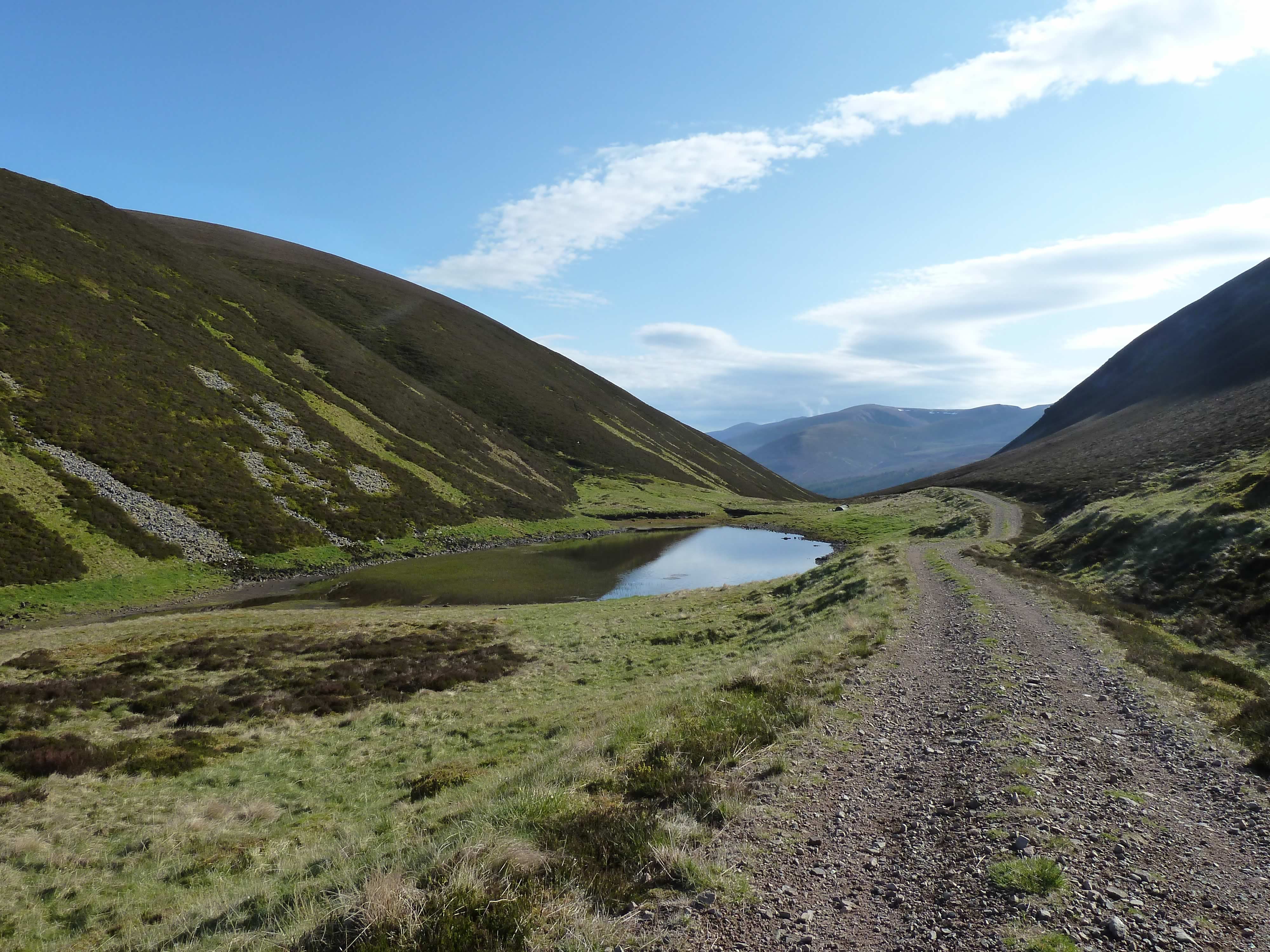 8.17 – Our camp from further up the road
We headed southwest.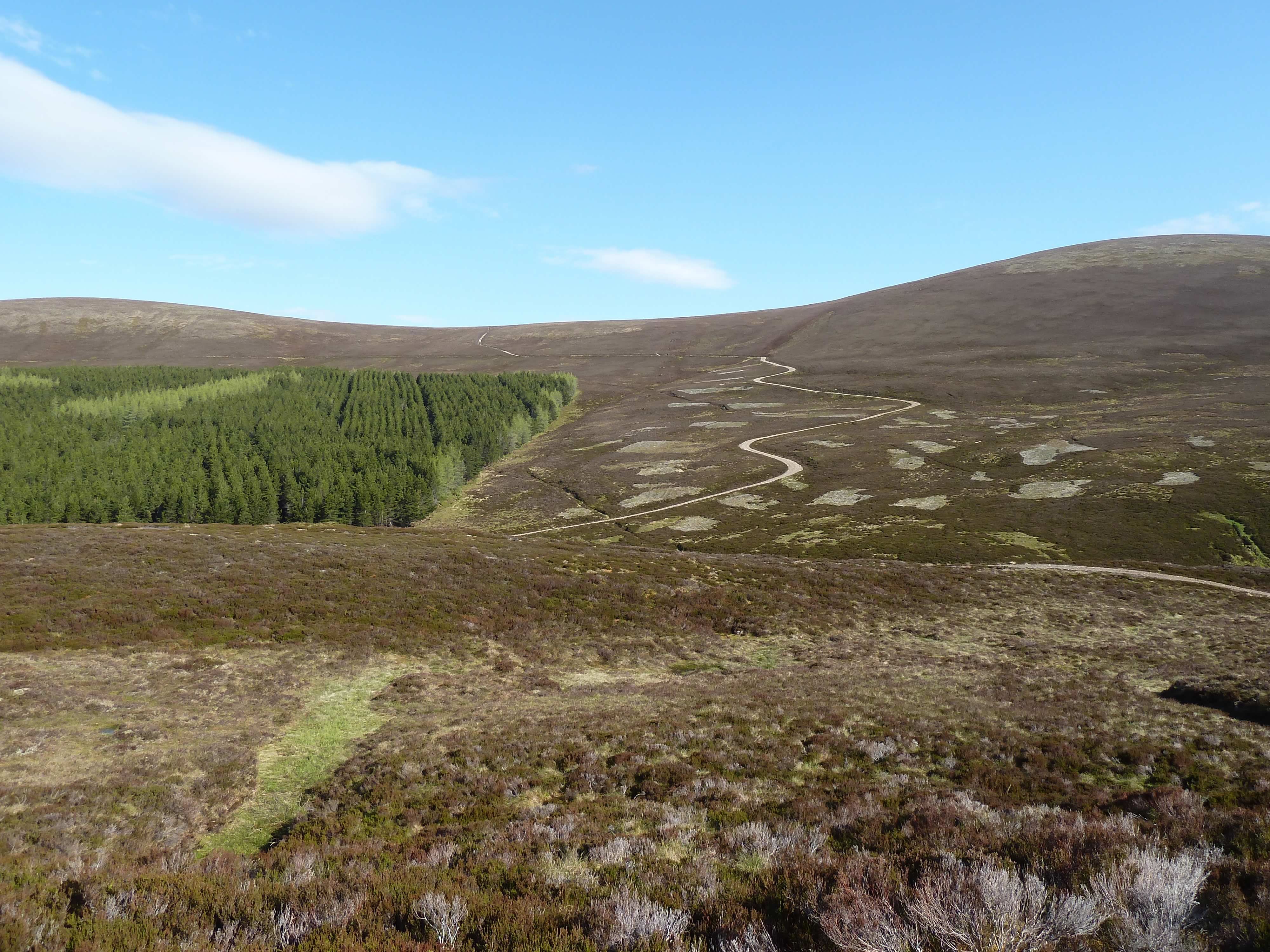 8.24 – Our breakfast spot
We had breakfast at 8.30am.
We shared some sandwiches: cheese and tomato, and tongue. As an experiment, Simon had made the sandwiches with gluten free bread. I don't think we'll be buying it again any time soon.
Just before leaving the camp I had filled the bottles with spring water. We were going to put rehydration tablets in them, but the water was so nice that I suggested we drank it straight.
It was a mistake that later in the day would cost us a peak.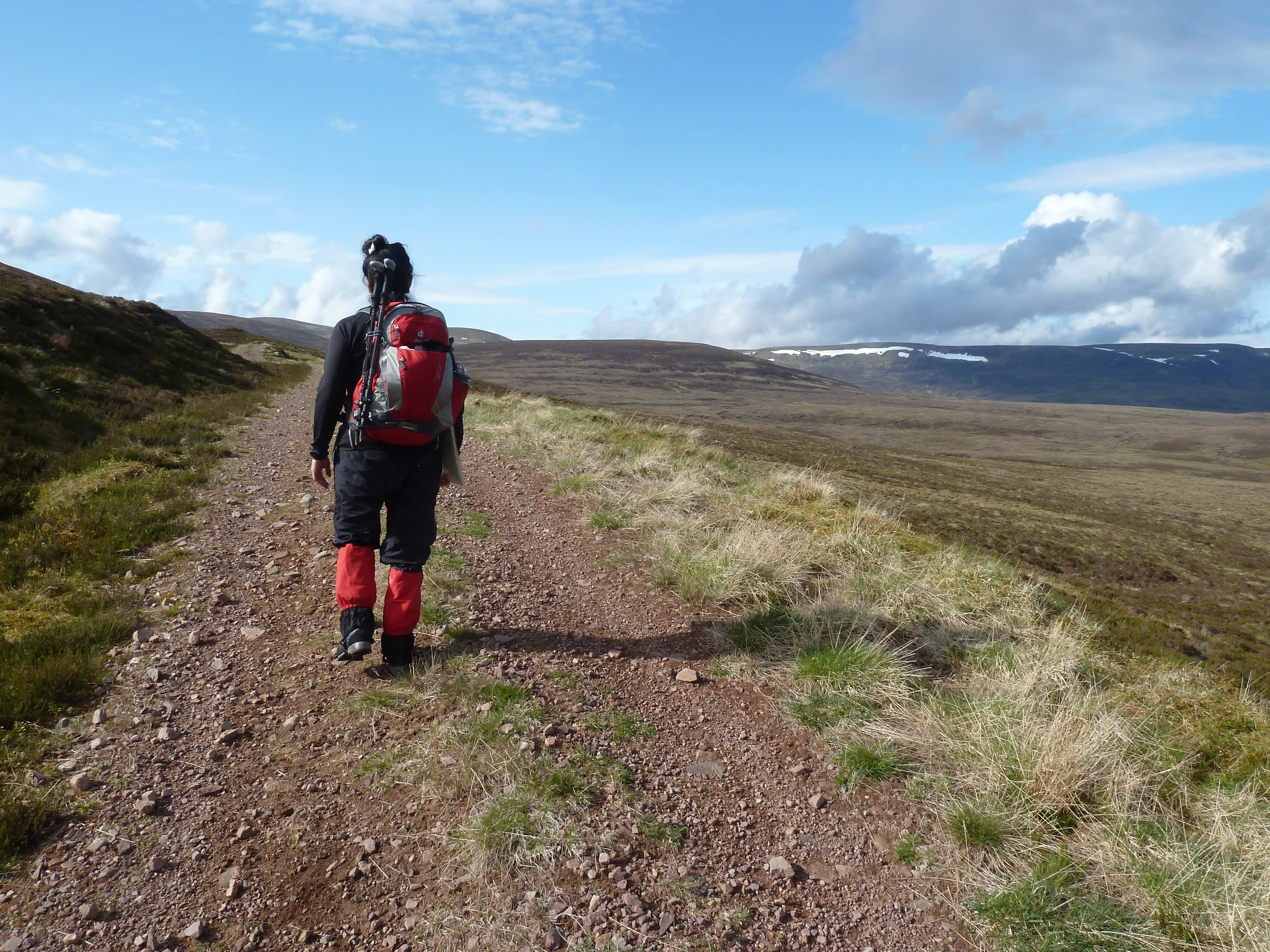 8.55 – Maria fully energised & on a mission *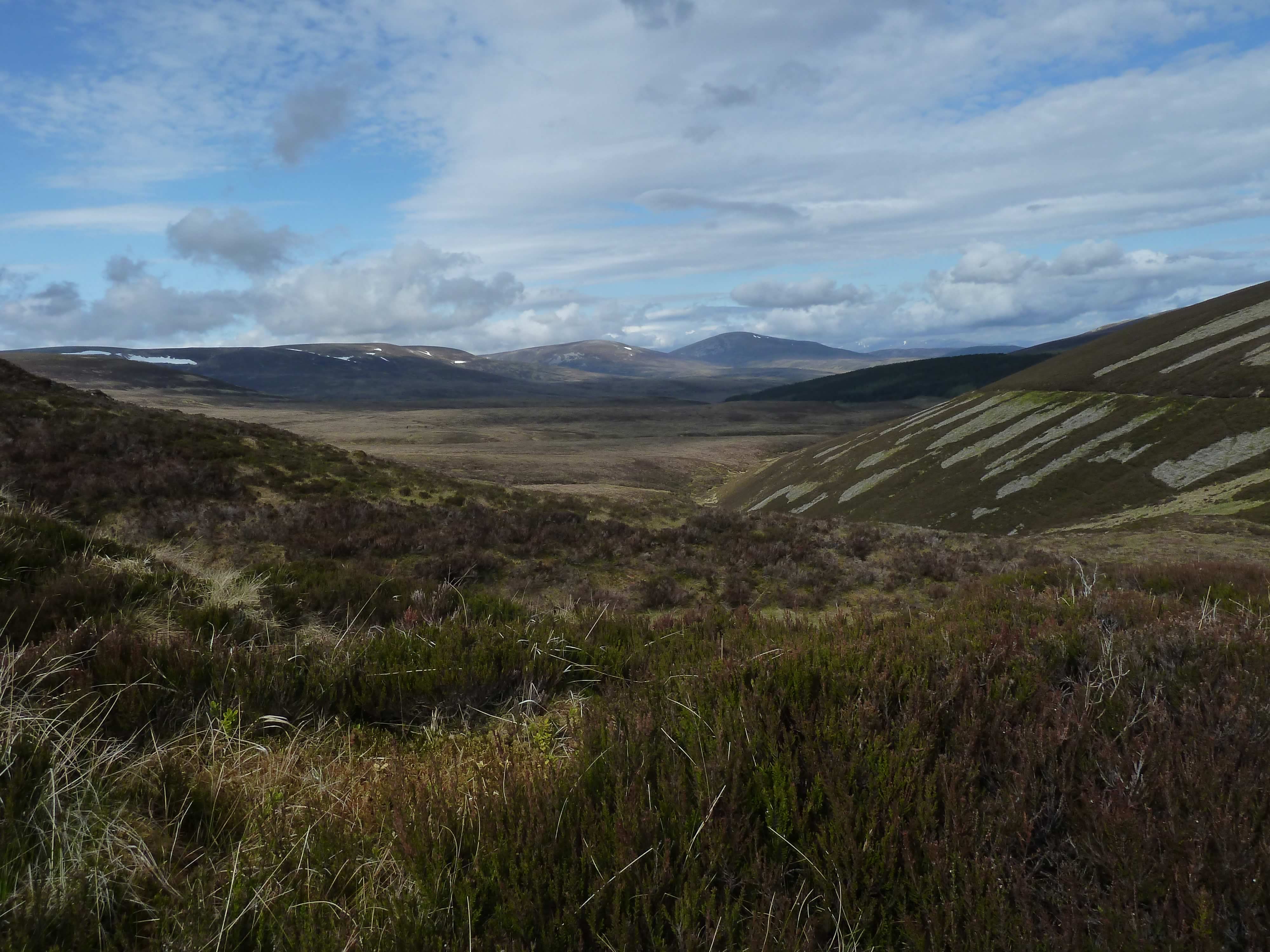 9.11 – View looking north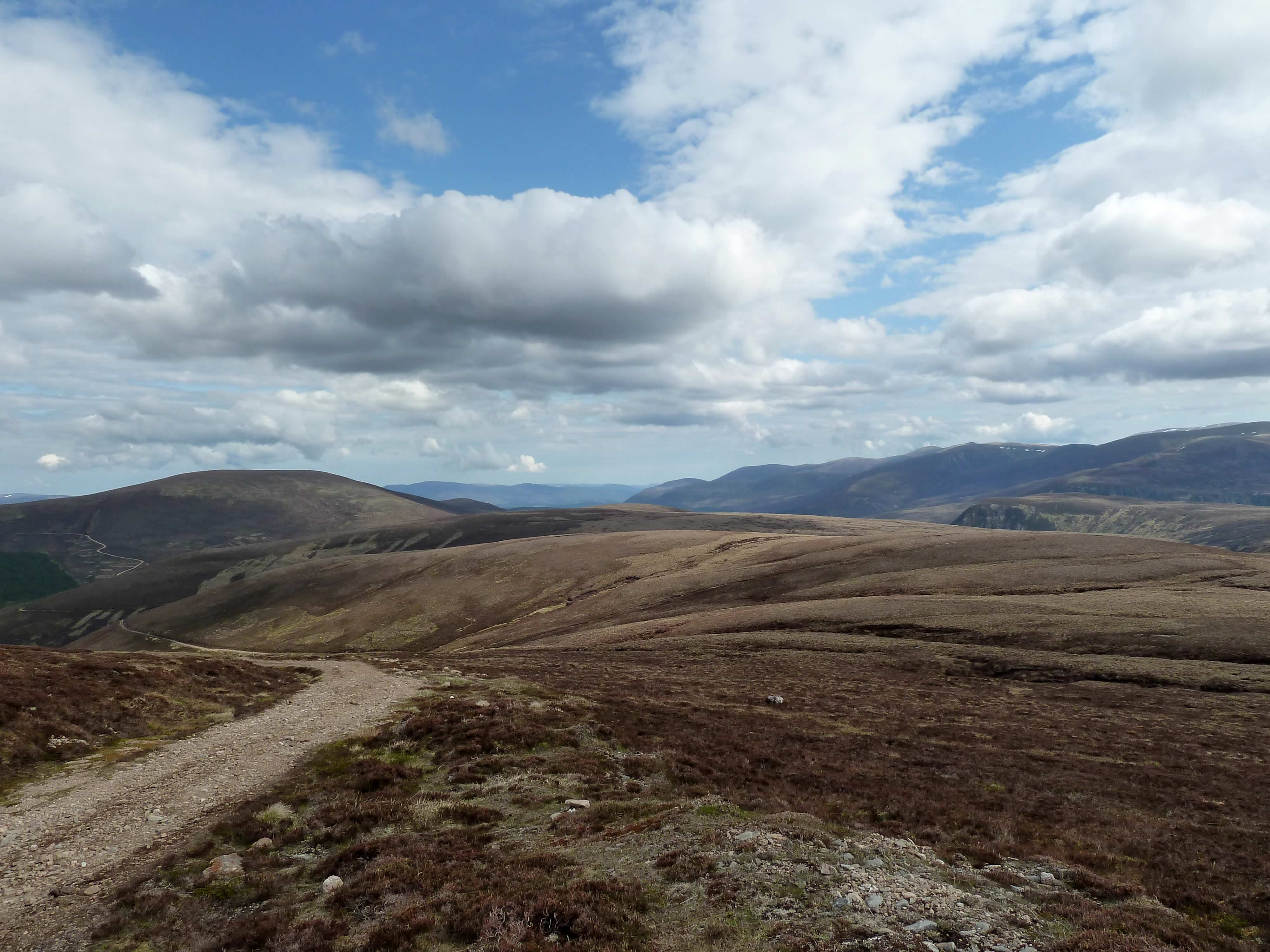 9.48 – nearly at the top of Meall an Uillt Chreagaich, looking north to Carn Dearg Mòr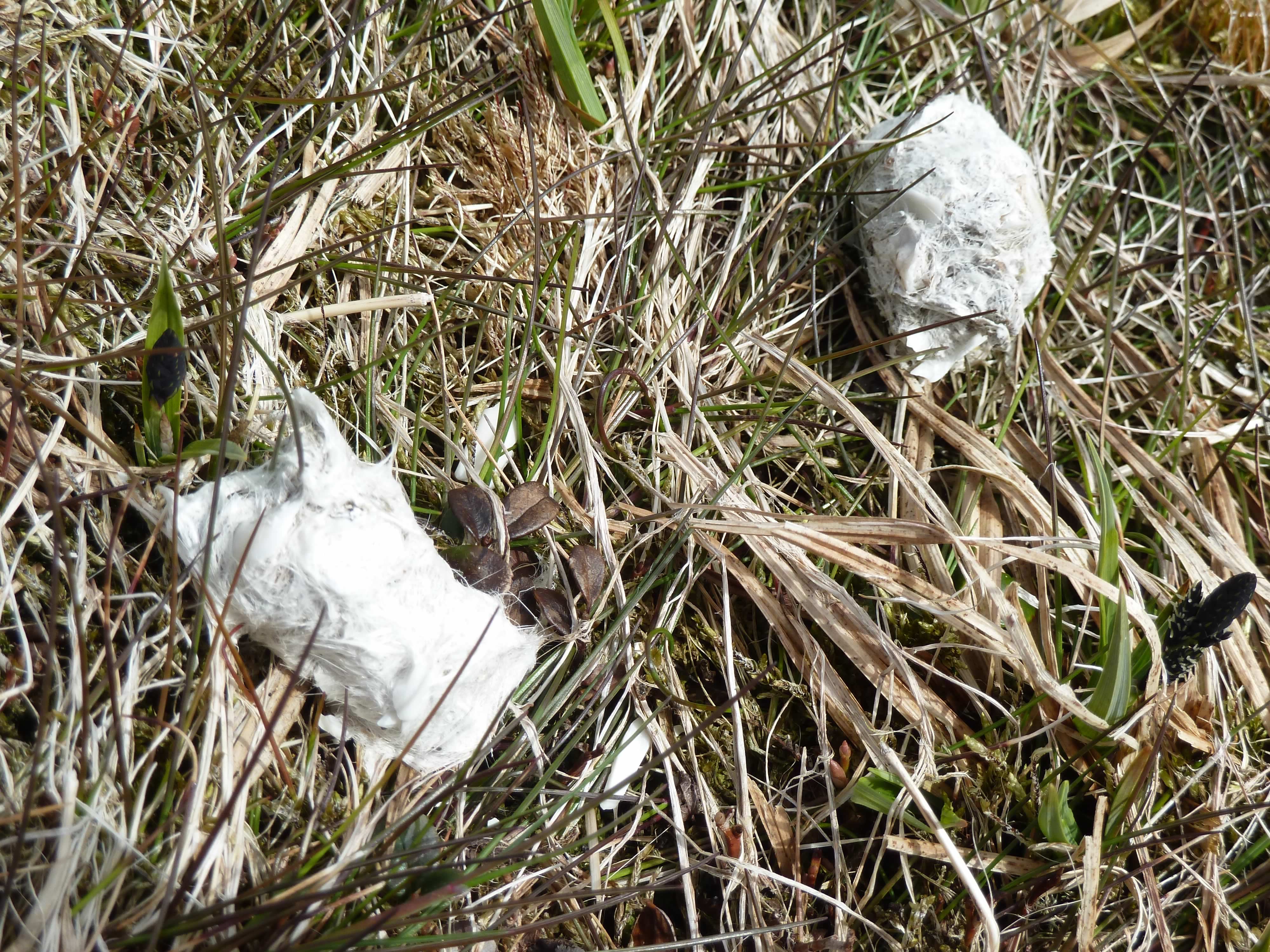 10.01 – bird of prey scat?
We continued on the path at a good pace, and reached the top of Meall an Uillt Chreagaich soon after 10am. It was our first top of the day.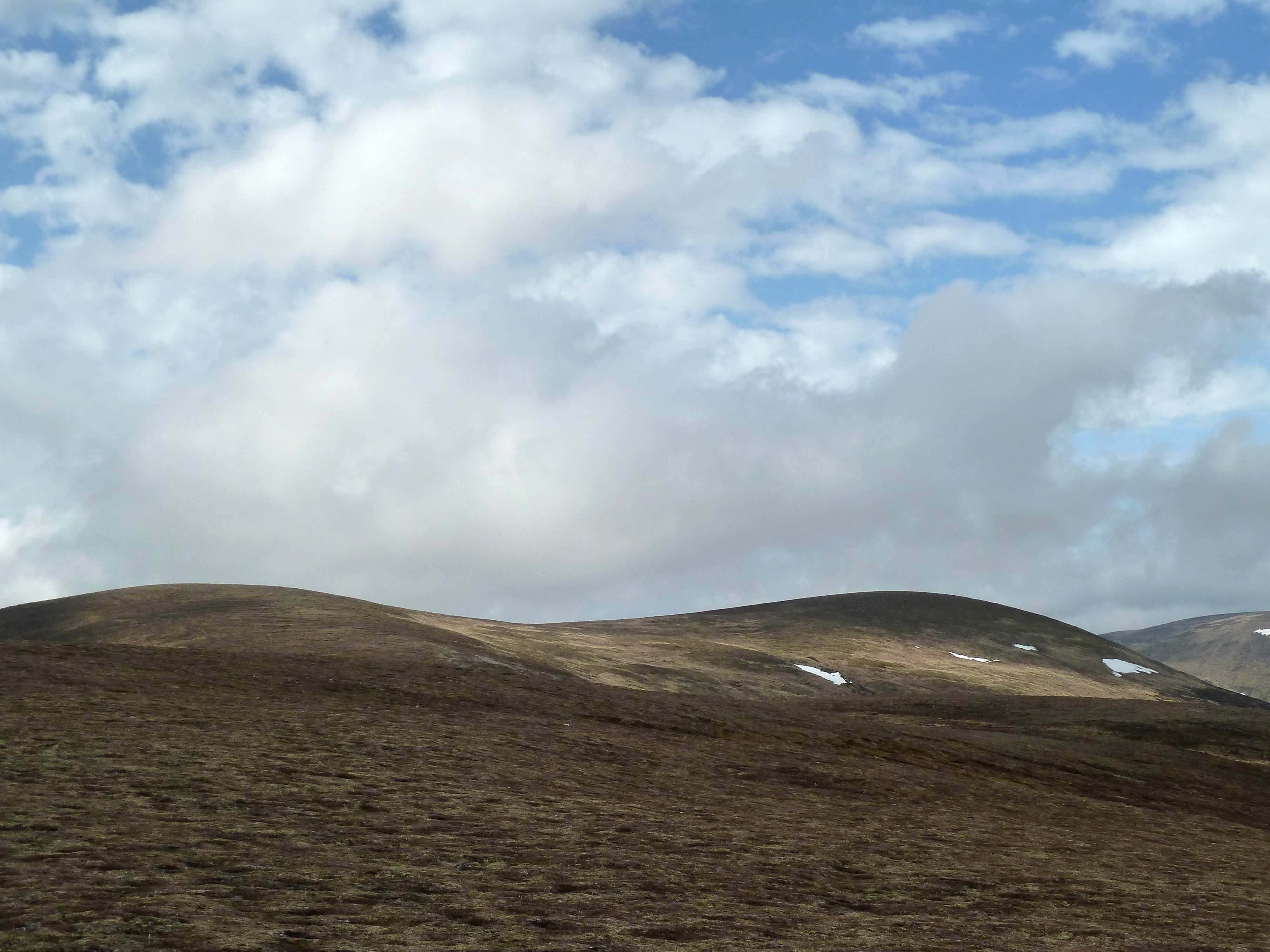 10.02 – looking from Meall an Uillt Chreagaich towards Leathad an Taobhain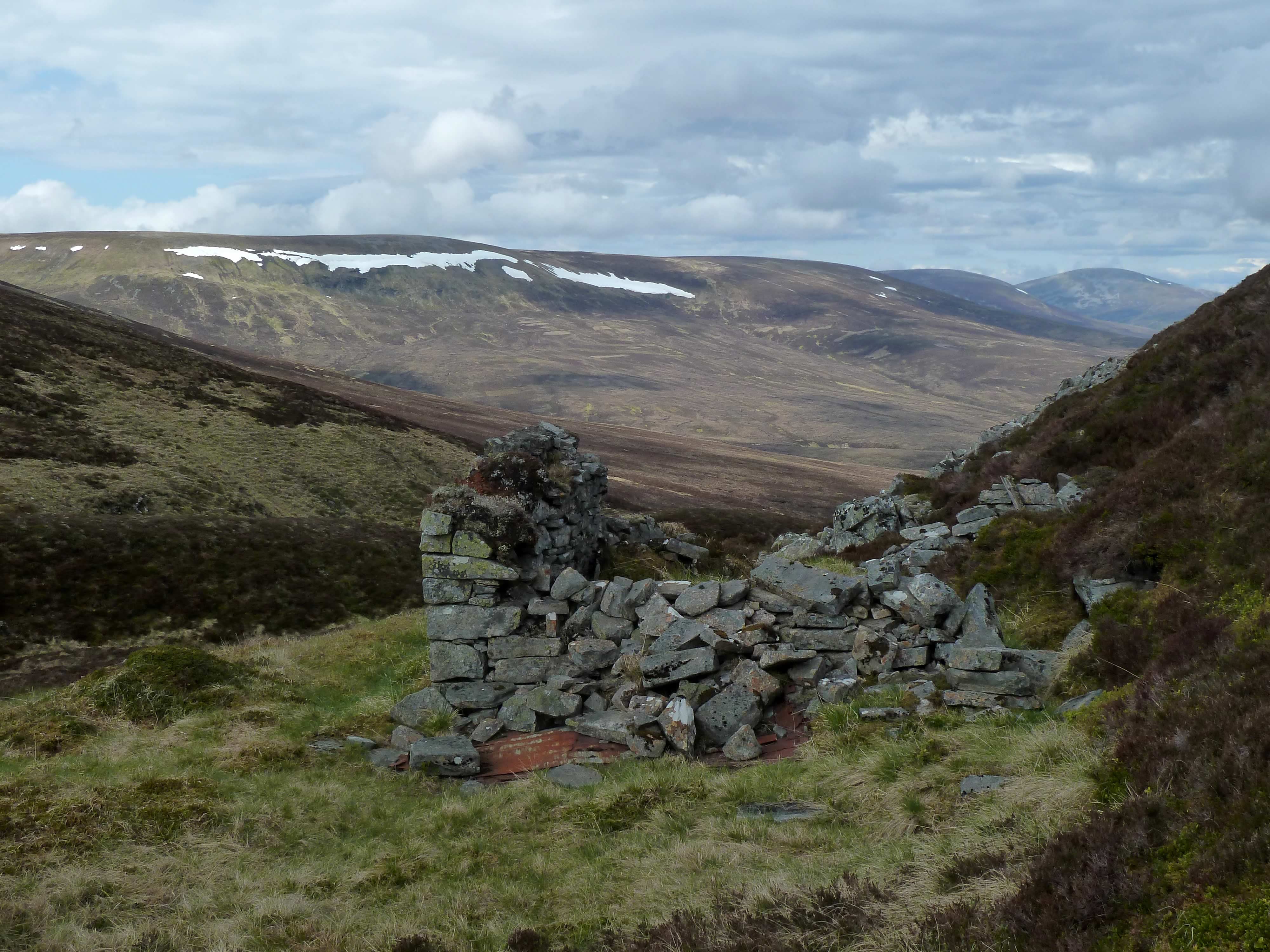 10.30 – Ruins on our way to the next peak
We then went down and up towards the next summit, Leathad an Taobhain (a Corbett).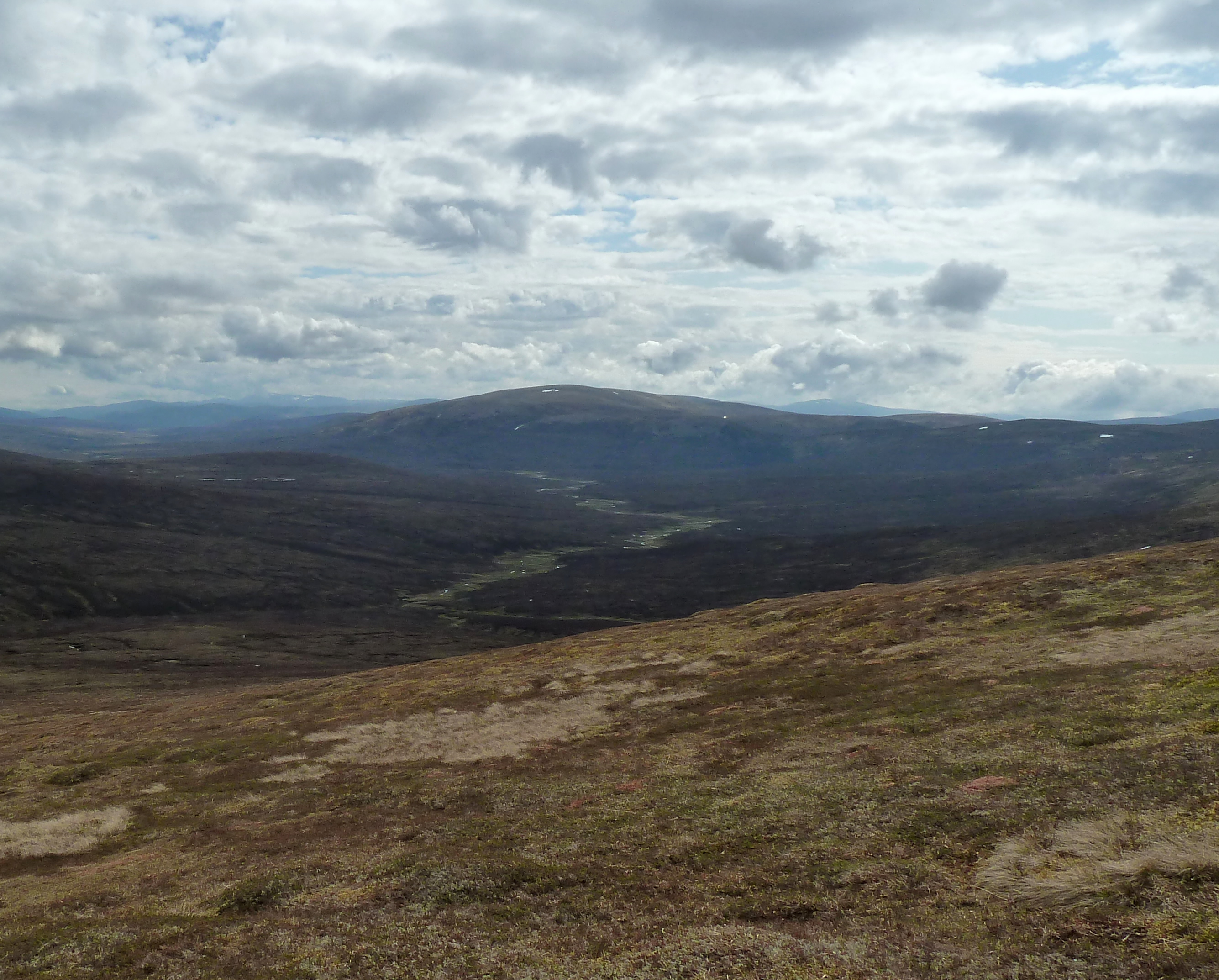 10.55 – Source of the river Feshie
We reached the top just after 11am.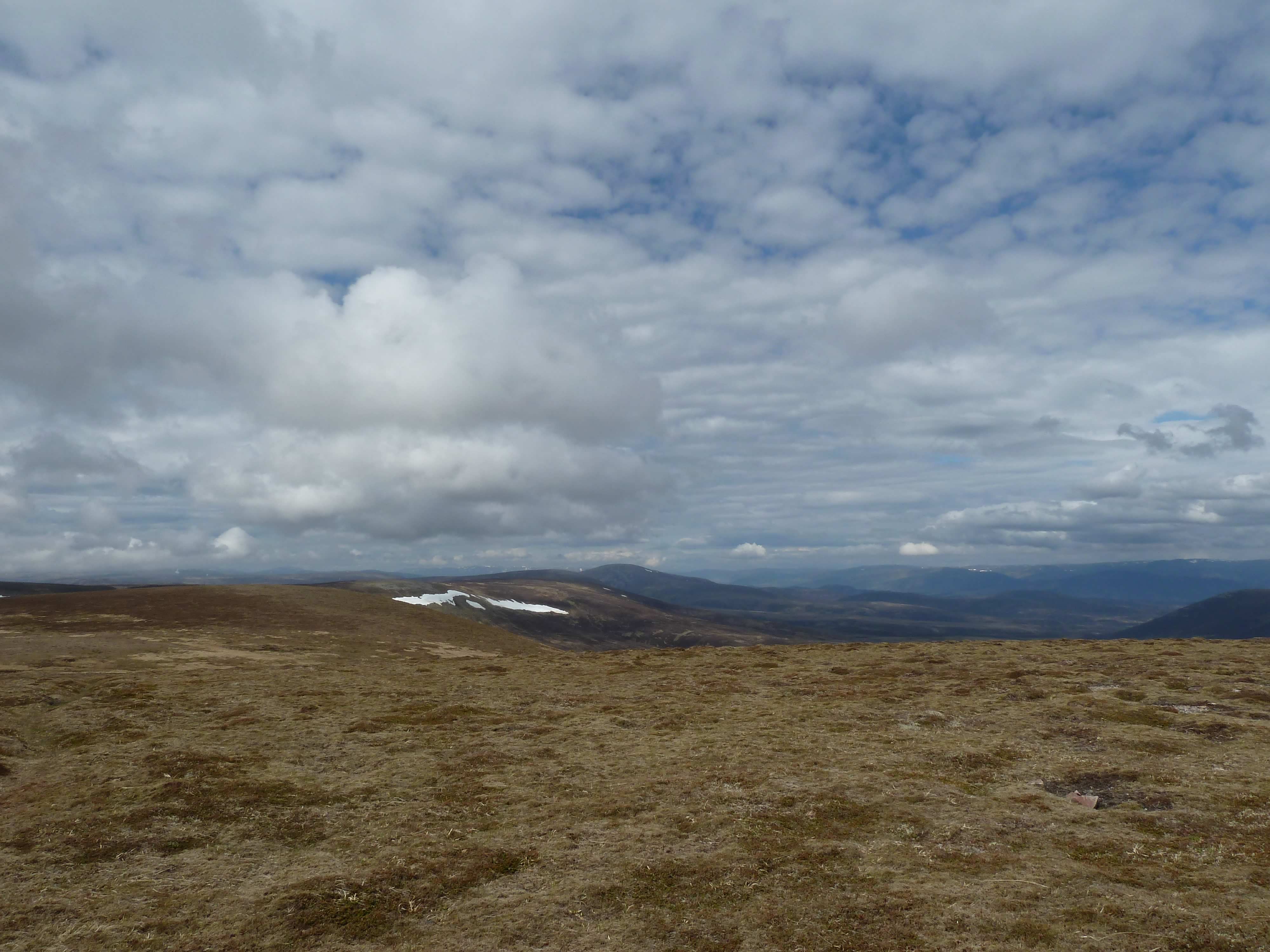 11.07 – Our second summit, Leathad an Taobhain
It was a very flat top with spectacular 360º views, including towards Cairn Gorm.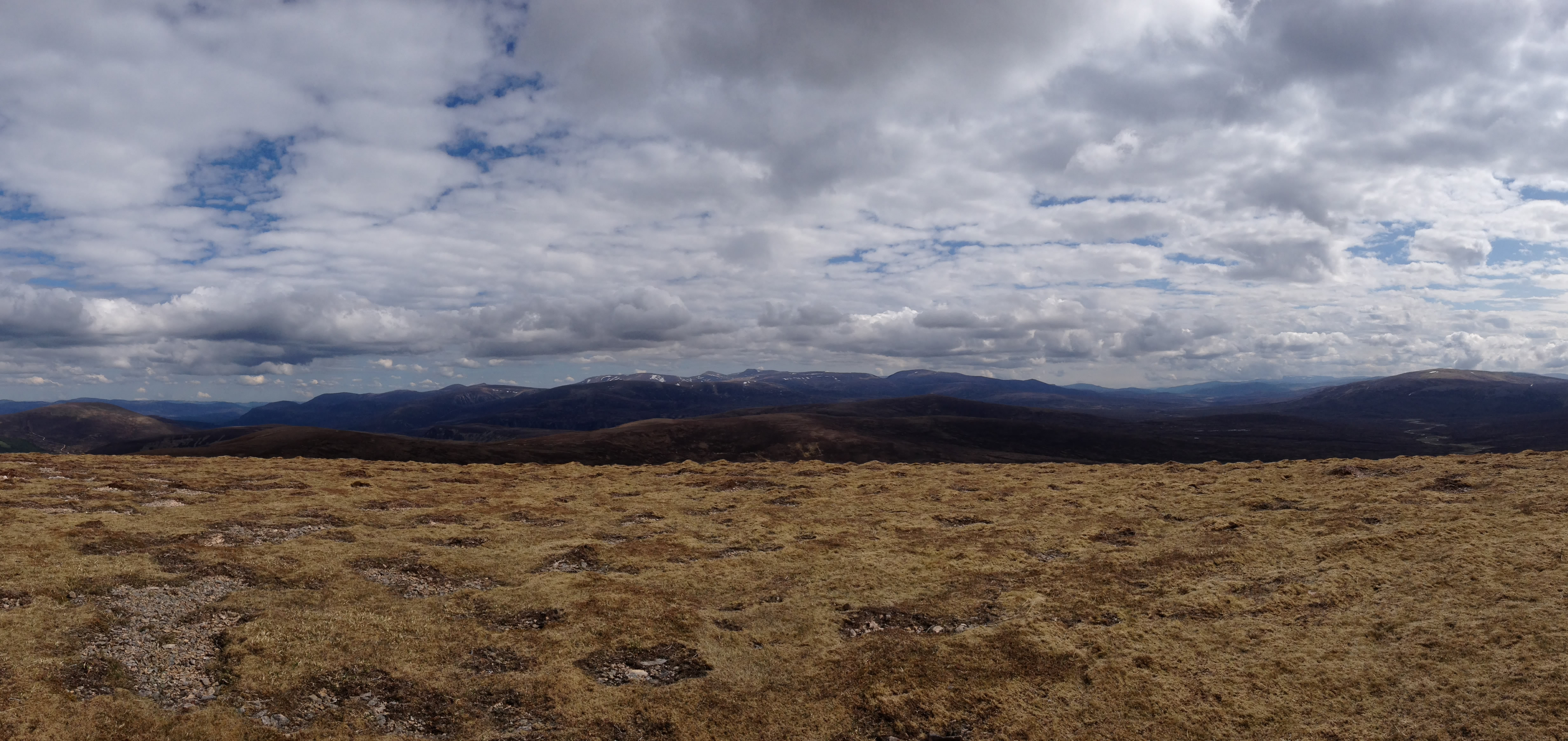 11.07 – The Cairngorms from Leathad an Taobhain
At 11.30am we were both hungry again, so we ate some of the unexciting sandwiches. And the Bakewell tarts. They were gluten free too, but not nearly as sad.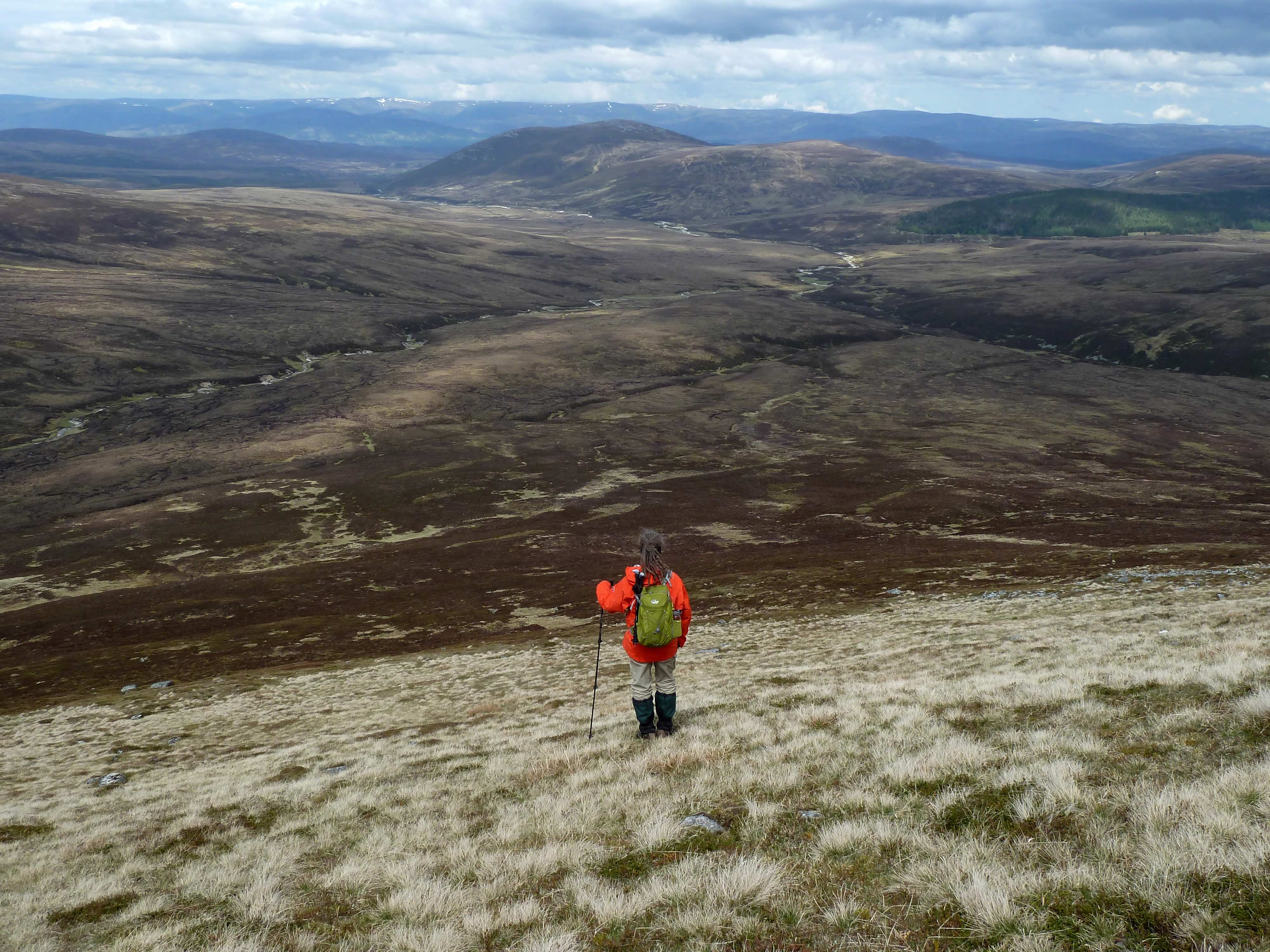 12.13 – Simon, majestically surveying the landscape
We left the summit and headed northwest, down the steep hillside. Eventually we picked the Minigaig track, which we then followed north.
The track wasn't easy to follow because it was boggy.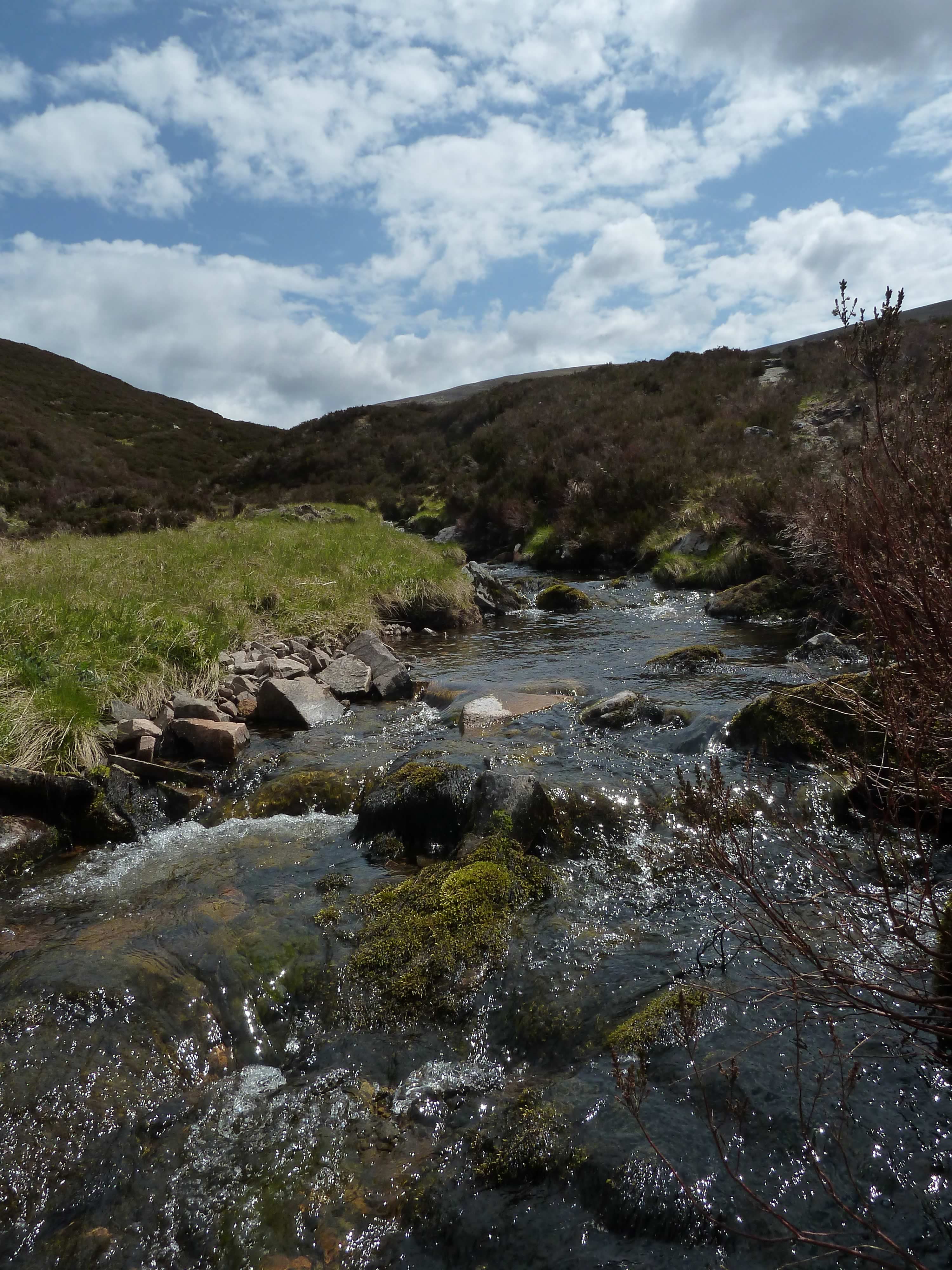 13.11 – Alltan Creagach
We stopped by this beautiful stream, Alltan Creagach and filled up the bottles. The water was the clearest and cleanest we've ever had.
We followed it downstream, and then forded Mas-chaochan.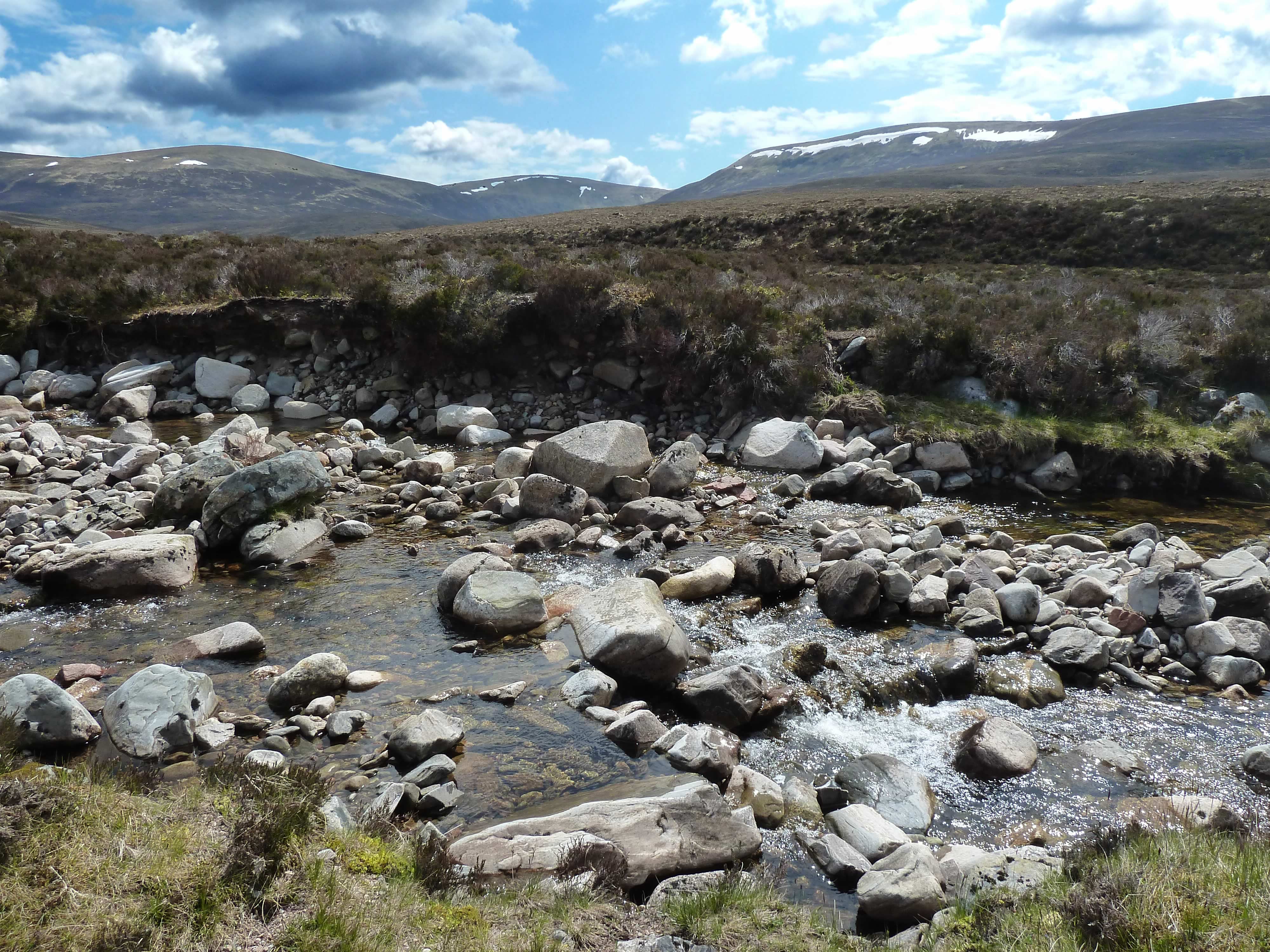 14.11 – One of several fords of the day
And forded it again a few hundred metres downstream. I crossed this ford using a new technique: instead of measuring every rock and calculating every step, I just went for it.
I reckoned you can only get so wet if your foot's in the water for a nanosecond.
A few minutes after expressing my disappointment at the lack of frogs, the little creatures started to appear everywhere.
14.15 – Our first frog of the day
I have to find out how many different species there are in Scotland. Throughout the afternoon, we saw frogs of all colours and sizes.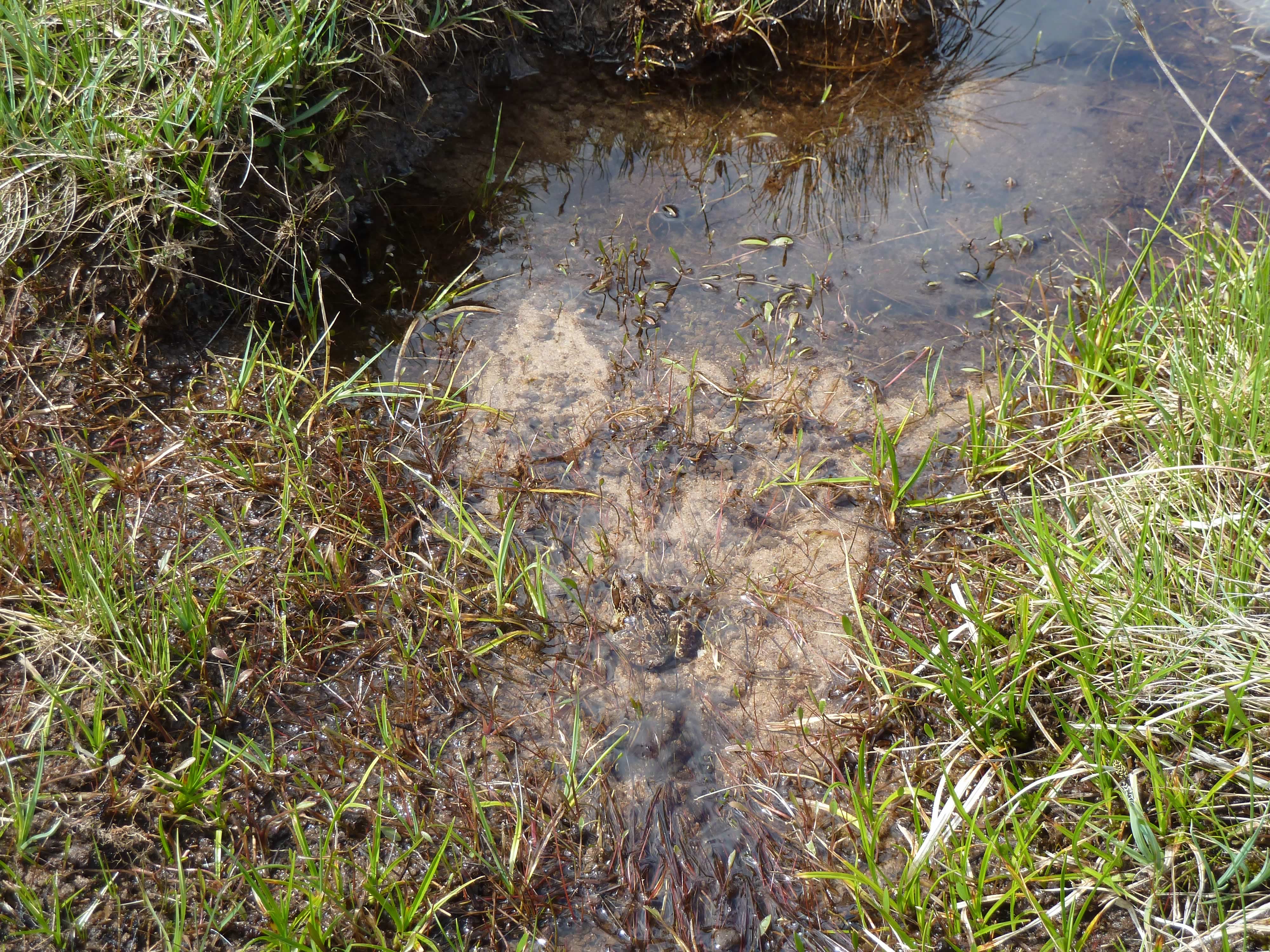 14.21 – Another frog, trying to hide
We had to cross various bits of water, and then started climbing towards Meallach Mhòr (a Corbett).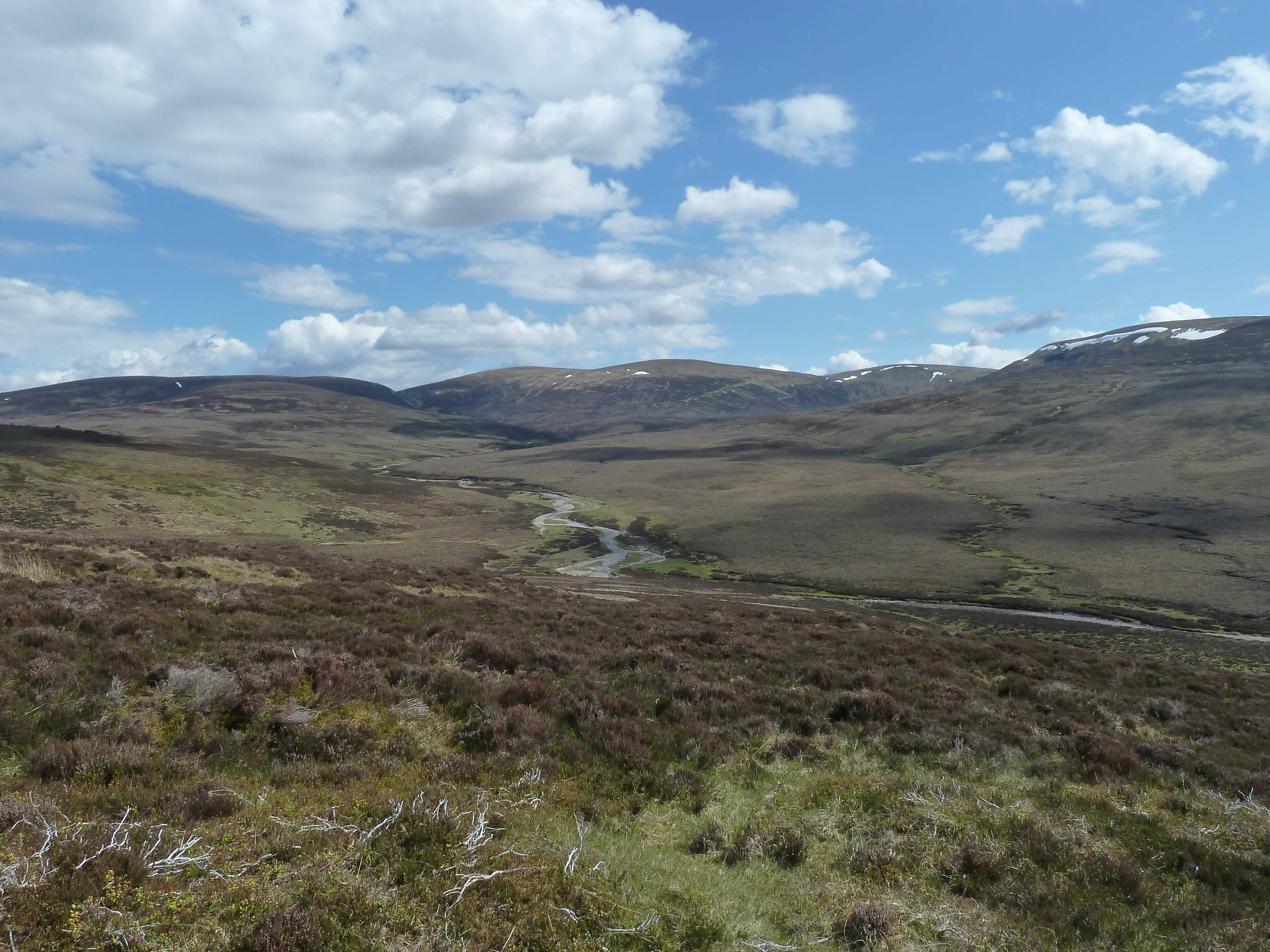 15.22 – Climbing in the heat
By now the sun was starting to get pretty intense. Fortunately, there were tiny streams here and there and I was able to water my hair.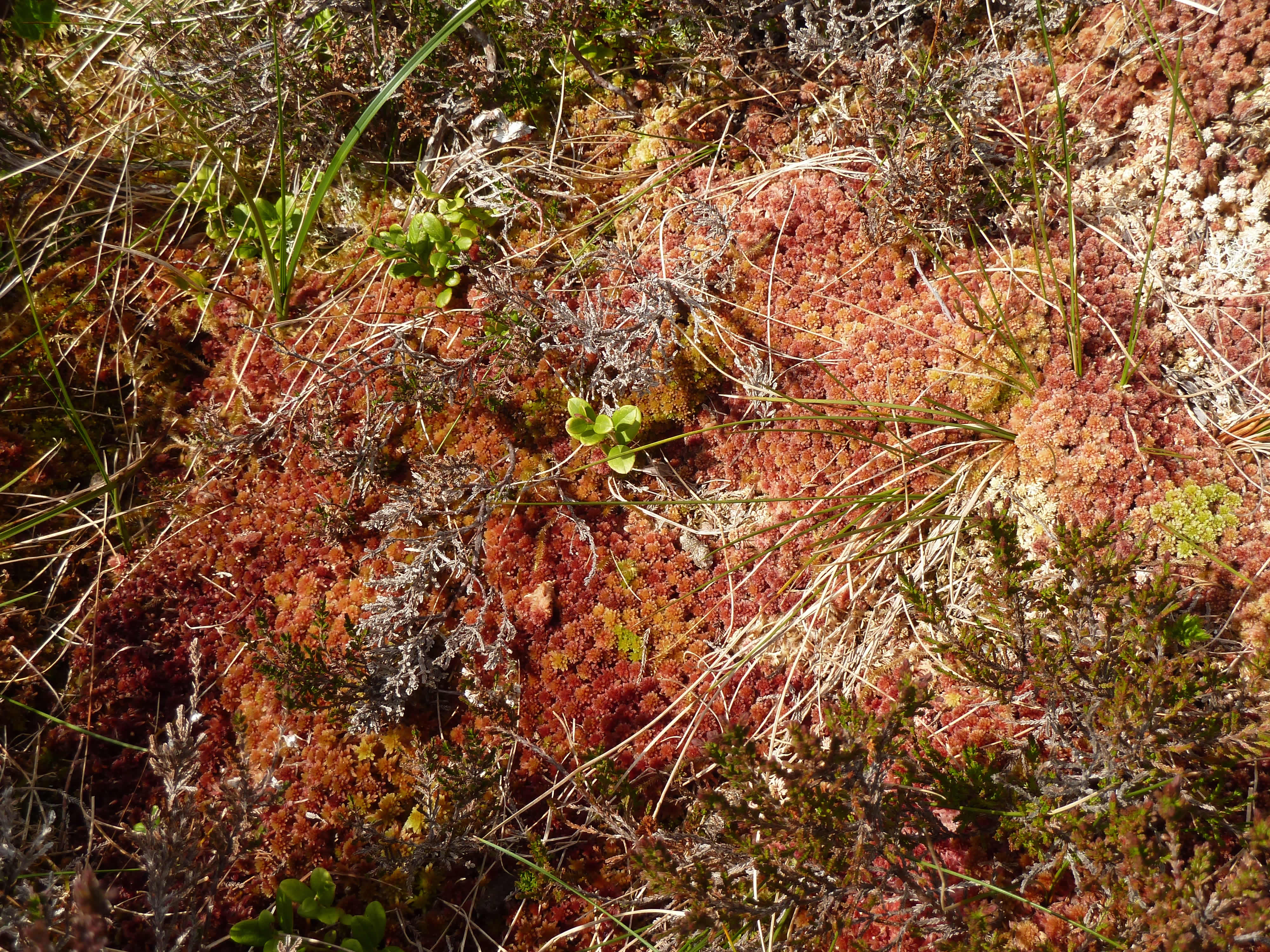 16.11 – Small red peat moss (Sphagnum capillifolium)
If I hadn't skipped the tablet, I wouldn't have noticed the heat so much.
By the time we reached our third summit, Meallach Mhòr (a Corbett), there were some clouds to protect us. Thank goodness.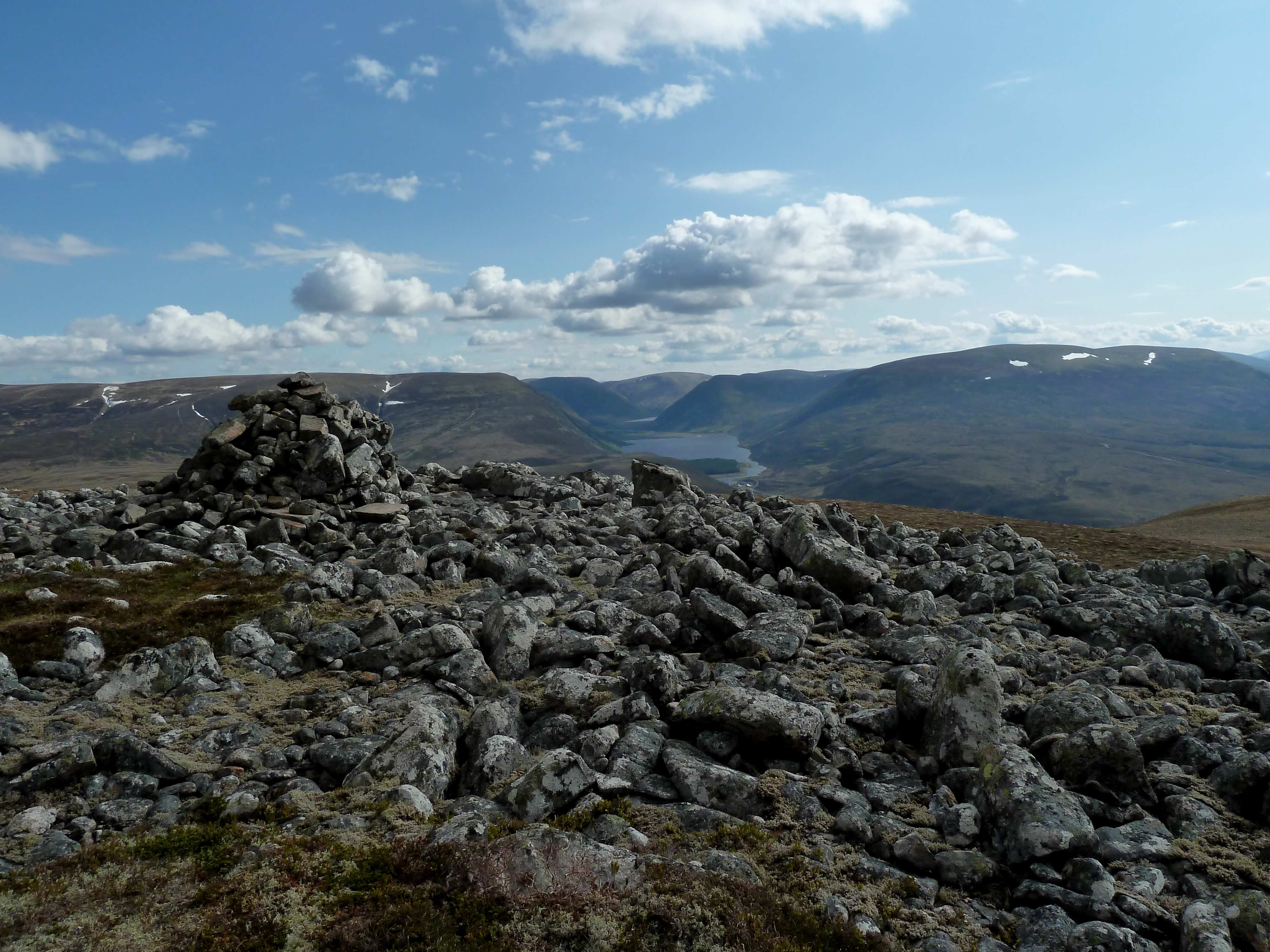 16.56 – looking south to Loch an t-Seilich in Glen Tromie (part of the Gaick Pass) from Meallach Mhòr
The views from this top are spectacular. You can see Glen Tromie to the south.

16.45 – Glen Tromie from Meallach Mhòr
And Strathspey to the north.

16.46 – Strathspey from Meallach Mhòr *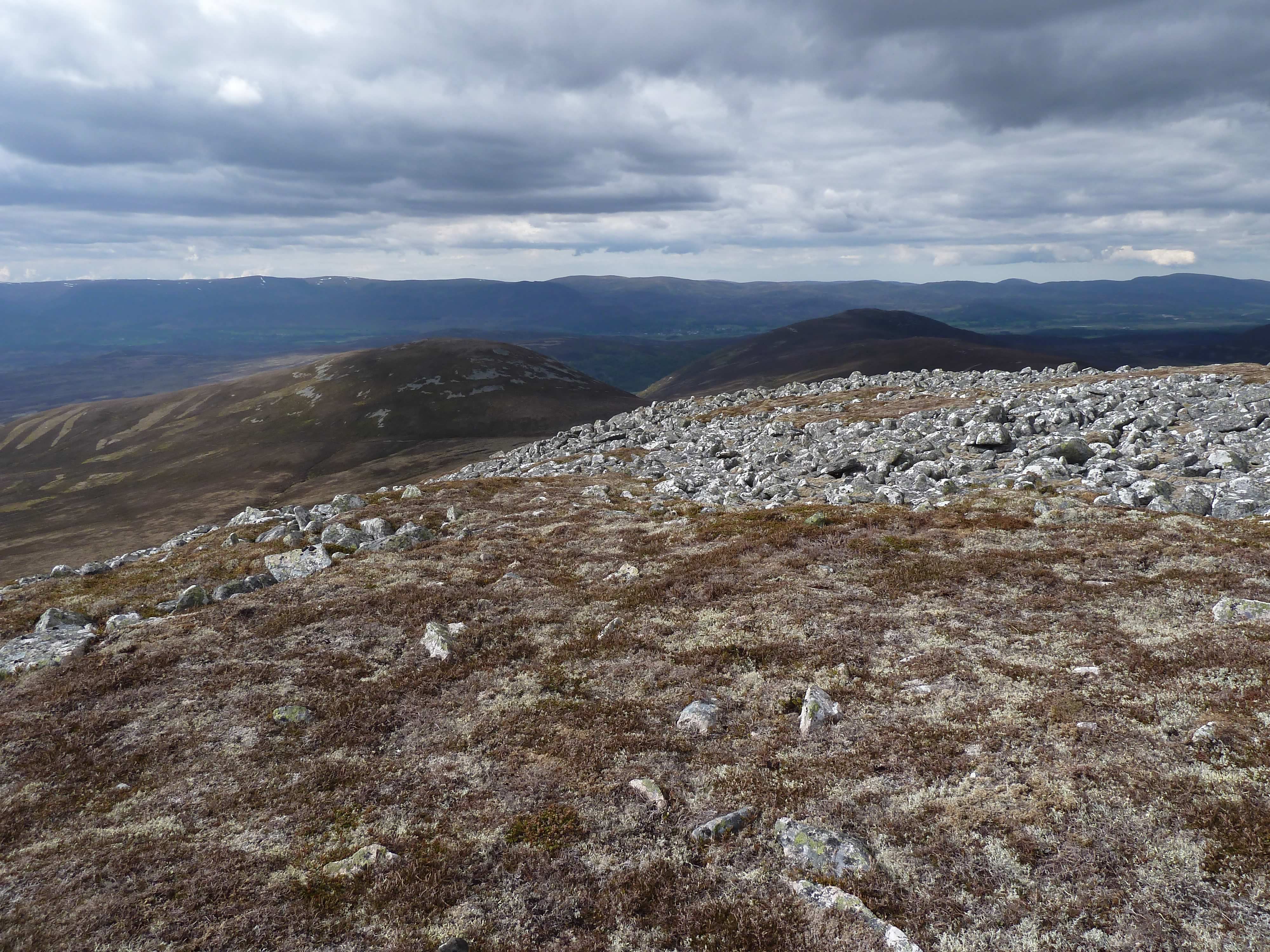 16.57 – Strathspey from Meallach Mhòr
The descent was easy. The only tricky part was deciding which route to take. There wasn't an obvious path to follow.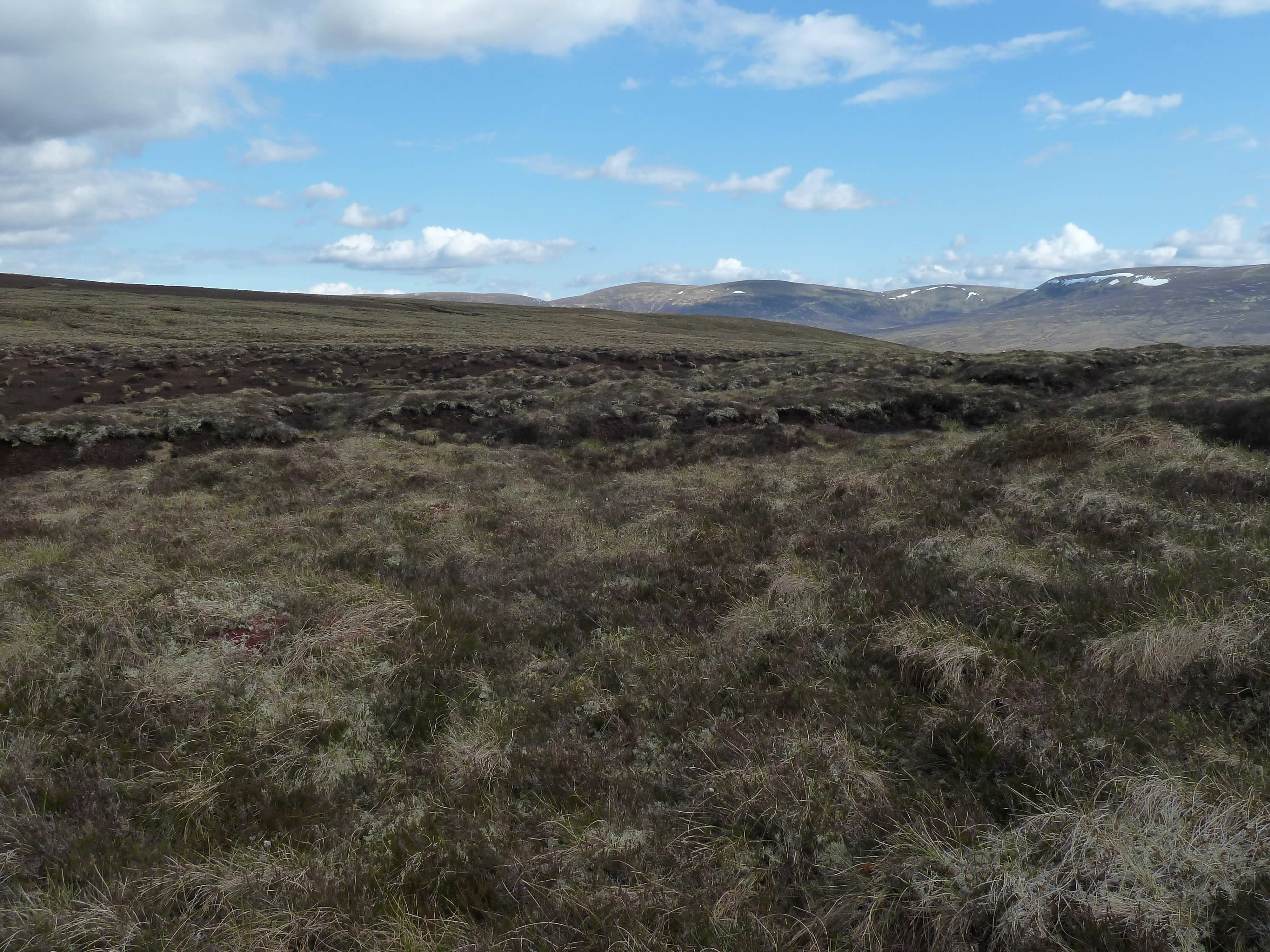 17.13 – With no path to follow
We came across what looked like a lunar landscape in the bealach (saddle point) between Meallach Mhòr and Meall an Dubh-chadha.
17.15 – A lunar landscape
There was nothing growing in the soil, except for those hairy lumps.
We stopped for a break and enjoyed what felt like a lovely summer evening.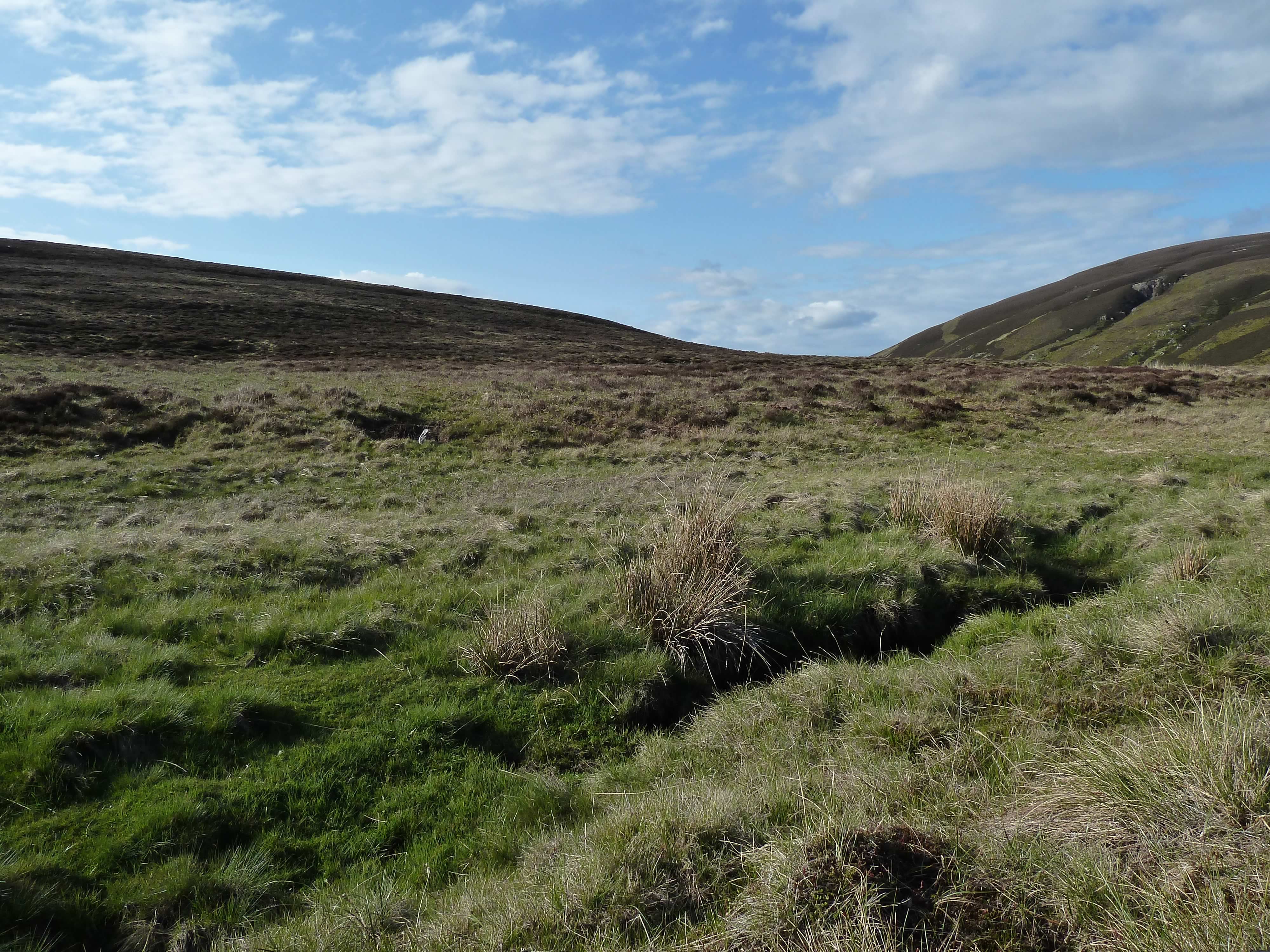 18.16 – A well deserved break in the evening sun
We headed ESE to eventually pick up the track by the forestry plantation at NN803896.
We debated what to do about dinner. In the end, we decided to feast on the infamous sandwiches, and other bits.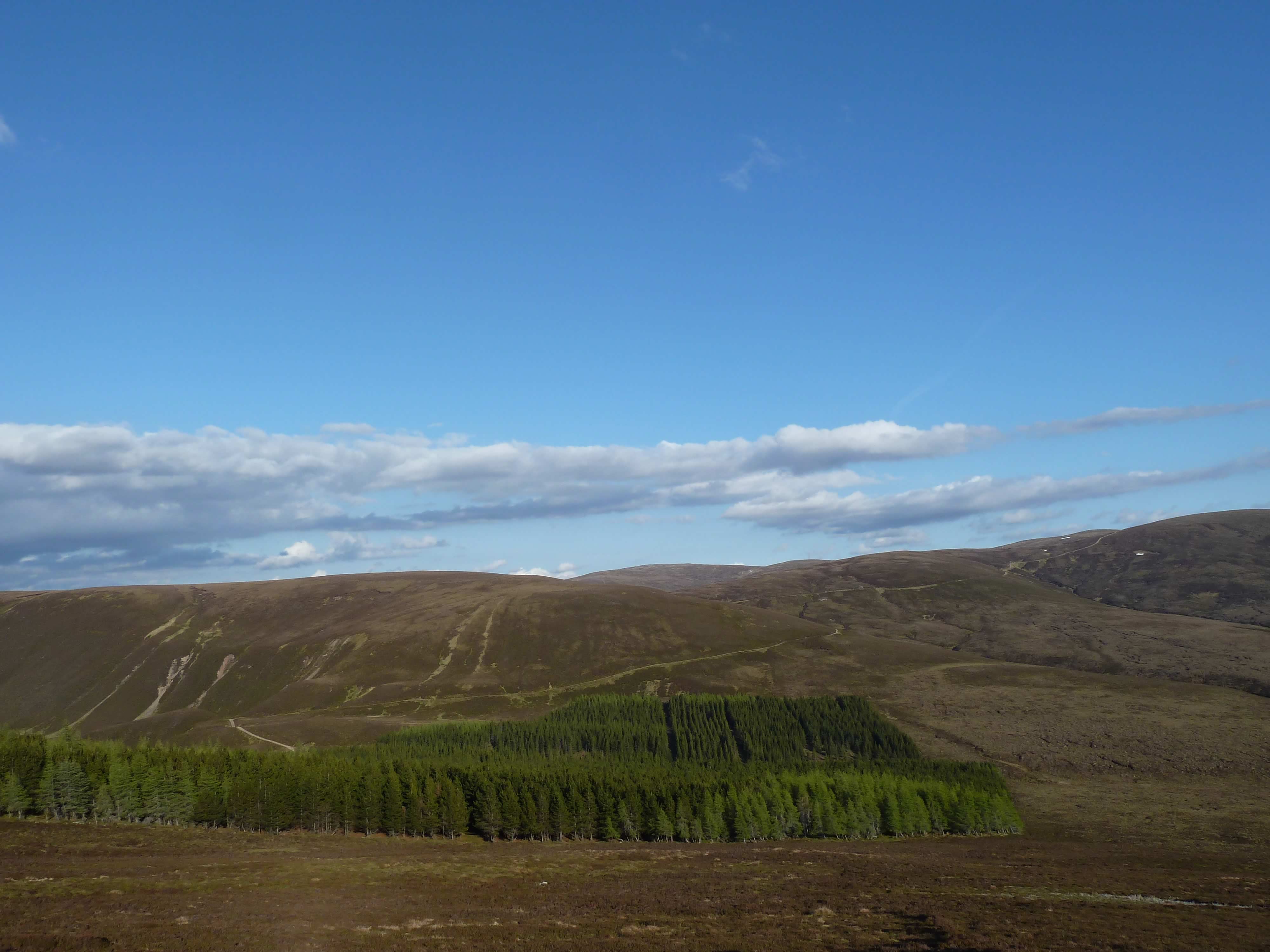 19.03 – Dinner on the way home
Soon, the sun was hiding behind the hill where we had stopped, so we set off and finished dinner on the go.
Just after dinner, we found ourselves 1km from the summit of Carn Dearg Mòr (a Corbett), but about 150m below it.
We realised that making it to the top wasn't going to be a good idea. We were running out of time and energy. So we headed towards home.
If only we hadn't skipped the tablet.
While we walked, I calculated in my head the miles we had done. I was pretty close to the real figure: just over 13 mi (21.2km). Not bad.
And we were on the go for nearly 12 hours.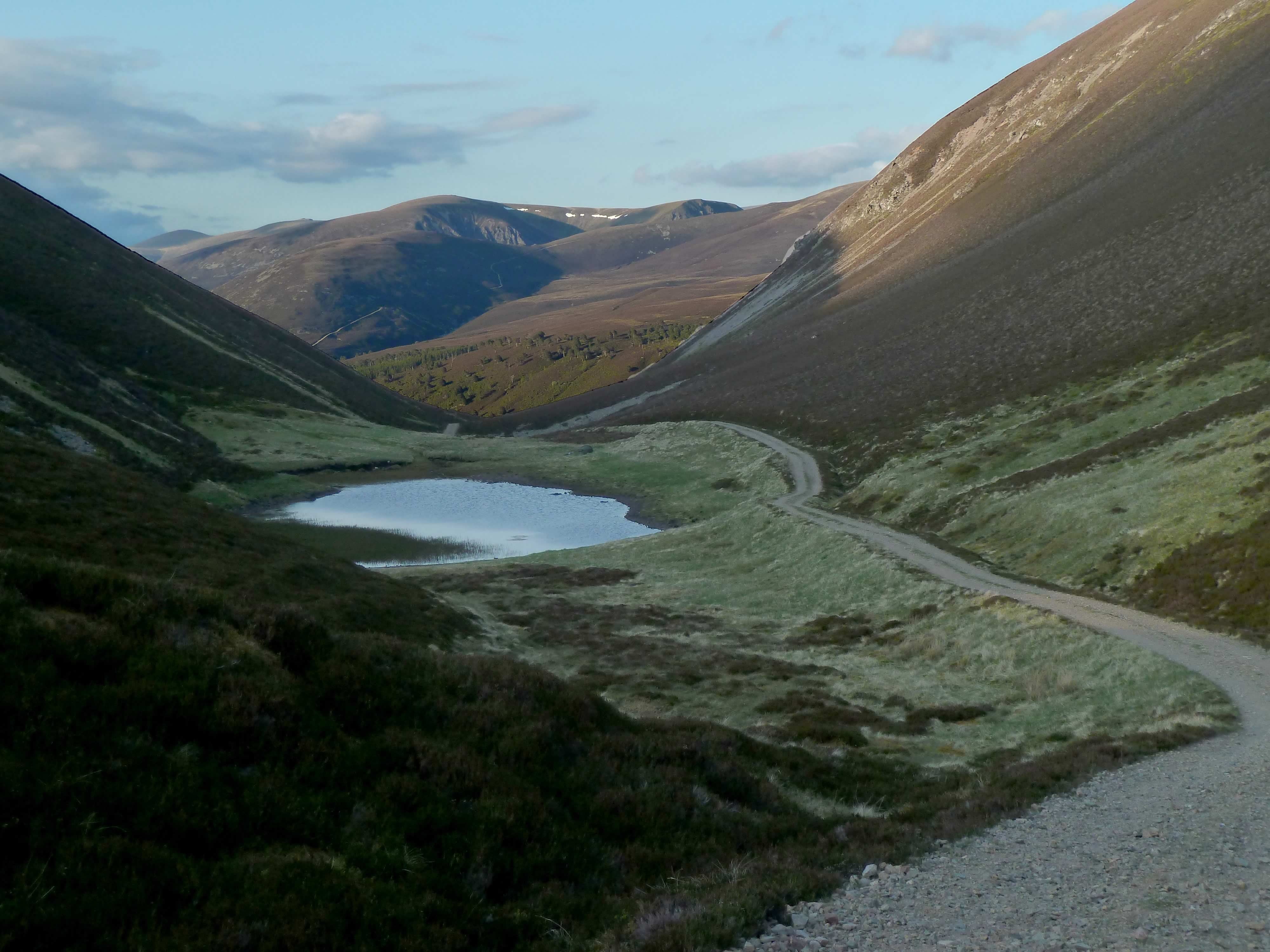 19.56 – Back home (See Tent, Bumblebee & Mountie)
We got back to Lochan an t-Sluic ready to sleep like logs. And we did.
Day 3 – Sunday, 29 May 2016
Total distance:
16.34 mi
Total climbing:
394 m
Total Time:
02:43:44
Simon got up at 6.30am. I lazed in my cosy bag till 7am.
When I came out of the tent there was a bright blue sky and it was already warm.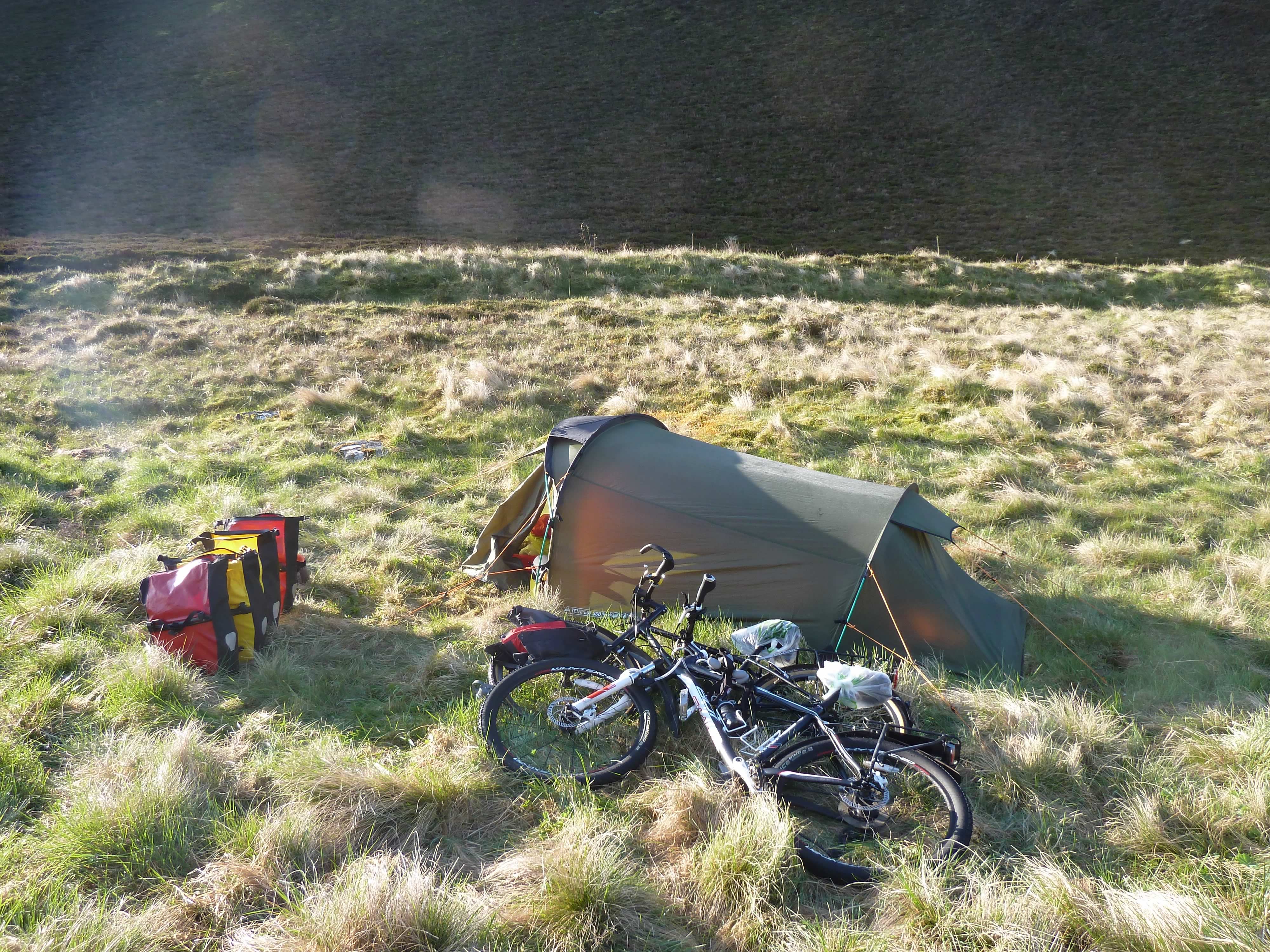 7.11 – Tent, Bumblebee & Mountie in the morning sunshine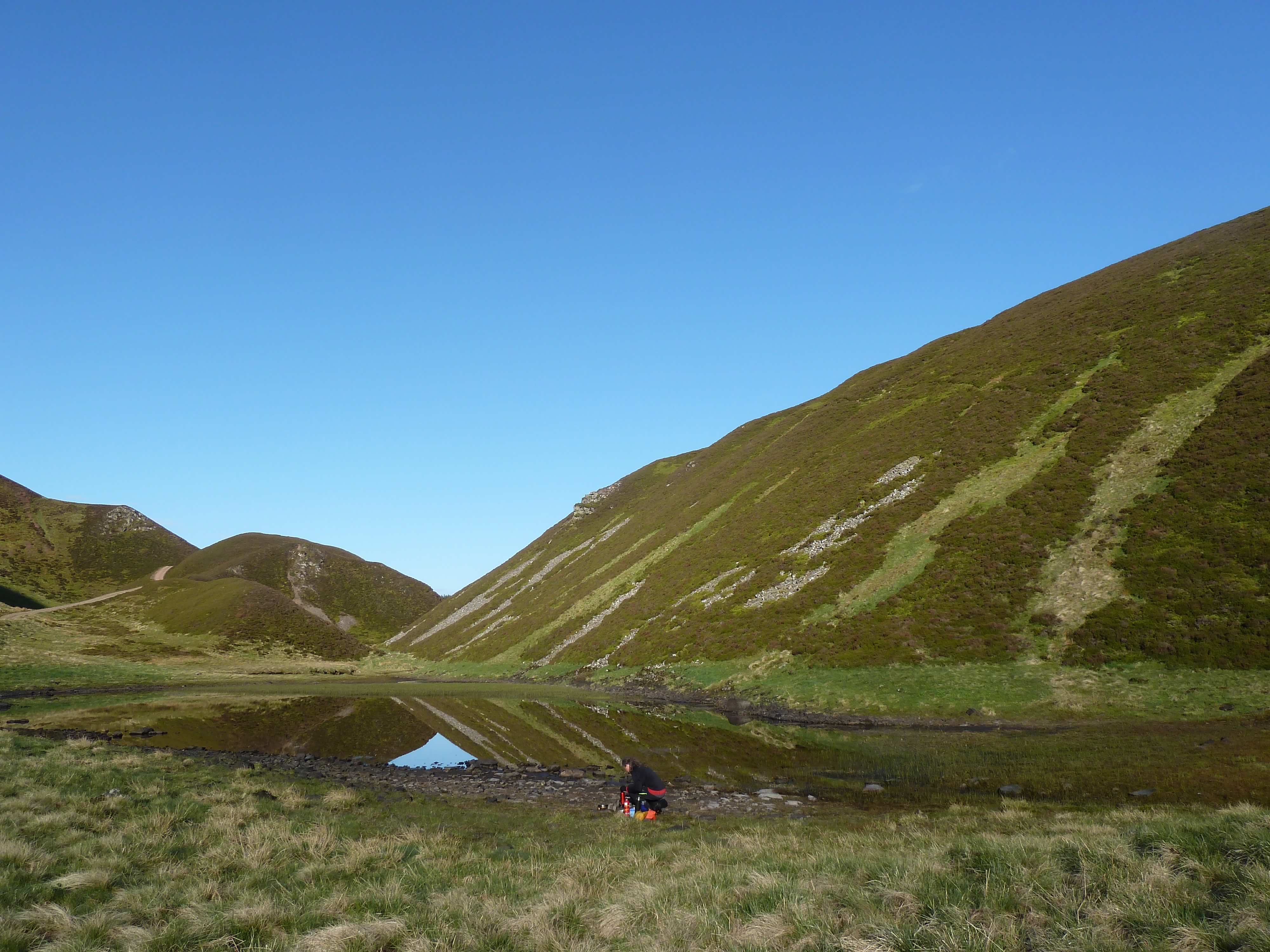 7.11 – Simon concocting breakfast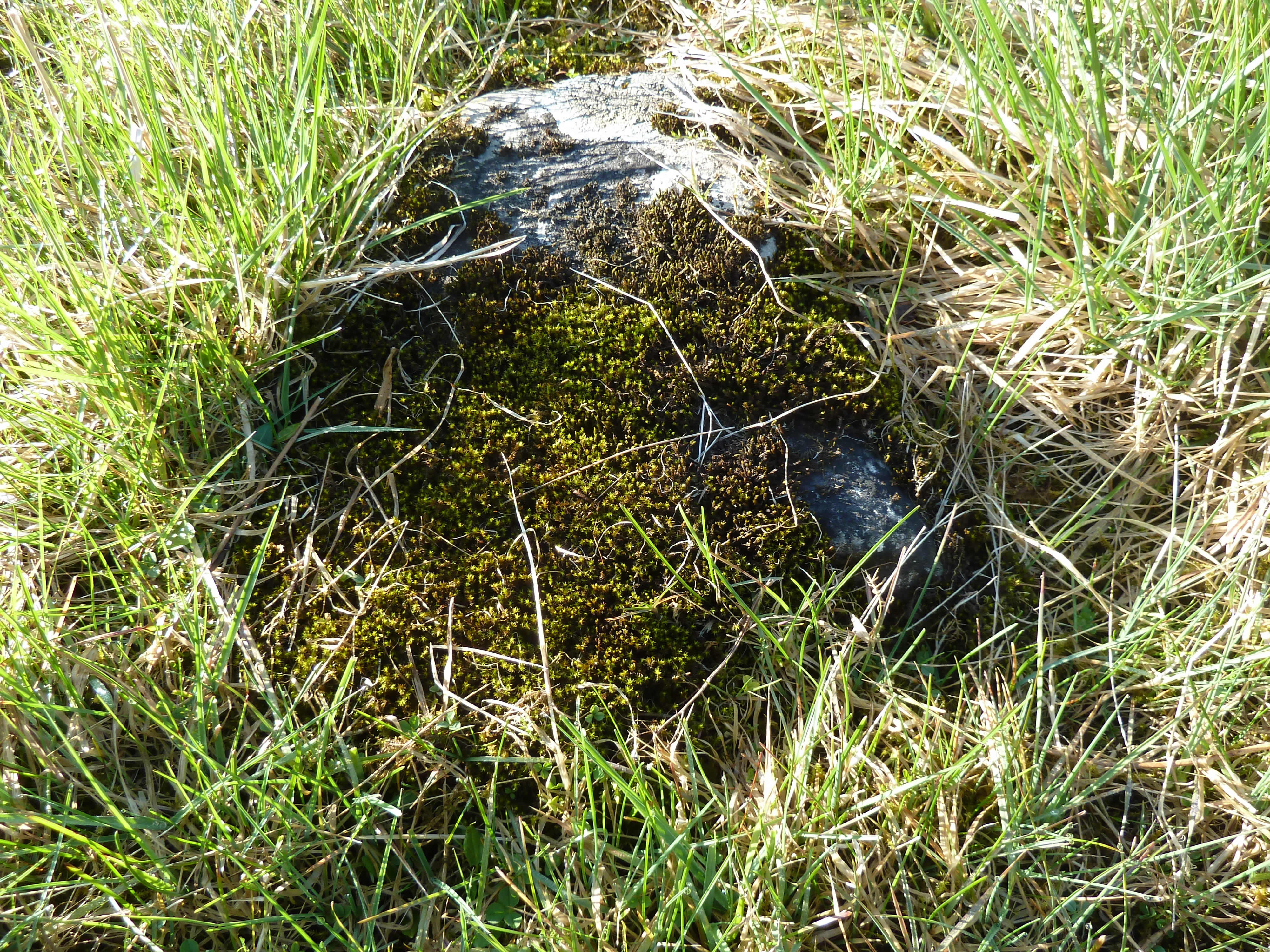 7.36 – More moss
Simon was making rice pudding, with an extra portion of rice. It was yummy.
To prepare for the steep descent with Bumblebee, I also had my millionaire's shortbread.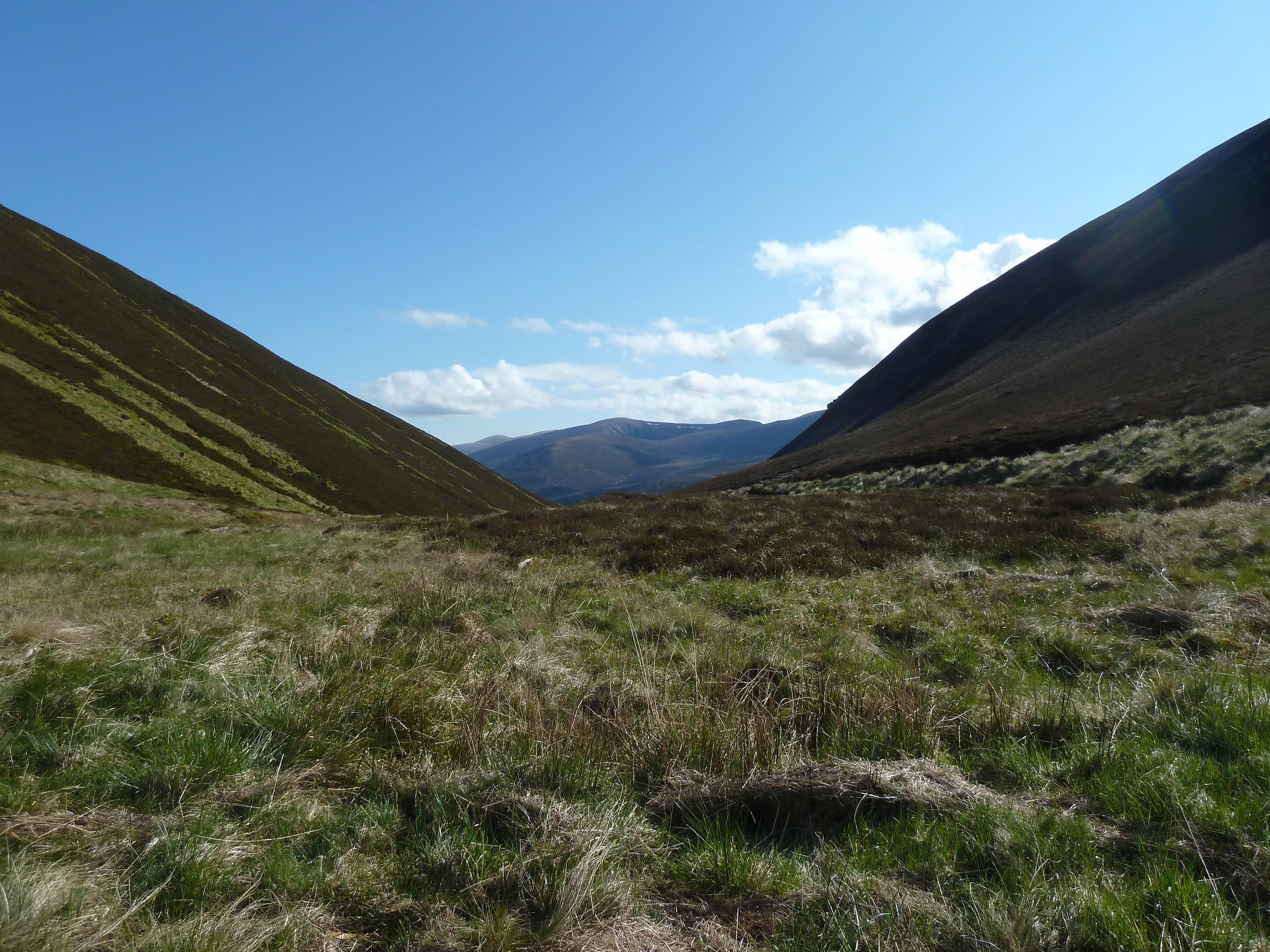 9.00 – looking towards Glen Feshie from the tent
We broke camp at about 9.30am. I pushed the bike 80% of the way until we got to the horses. Simon was more brave and cycled on the very stony path.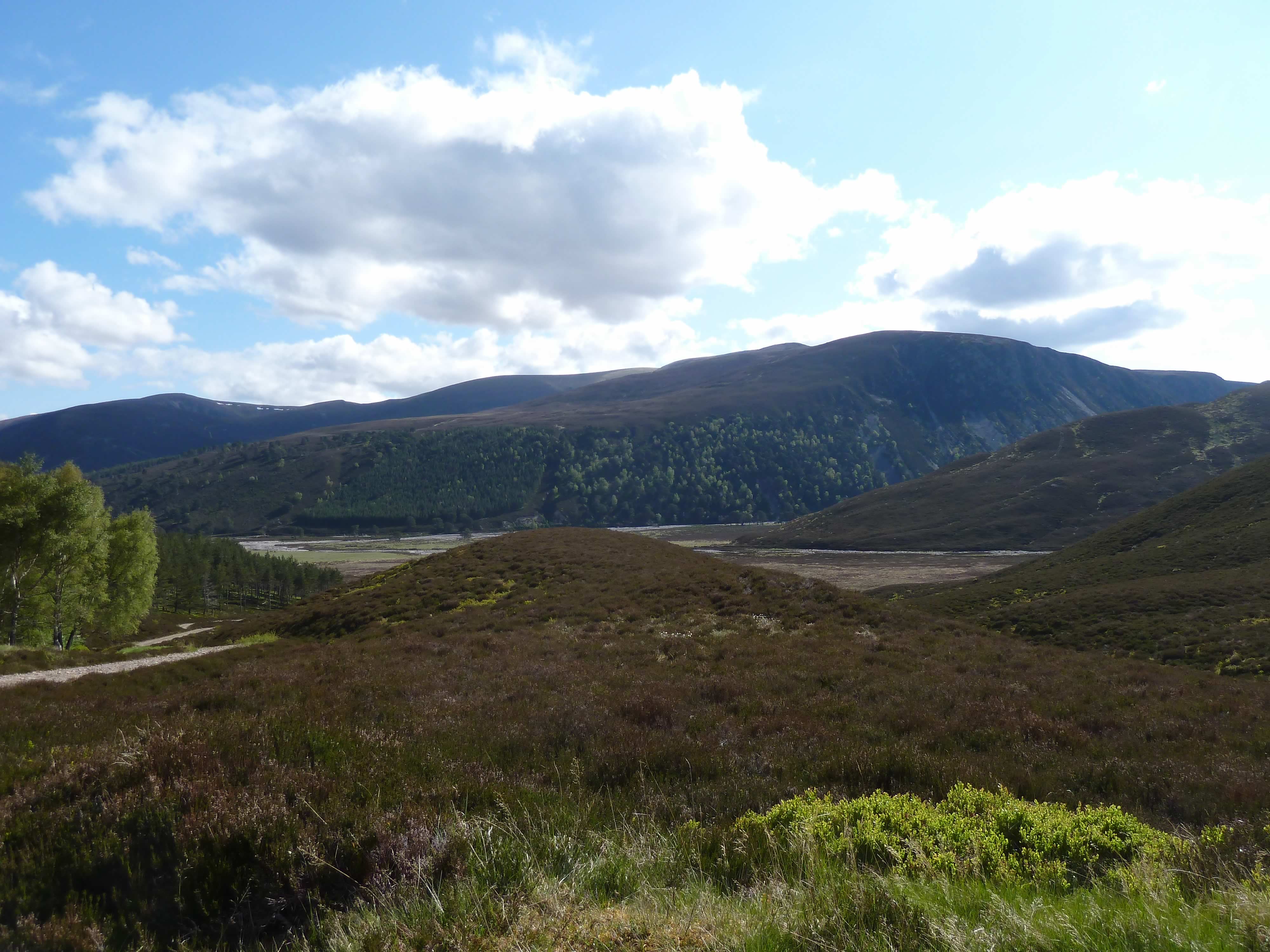 9.43 – Descending towards Glen Feshie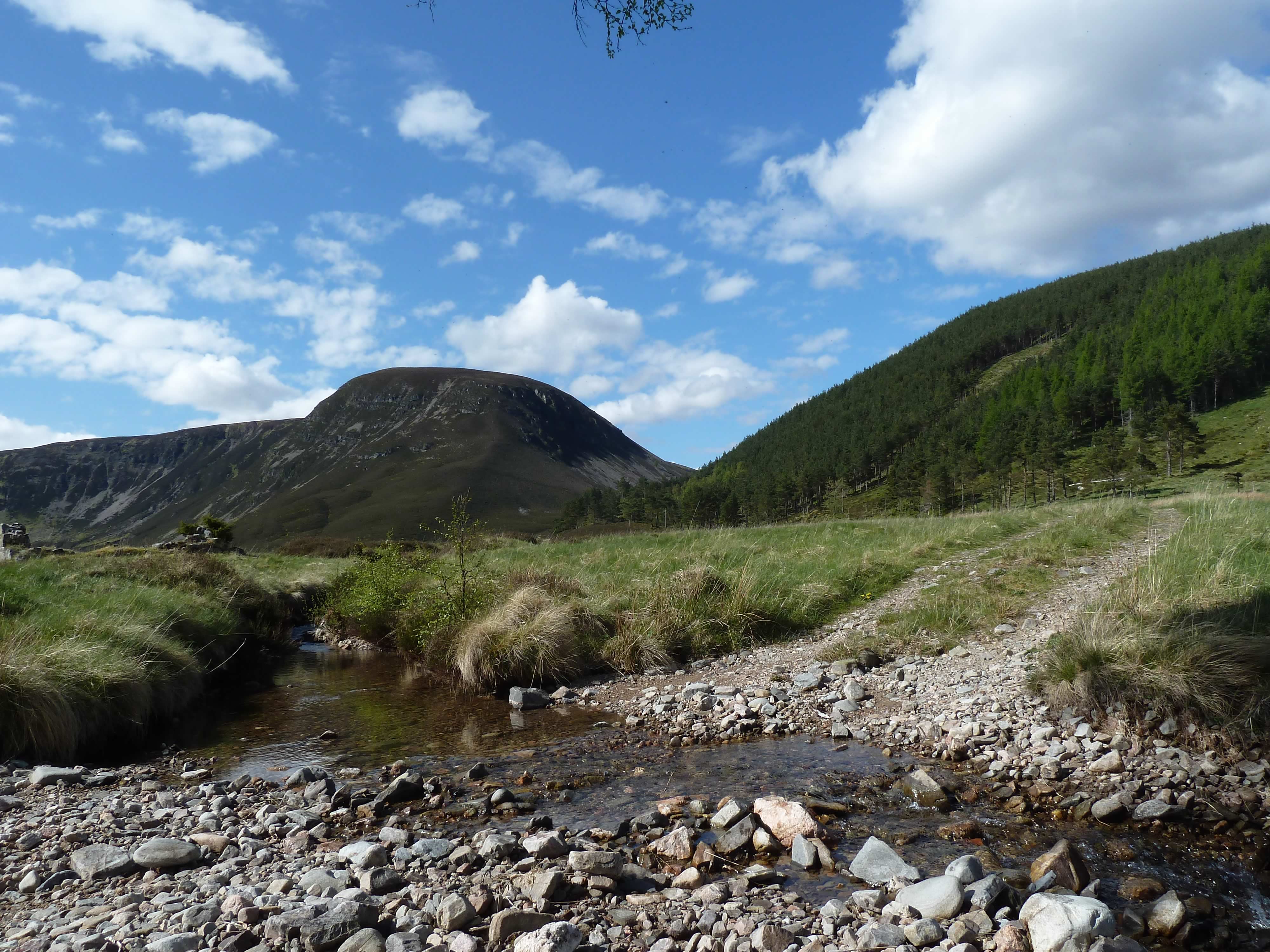 9.57 – Having a break by the stream
Here, Simon had his second breakfast while I took some pictures of the horses.
He actually managed to finish the last sausage on his own. Well done!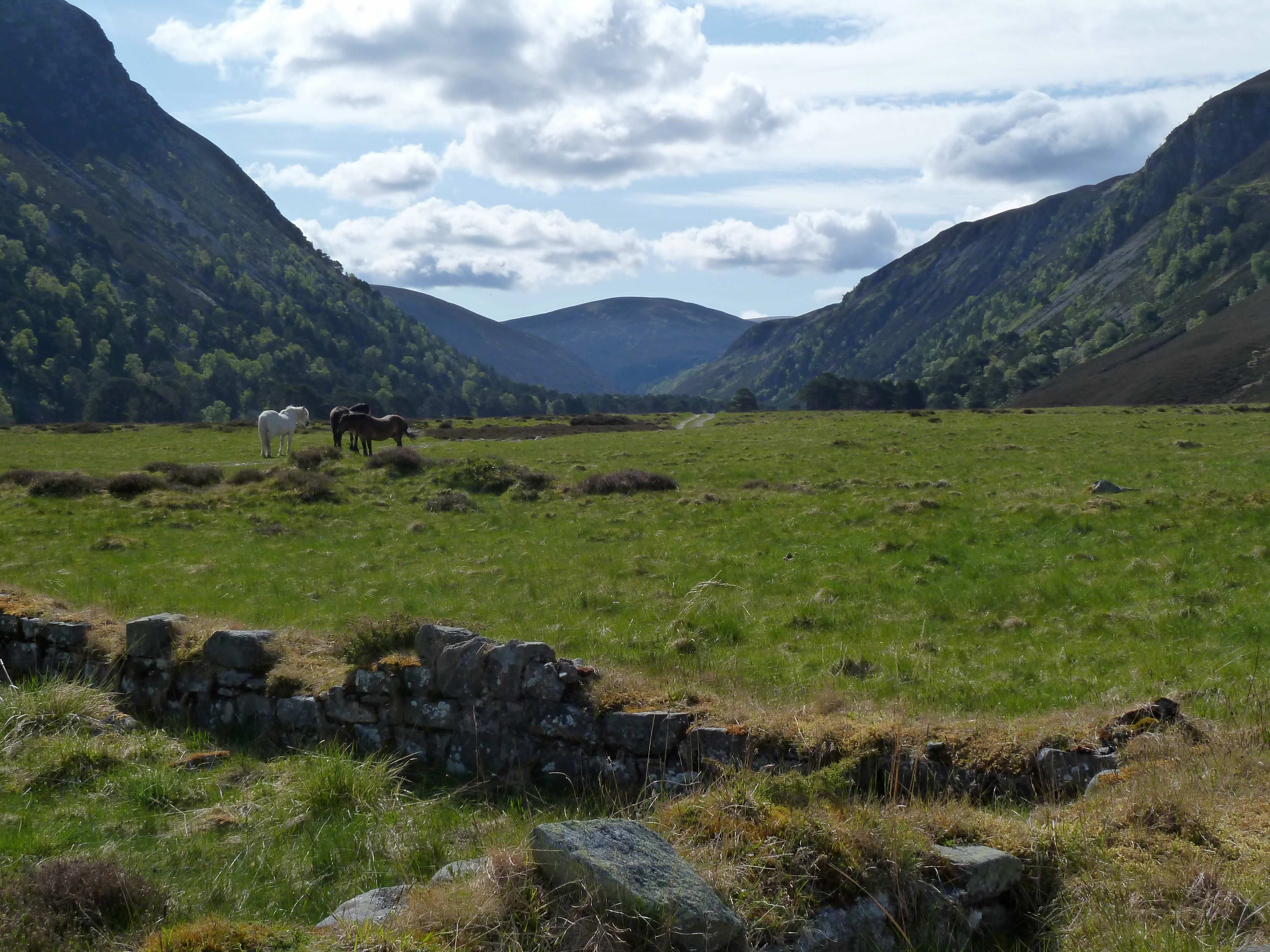 9.59 – The Glen Feshie horses
I remember seeing those horses the first time we came to Glen Feshie a few years ago. They always look wonderfully peaceful.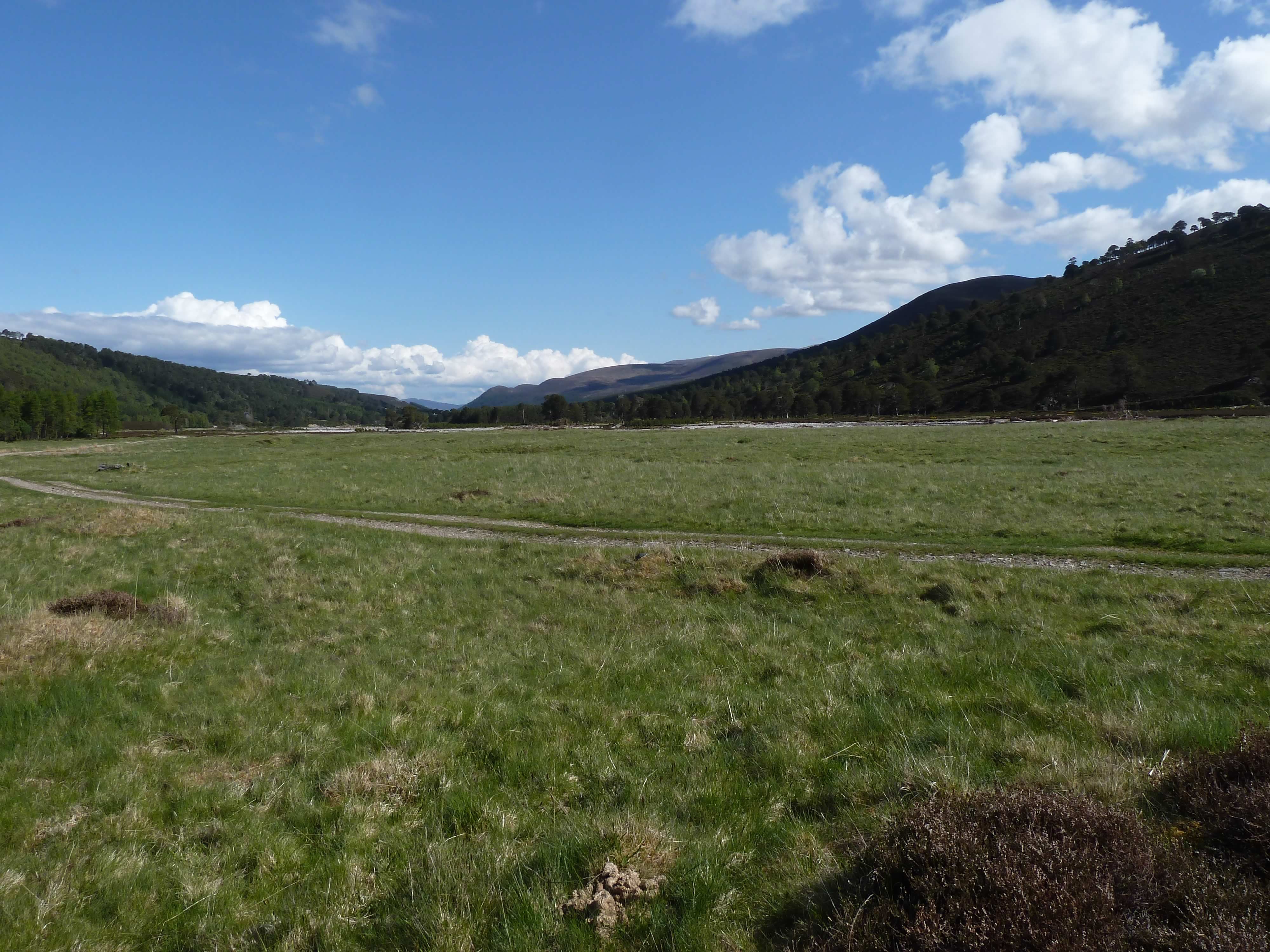 10.01 – Glen Feshie, as tranquil as ever
It was around this time that we saw four walkers on the other side of the Feshie. We hadn't seen anyone since Friday afternoon.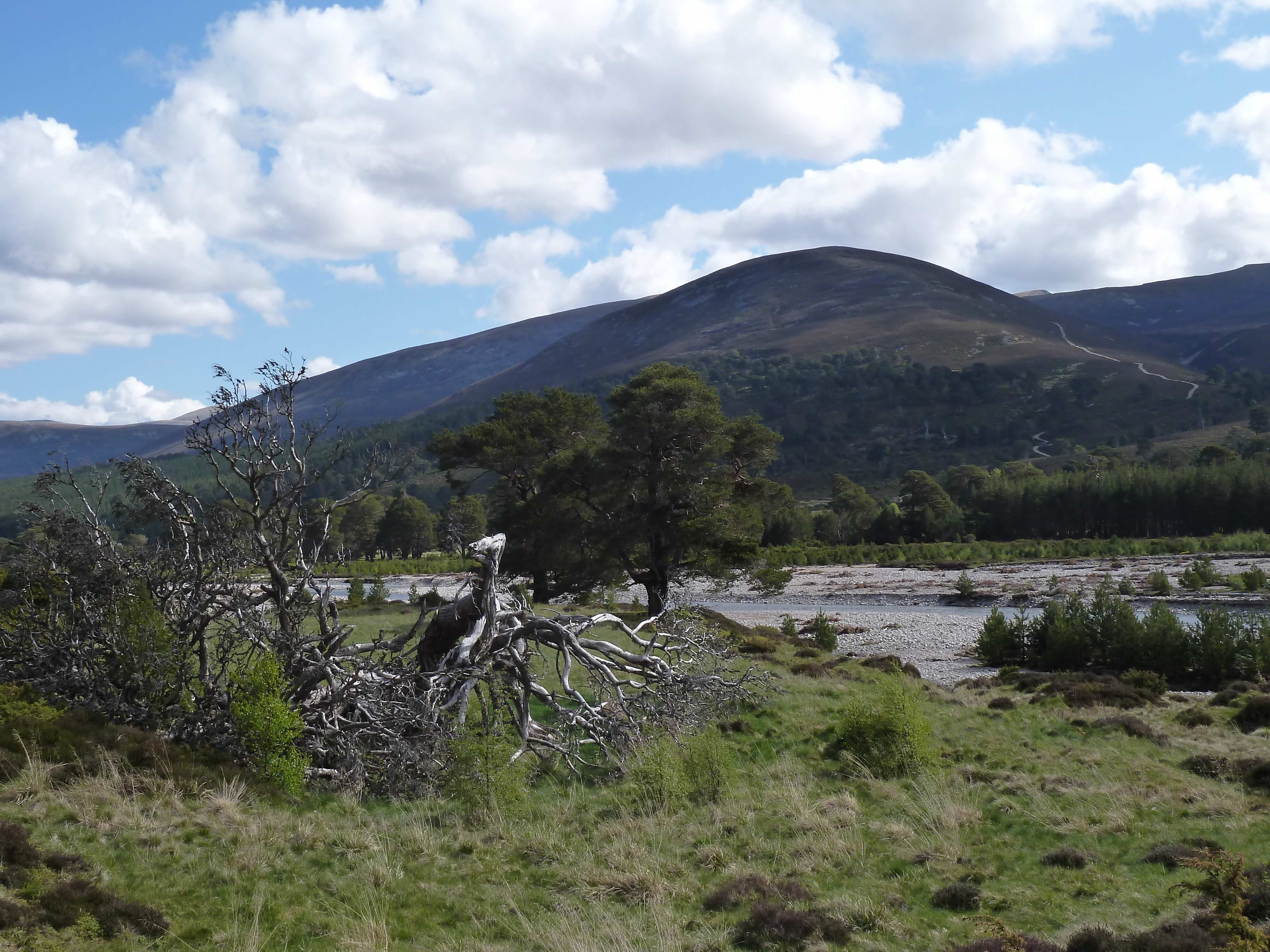 10.17 – Leaving Glen Feshie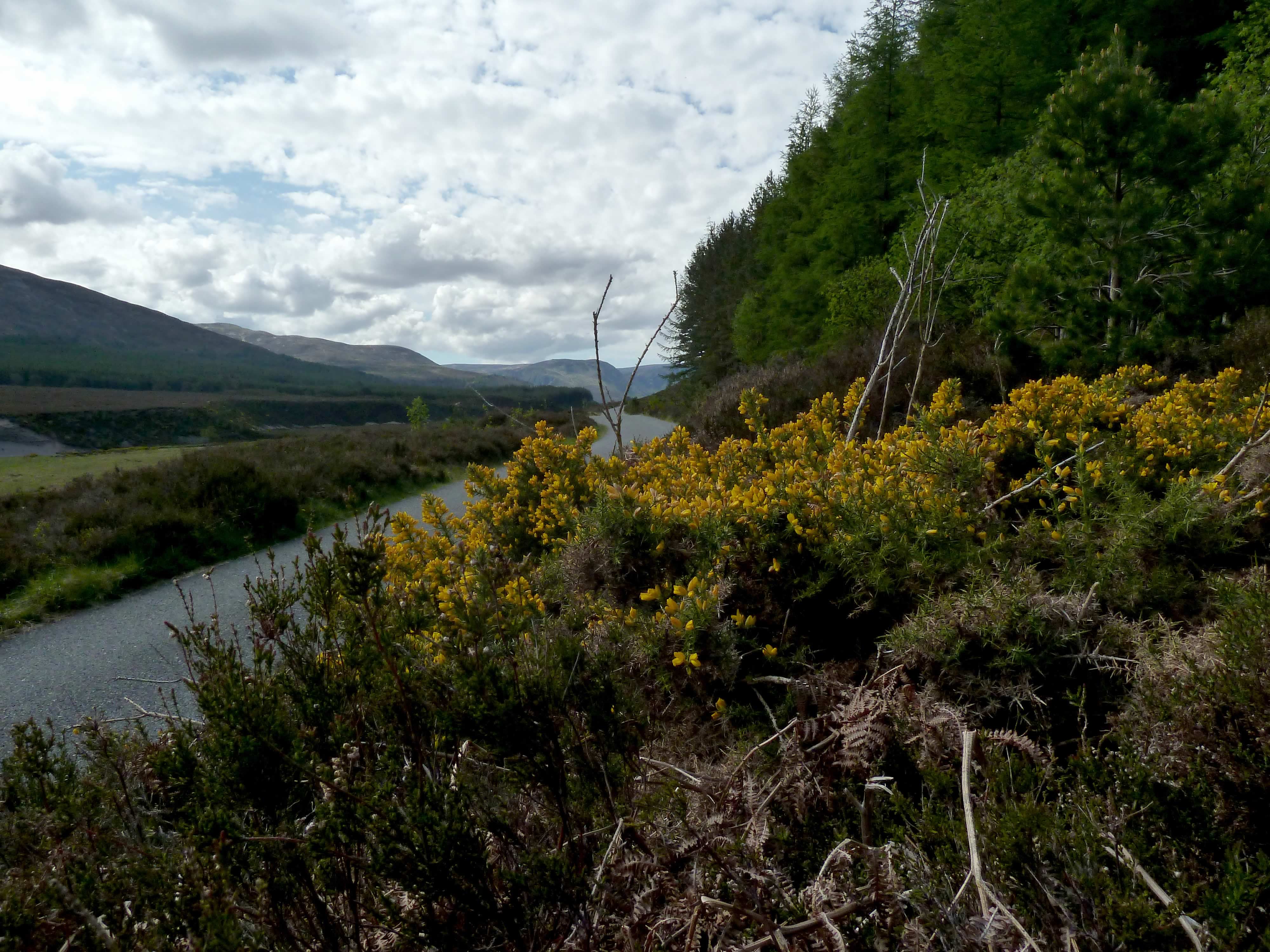 10.33 – Gorse, near the estate cottages
The ride back to Kingussie was fast. And soon I'd have something to celebrate.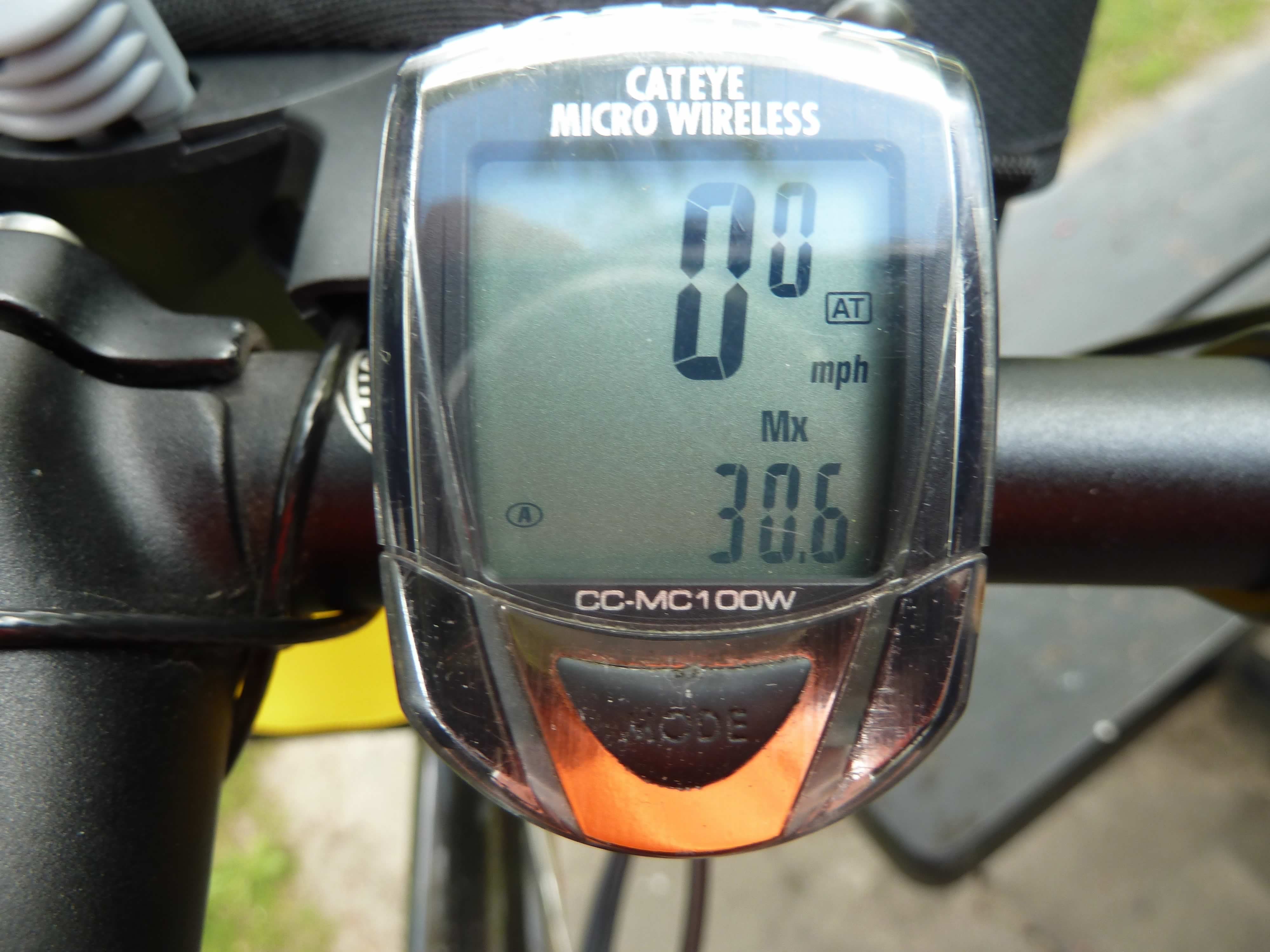 11.50 – 30mph!!! No, 30.6mph!!!
My new personal record: 30.6mph (that's 49.2km/h). It always sounds more impressive in kilometres.
12.00 – Ruthven Barracks
At Kingussie, we went into the park.

12.20 – Kingussie park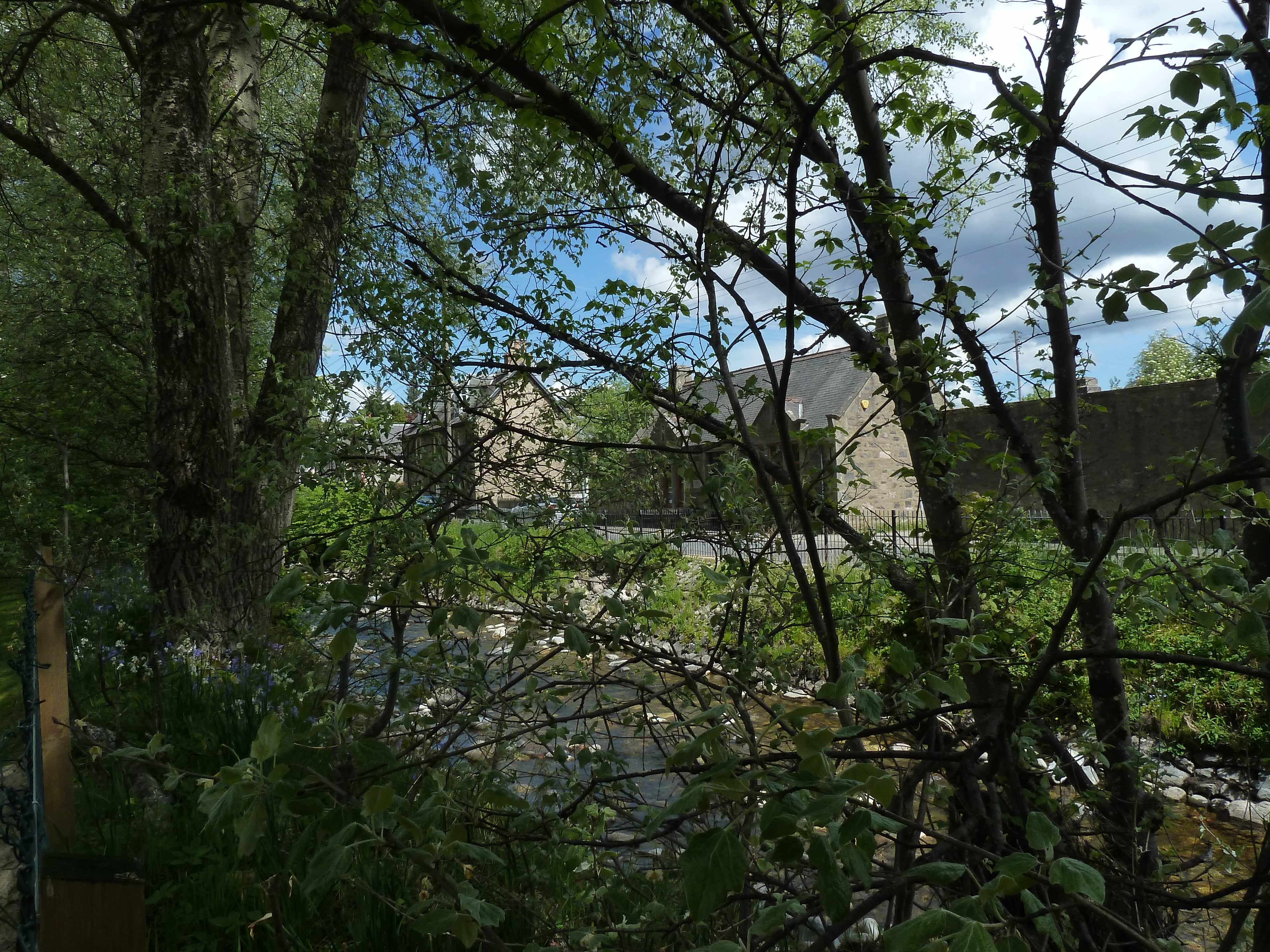 12.21 – The deli from the park
For lunch, I finished the unhappy sandwiches.
Simon was less forgiving and bought himself some goodies at the deli and other shops: edamame with feta cheese, and cold smoked salmon. He also bought some tomatoes and apples.
After 48 hours without fruit and veg, we were both having withdrawal symptoms.
We had tickets for the four o'clock train, but we managed to get on an earlier train. We made the connection at Stirling and got home by 5.30pm.
Apparently the weather hadn't been nearly as nice in Edinburgh over the weekend.
I'm convinced the Cairngorms have a microclimate. Should I tell the world?
---
* These two photographs were taken by Simon. The rest were all taken by Maria.