Total distance:
26.88 mi
Total climbing:
1305 m
Total Time:
00:13:10
This was our first wild camping trip of 2016.
A two-day/one-night adventure that took us from Pitlochry to Blair Atholl through Glen Loch.
Day 1 – Saturday, 14 May, 2016
We had a large portion of porridge each, and left the house at about 9.30 am.
The weather forecast was excellent for the whole day. There was a cold north wind, but the sun shone all day.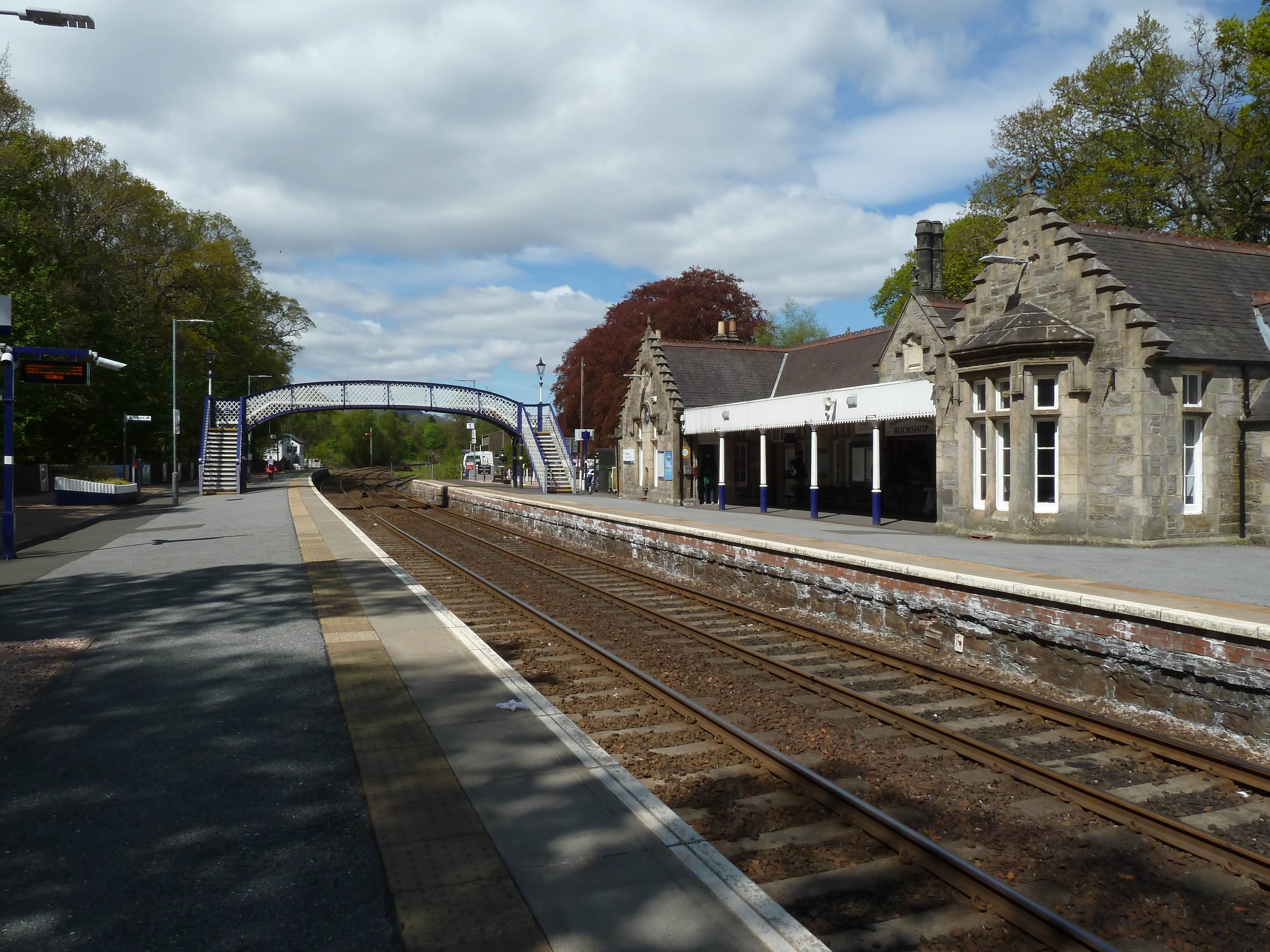 12.25 – Pitlochry station
We arrived at Pitlochry at 12.25. We found a path that took us out of the station without having to climb the steps with the bikes.
Simon managed to buy a large bottle of water after trying several shops in Pitlochry.
After that, we set off to Moulin. By then, we were starting to notice the heat and took our jackets off.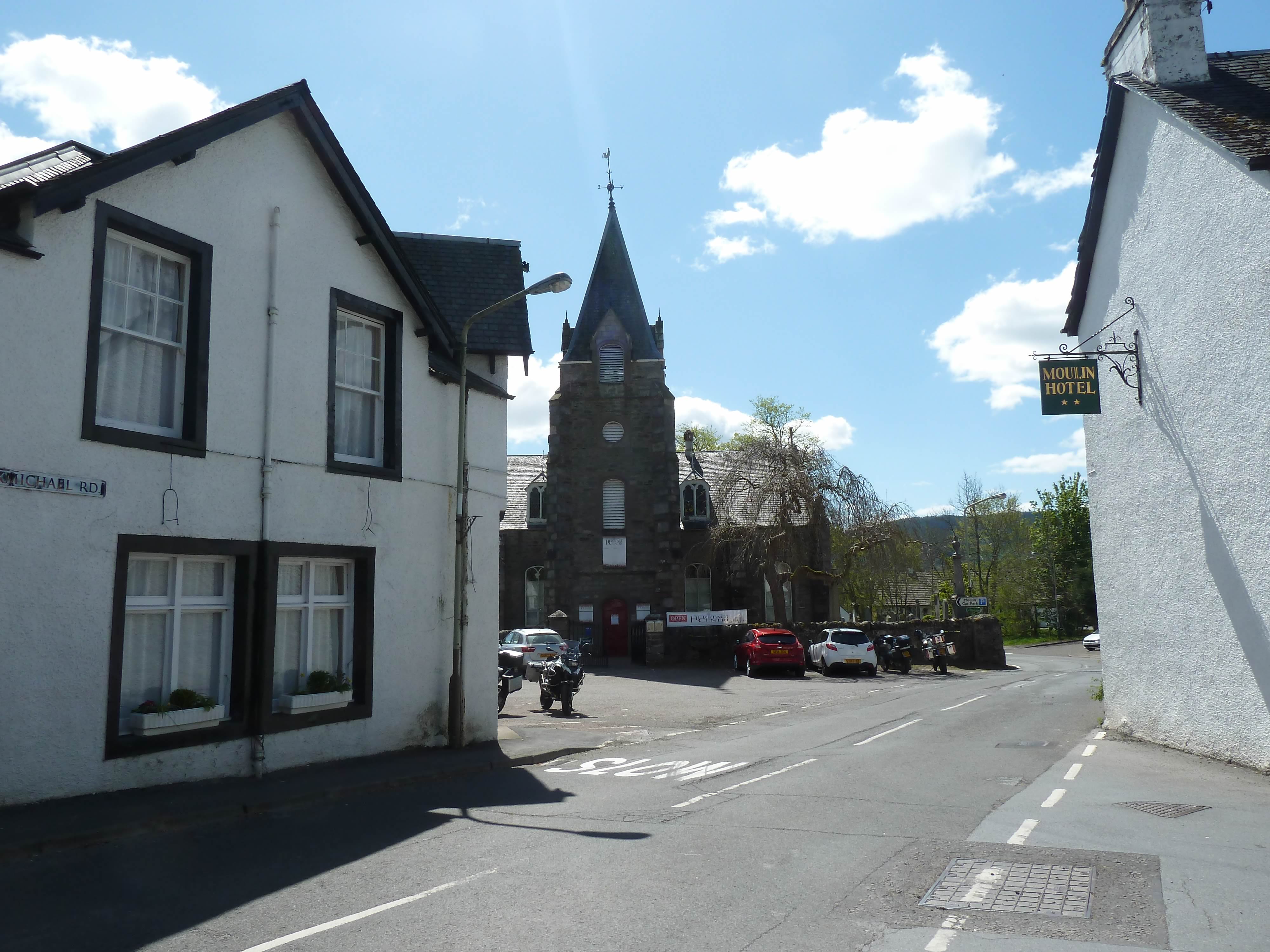 13.01 – Moulin
From Moulin, it was uphill for quite a while. I got pretty warm in spite of the north wind.
We met other cyclists every now and then. They were all men, in groups of two or three. One of the groups appeared to be from the Bingley Cycle Club, in Yorkshire.
There were also quite a few bikers.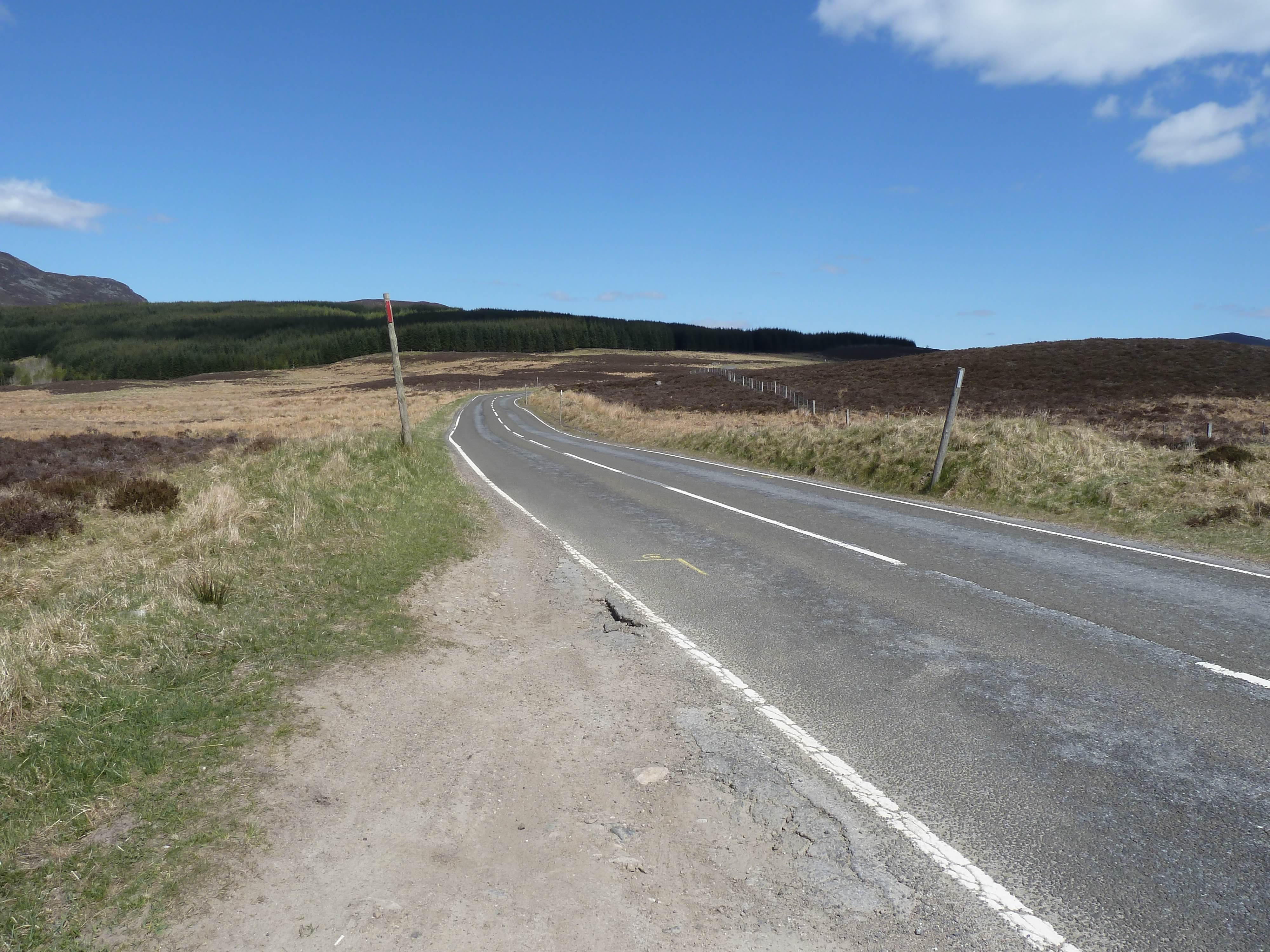 13.32 – A popular cycling road
It was a glorious day to be out and about.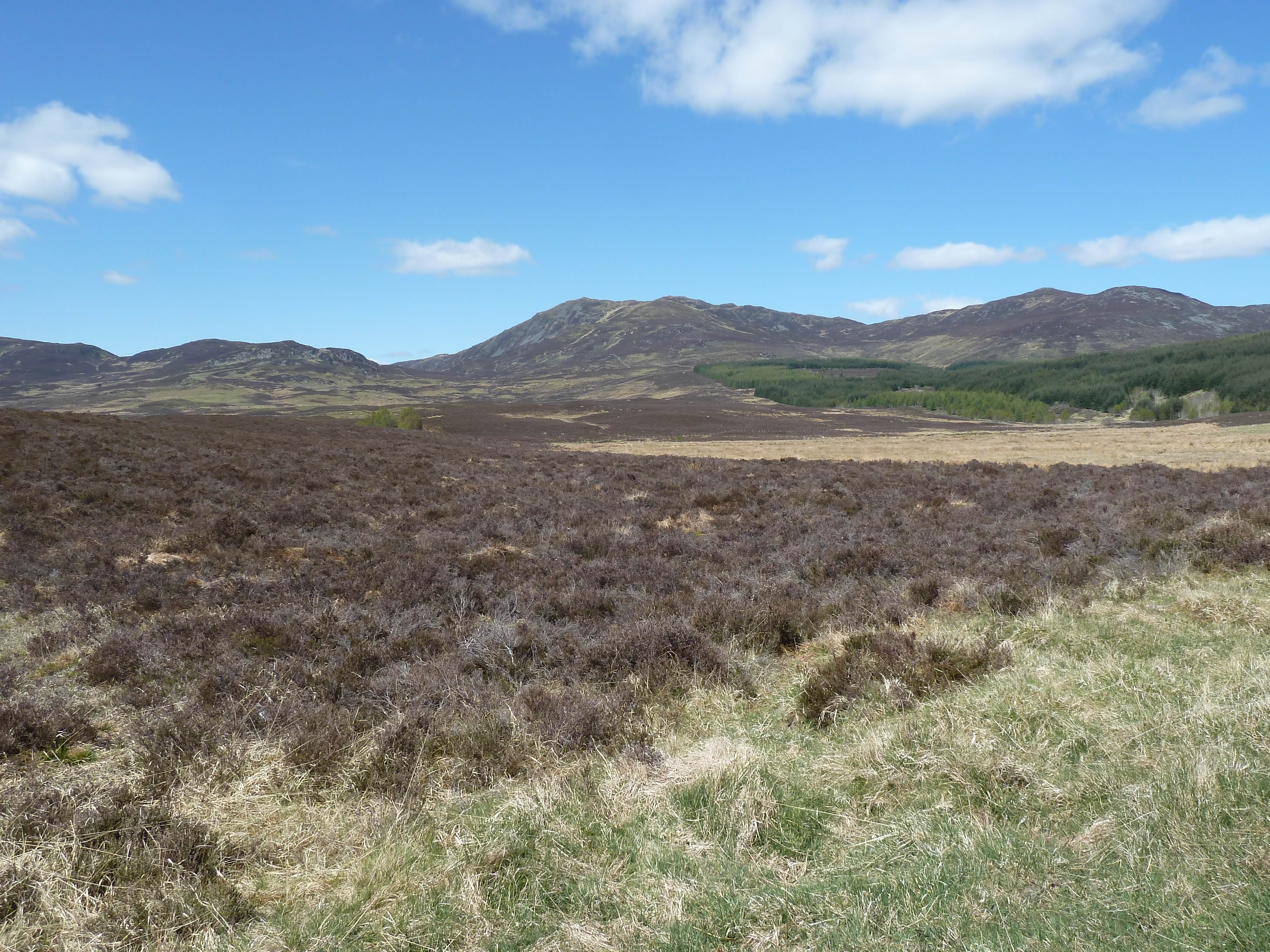 13.36 – On the same road
We climbed steadily for a while.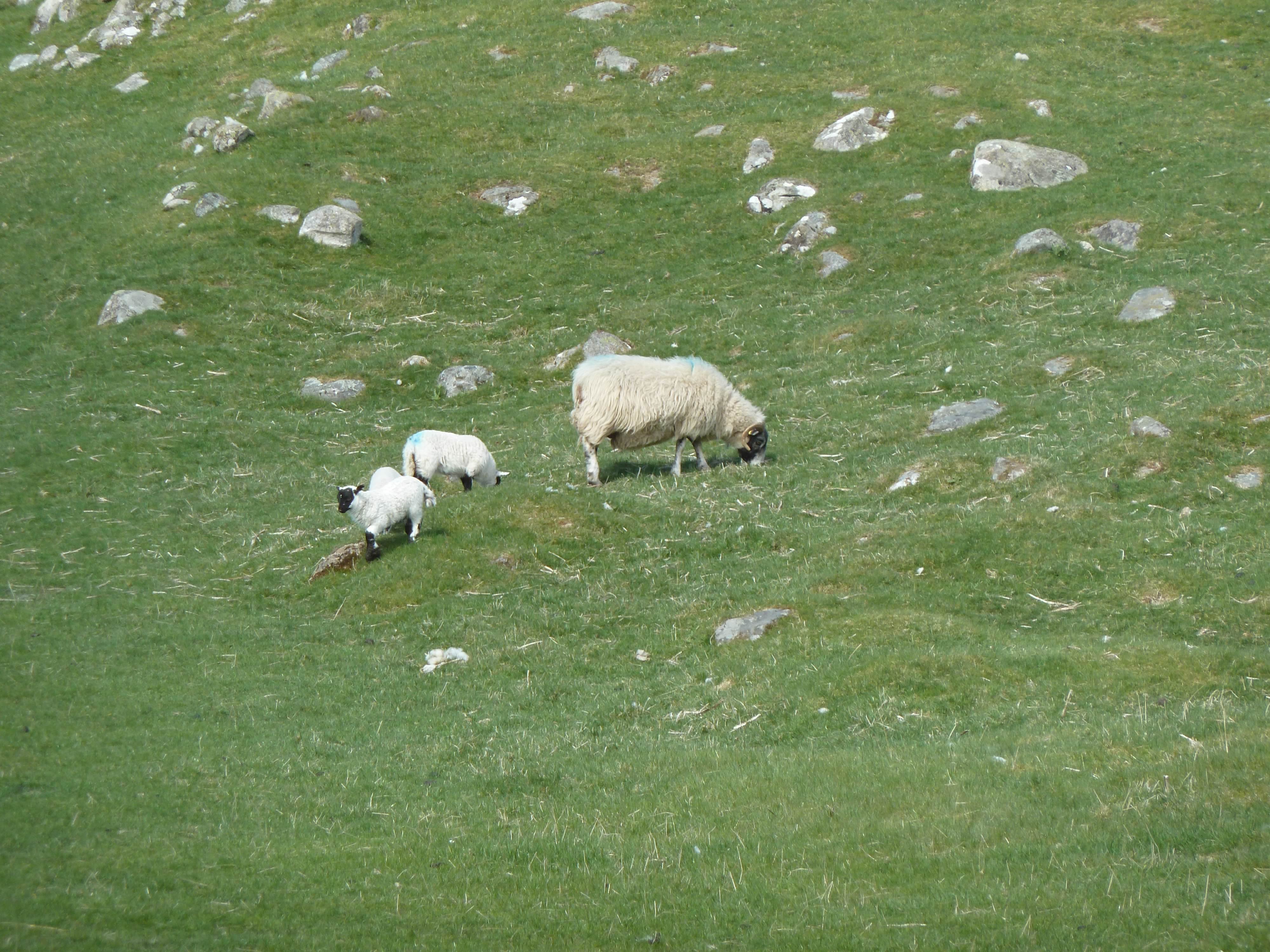 14.07 – Sheep and lambs having lunch
On this trip, we saw lots of small black-headed lambs. There aren't so many of those in Glen Tilt.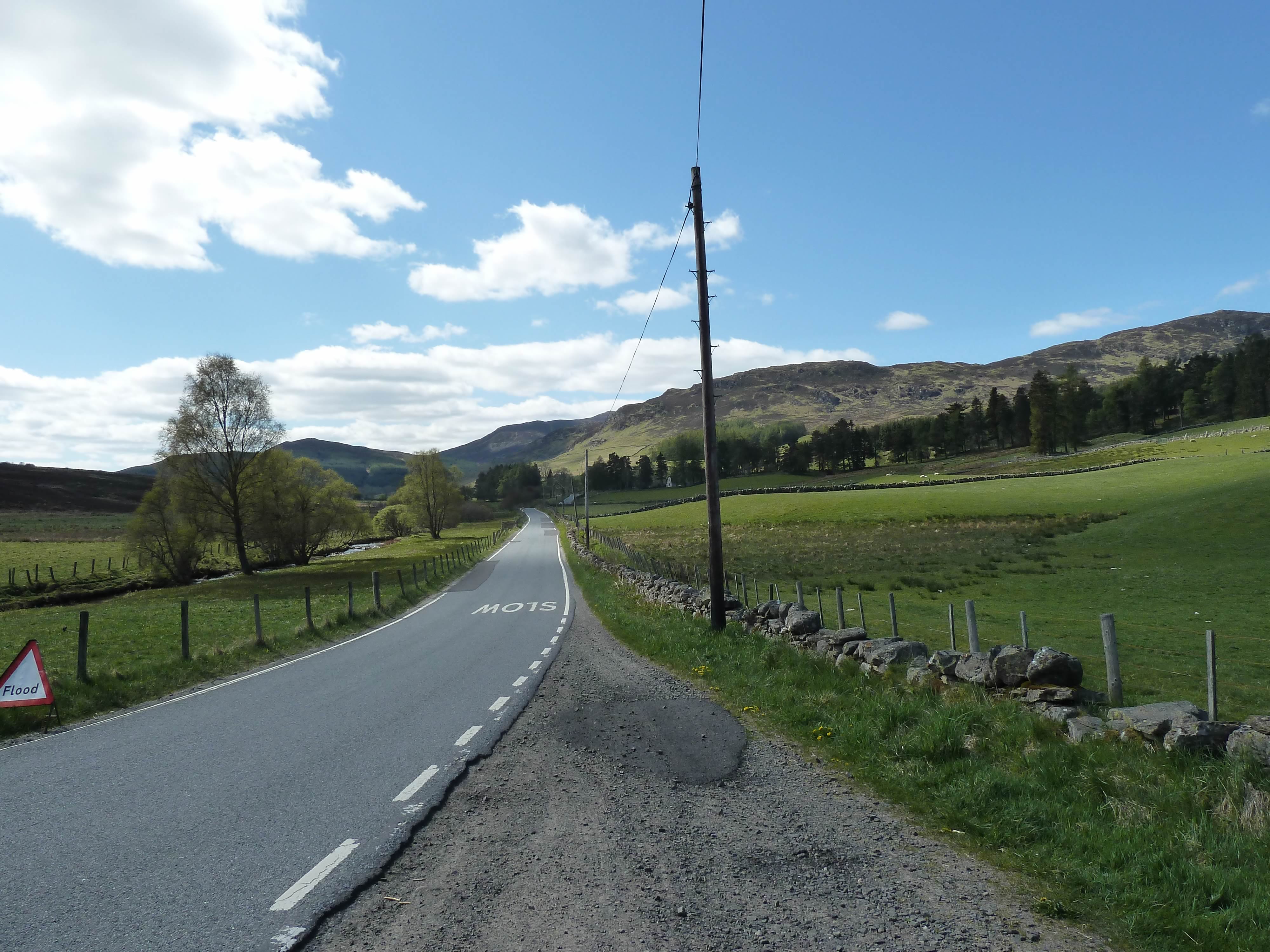 14.09 – Having a short break
We got off the main road at Straloch, and headed north. There was a number of German bikers laying on the grass, having a nap.
We rode uphill on the minor road for a few minutes. We had lunch just off the tarmac road, by the farm fence.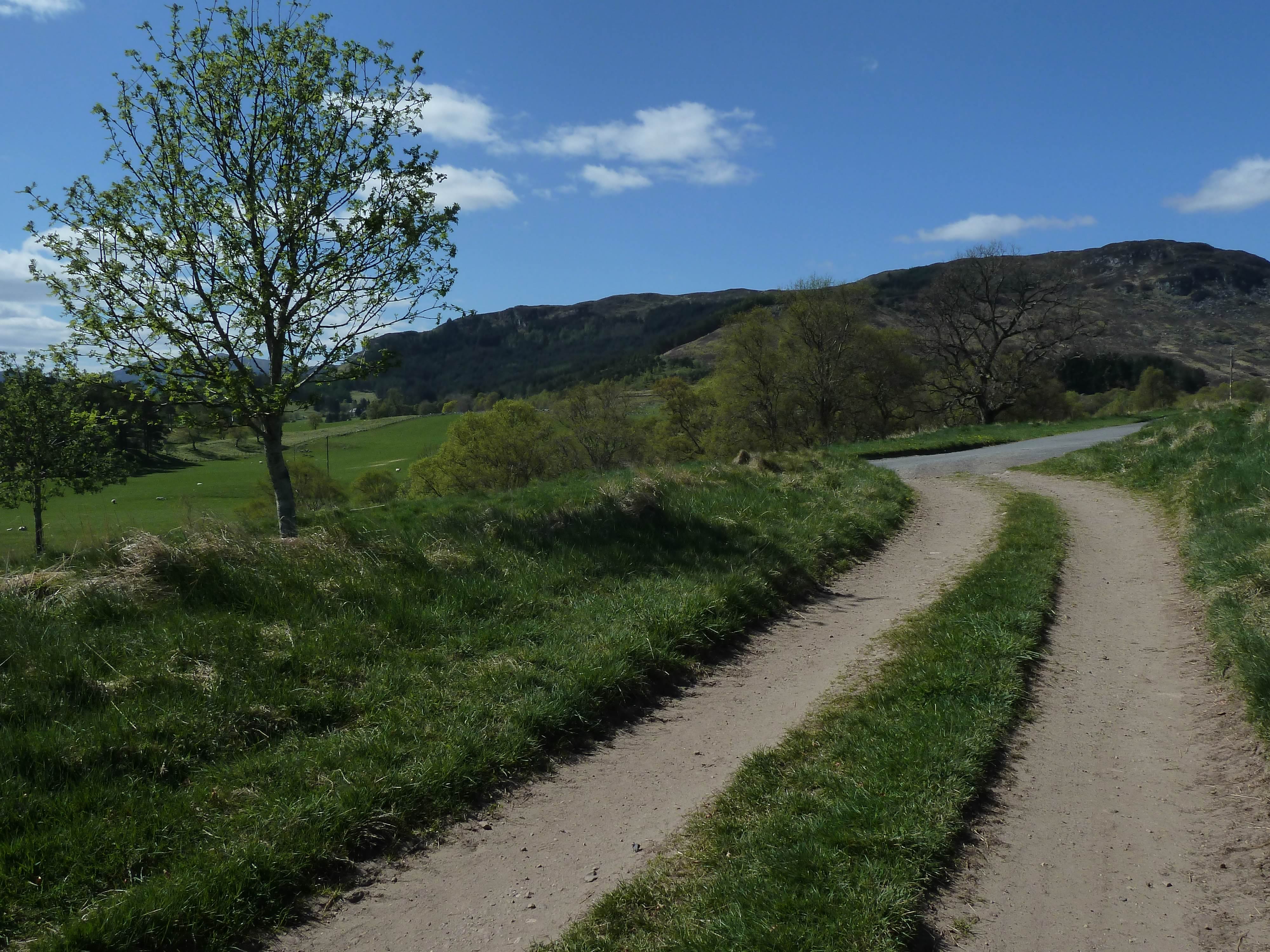 14.31 – Our lunch spot
Simon had prepared sandwiches at home: red Leicester with cherry tomatoes, tongue with cucumber, and smoked duck pate. We also had madeira cake.
The view of the meadows and lambs was idyllic.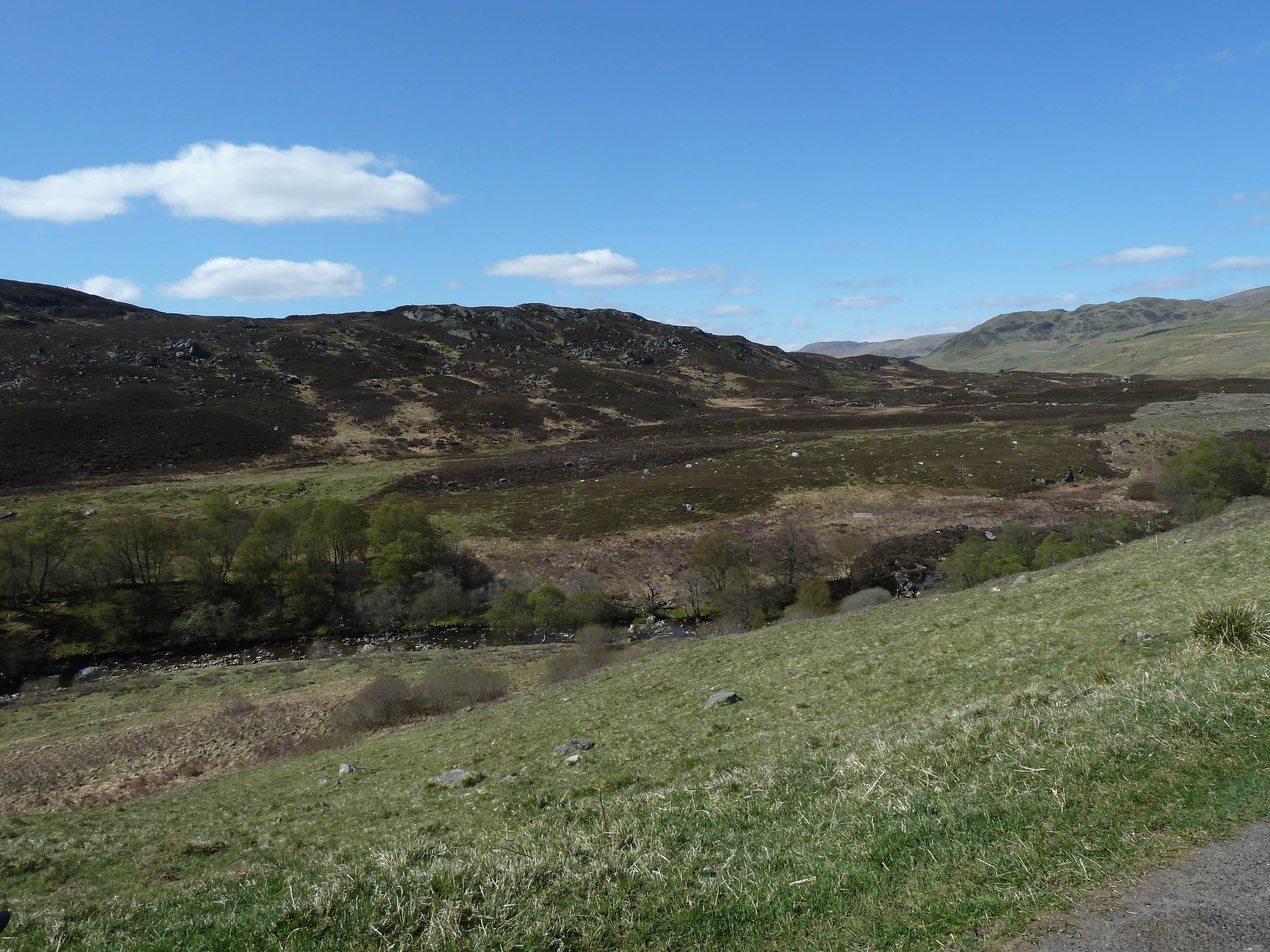 15.14 – Still on a good path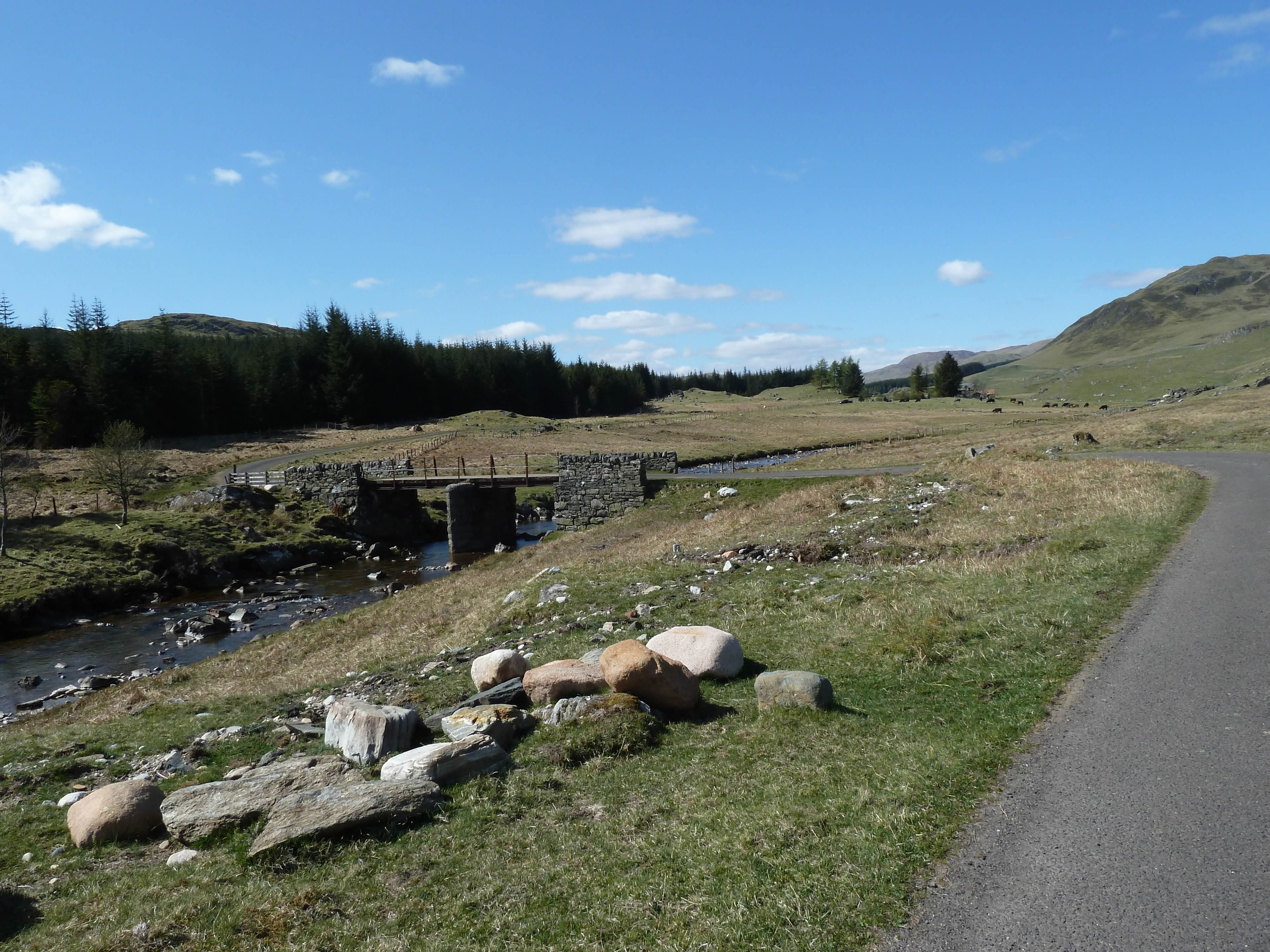 15.30 – Bridge over the Allt Fearnach [NO044675]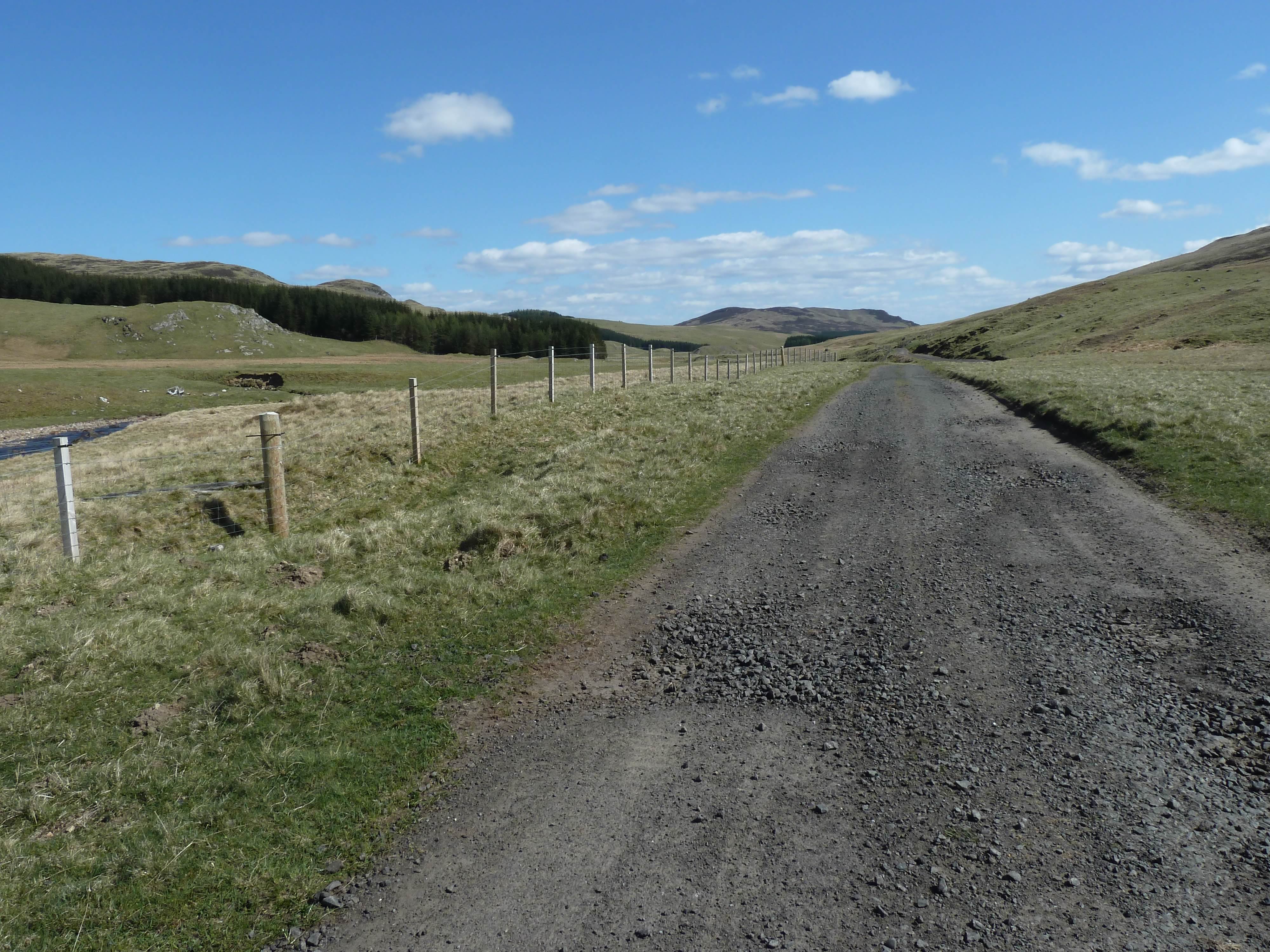 15.53 – Making fast progress
We continued on tarmac, gradually turning into broken tarmac, till Daldhu house.
At Daldhu we bore left up Glen Loch.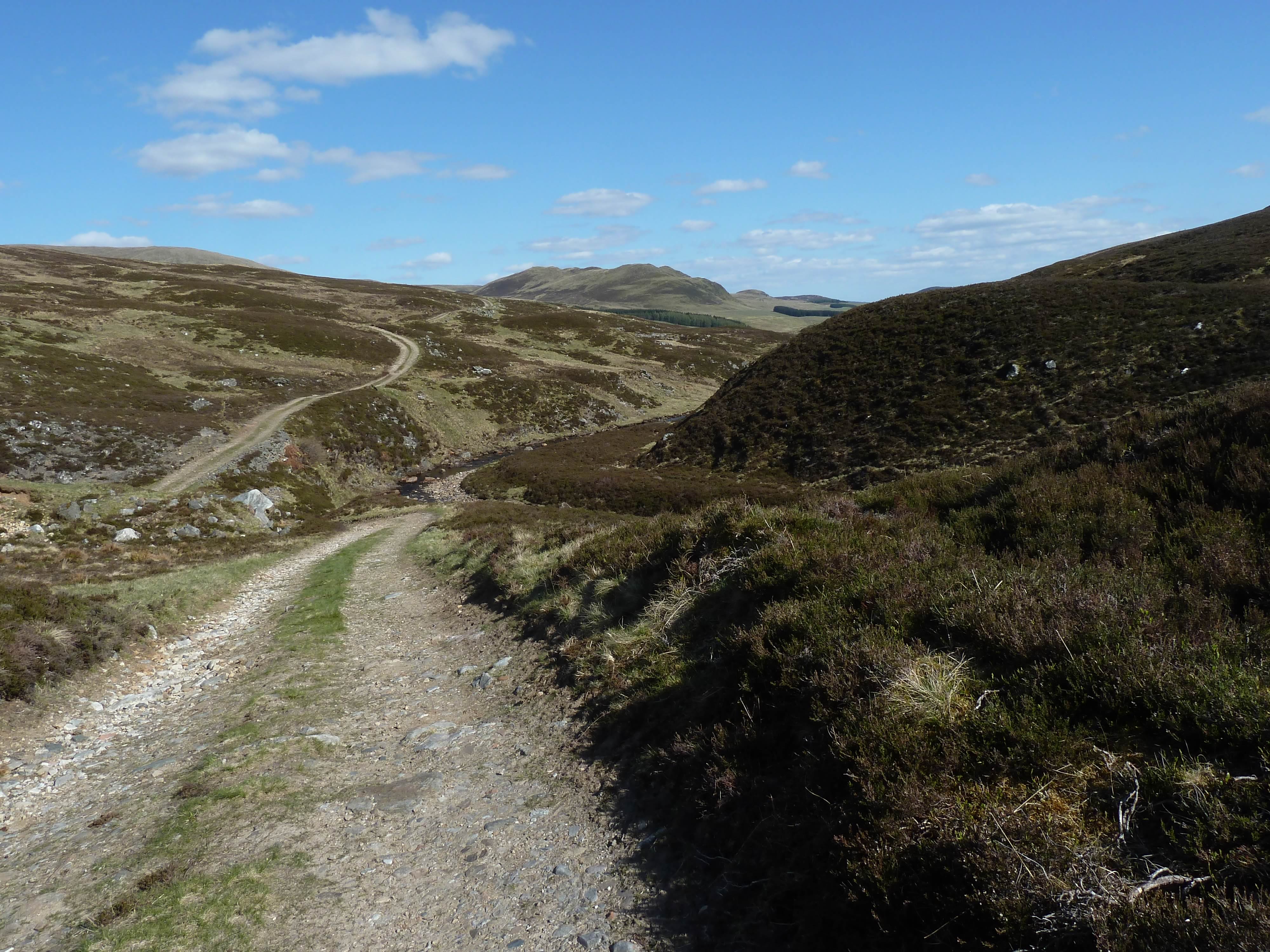 16-33 – Up and down in Glen Loch
The path started to deteriorate and our speed dropped dramatically.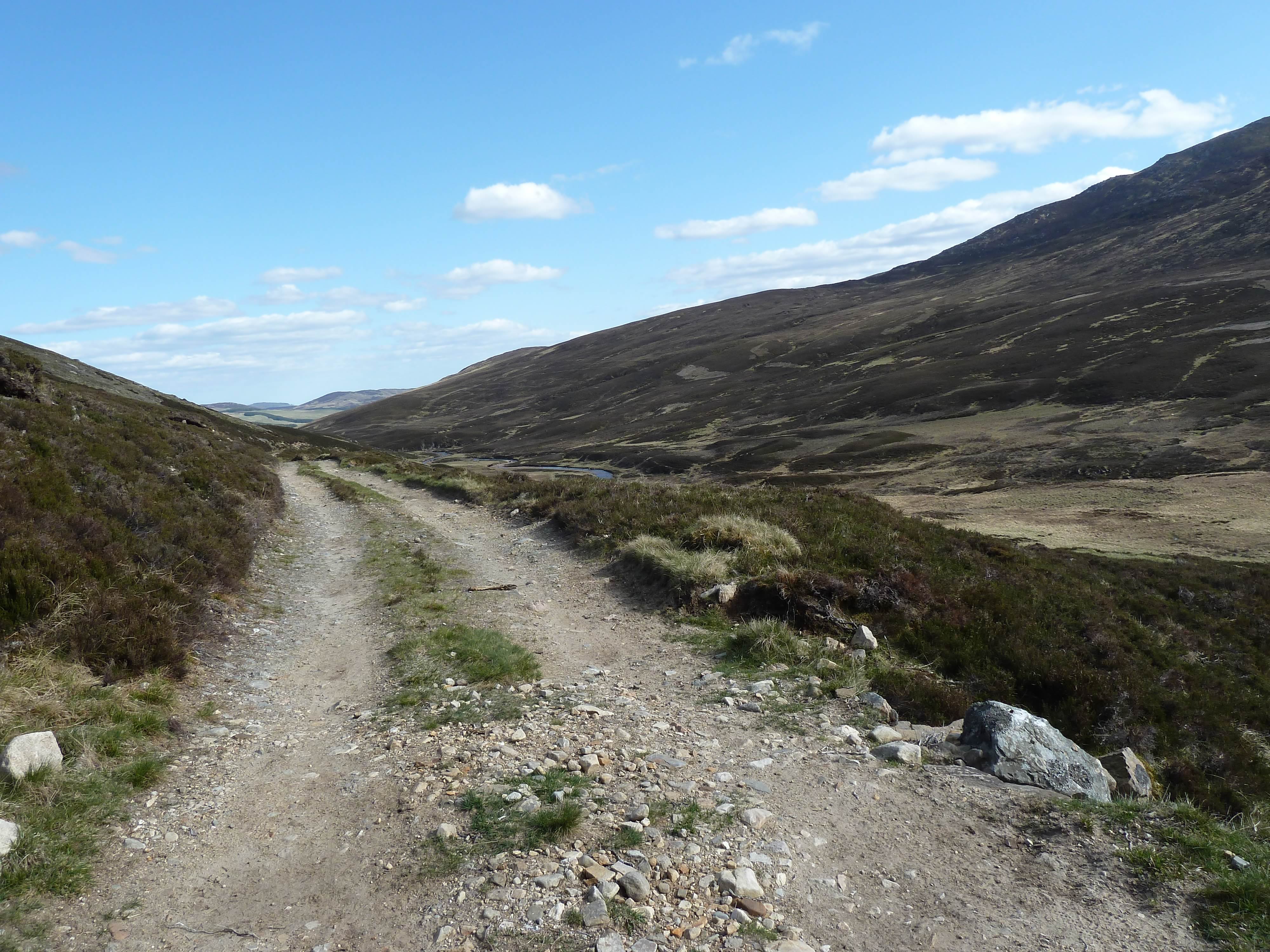 17.04 – Cycling towards Loch Loch
We were planning to get to Loch Loch, but didn't quite make it.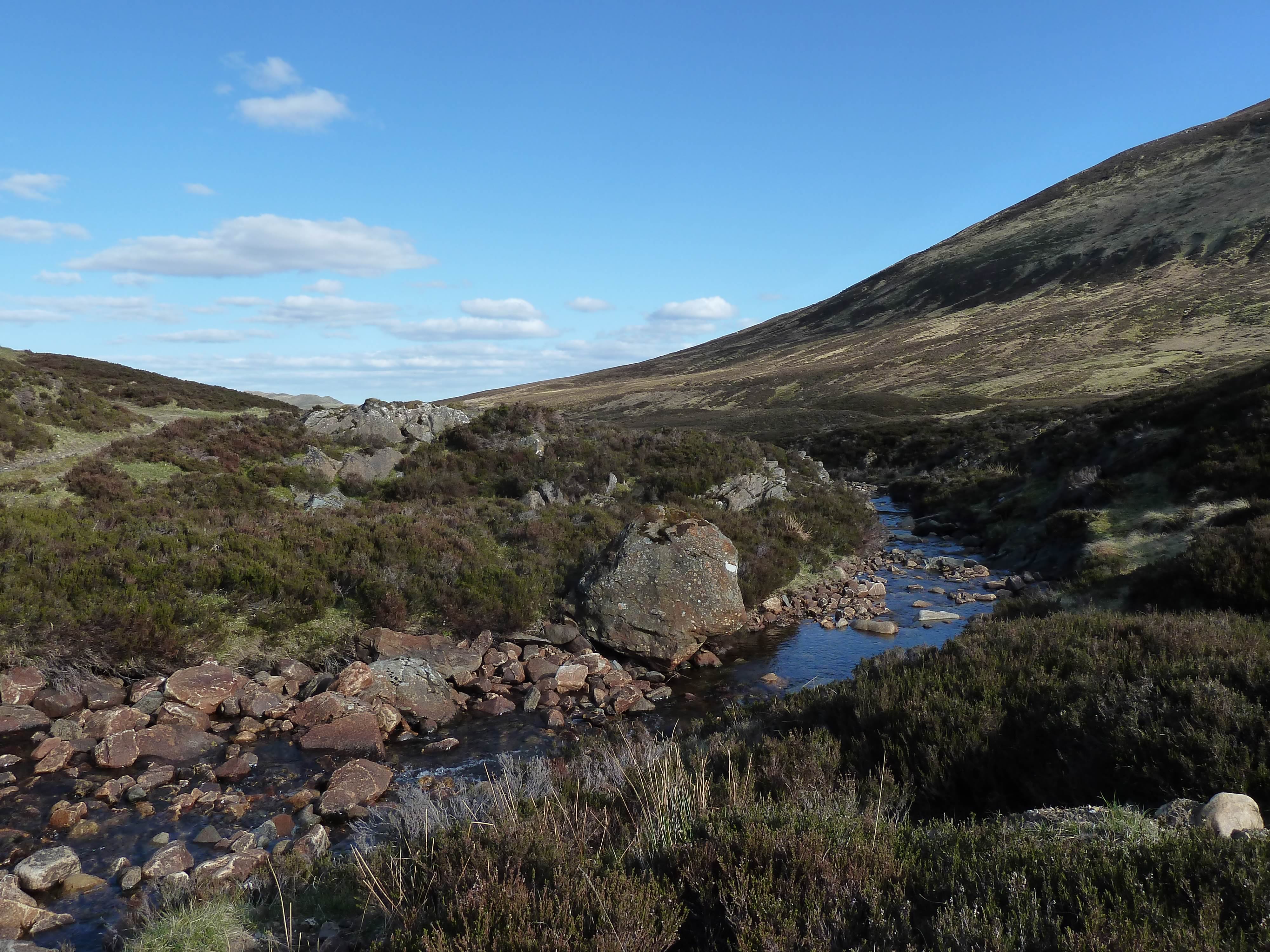 17.53 – The stream next to our campsite
We got stopped at about 6 pm, and camped at Ruigh-chuilein, a former settlement.
We could see Beinn a'Ghlo to the northwest.
There were grouse nesting all around us. You could see one leaving the nest or coming back every few minutes.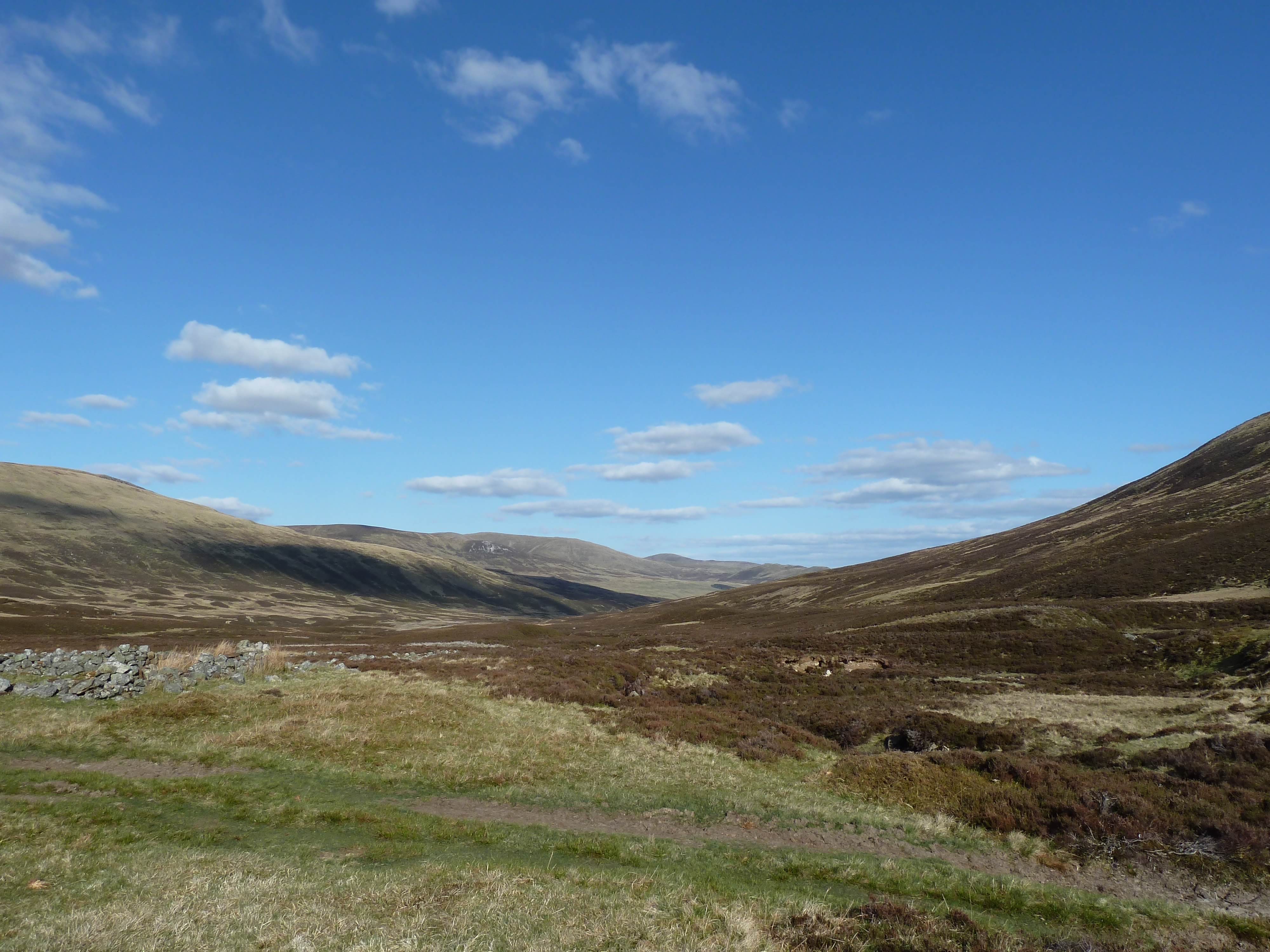 18.04 – Settlement remains
By 7pm we had put up the tent. The temperature was pleasant, but it started to drop quickly.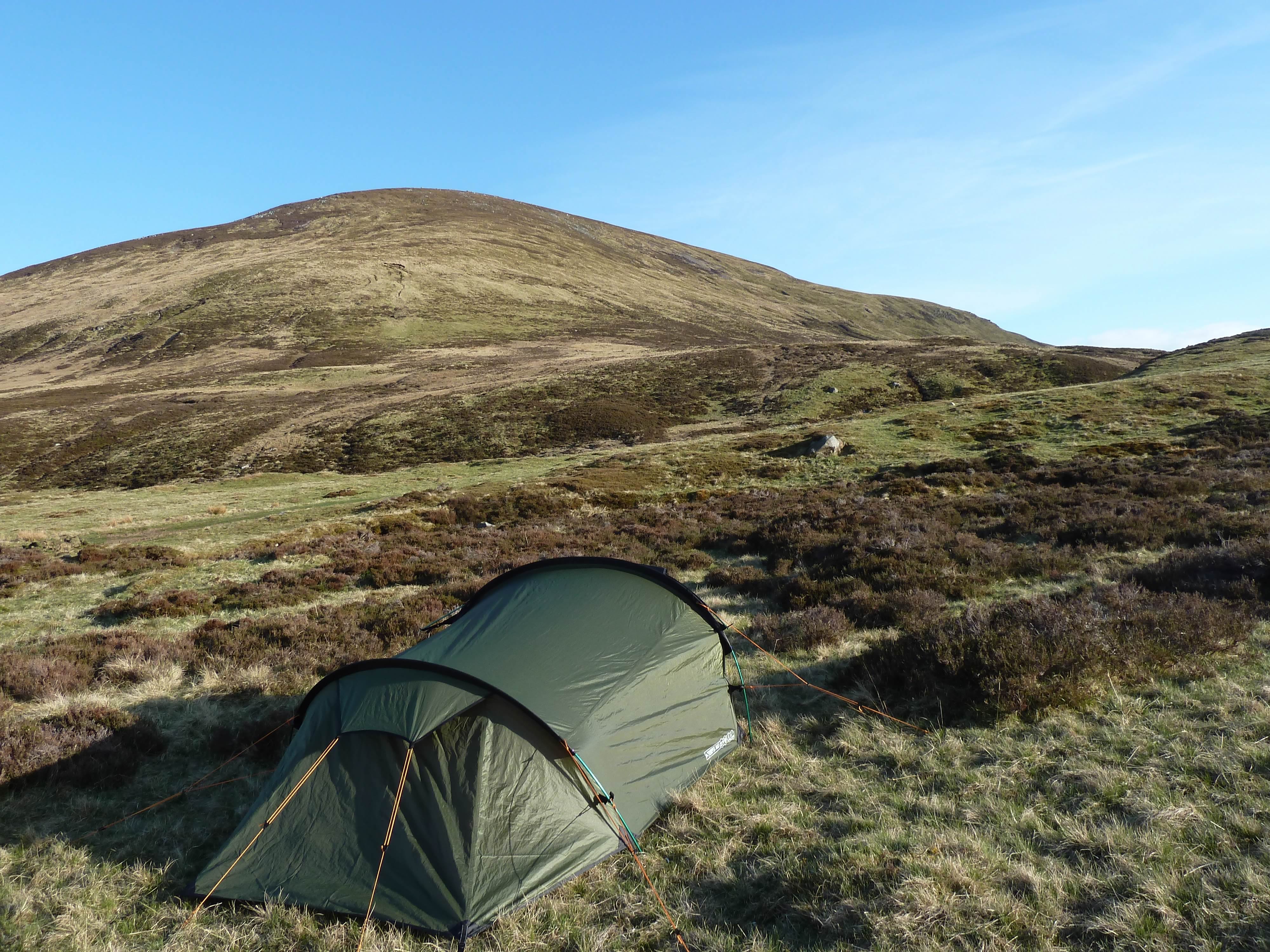 19.08 – Tent facing Ben Vuirich
The campsite was at about 450m.
There was a stream a few yards away from the tent.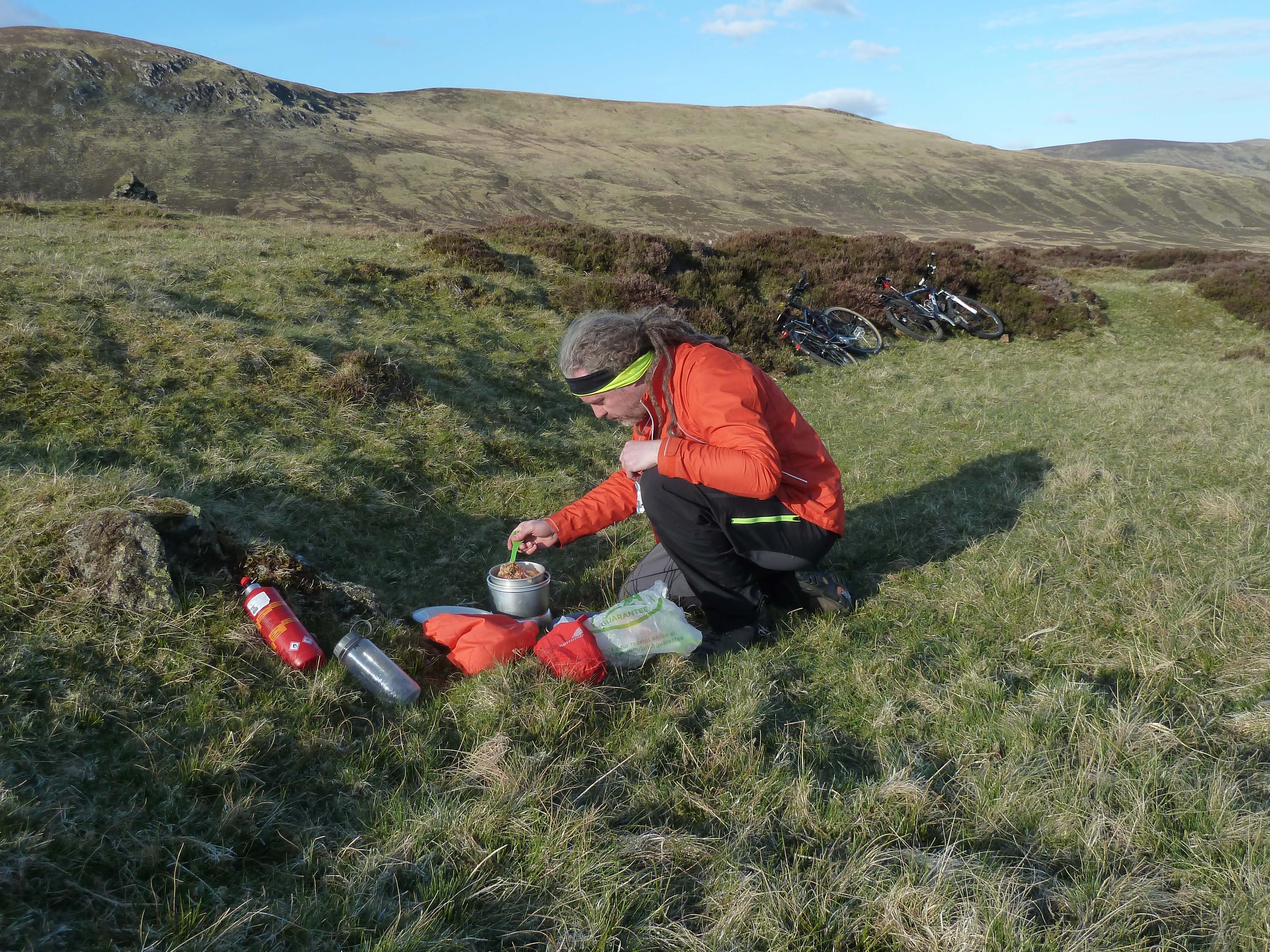 19.10 – Chef King concocting our rice meal
Simon cooked dinner: rice with sausage and sauce.
While we waited for the rice to cook, we had the French onion soup we had brought in the flask.
It wasn't great. We've got to find better soups.
At some point during dinner, the wind dropped.
When we finished dinner, Simon boiled more water and made chai with the spice bag and powdered milk we had brought.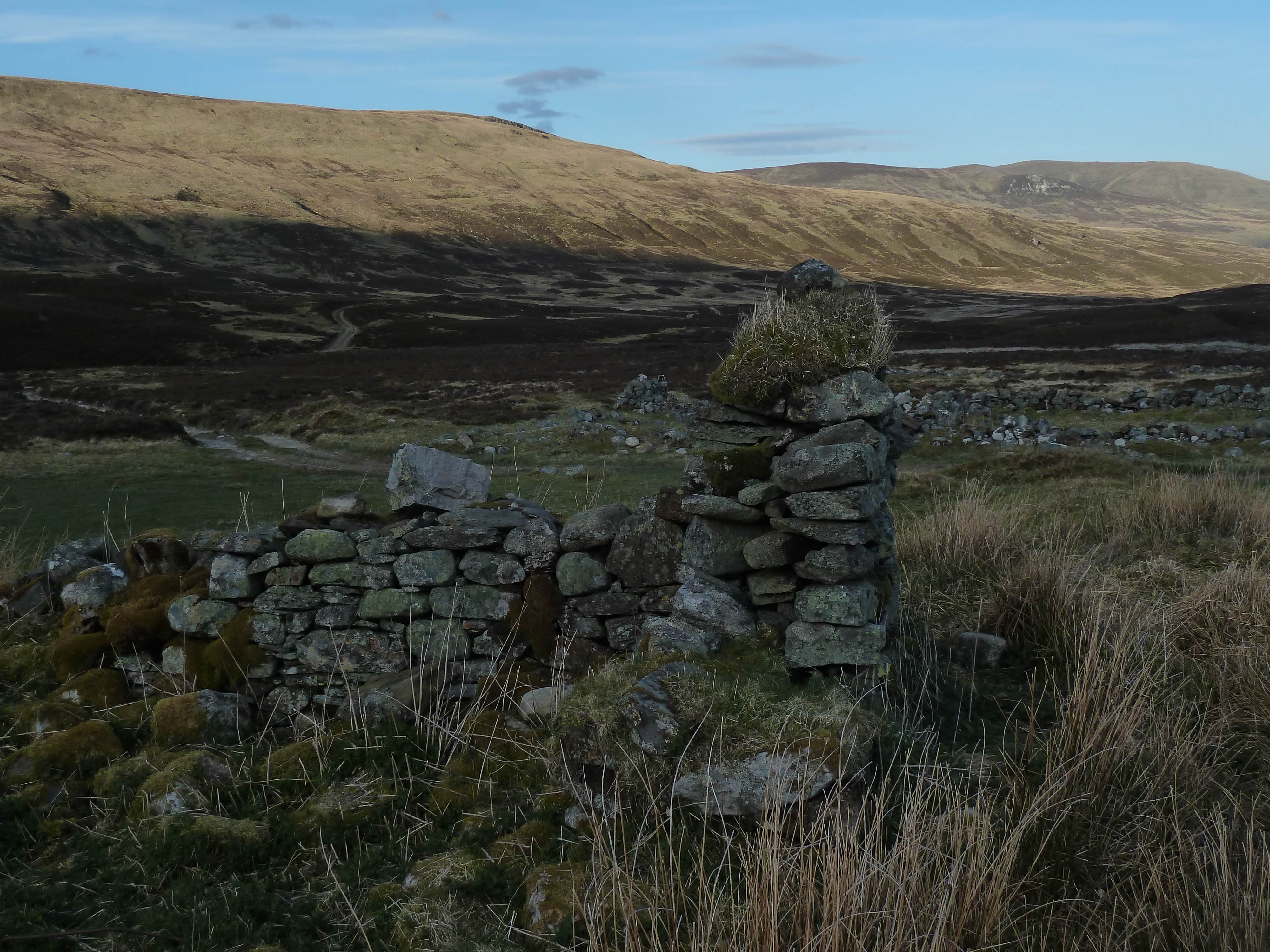 19.55 – Settlement remains from closer up
I took some pictures with the camera while Simon put things away.
We were in the tent by 9pm.
By then, the temperature had dropped. We had our thick socks, and Simon was wearing foot warmers.
I didn't go to sleep until I put my foot warmers on at about one o'clock.
Even then, I didn't sleep great. I was cold all night. The temperature was a few degrees below zero.
Day 2 – Sunday, 15 May, 2016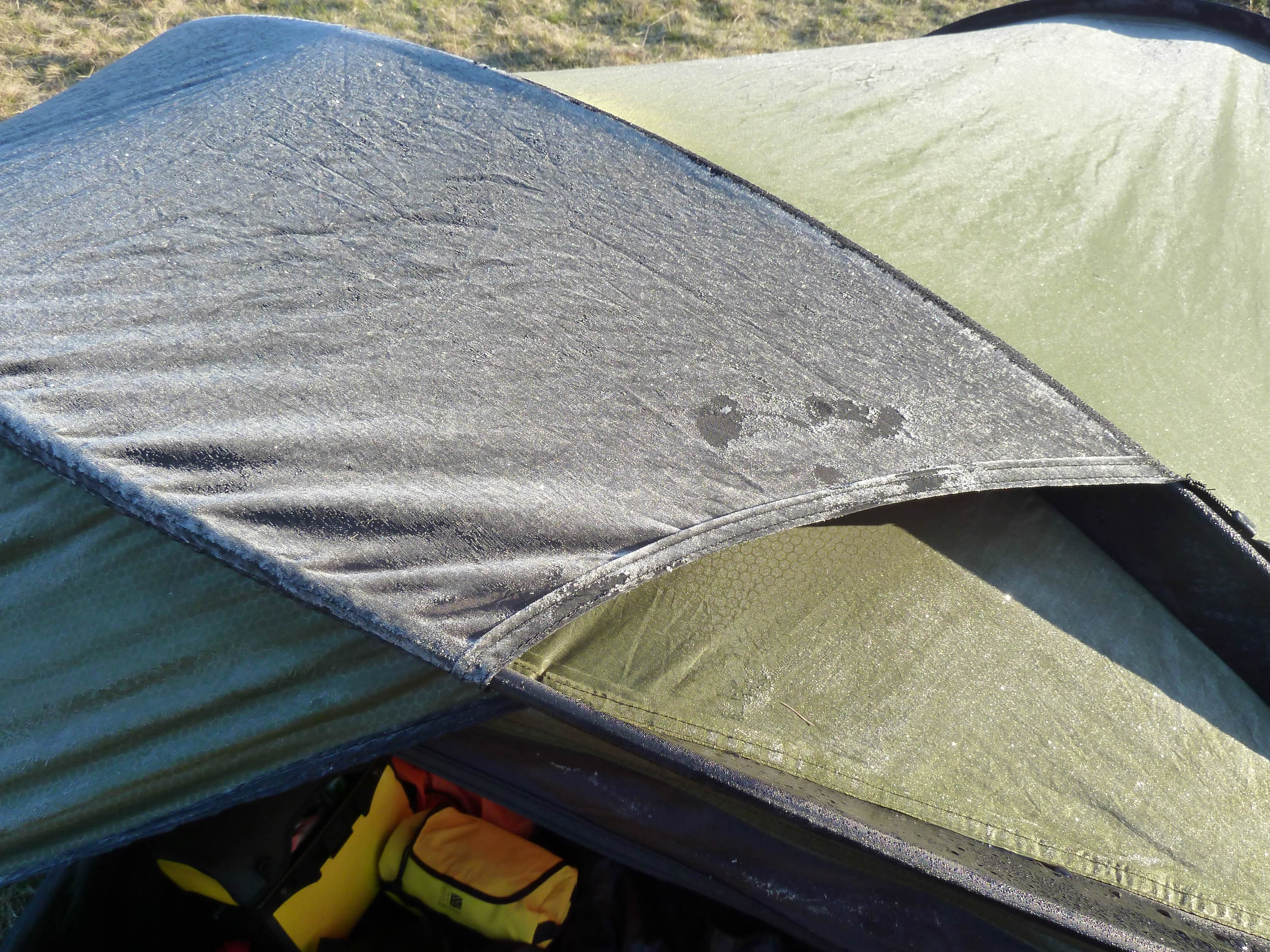 6.08 – Tent covered in frost
The weather forecast wasn't great for Sunday, but when we got out of the tent at 6am there was a bright blue sky. And there was very little wind.
The light was beautiful, and the grouse were already up, making quite a noise.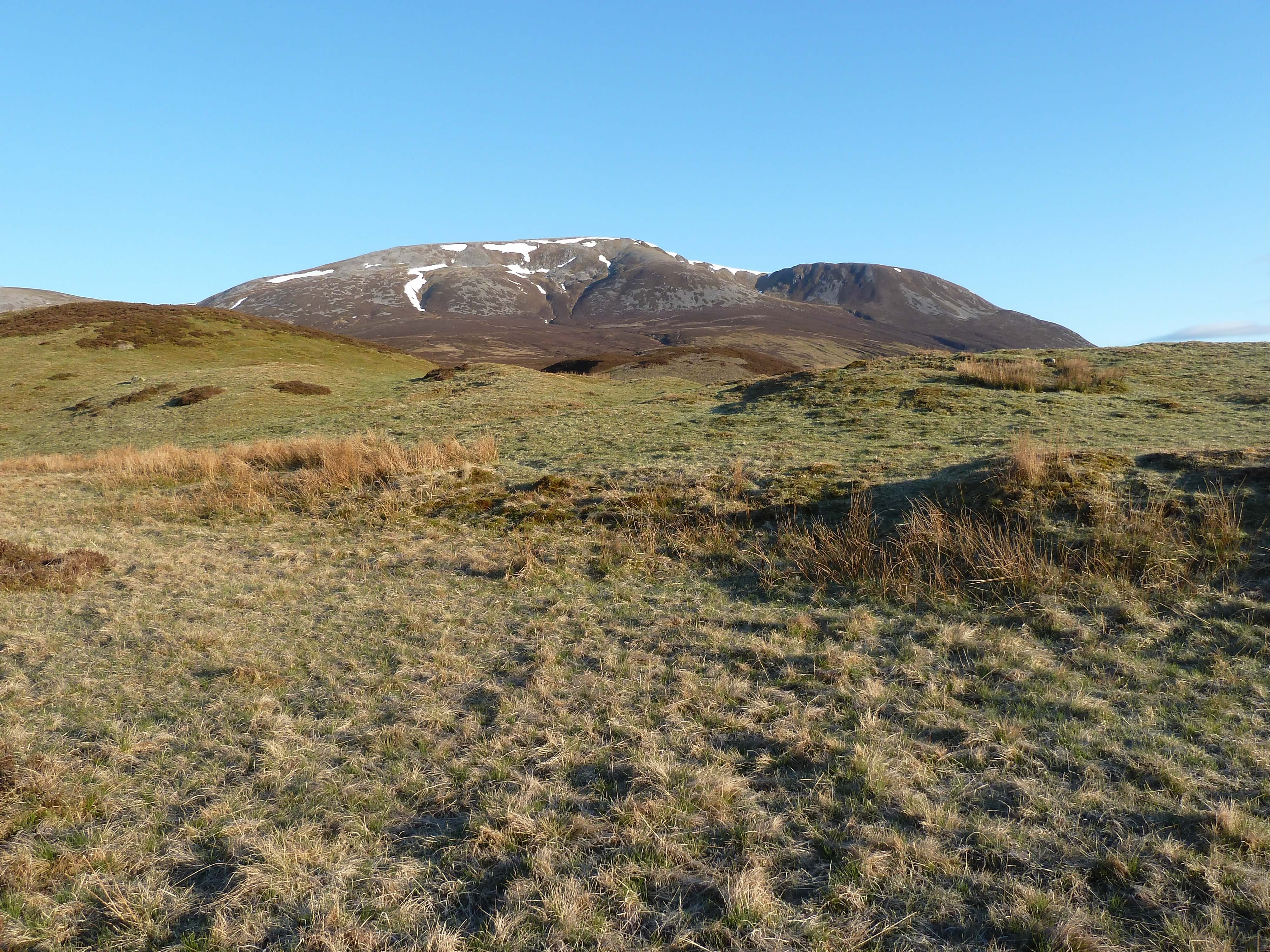 6.08 – Beinn a'Ghlo as seen from the tent
First, we had chai. It was tasty and warm.
For breakfast we had dehydrated scrambled eggs with potatoes and peppers. And also porridge with blueberries.
We left the camp at about 8.20. Faster than usual.
The weather was cloudier than on Saturday, but we had a fair amount of sun all day.
8.54 – Maria, hoping she looks cool
Instead of going back to Pitlochry the way we came, we decided to take the path to Blair Atholl.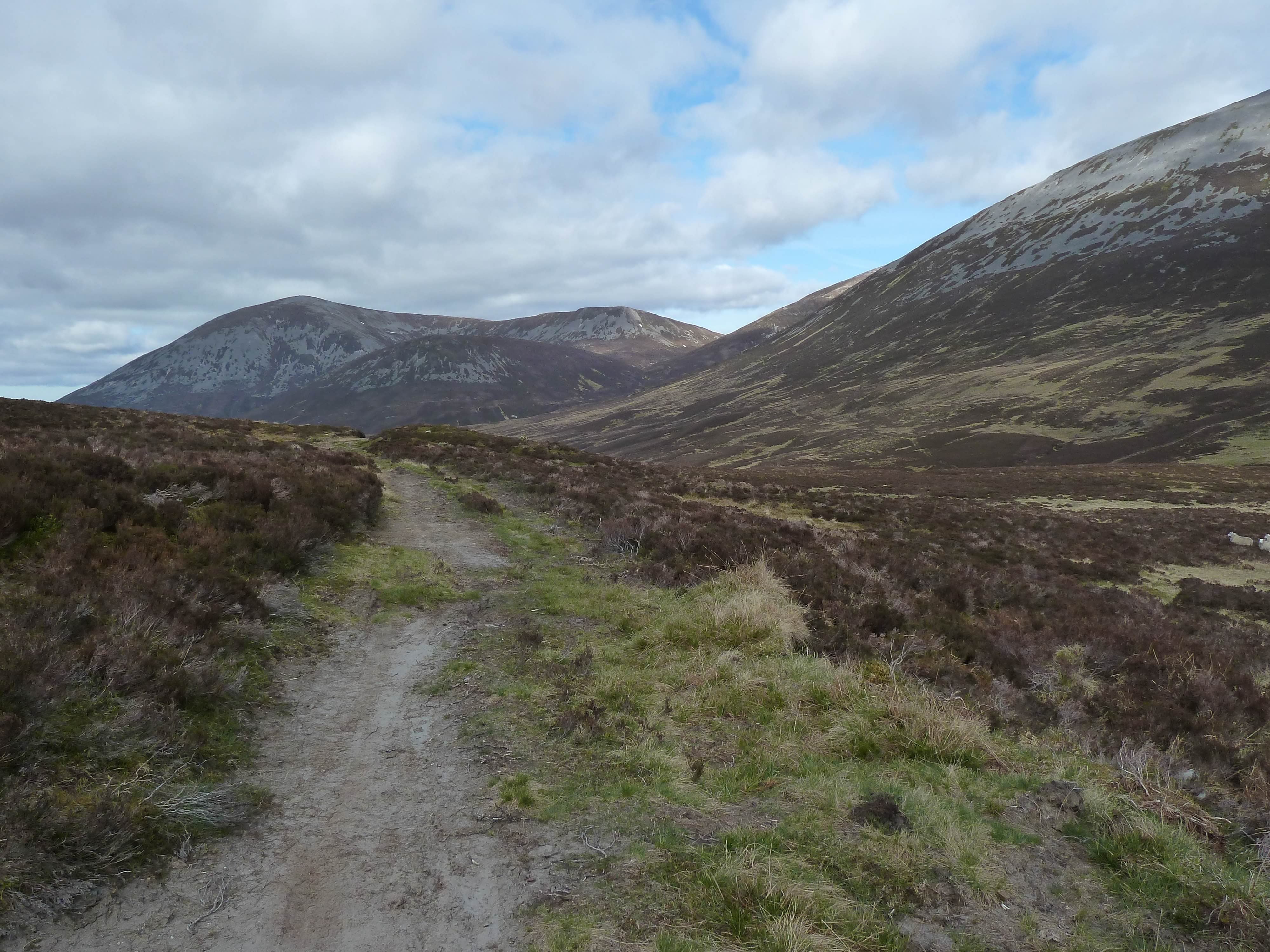 9.08 – Cairn Liath in front of us
It was hard. Exhausting. But the views were great.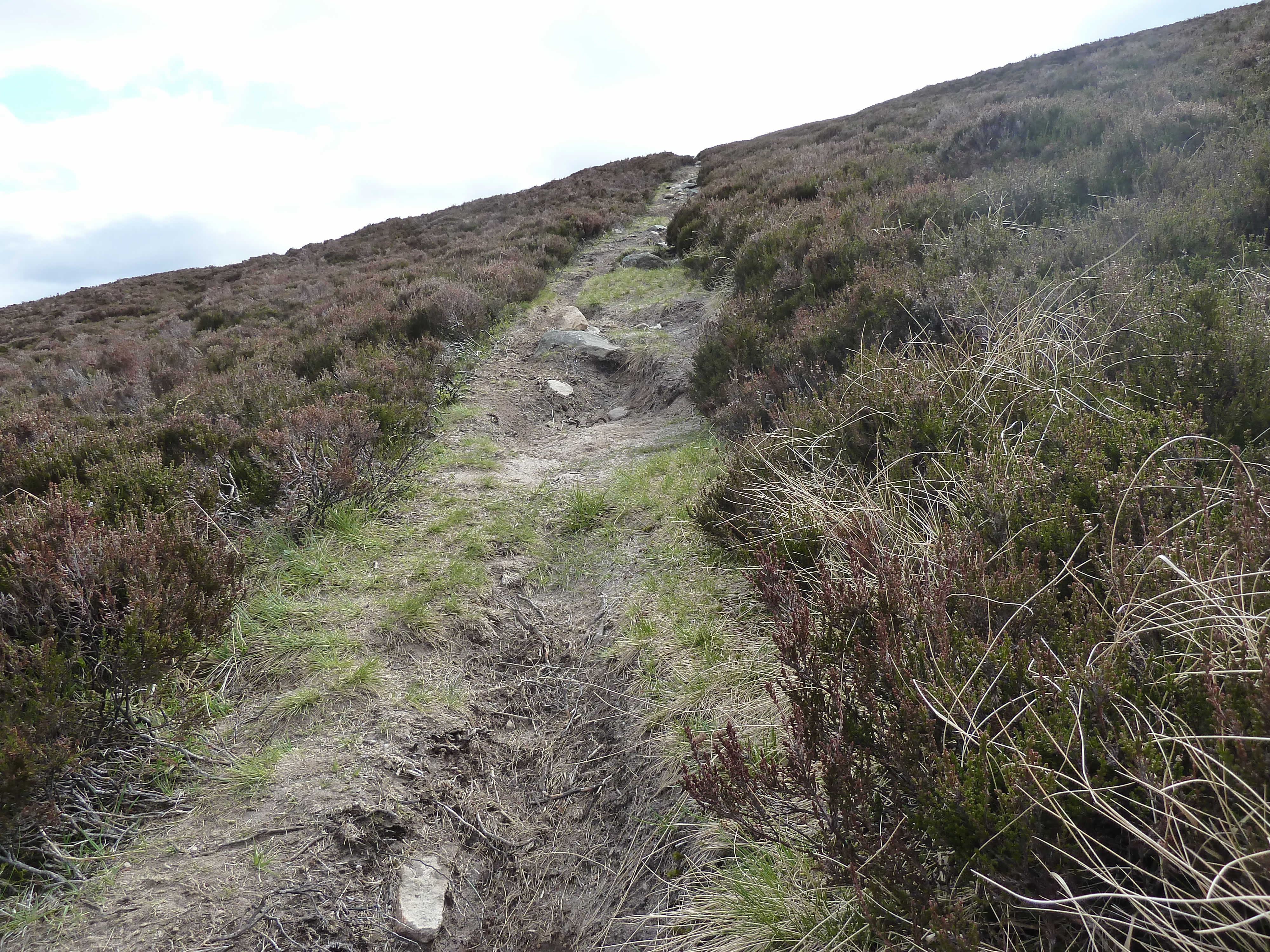 9.17 – I can't believe I managed that path
At times the path was seriously steep. I had to take the panniers off my bike, because I couldn't push up all that weight.
We walked/cycled past Beinn a'Ghlo.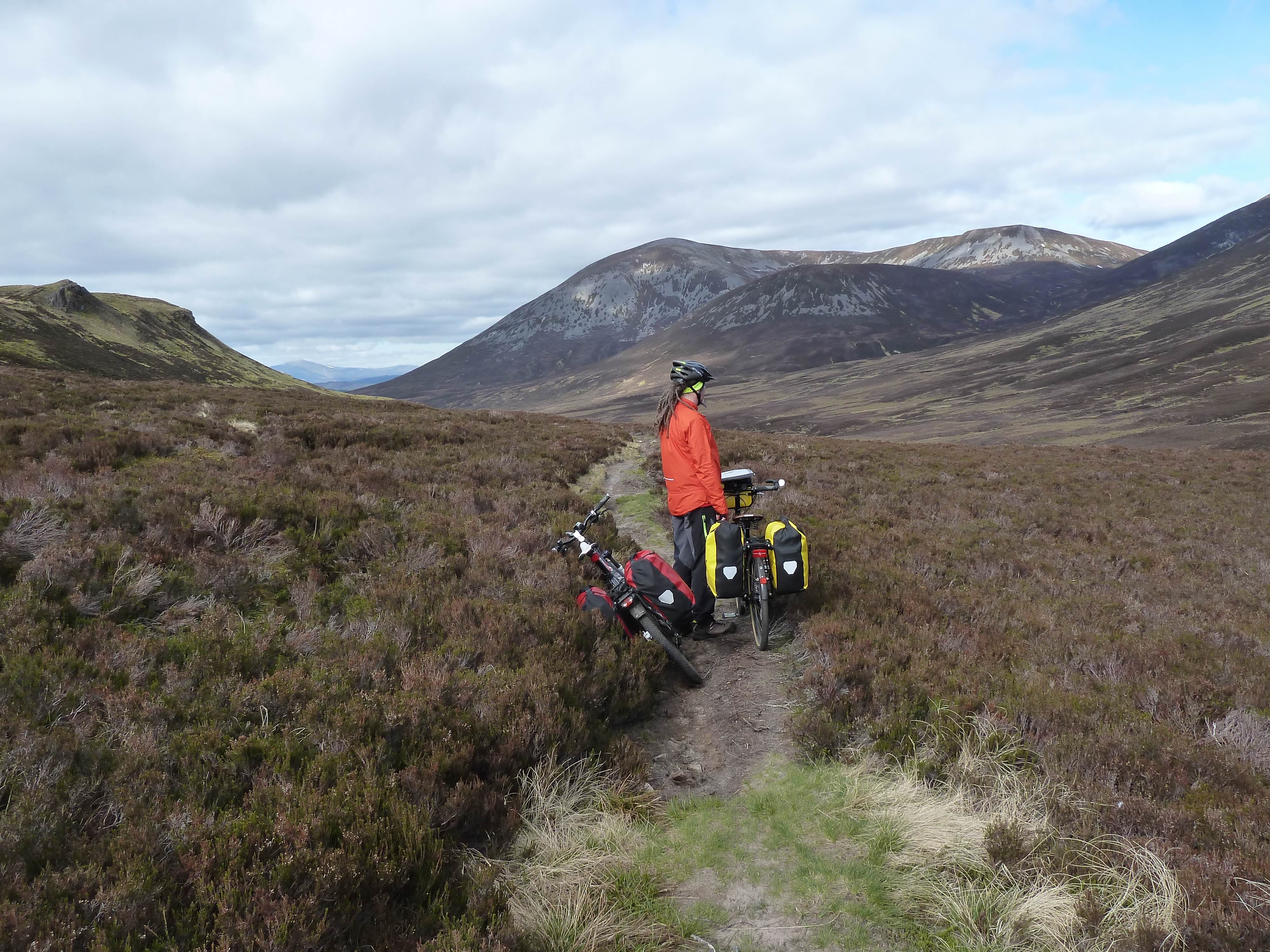 9.18 – Simon contemplating Beinn a'Ghlo

9.48 – panoramic view of Beinn a'Ghlo
9.49 – Two geese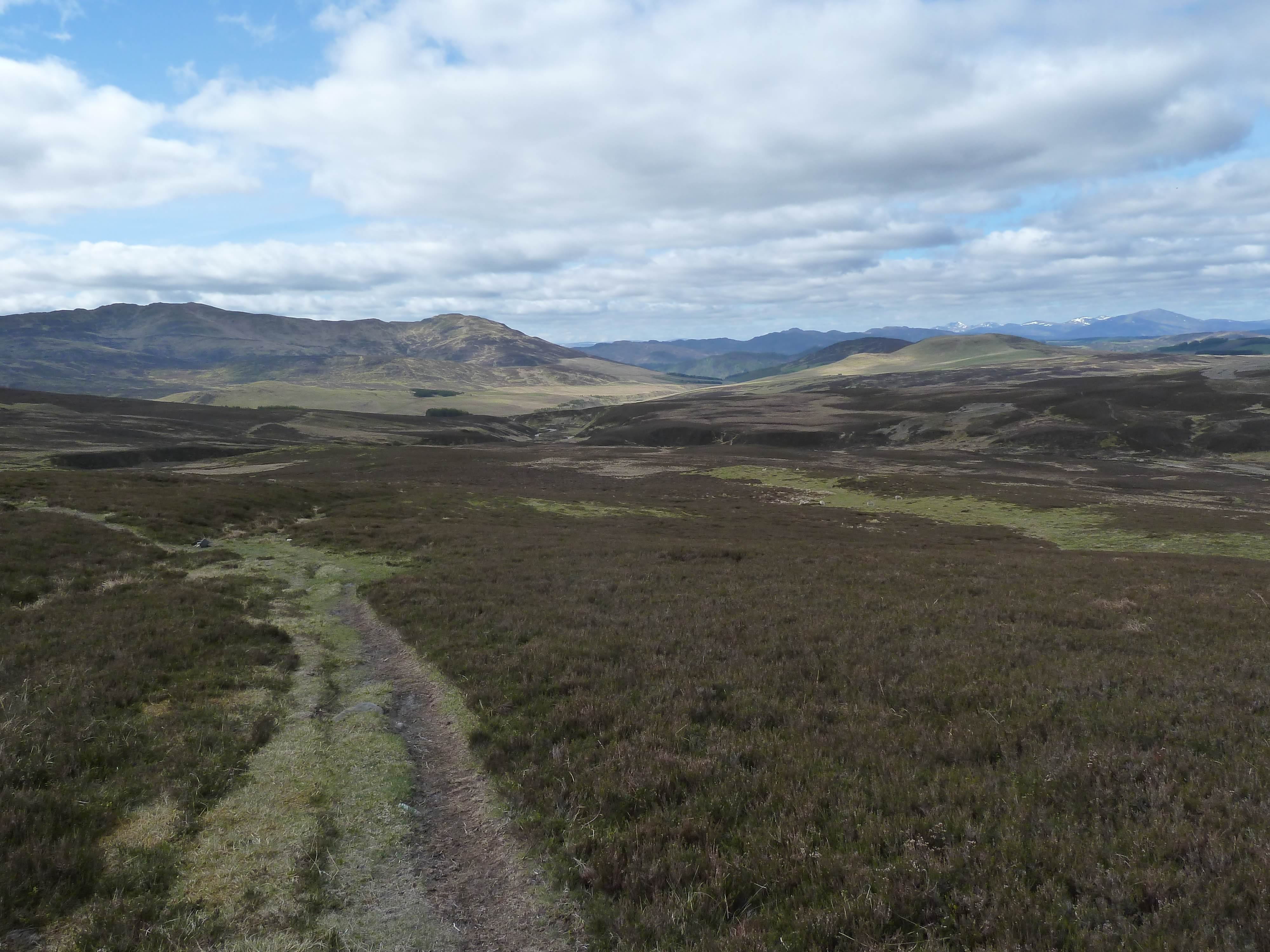 10.12 – Looking towards Blair Atholl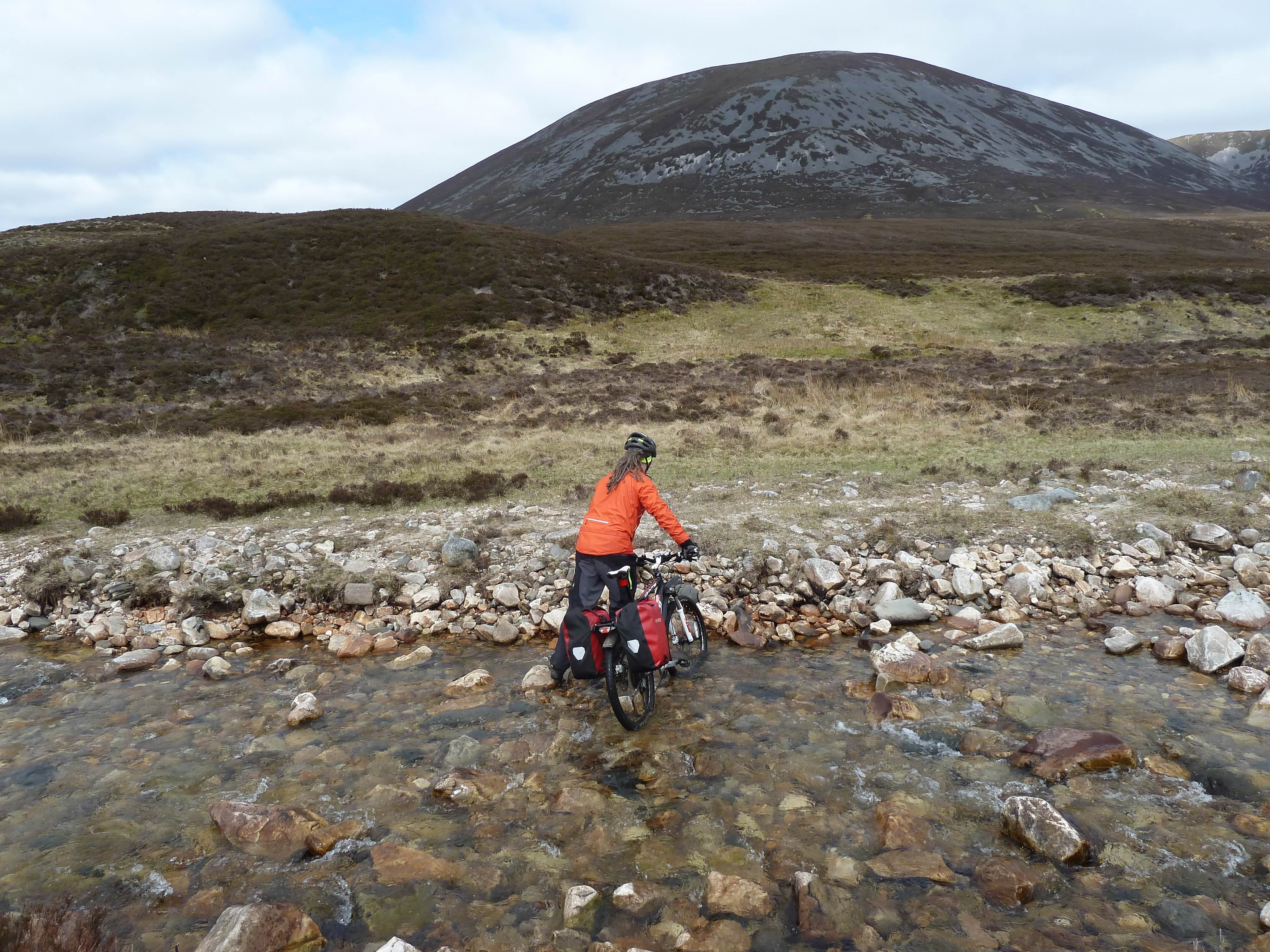 10.33 – Simon taking Mountie to the other side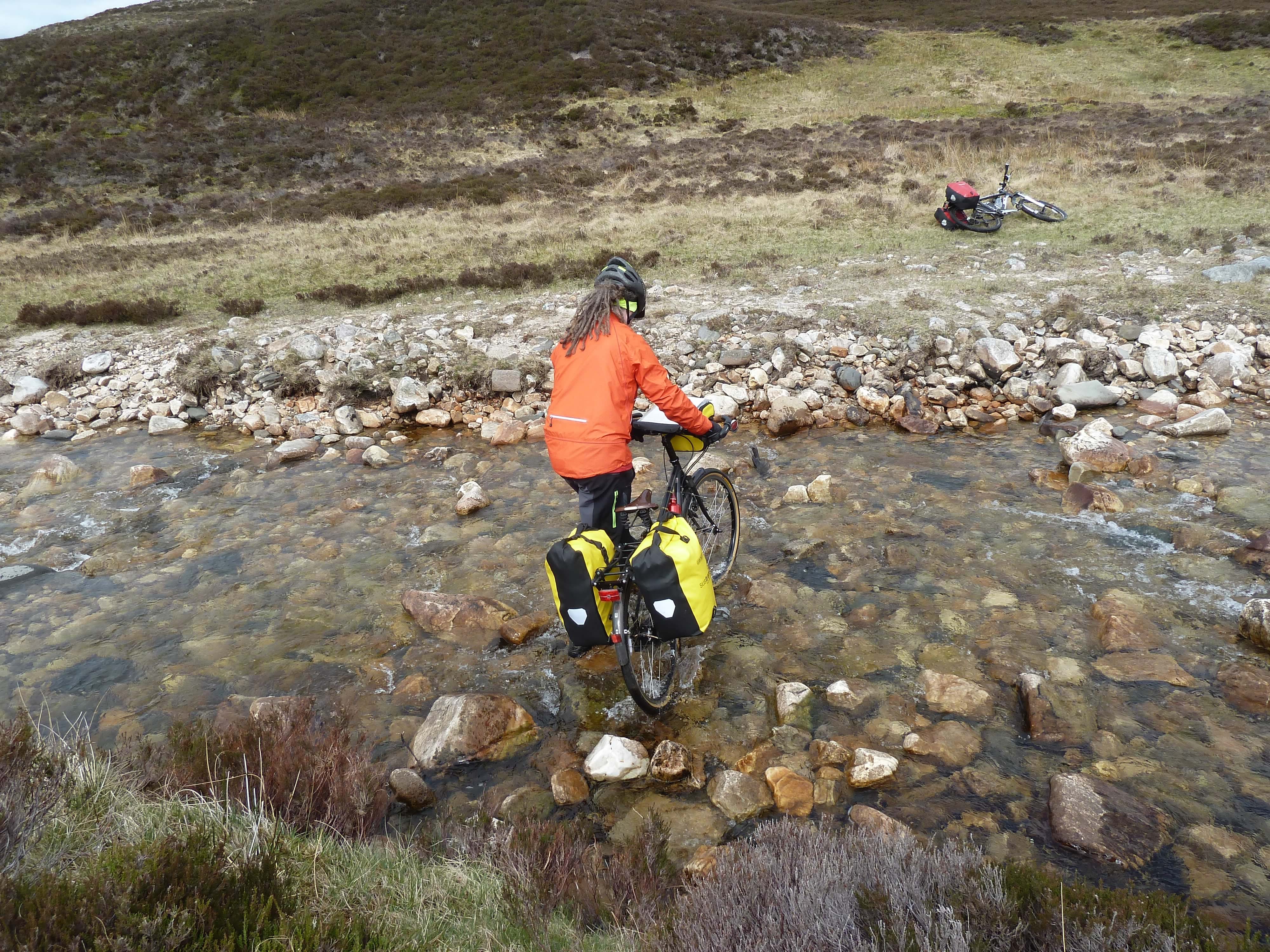 10.34 – Simon and Bumblebee
This is the deepest ford we had to cross: Allt Girnaig [grid reference: NN952687]
All the other fords were easy.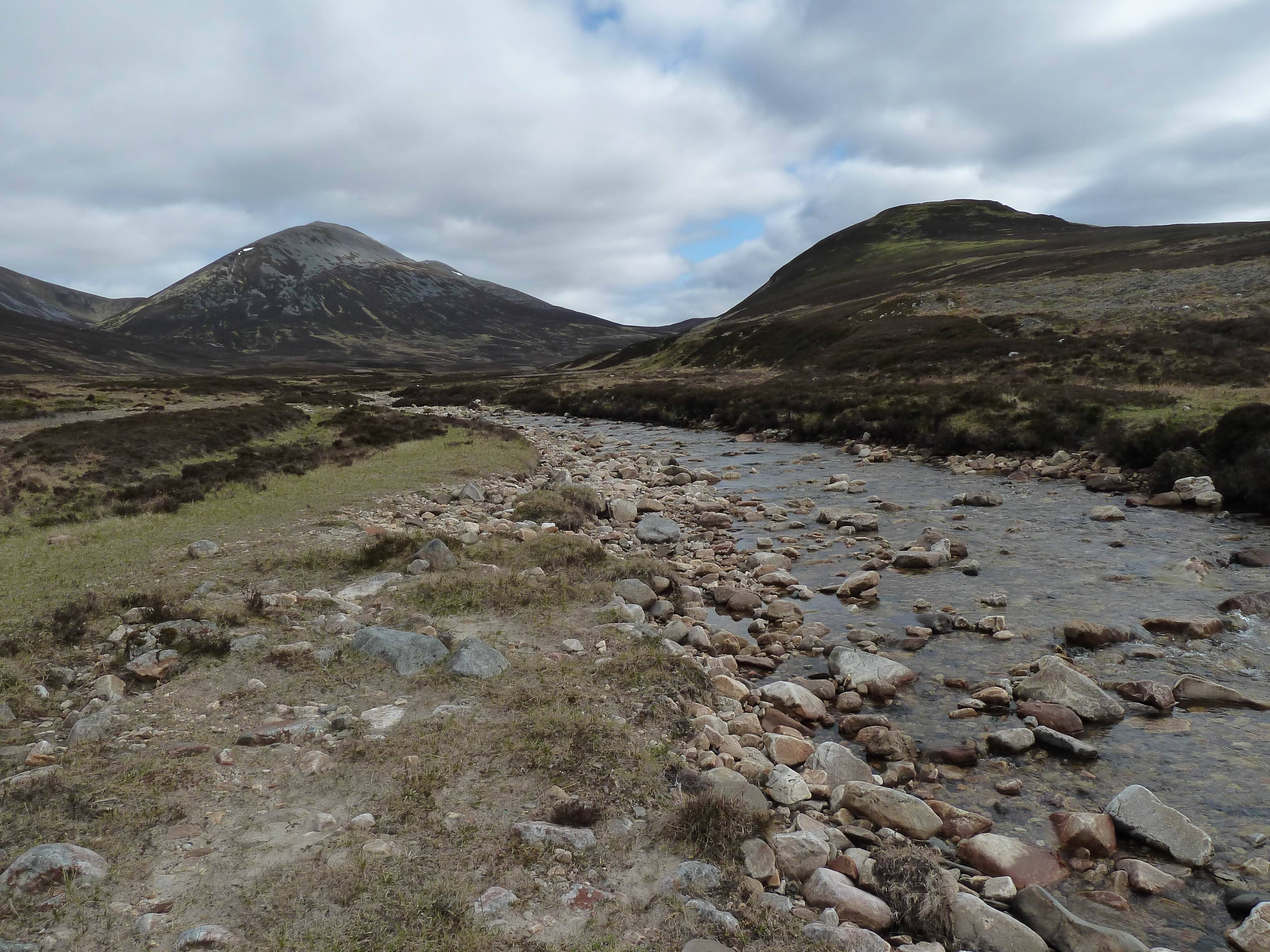 10.37 – View of Airgiod Bheinn (not a Munro)
Eventually the path widened. We cycled past Cairn Liath, the first Munro we climbed on ###.
From here on, the road is now very familiar to us.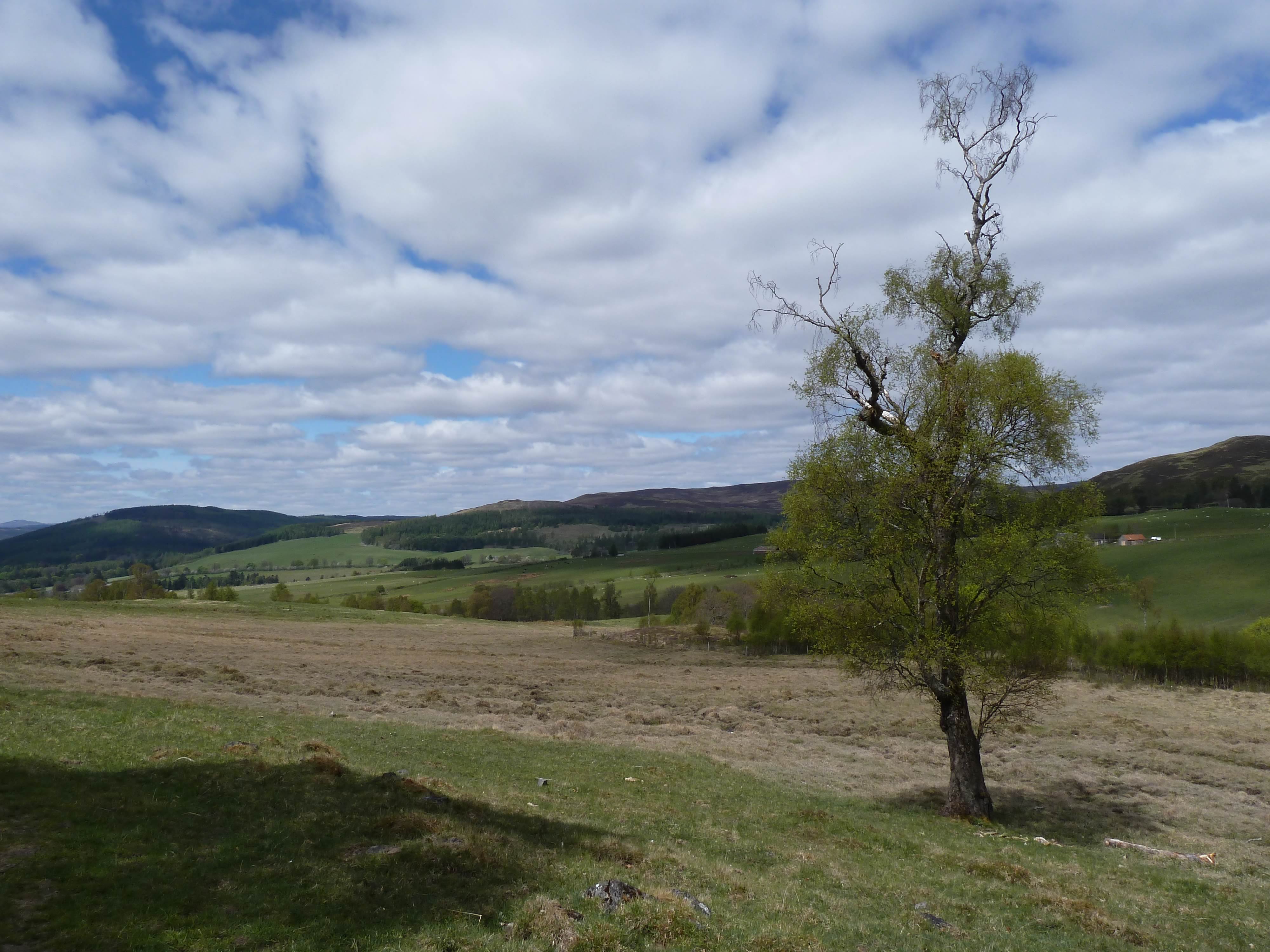 12.04 – tree / View of Glen Fender
I love this photograph, especially the tree.
We had an early lunch at noon. Same sandwiches as the day before, half each.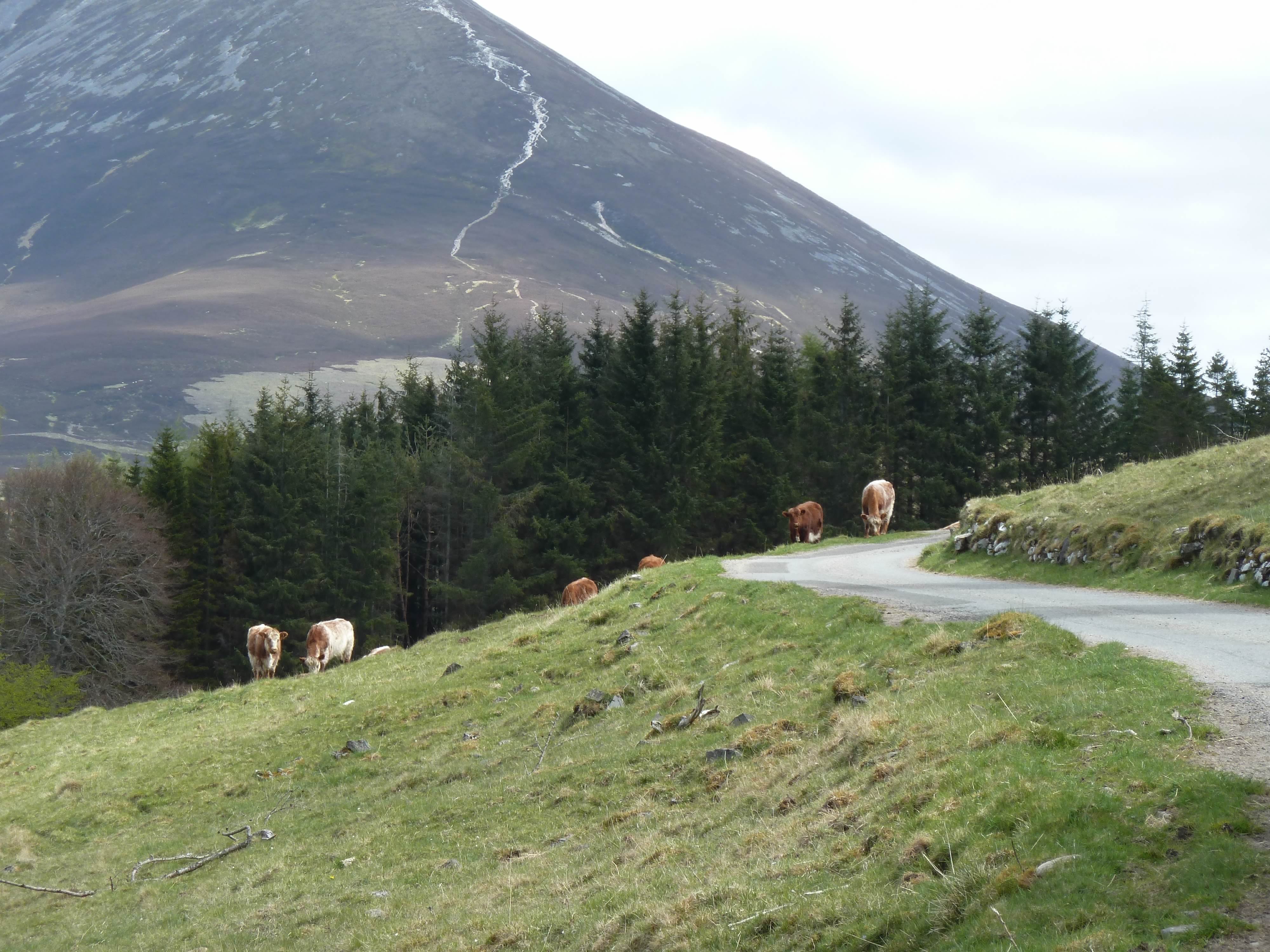 12.22 – Bullocks, coming to say 'hello'
Behind the bullocks is Cairn Liath, our first Munro.
The next twenty minutes are downhill. We did this in February, and got pretty cold. It wasn't much warmer in May.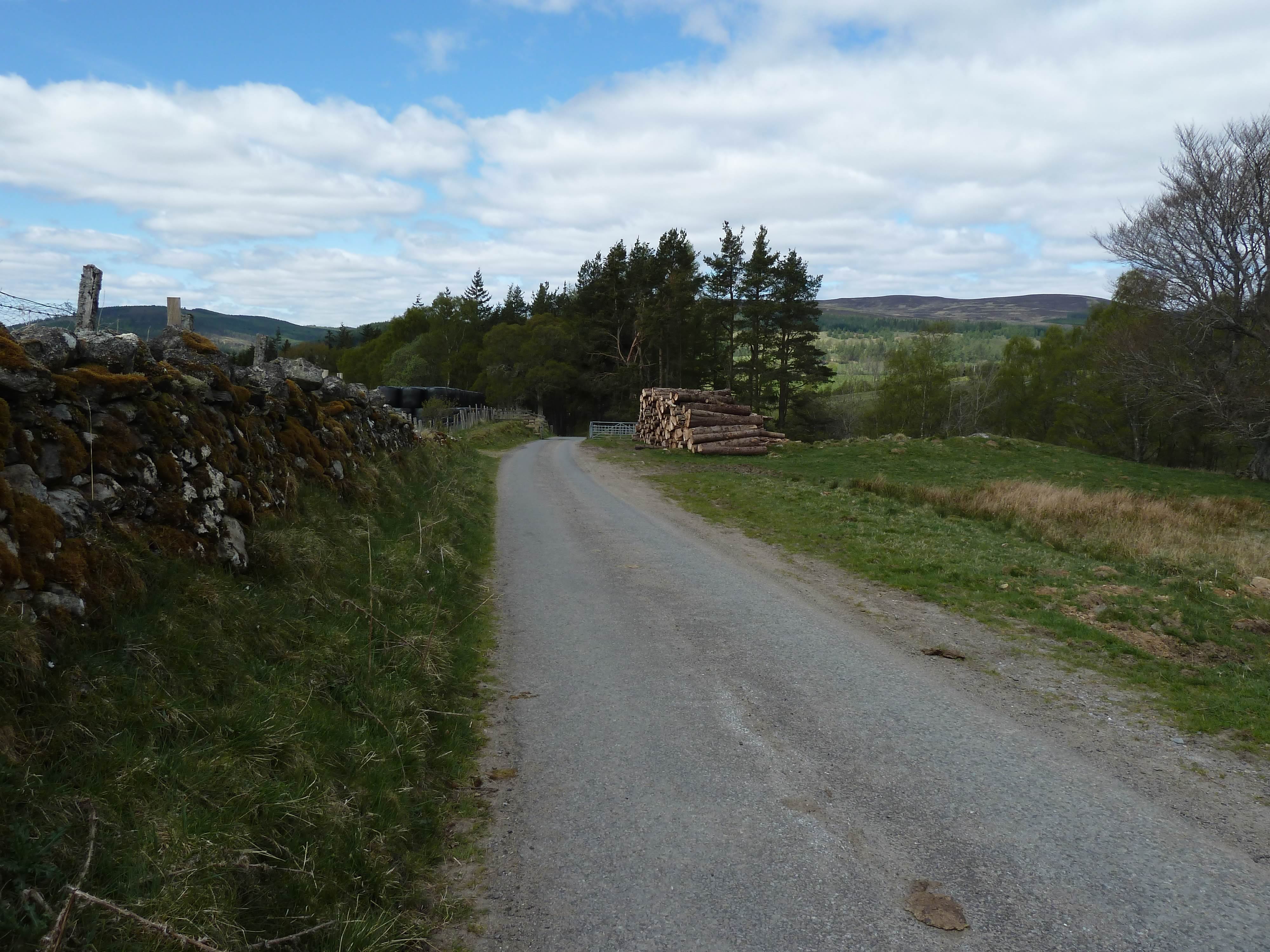 12.27 – On the way back to Blair Atholl
We got back to the Watermill cafe in Blair Atholl 1.5 hours before the train.
It was nice and sunny, and the tables outside the cafe are in a sun trap.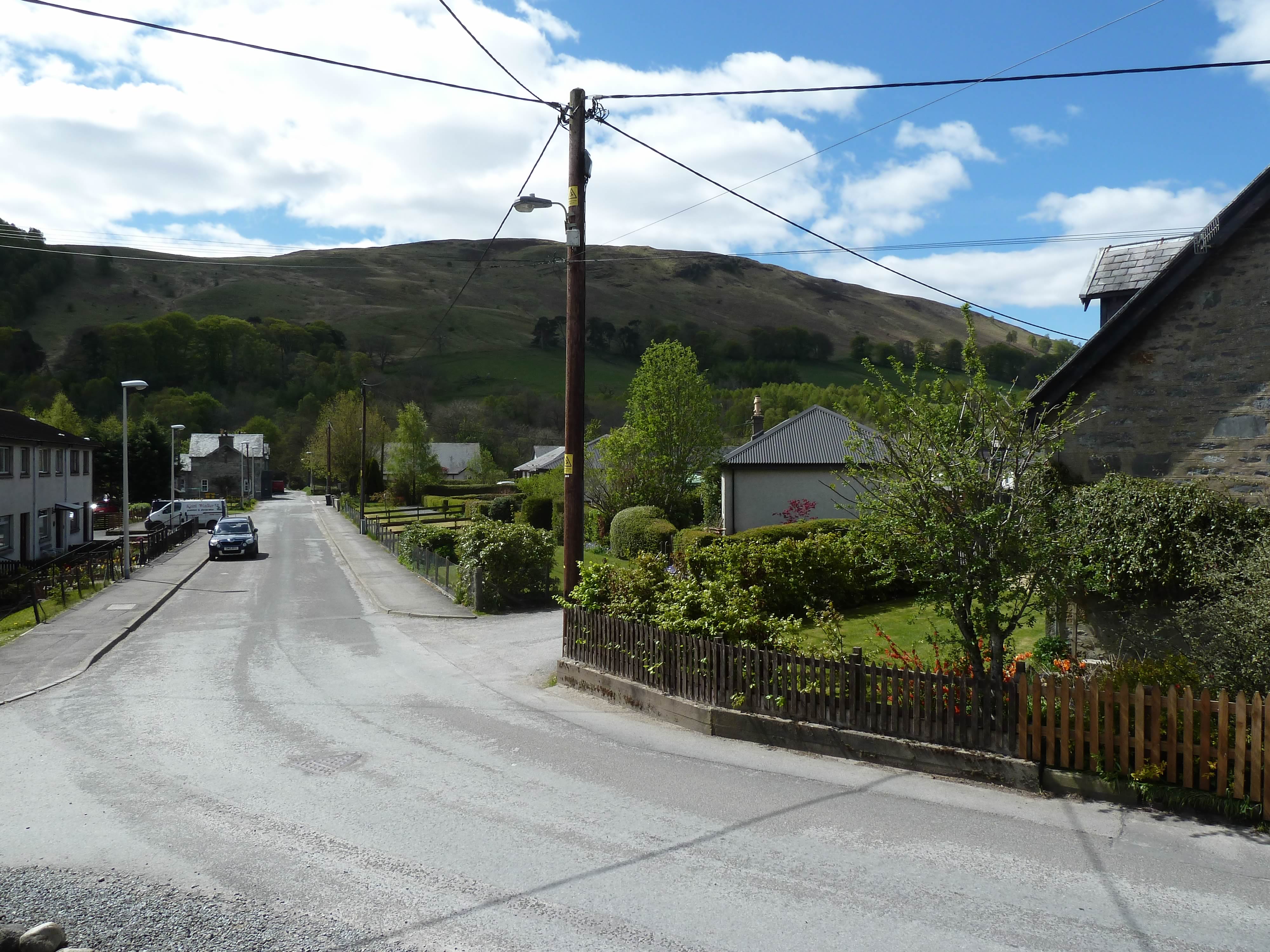 12.46 – View from the Watermill Cafe
A guy on a touring bike arrived at the cafe at the same time as us. We sat outside, the three of us, and chatted for an hour.
He was a policeman from near London. He had retired the week before and had decided that Land's End to John O'Groats was now or never.
Or rather John O'Groats to Land's End. Because he was going south.
Getting the train tickets back south proved too difficult, so he chose to do it the other way around.
He was lucky there was a north wind helping him. Hope it stays that way for him.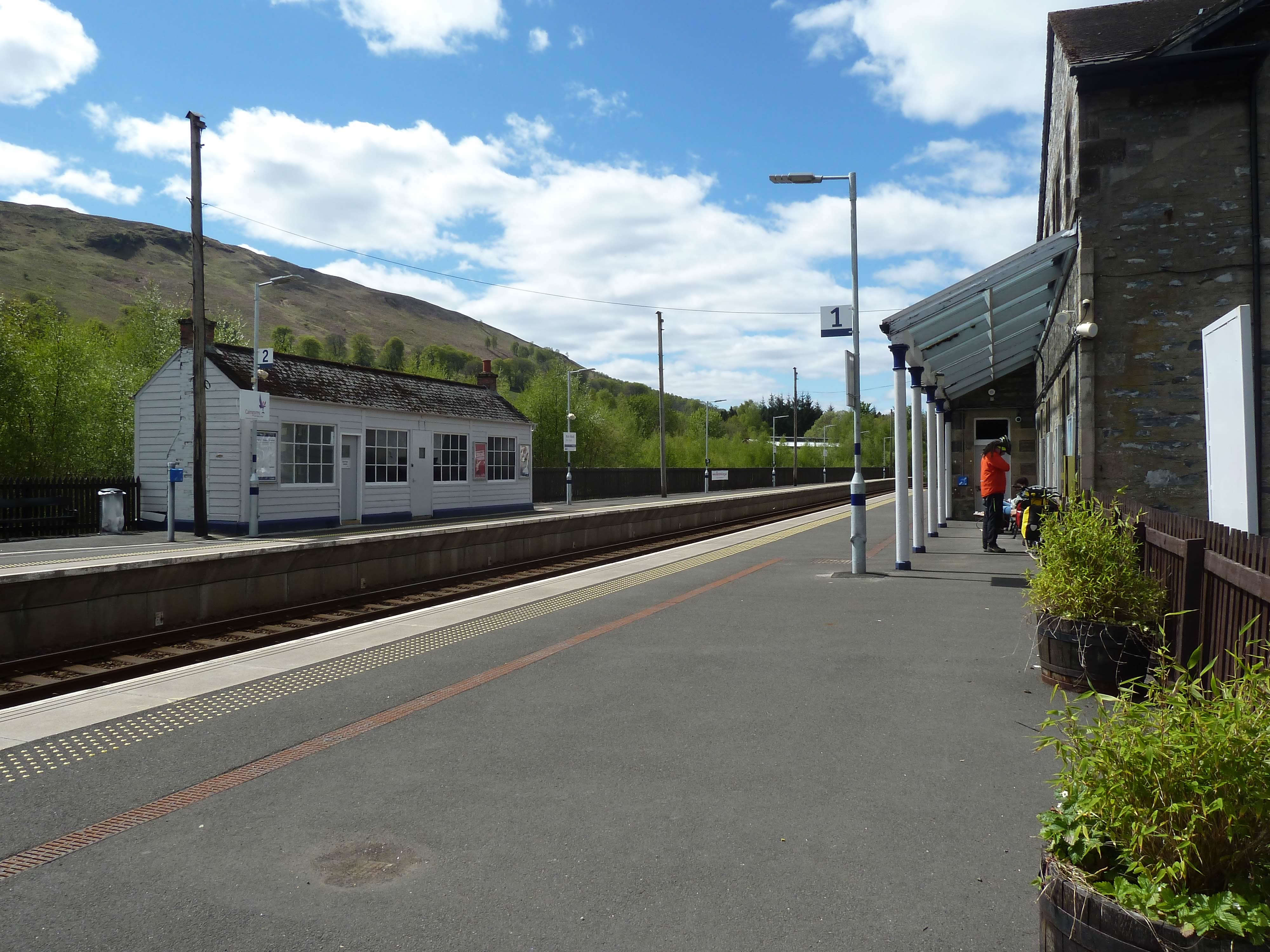 13.53 – Blair Atholl station
In this trip we saw lots of grouse, two geese, swifts, a fair number of lambs, and plenty of bullocks and cows.
I looked for frogs, but couldn't find any.
It was a great trip. We got back home wonderfully exhausted, feeling we had achieved something memorable.