View from the tent, with Ben Alder in the distance
Some interesting data for the whole trip
10 mile cycle in, 3h30 – average 3 mph
12 mile walk, 9h – average 1.3 mph (includes some scrambling)
9 mile cycle out, 2h – average 4.5 mph
Sunday, 28 May 2017
Total distance:
10.02 mi
Total climbing:
360 m
Total Time:
03:30:22
We took the 9.33 train to Inverness and arrived at Dalwhinnie at around noon.
To get to the other side of the platform we had to carry the bikes up the bridge, and then down. Well, Simon did. I just carried a couple of panniers.
The temperature was pleasant and the forecast was for no rain until Monday afternoon.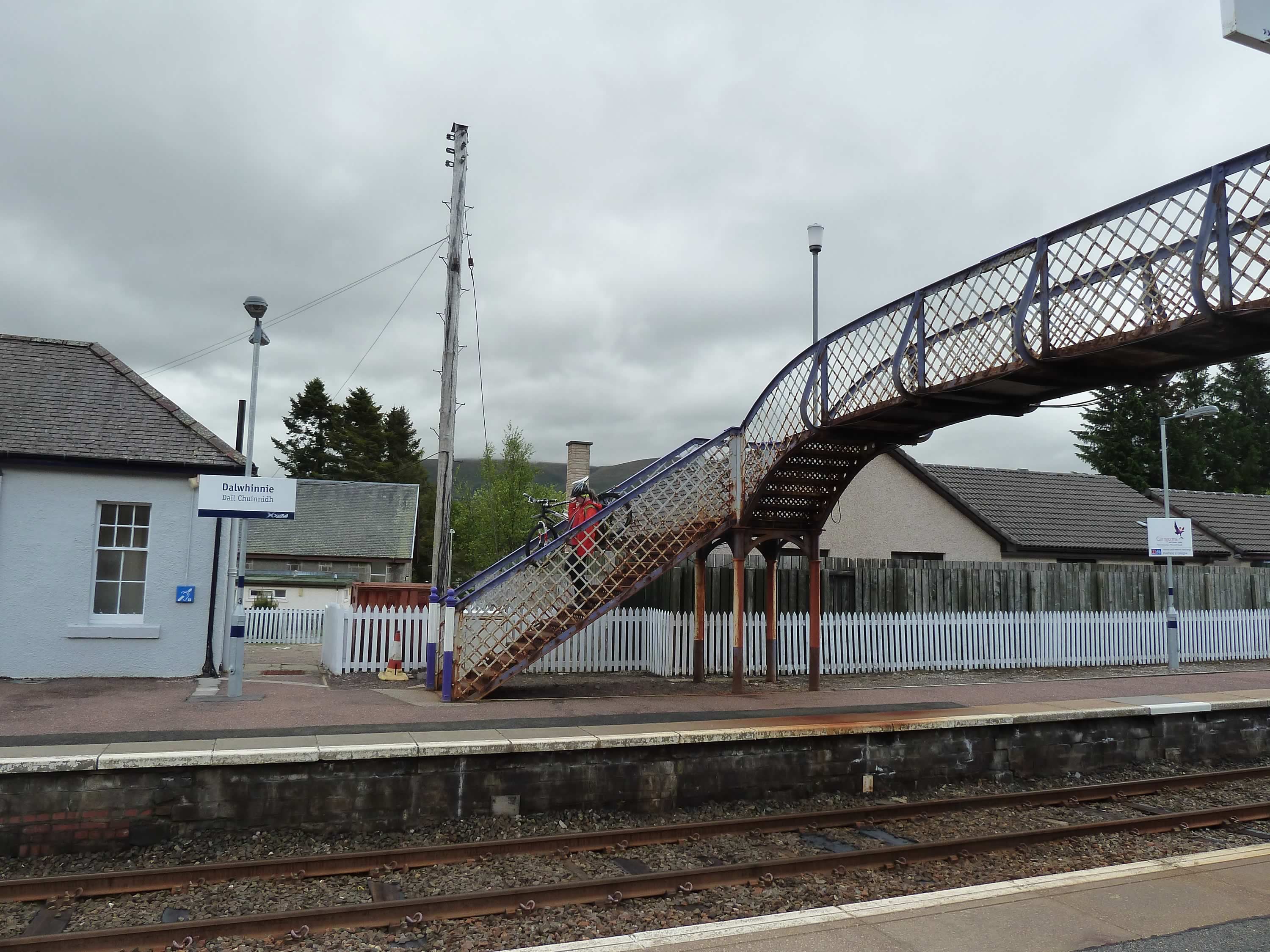 12.06 – At Dalwhinnie train station
Before leaving, we had a look around Dalwhinnie. It's a very small place with a couple of cafes and a petrol station shop for emergencies. Nothing fancy.
The landscape around Dalwhinnie didn't look spectacular from the road.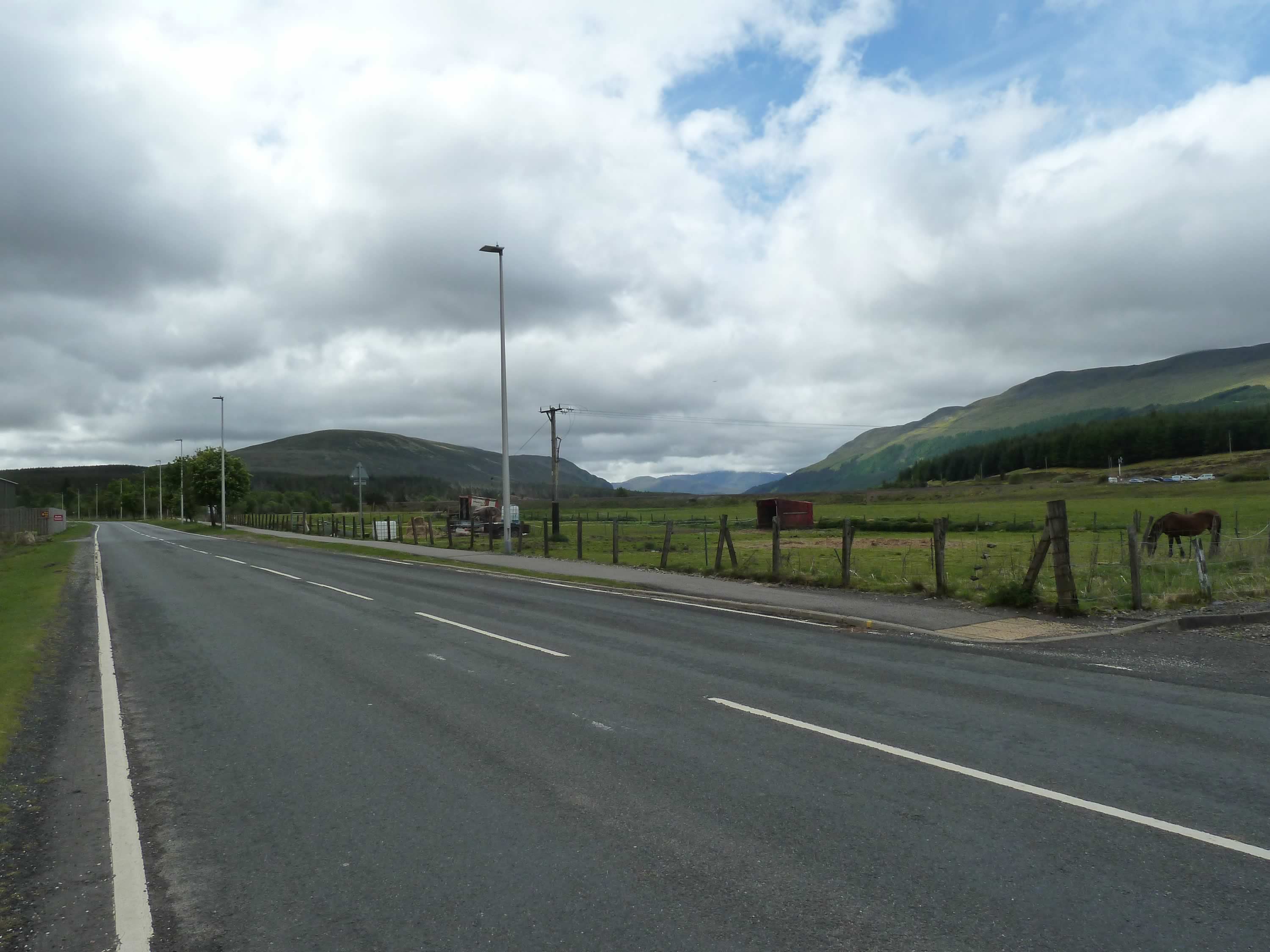 12.21 – View from Dalwhinnie towards Loch Ericht
We cycled down the road and at some point saw these granite blocks, and many more.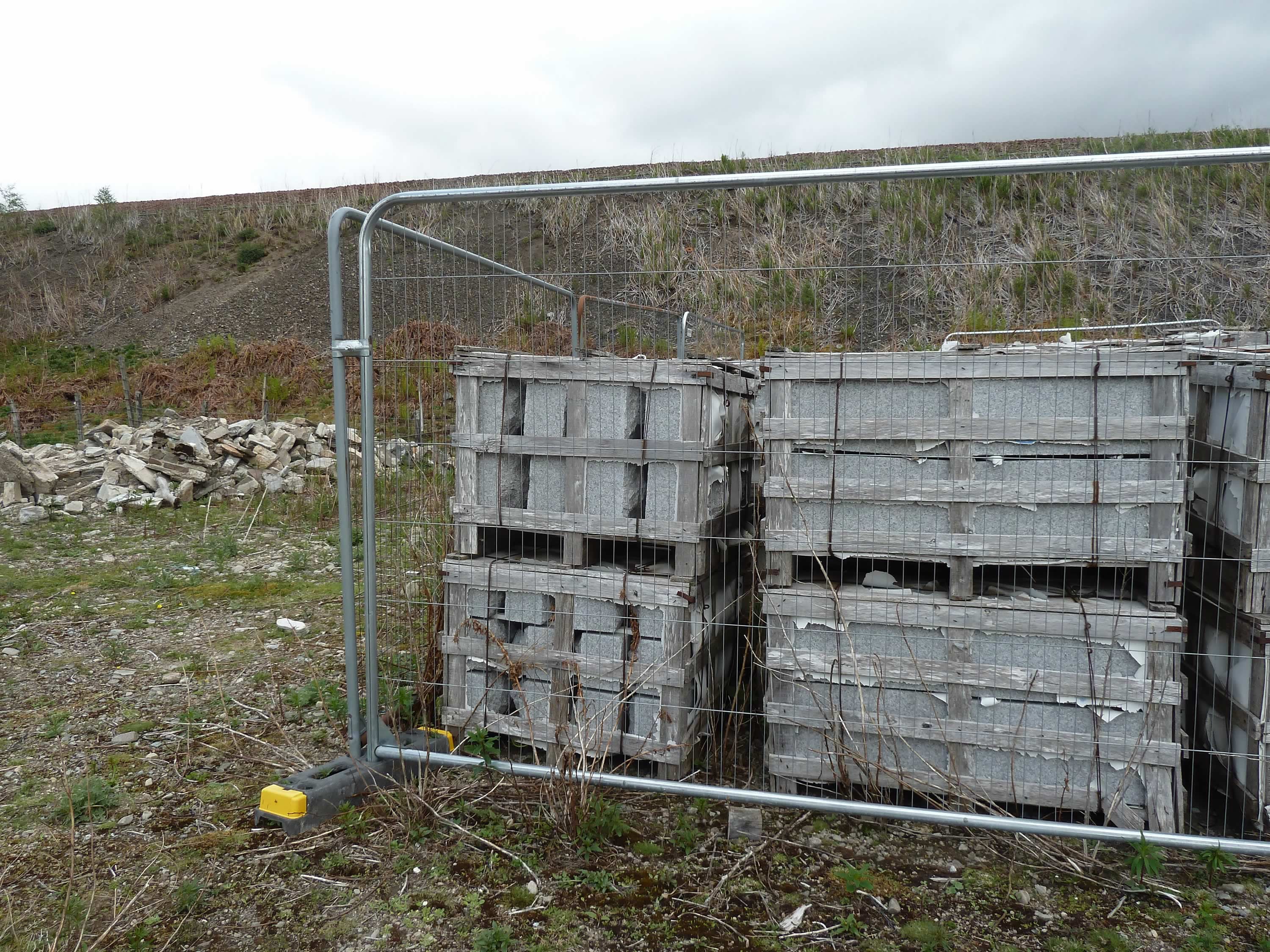 12.29 – Blocks of granite
We then turned left and cycled past the Ben Alder Estate office.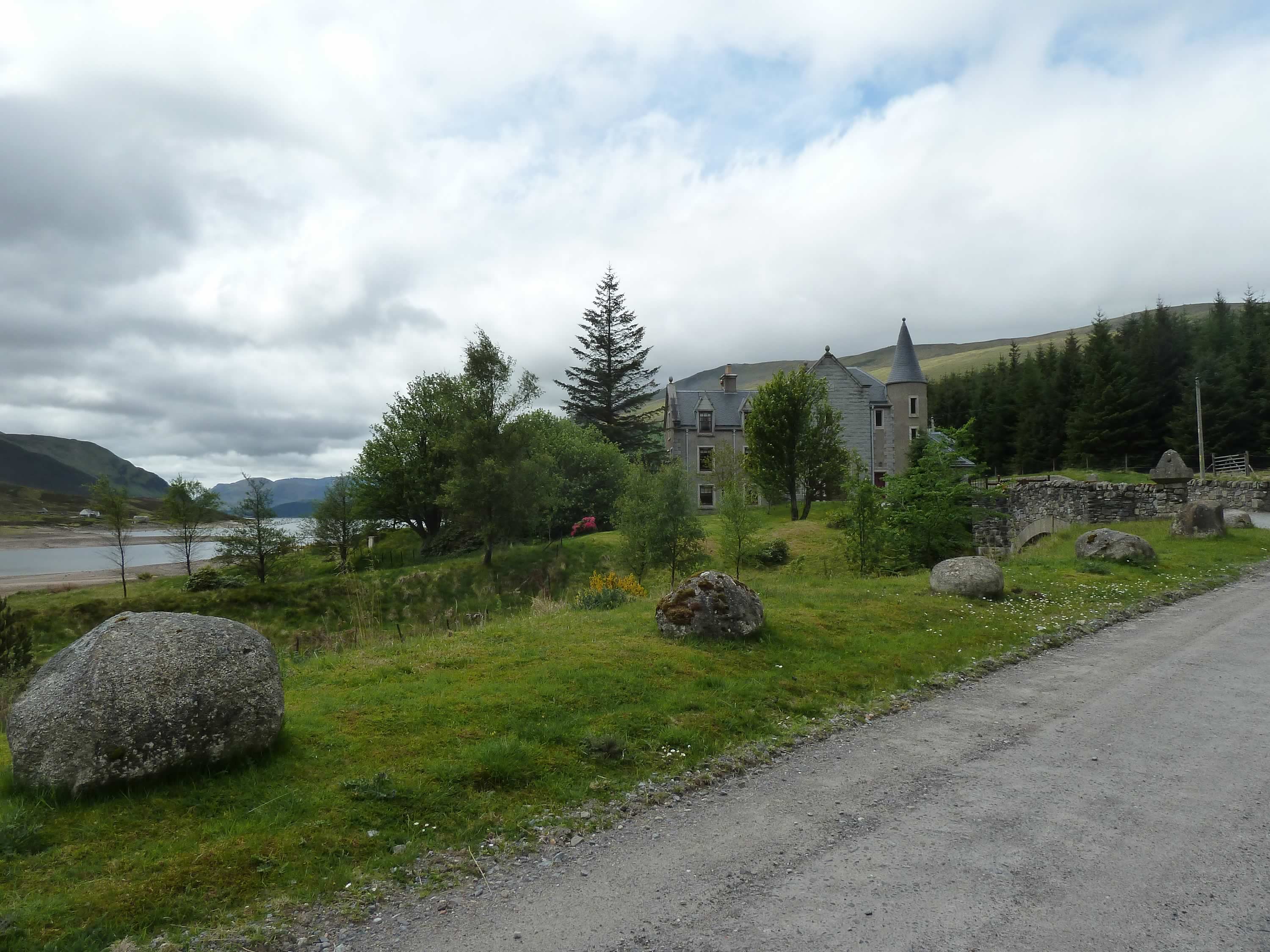 12.33 – The Ben Alder estate office
Soon after that we had lunch by the loch. We had croquettes and tomatoes, breaded meat (filetes empanados) sandwiches, and apples.
Everything tasted great.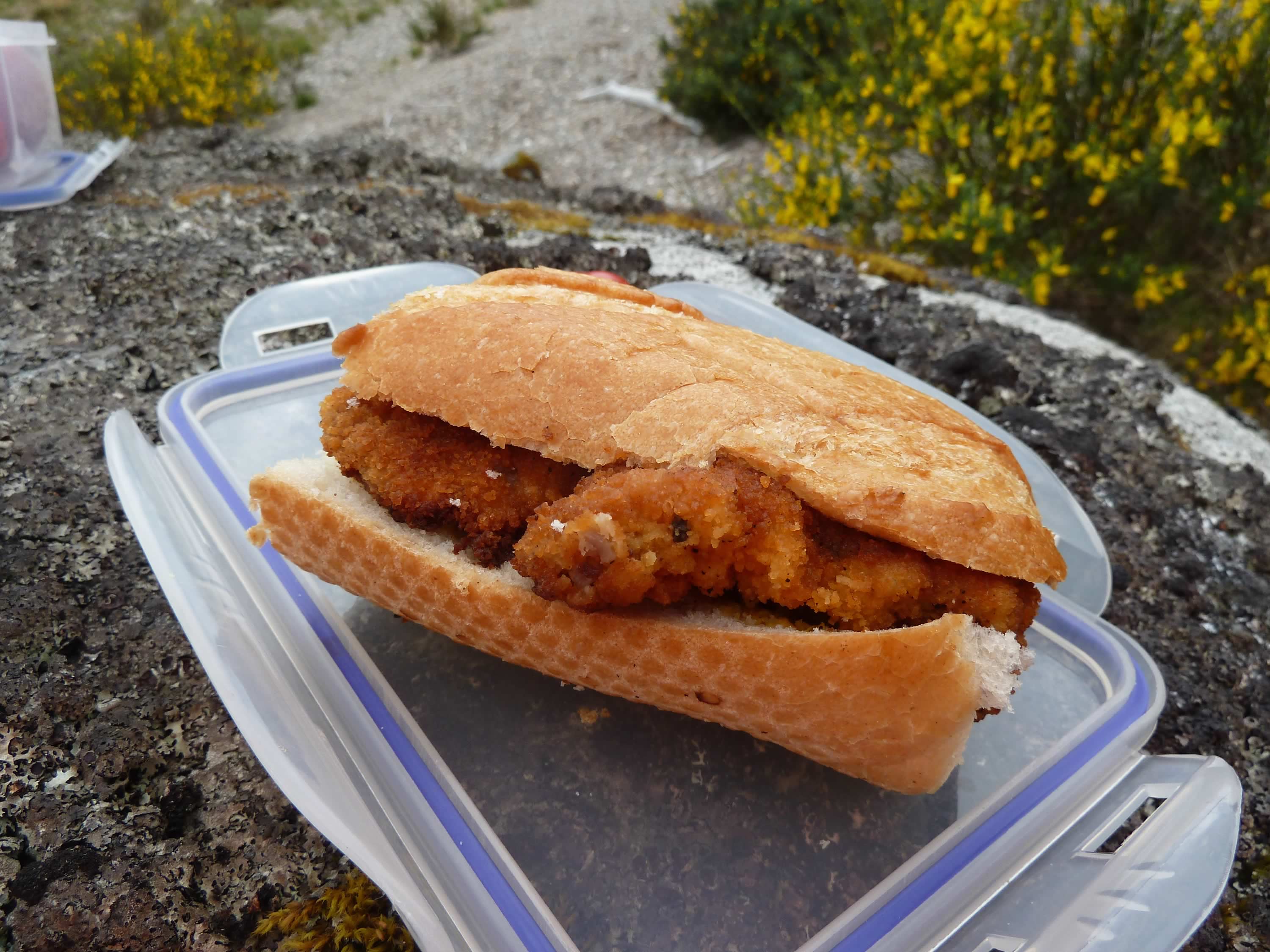 12.48 – Our yummy lunch, Spanish style
It was very quiet. There was no one around, except for a couple of small boats on the loch.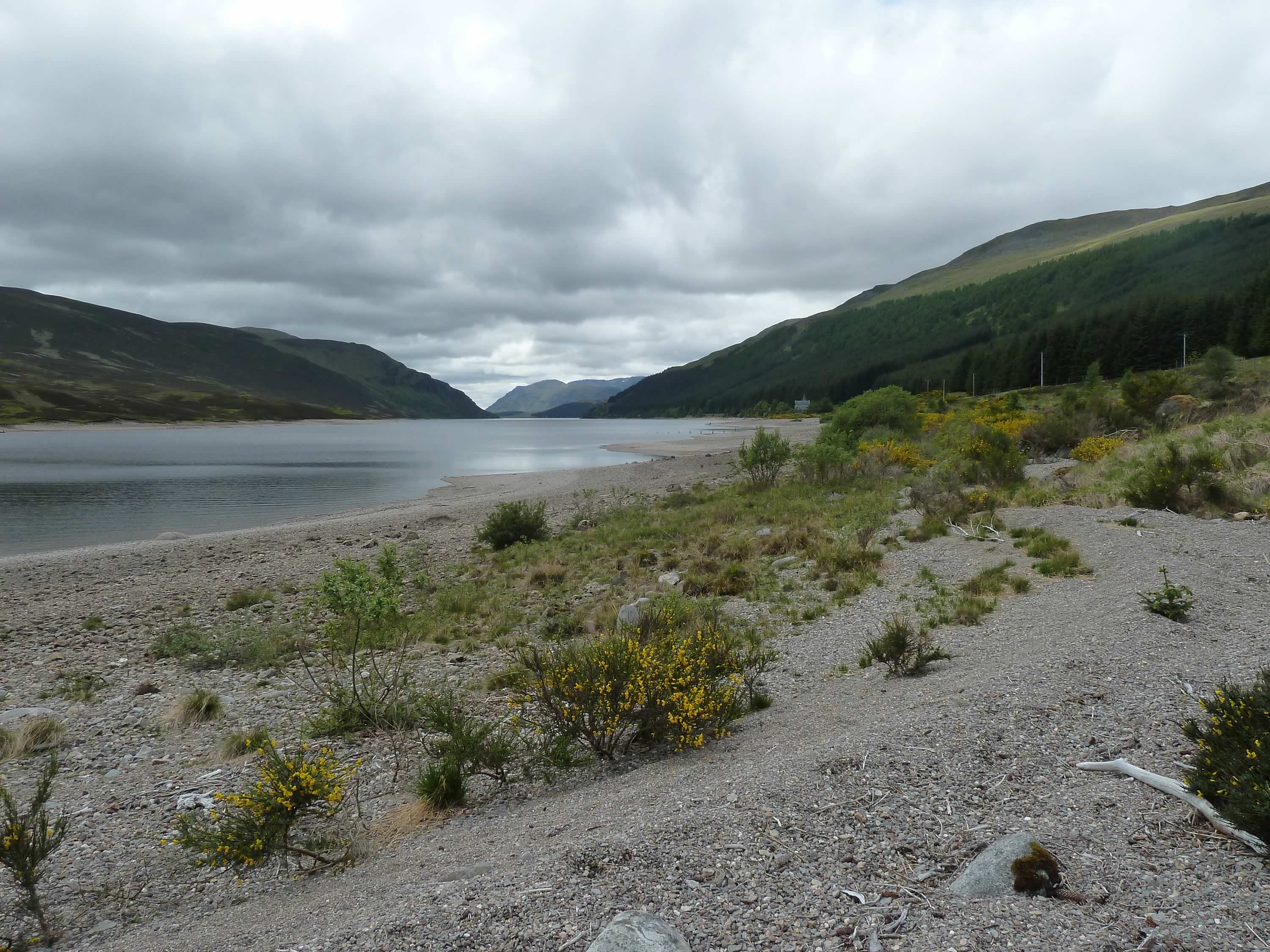 12.54 – Not much water in Loch Ericht
We got back on our bikes and cycled on gravelly tarmac for a while.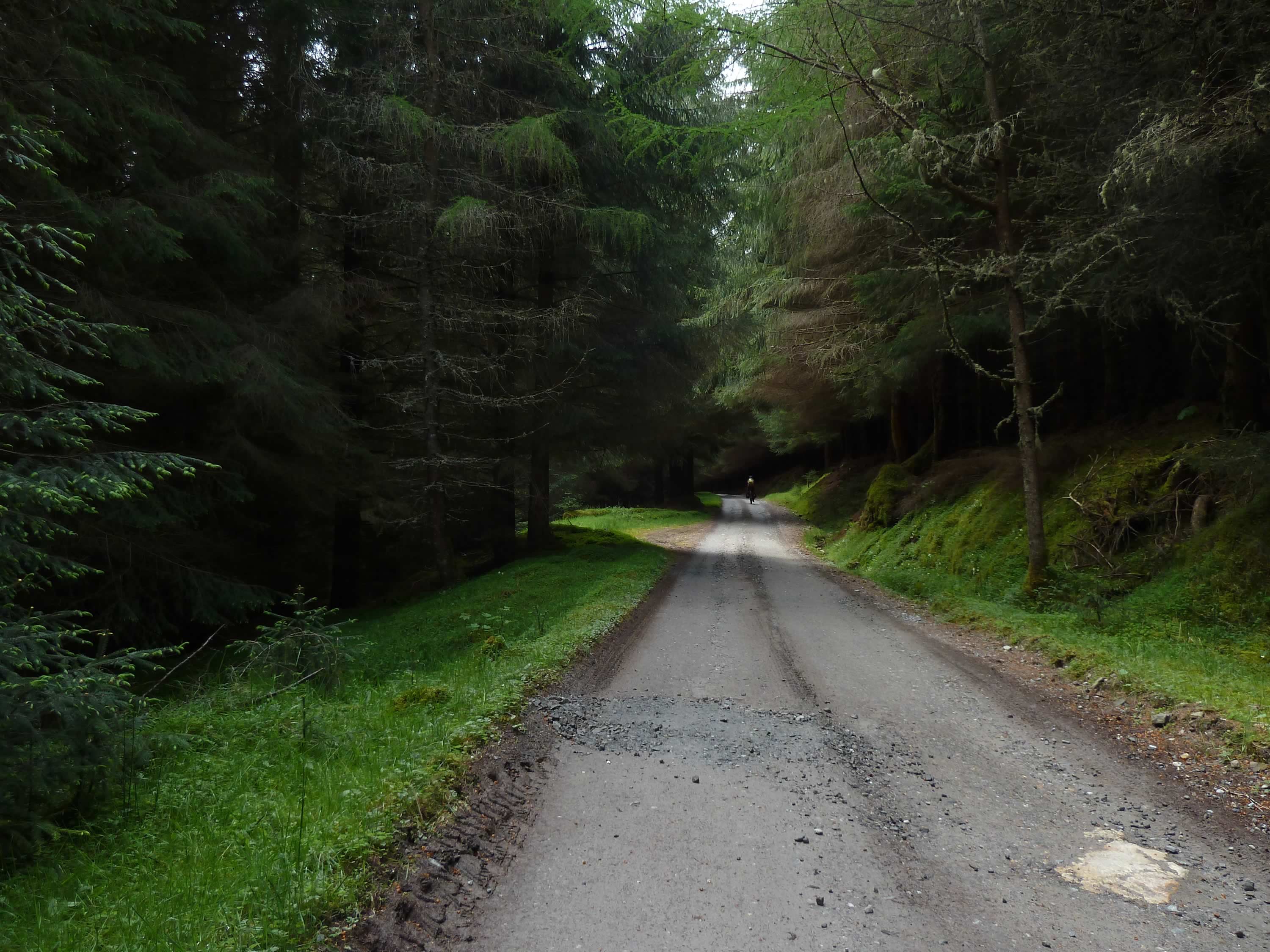 13.27 – Simon cycling away
Then we turned left and cycled past the lodge and other buildings.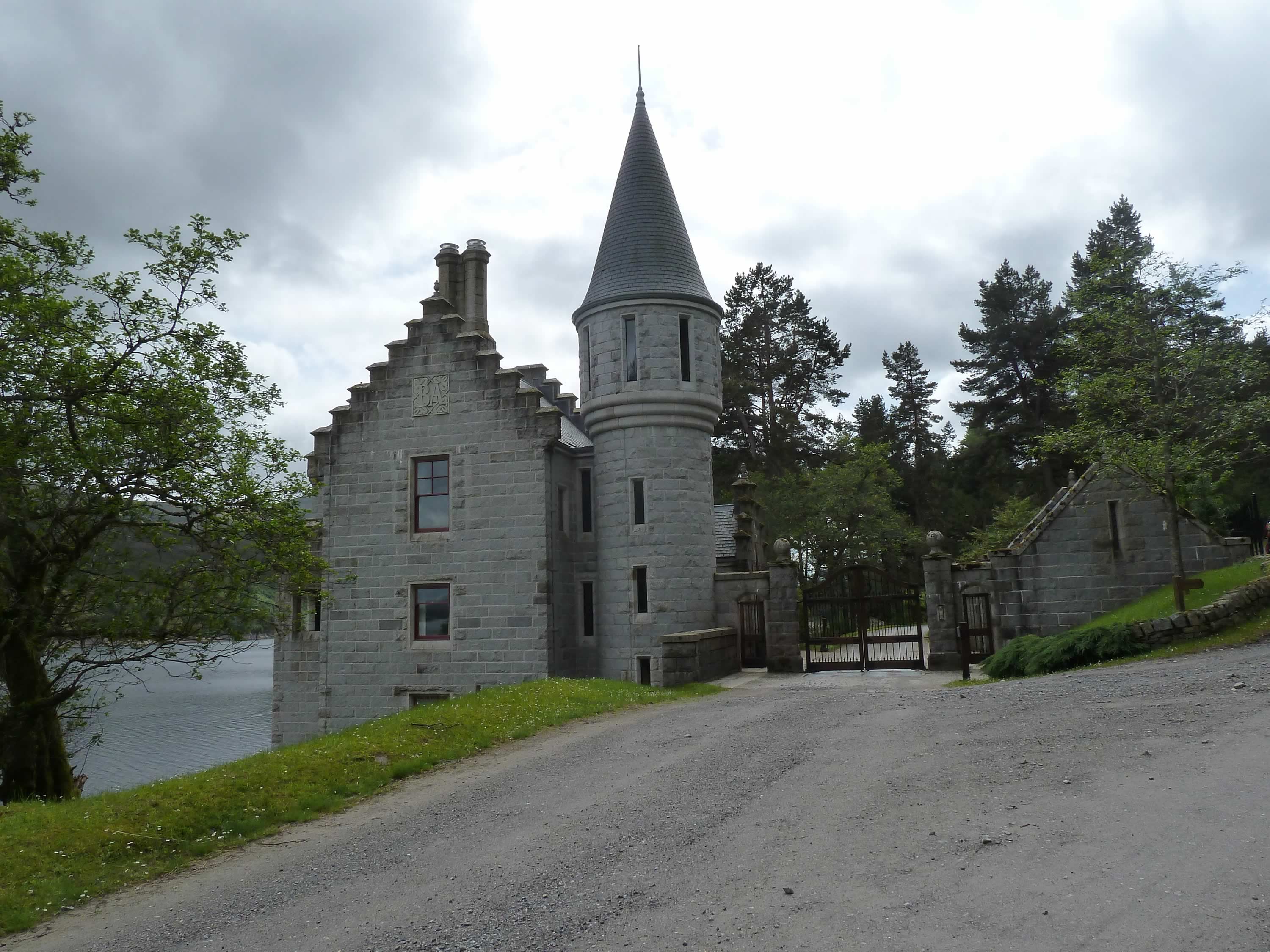 13.59 – Gatehouse to the lodge
Here the road changed to a dirt track.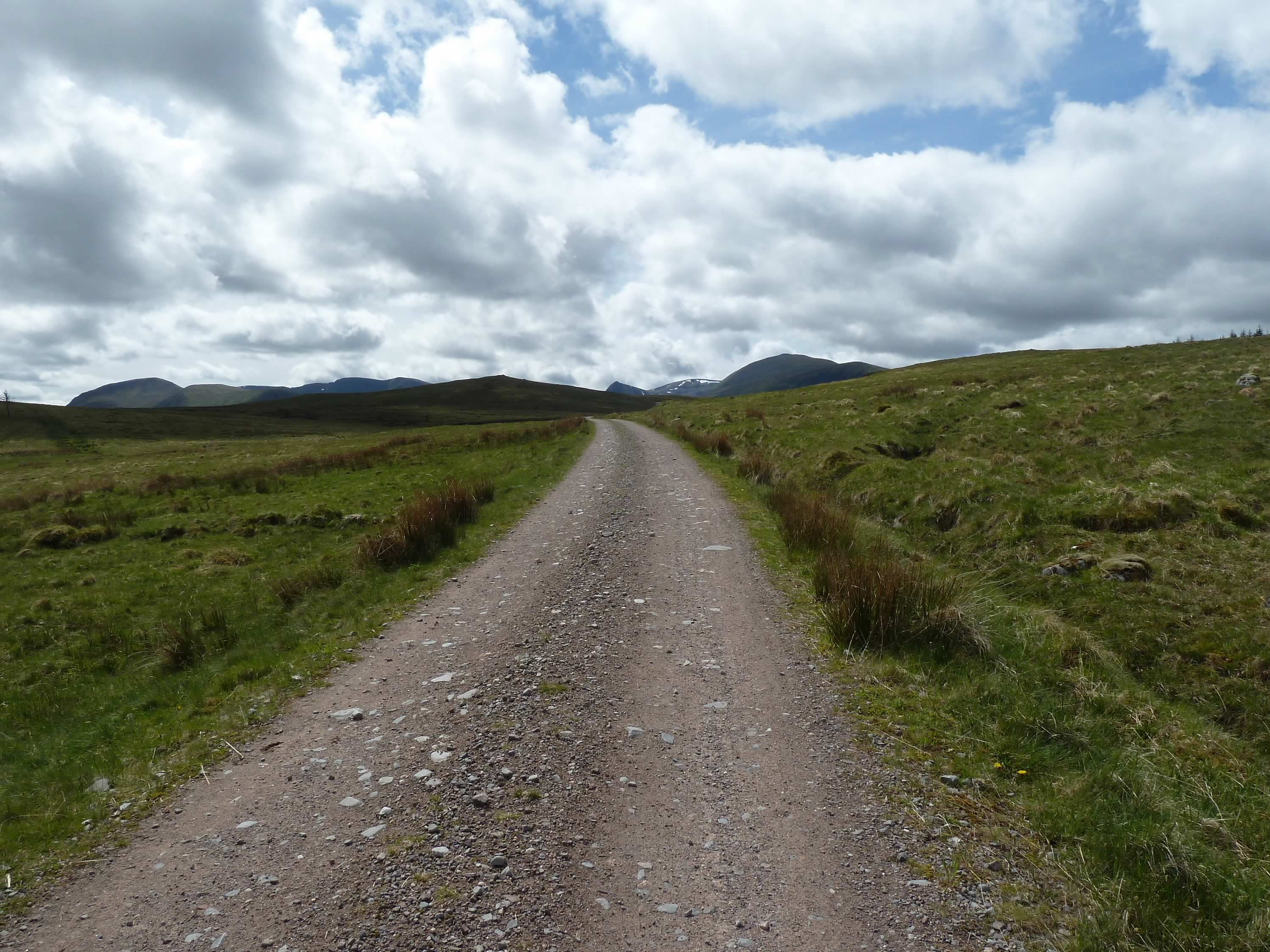 14.15 – Climbing up towards Loch Pattack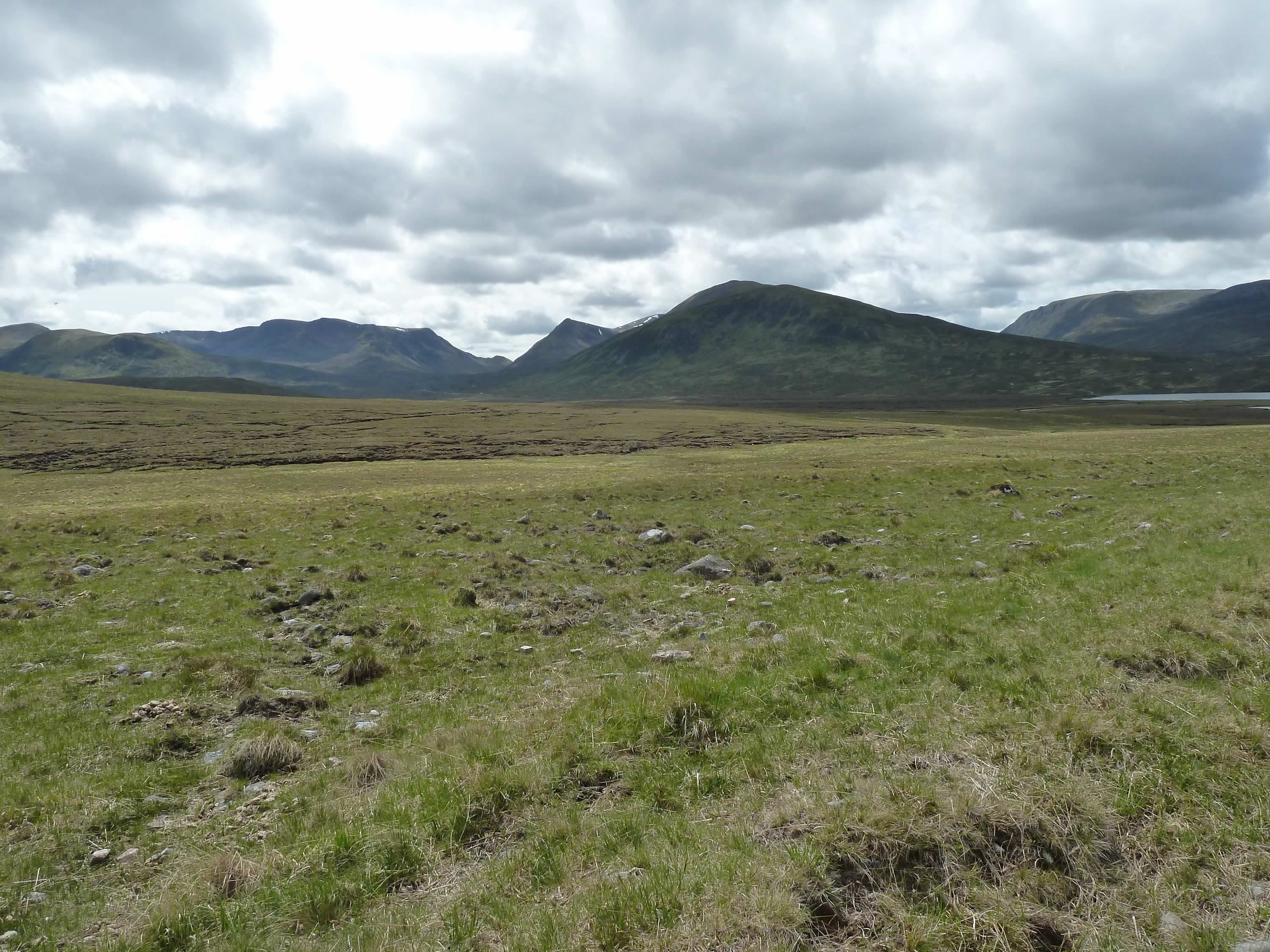 14.28 – Left, Ben Alder; right, Loch pattack
Soon we arrived at this awesome suspension bridge.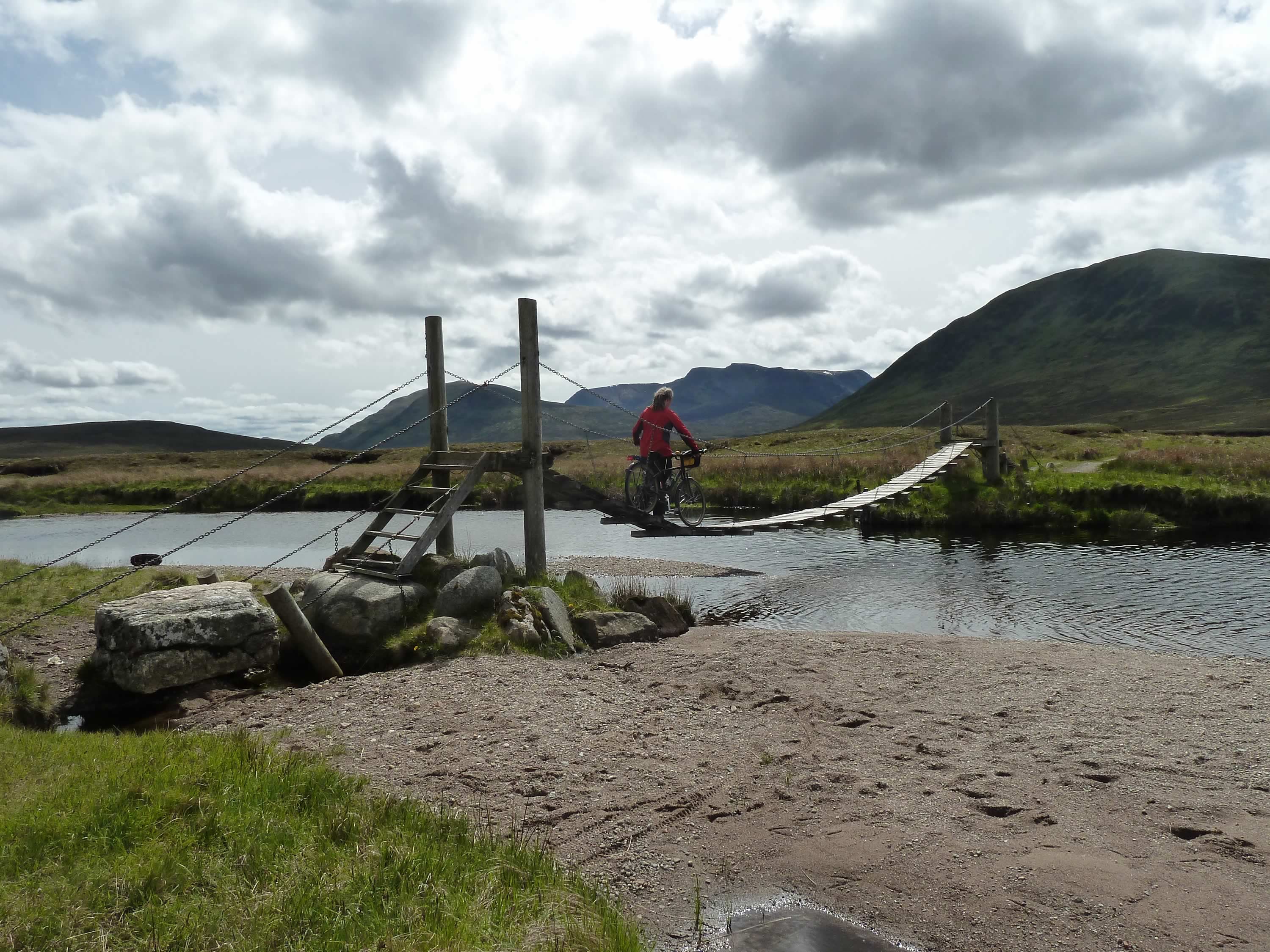 14.49 – Simon crossing the suspension bridge
The bridge is a lot easier to cross than it appears. The water below isn't deep, but it wouldn't be easy to ford it. I guess that's why they built the bridge.
We saw quite a few fish in the water. Some even jumped out to say hello.
By now the sun was shinning beautifully on us.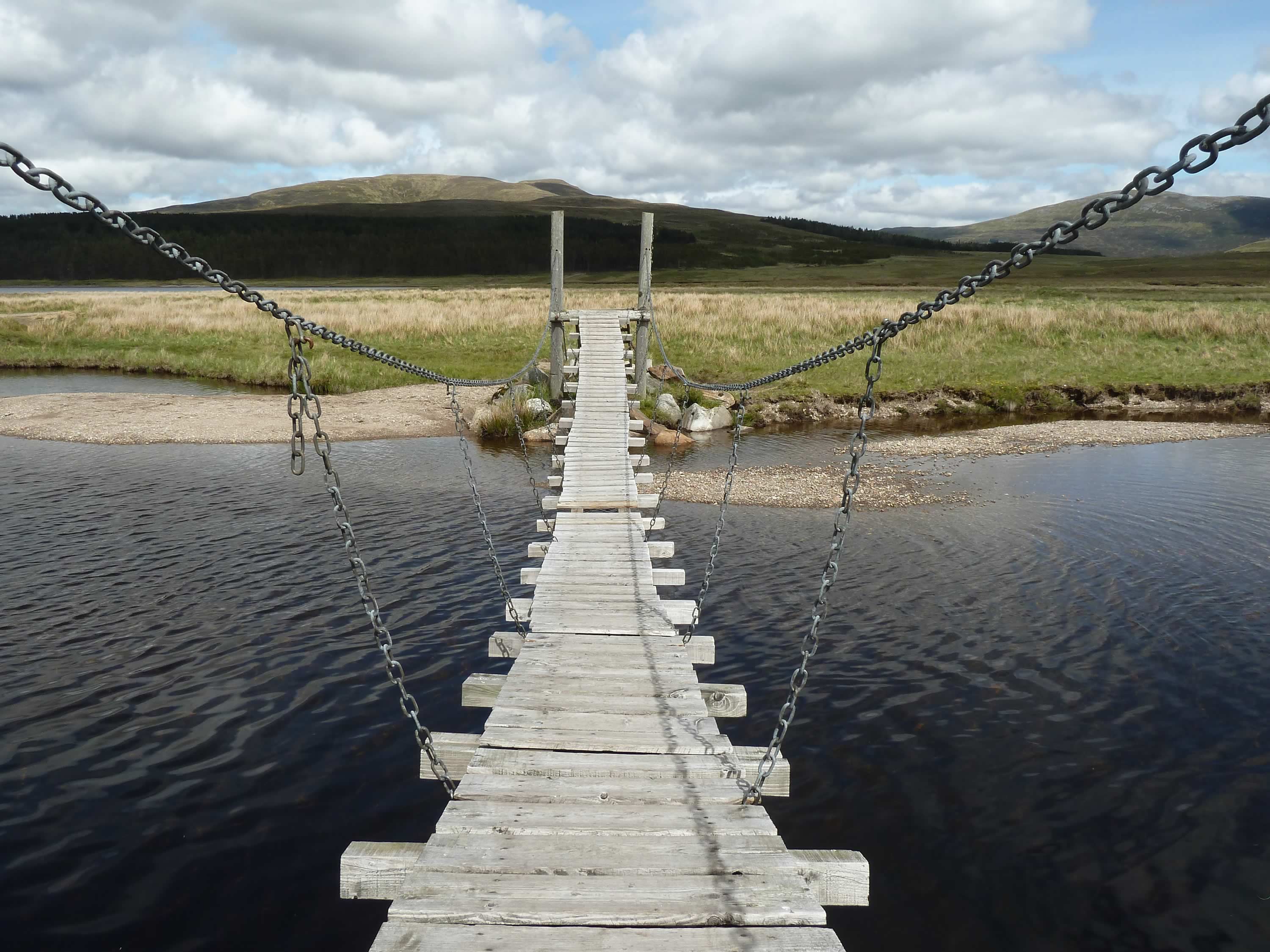 14.56 – Artistic view of the suspension bridge
Loch Pattack looked peaceful and majestic with this pair of geese gliding on it.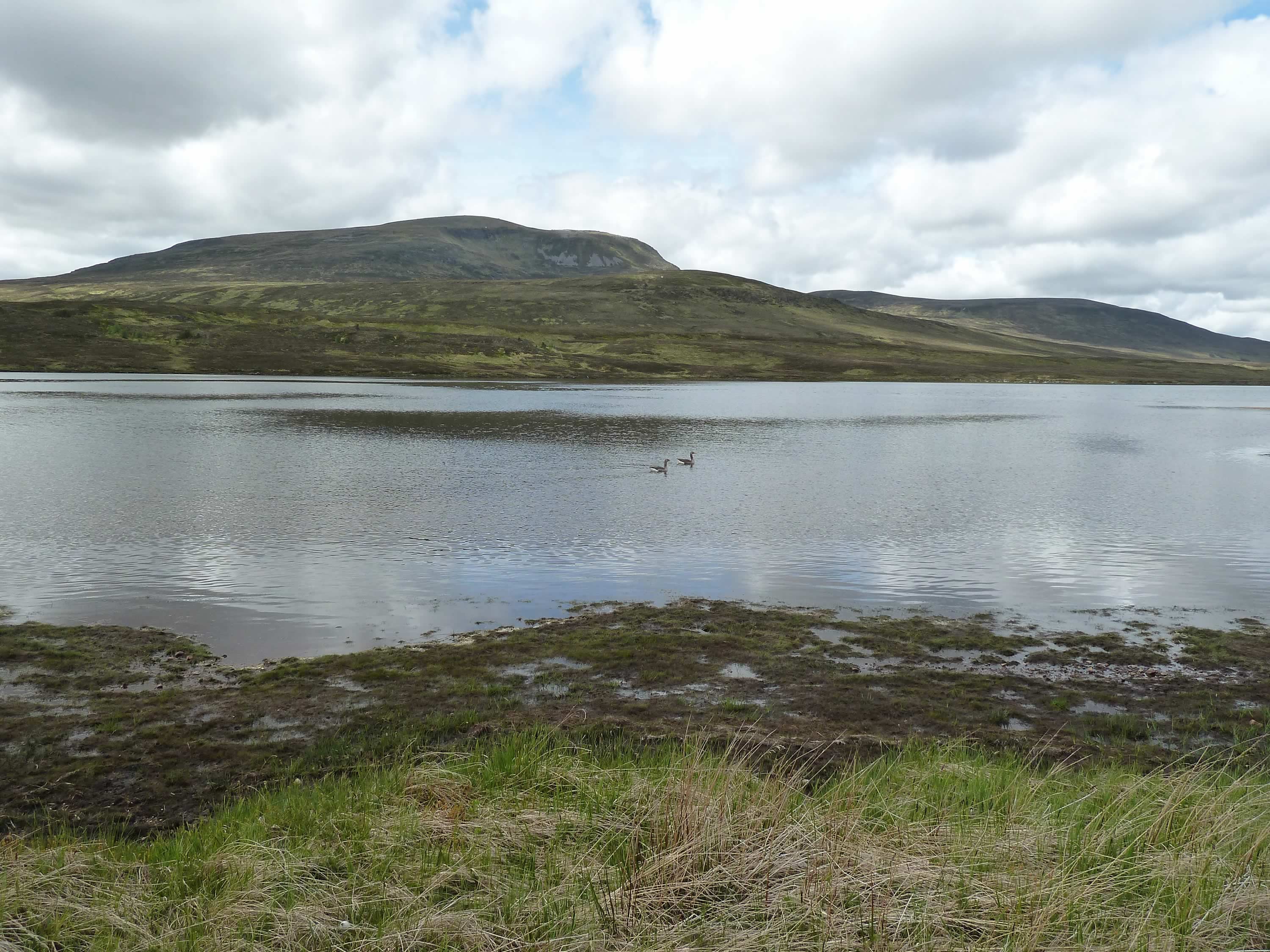 15.01 – A pair of geese on Loch Pattack
There's a lot of peat in the area, and it's obviously been extracted over the years.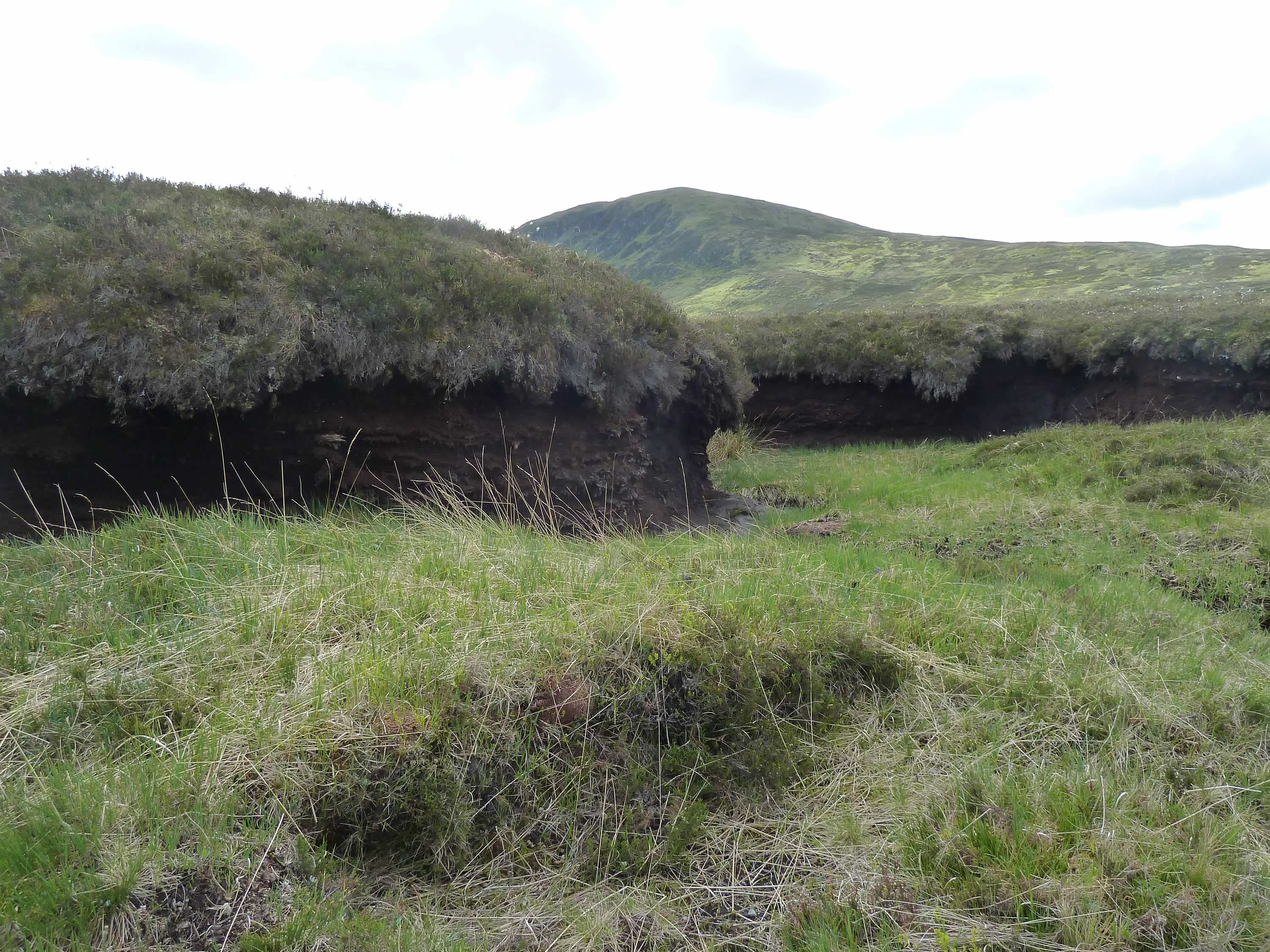 15.05 – Peat
Our plan was to camp near the Culra bothy.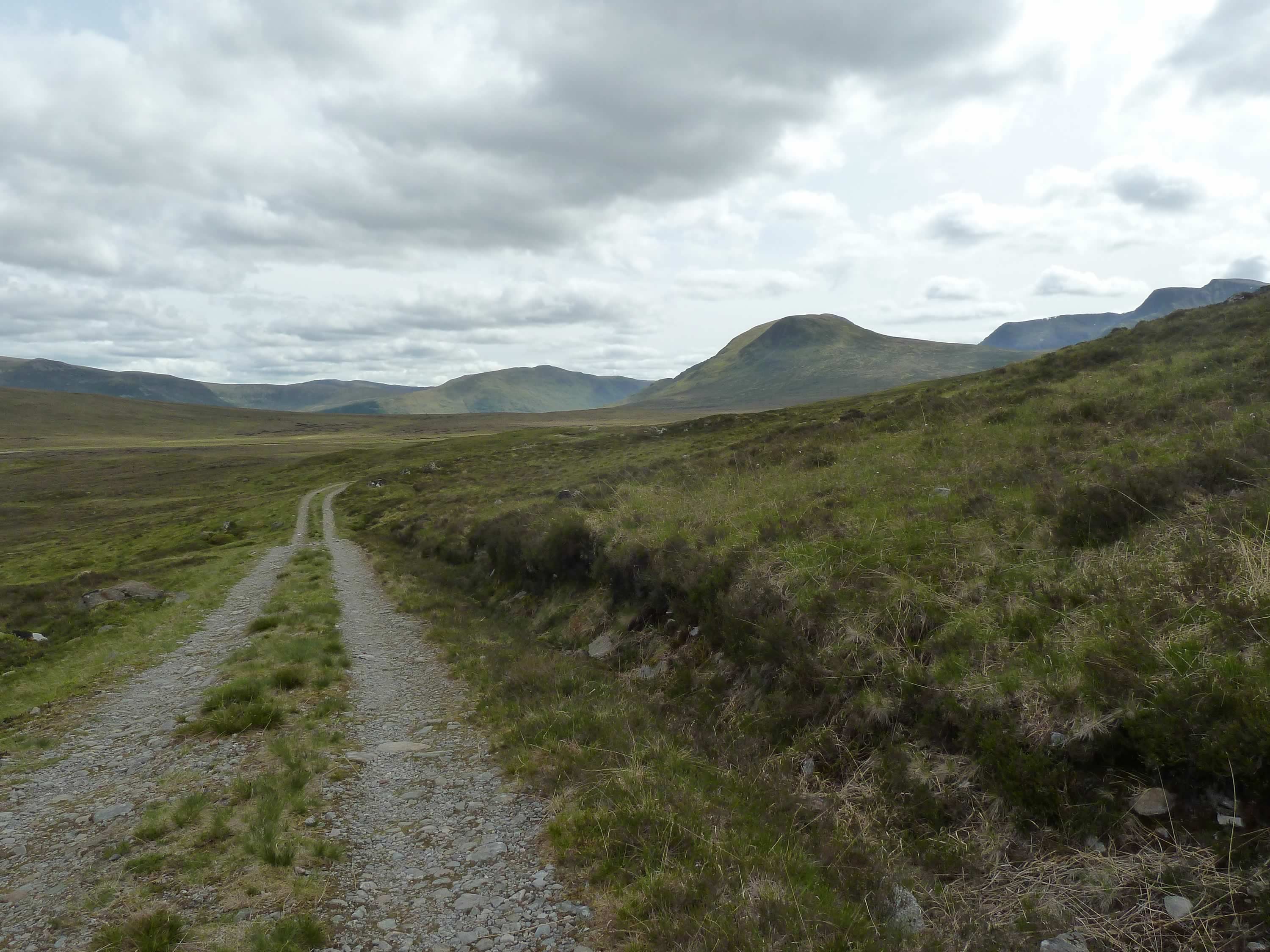 15.24 – Track towards the Culra bothy (closed)
The bothy itself can't be used as it was closed a few years ago when asbestos was found. Apparently there are plans to demolish it.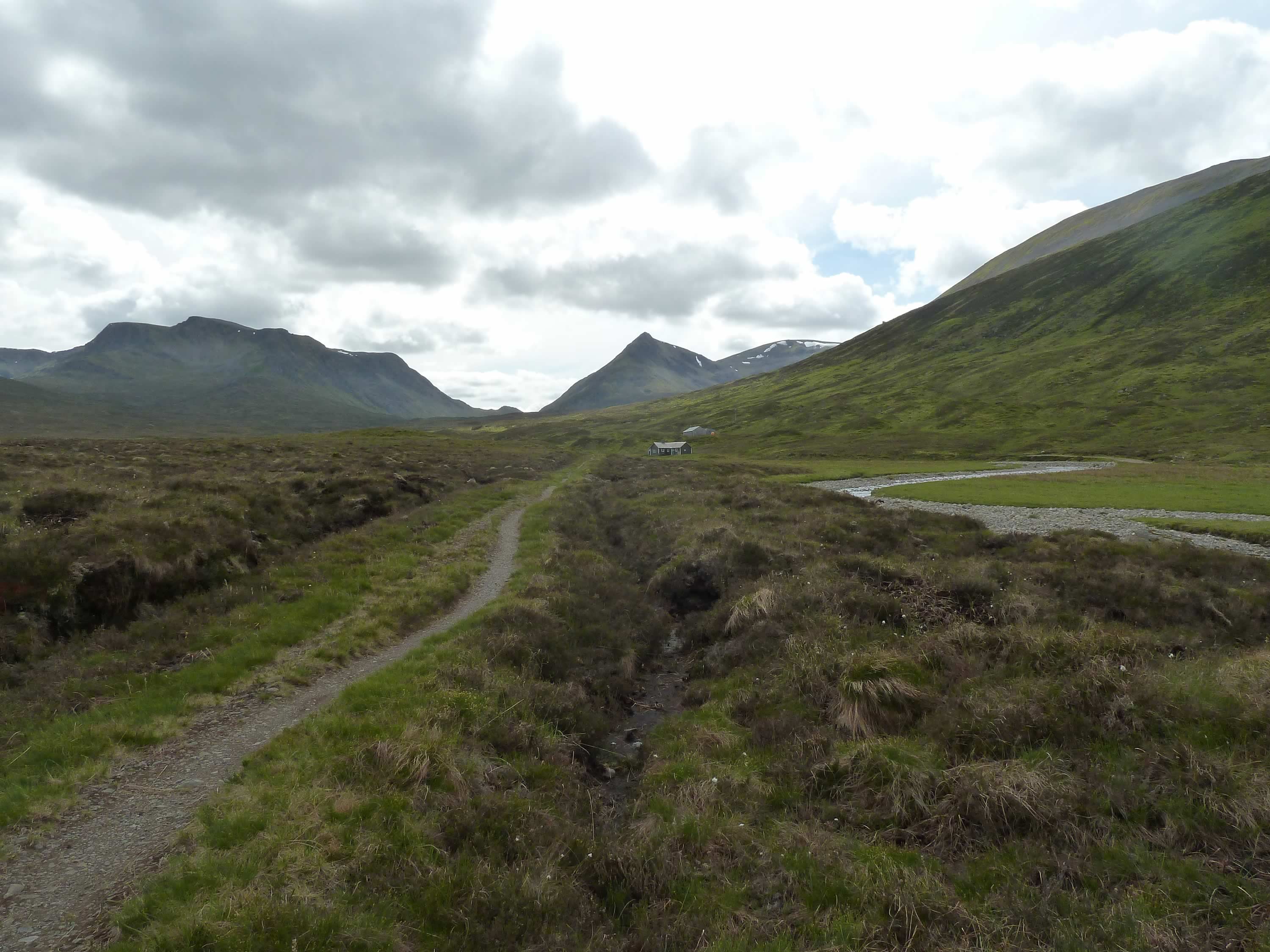 15.47 – Culra bothy (closed) & estate building
When we arrived we saw there were a few tents already around the bothy. We like our privacy, so we went back a few hundred yards and camped near the river.
We put up the tent in glorious weather, inflated the mattresses, got everything ready for an early night, and went for a walk to survey the area.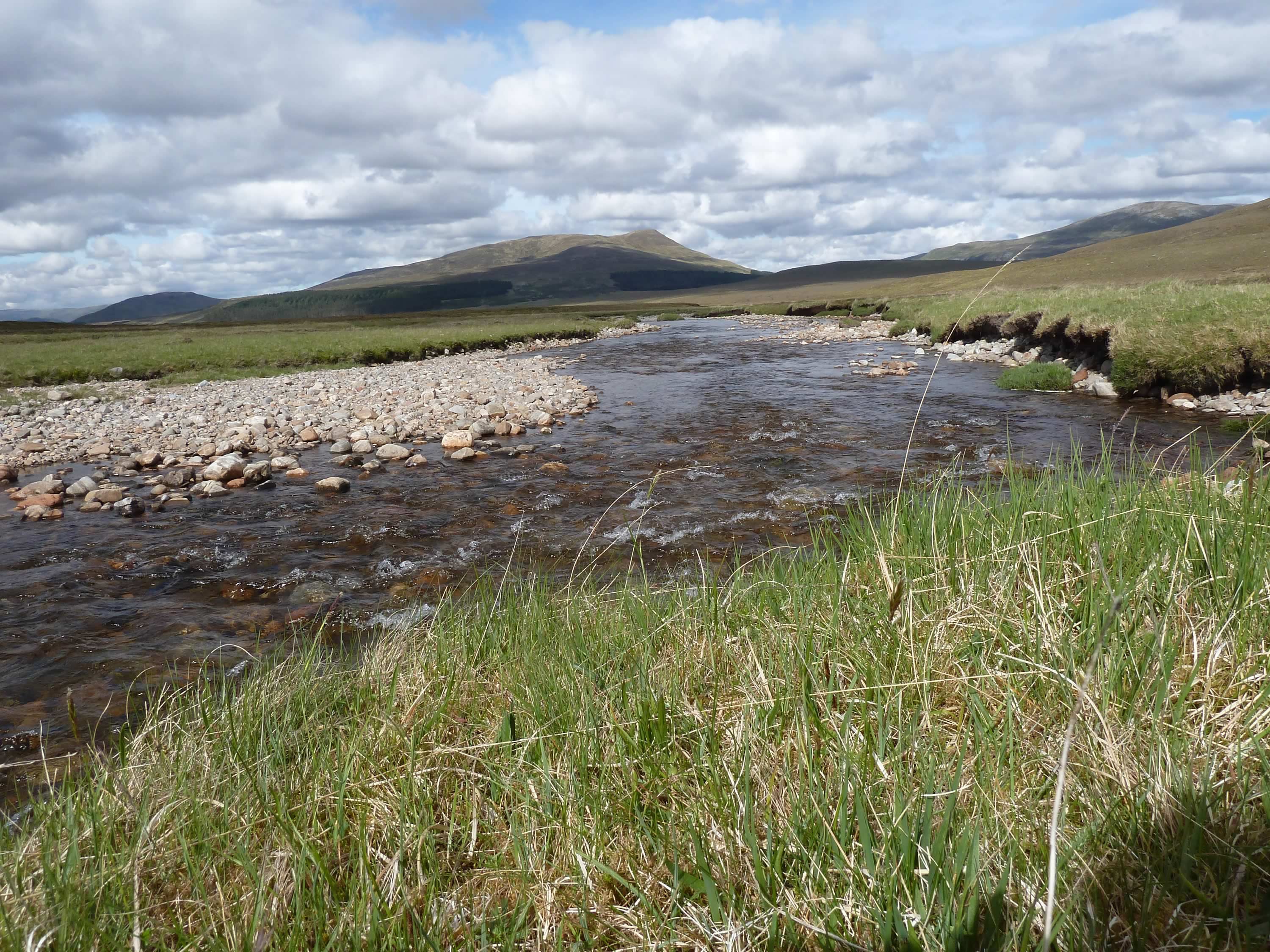 16.29 – Our river from the tent
There were plenty of deer tracks, but no deer in sight. At least not on Sunday. On Monday we saw large numbers of them.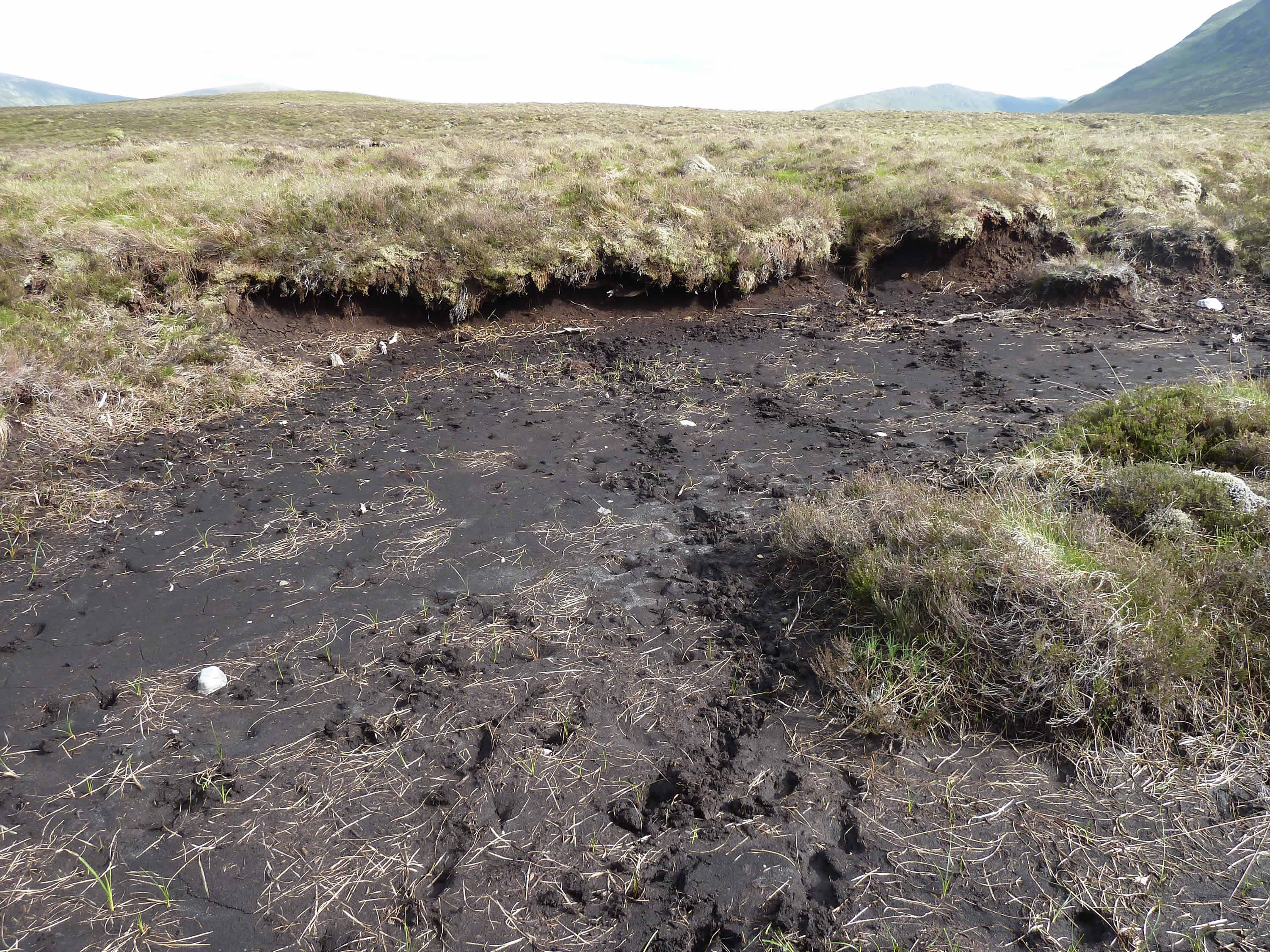 17.17 – Deer tracks
To climb Ben Alder the following day we needed to get up early, so we had dinner by 6pm. It was Simon's concoction: orzo with three different types of sausage (Spanish chorizo, Polish sausage and hot dogs) in tomato sauce.
Not bad at all. Although a smaller portion and a second dish would have been perfect.
For dessert we had miniature flapjacks (not fantastic) and other sweets.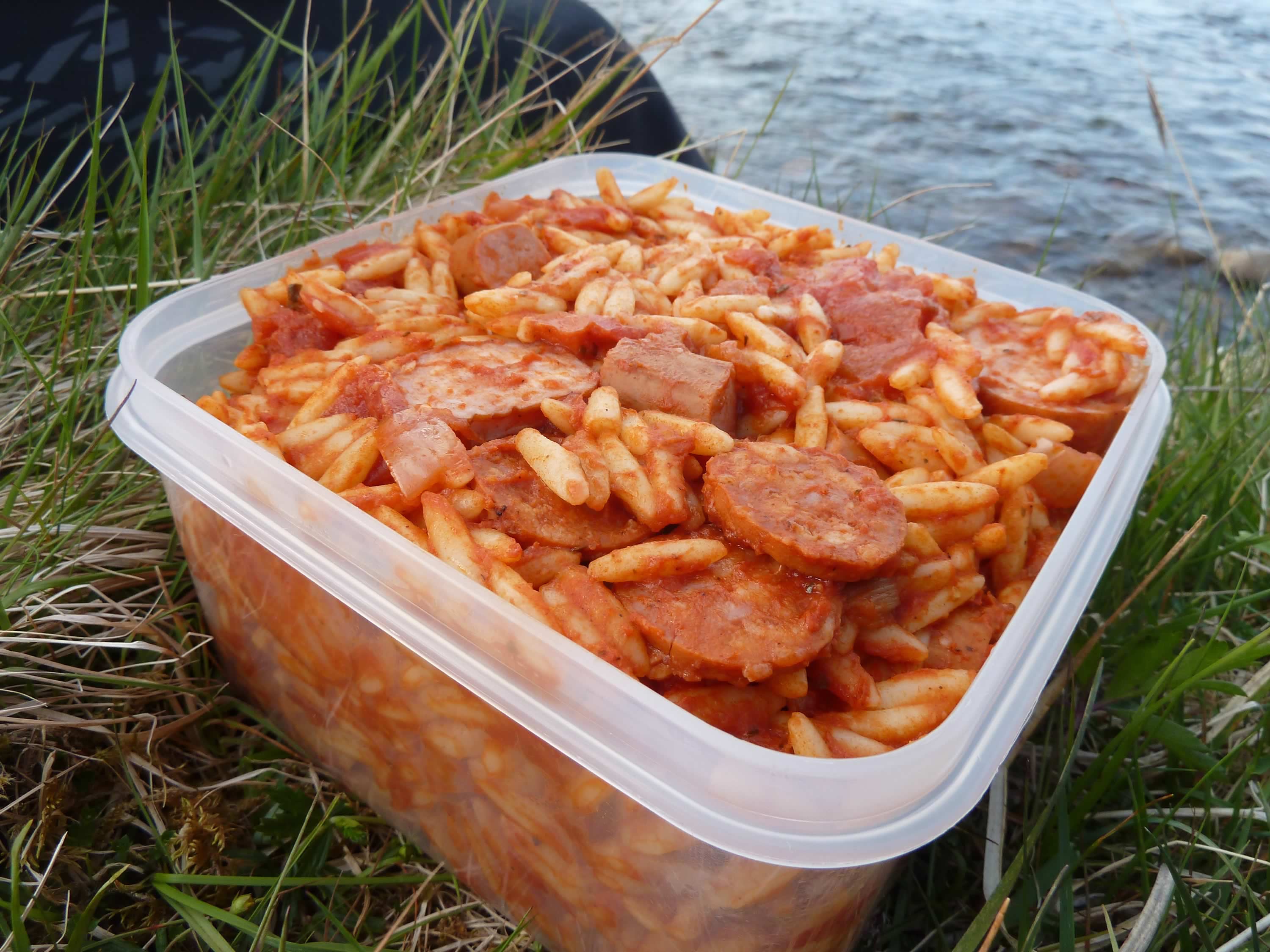 17.43 – Our delicious dinner with three types of sausage
It was a warm gentle evening with great visibility and no wind. Quite different from what was to come the following morning.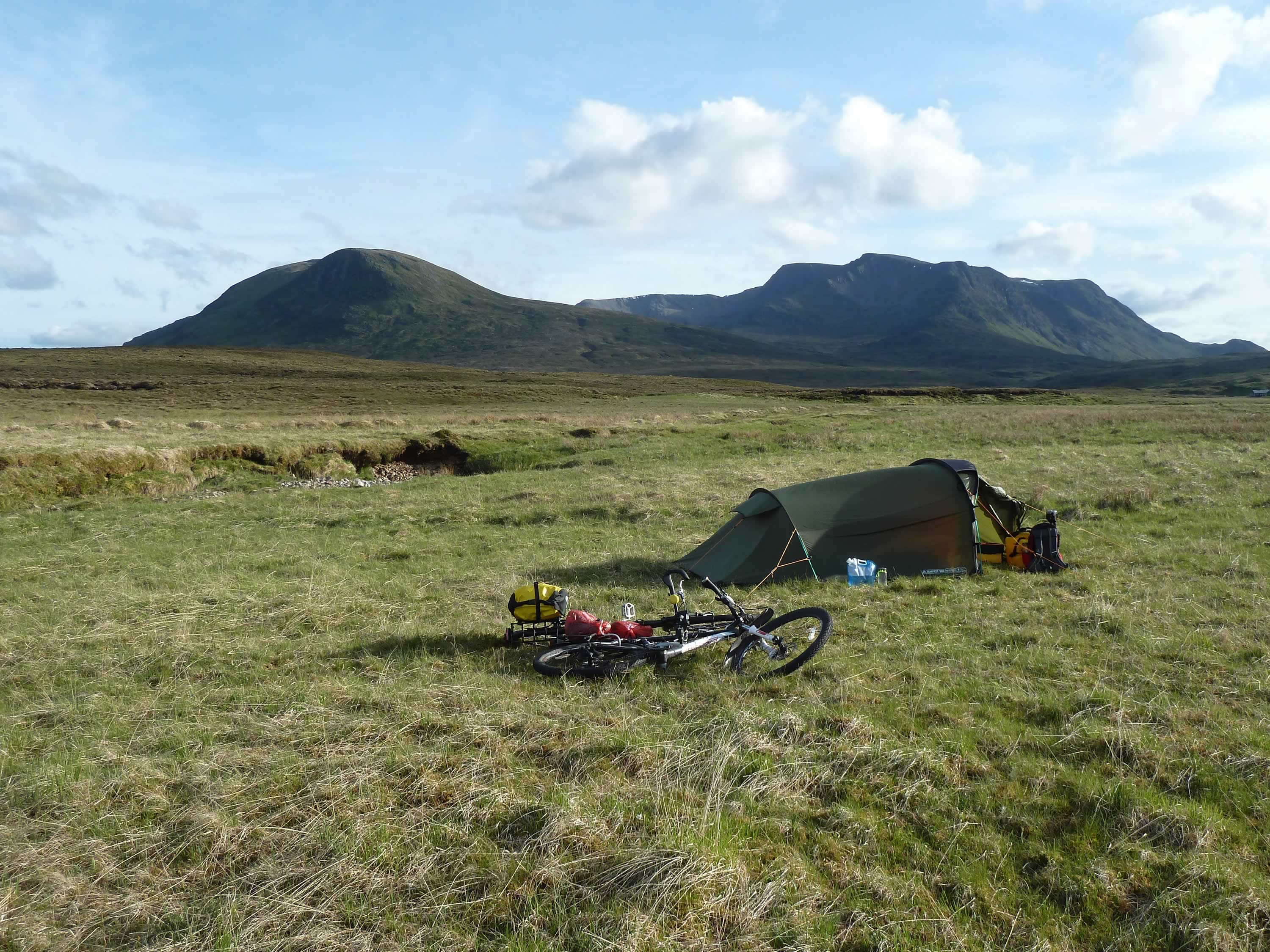 19.09 – Our beloved second home & Ben Alder *
When we went to bed there was still a lot of light. I read my Poirot Mystery of the Blue Train for an hour, while Simon tried to get bored by doing nothing. He failed, as usual.
We both slept well. You could hear the river flowing, but not the deer that came to visit us during the night.
Monday, 29 May 2017
Total distance:
11.83 mi
Total climbing:
869 m
Total Time:
08:53:59
Total distance:
8.73 mi
Total climbing:
247 m
Total Time:
02:02:07
We got up at 5am, long after the sun. Not that it was shining on us.
As we came out of the tent, we were welcomed by a herd of deer lingering on the other side of the river.
The sky painted a dramatic scene, with Ben Alder and the other peaks hiding behind the cloud. Now and then you could see them, but only just.
For breakfast we had a new invention: Spanish rice pudding. We both thought it was most repeatable.
To reduce the risk of missing the train in the evening, we packed the mattresses and sleeping bags, and got the panniers ready. We debated whether to take down the tent. In the end we decided against it, which proved to be a fabulous idea.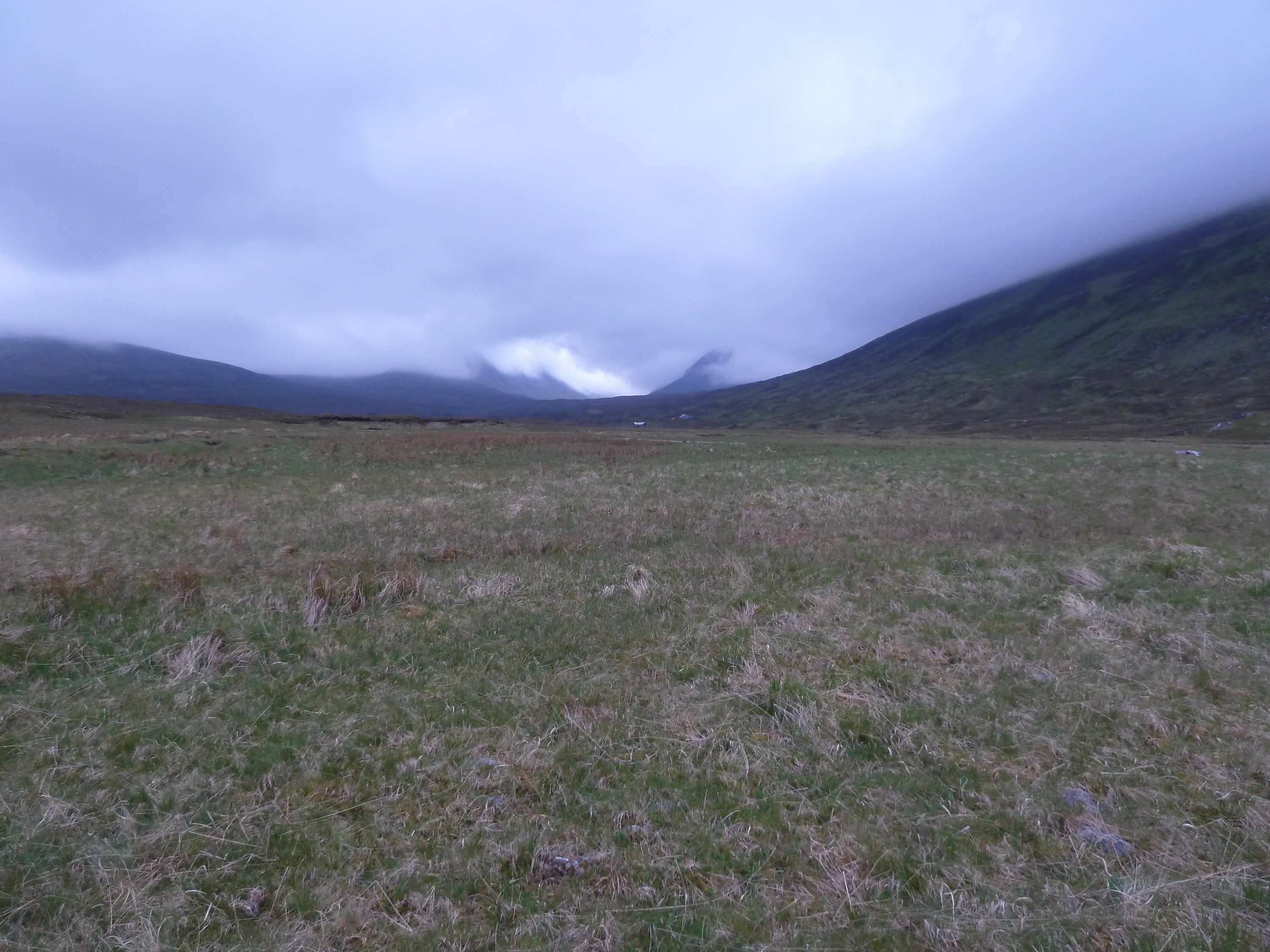 5.43 – Ben Alder hidden by the cloud
We set off at about 7am and followed the path. Not even I could get lost here without a map.
Near the bothy we saw a few people heading for the hills in different directions, but soon we were on our own.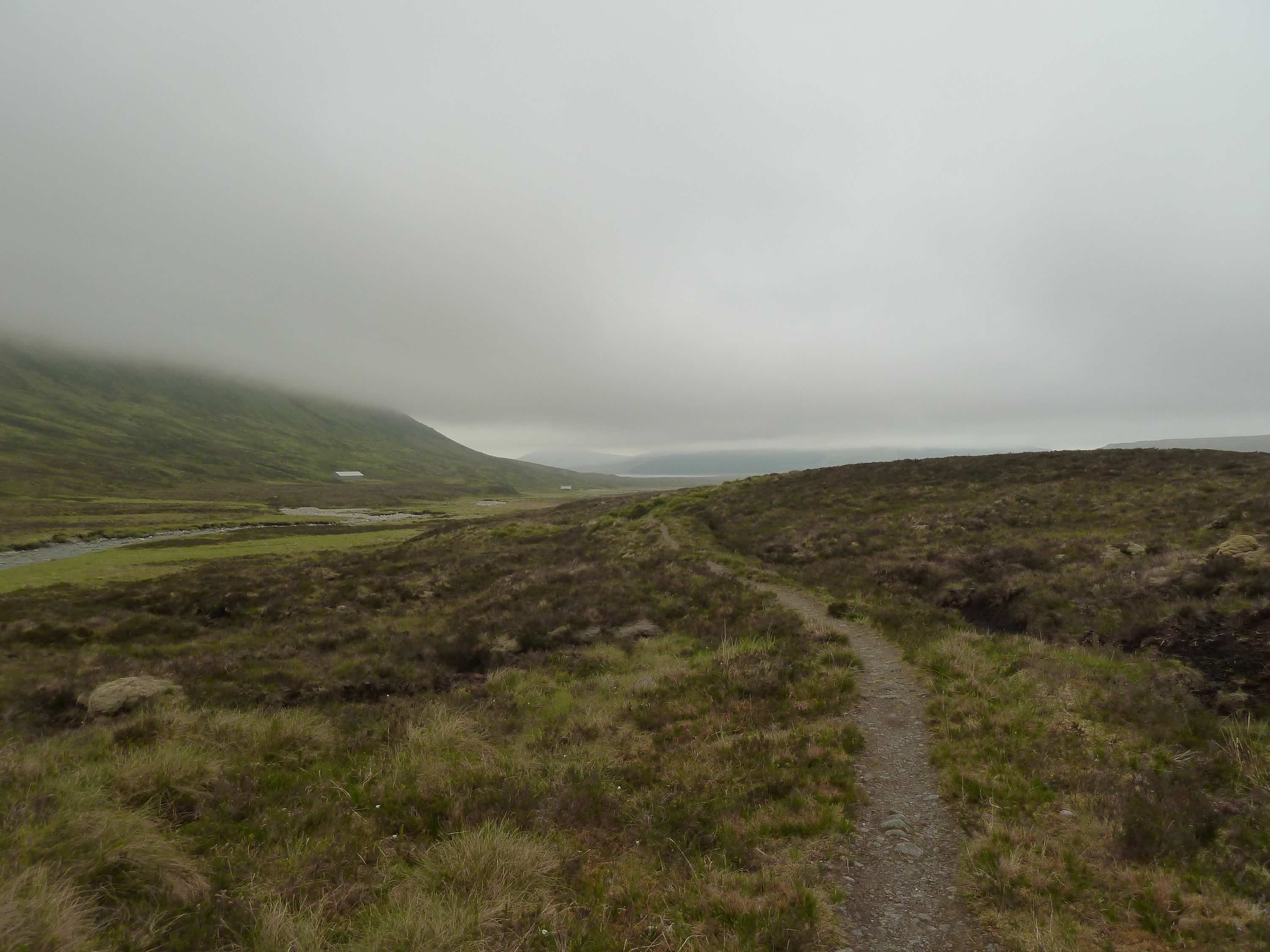 7.24 – Starting to climb looking back towards the bothy
We could see far into the distance, but only below the low cloud.
8.20 – Unnecessary navigation
The path took us to this small loch, which we forded easily.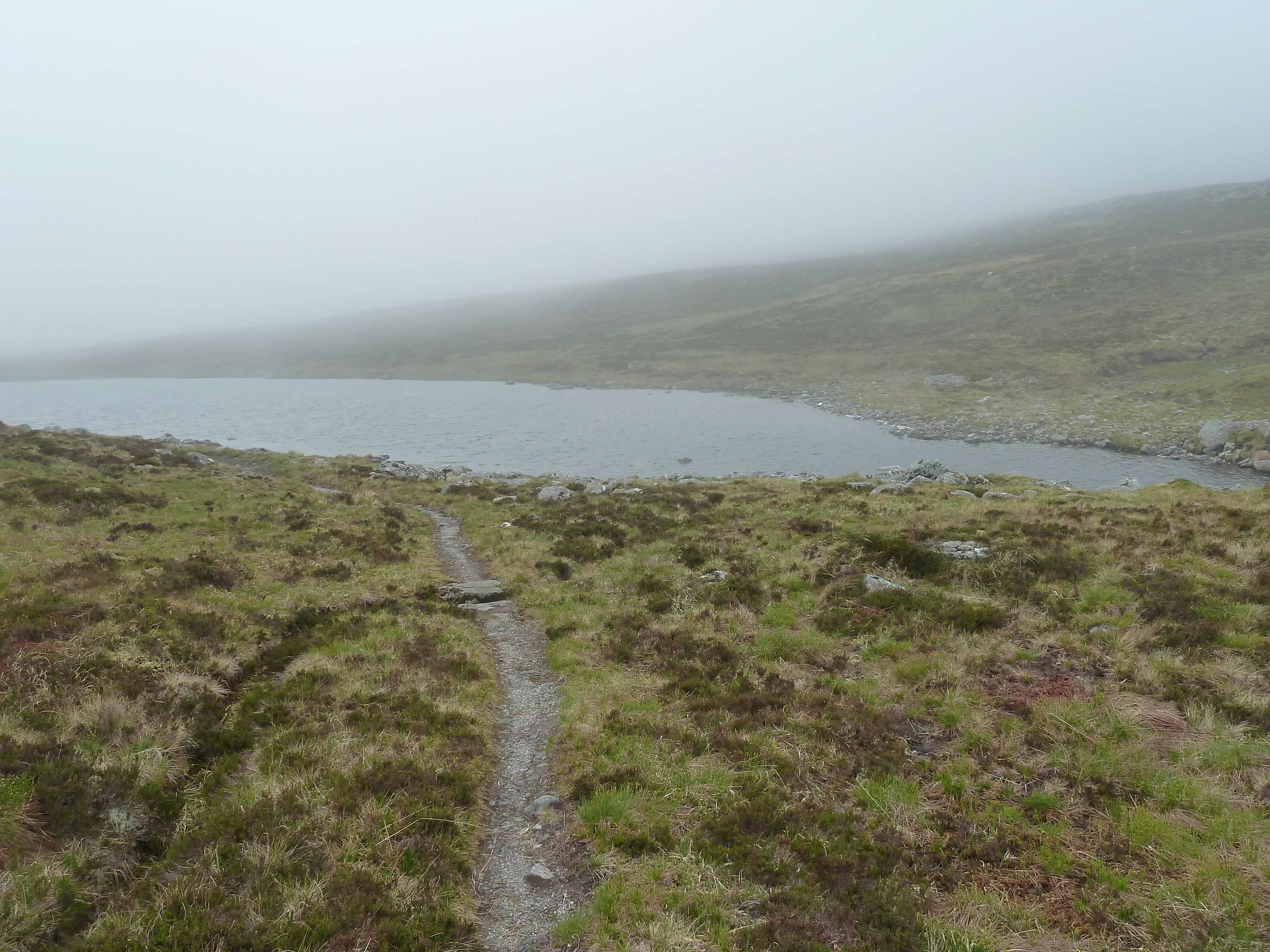 8.33 – Loch a' Bhealaich Bheithe
Here we started the climb, quite gently at first.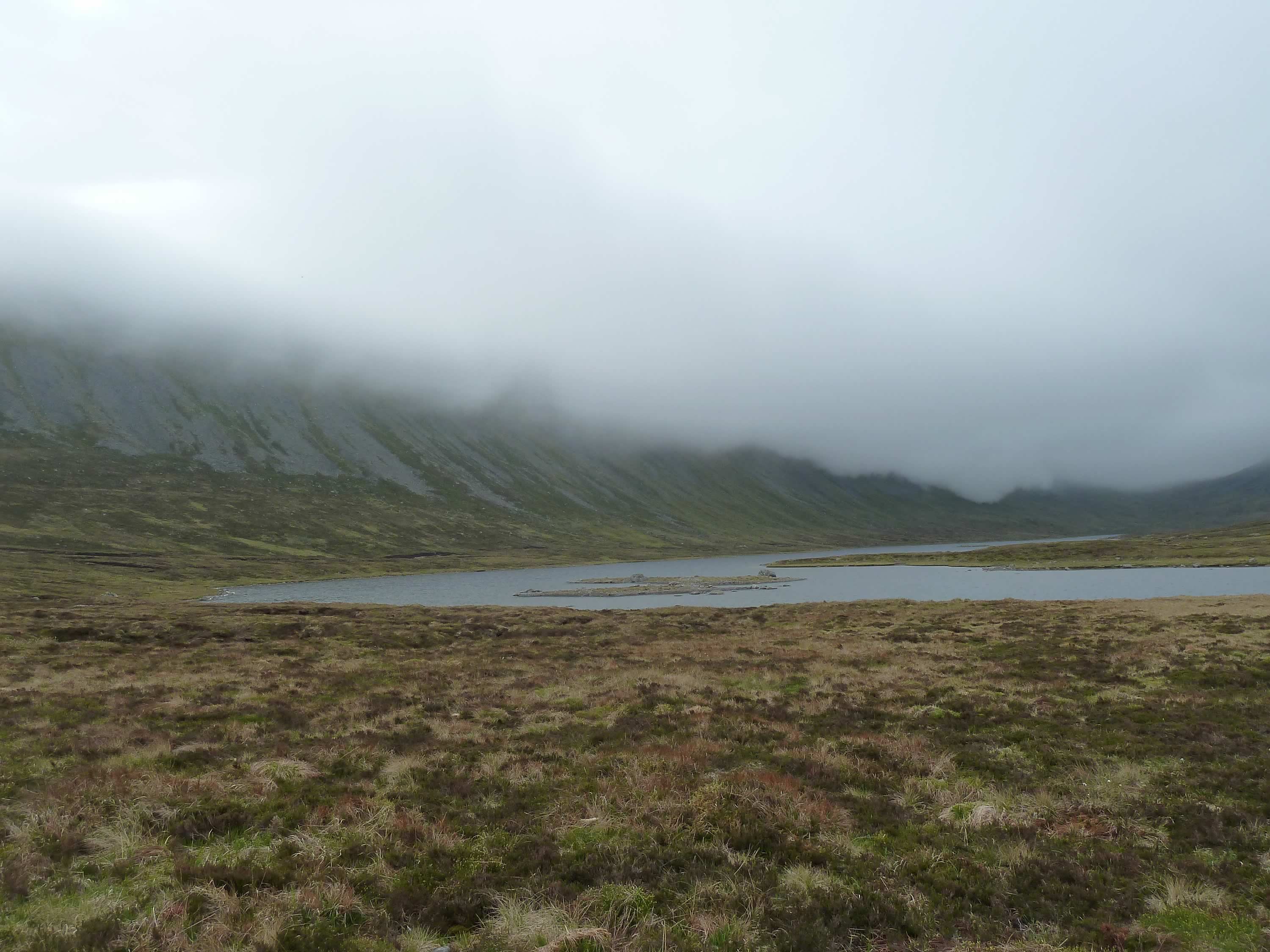 8.44 – Looking south along the loch; on the left, Beinn Bheòil (Munro)
We came across this second herd of deer and we seemed to trap them. For a while they were unsure what to do. Eventually they ran past us.
Soon they stopped to stare at us. I reckon they figured out we weren't the enemy.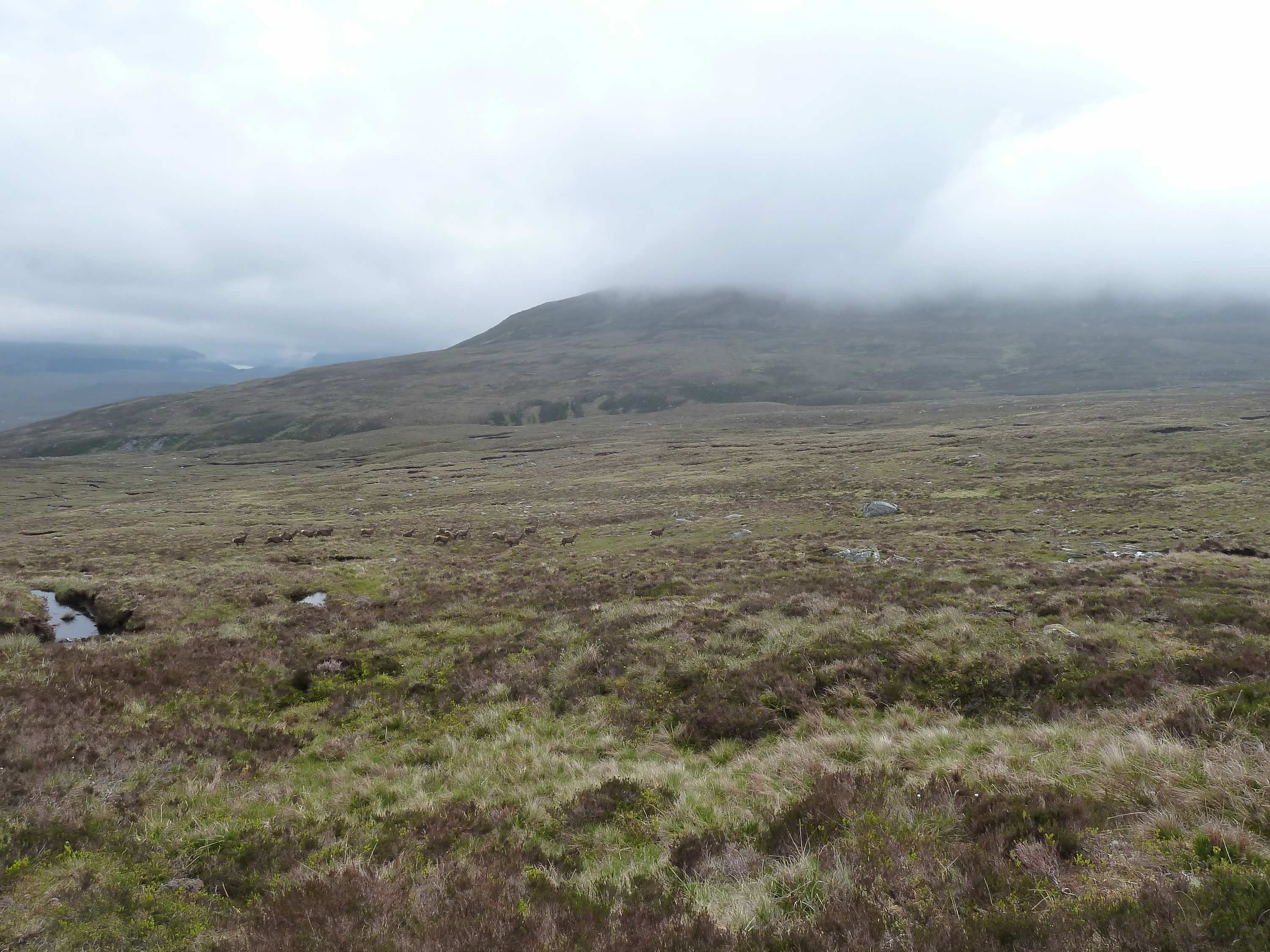 9.07 – Deer running away from us
We continued climbing and soon we saw what was to come.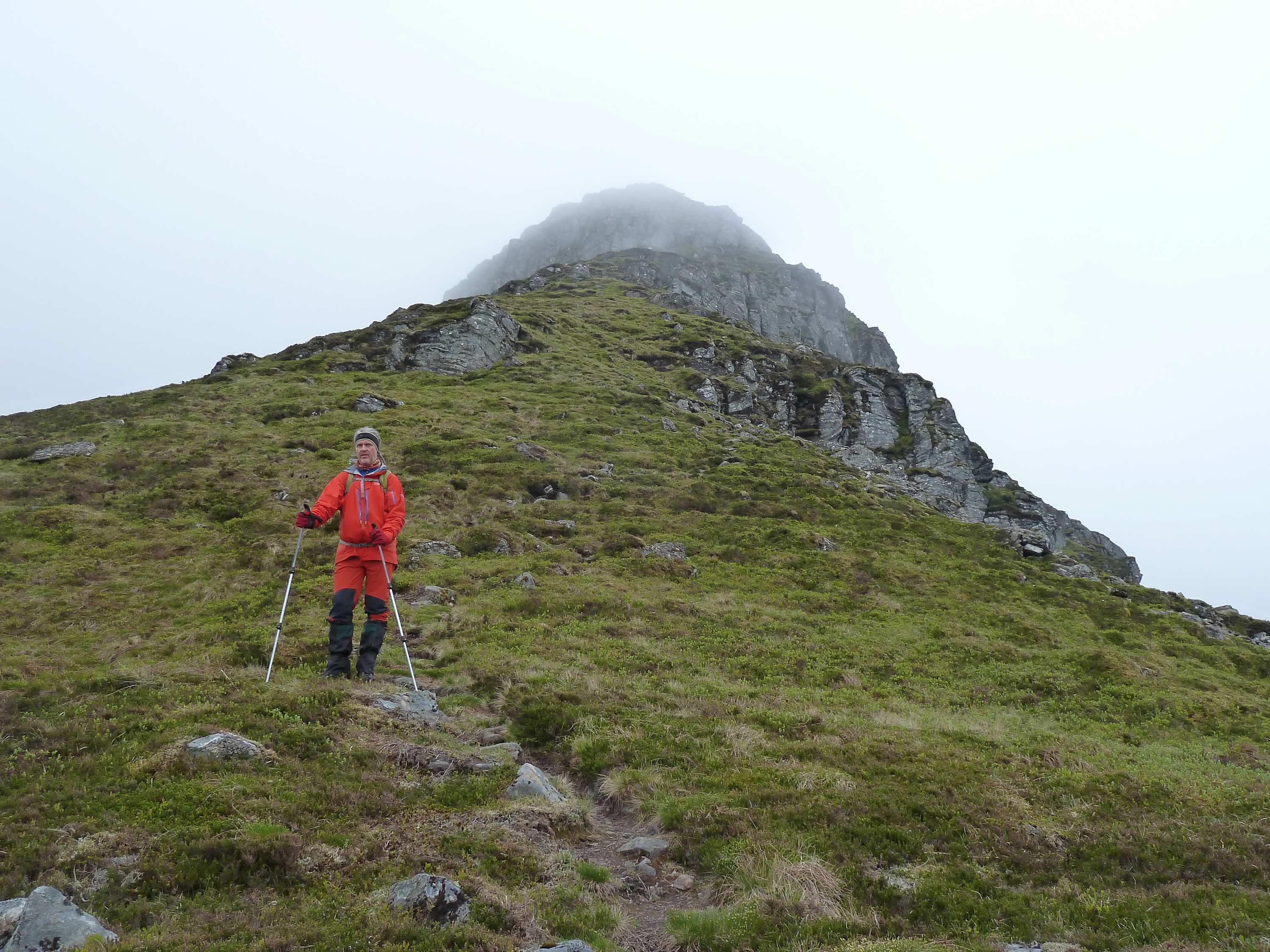 9.26 – Simon with our future behind
We started to climb the long Leachas.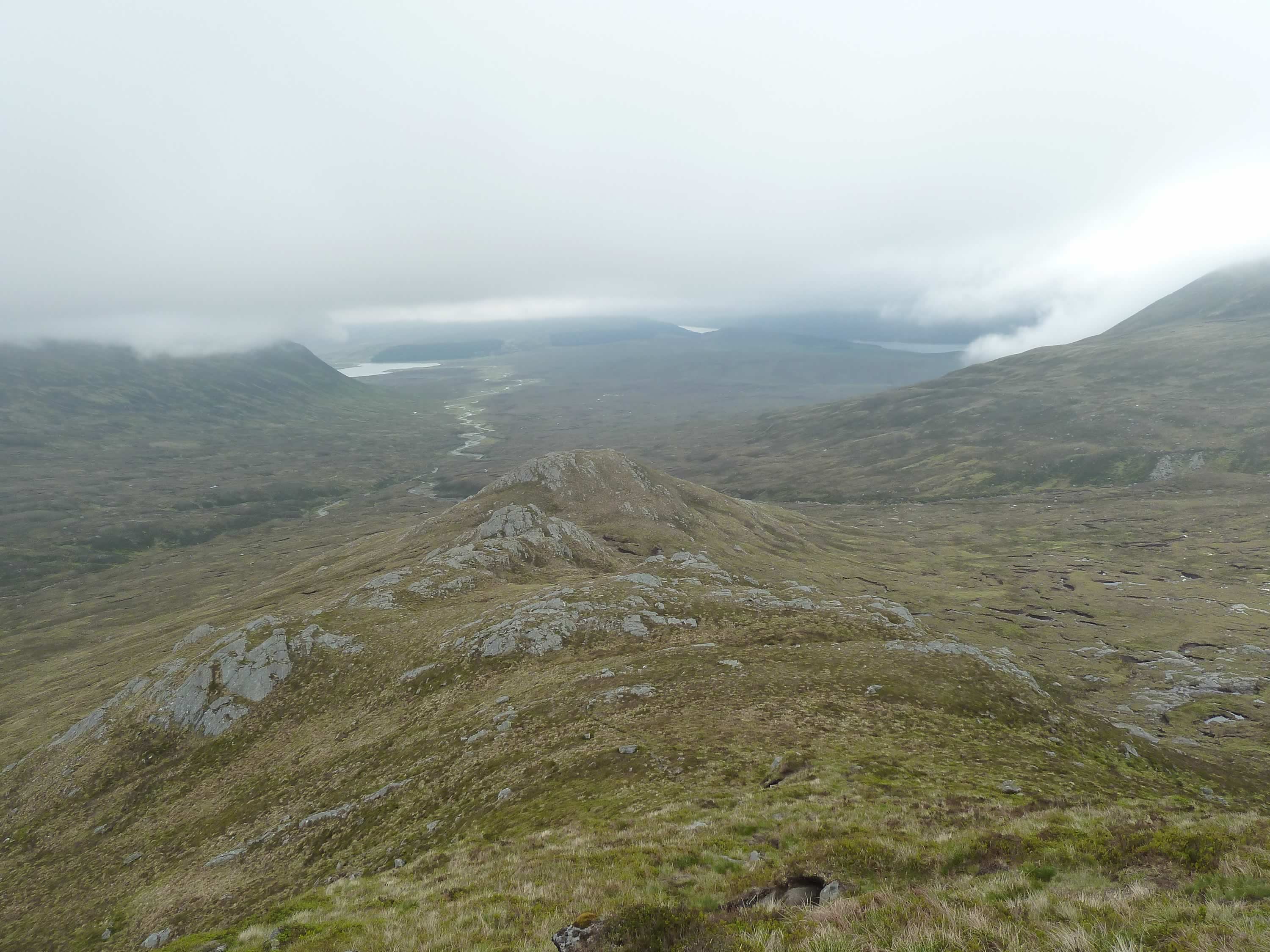 9.32 – Looking back down the long Leachas & the bothy down below
And then there was the scrambling.
At first I wondered how I was going to climb the huge rocks. Then I stopped thinking and went for it. It's usually the best way.
Climbing a near-vertical wall with a heavy rucksack on your back is quite a job, but we did ascend pretty quickly.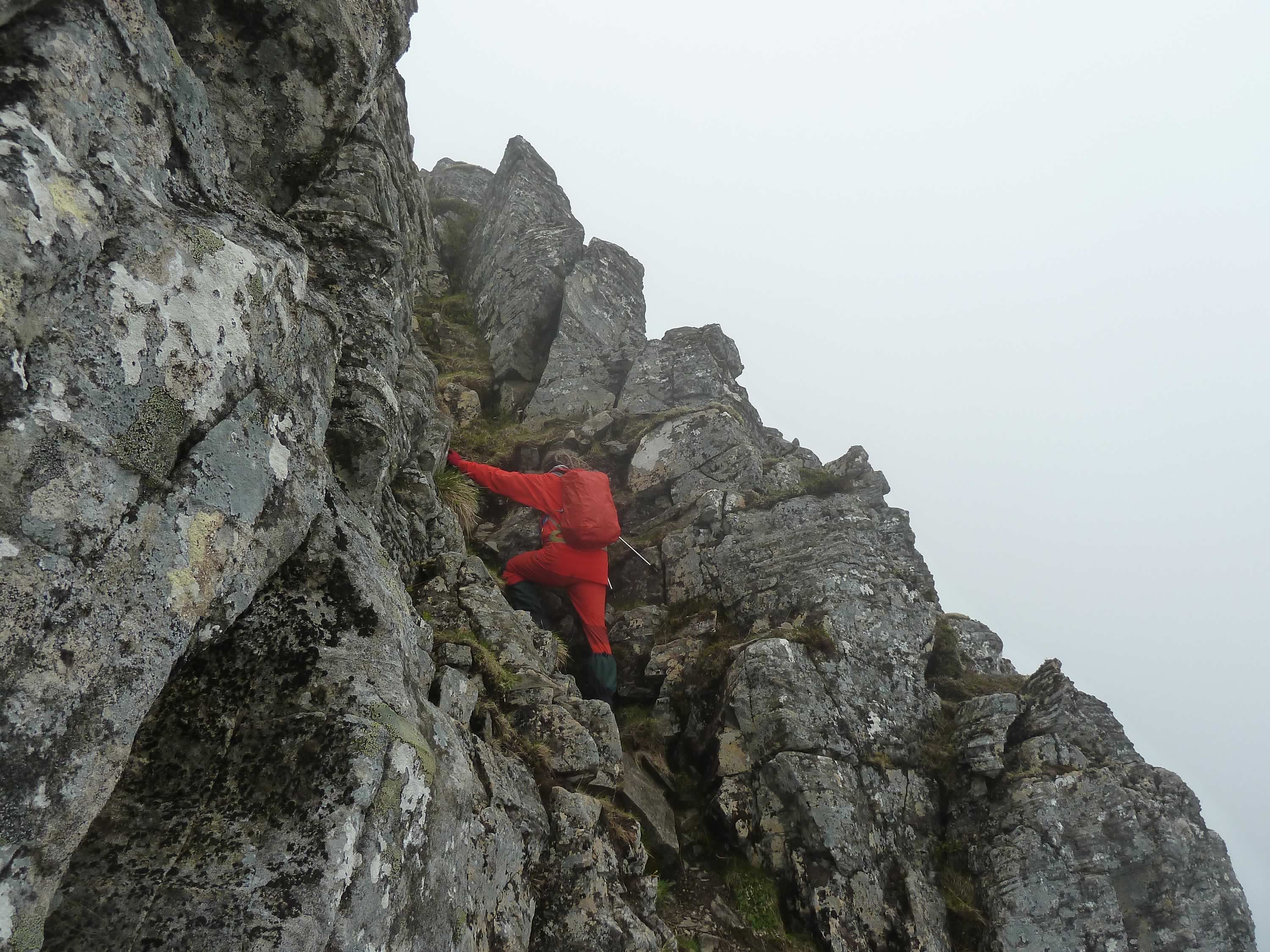 9.57 – Scrambling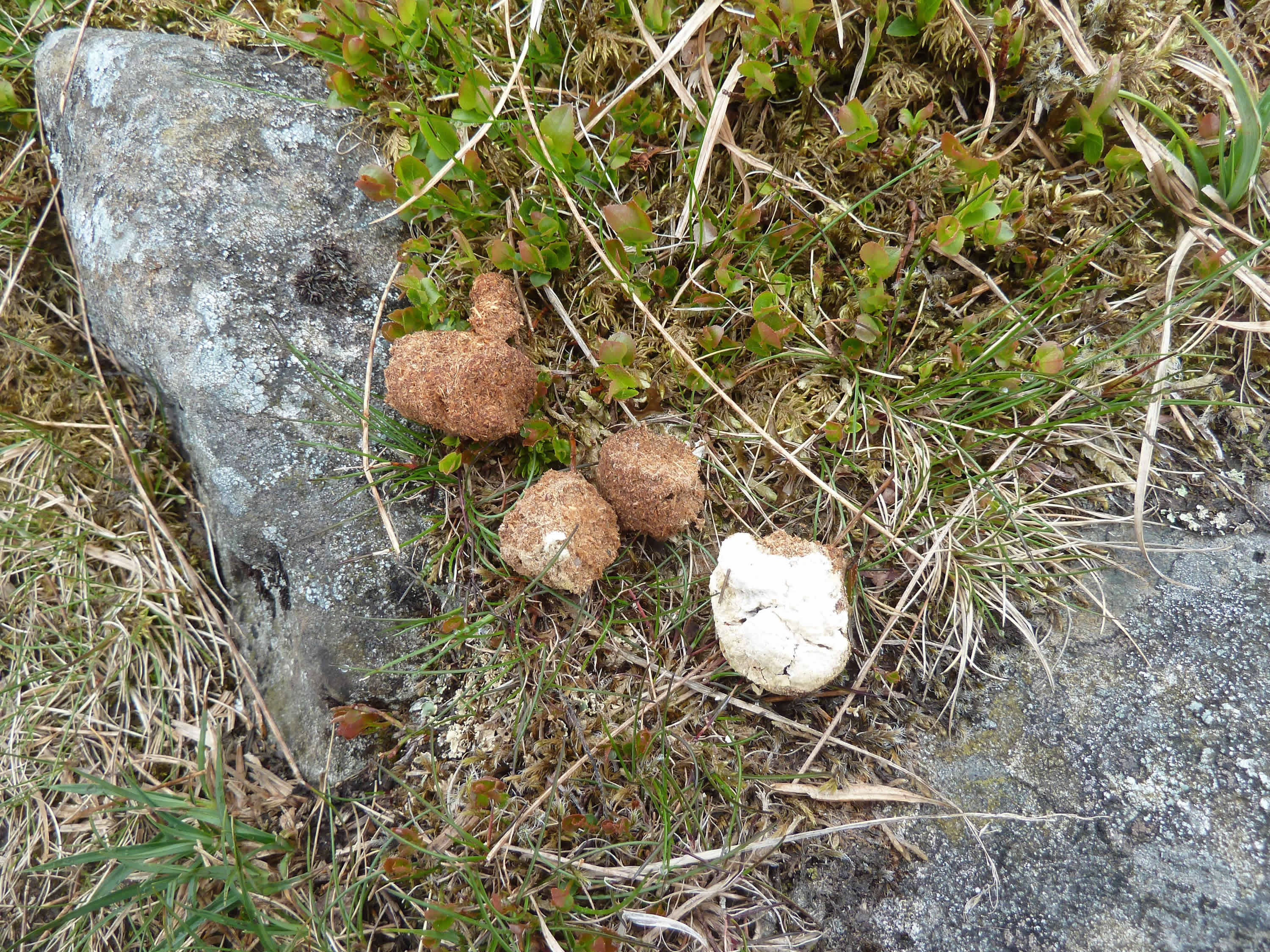 10.03 – Bird of prey scat
The views down were spectacular, not least because you could only see part of it and had to imagine the rest.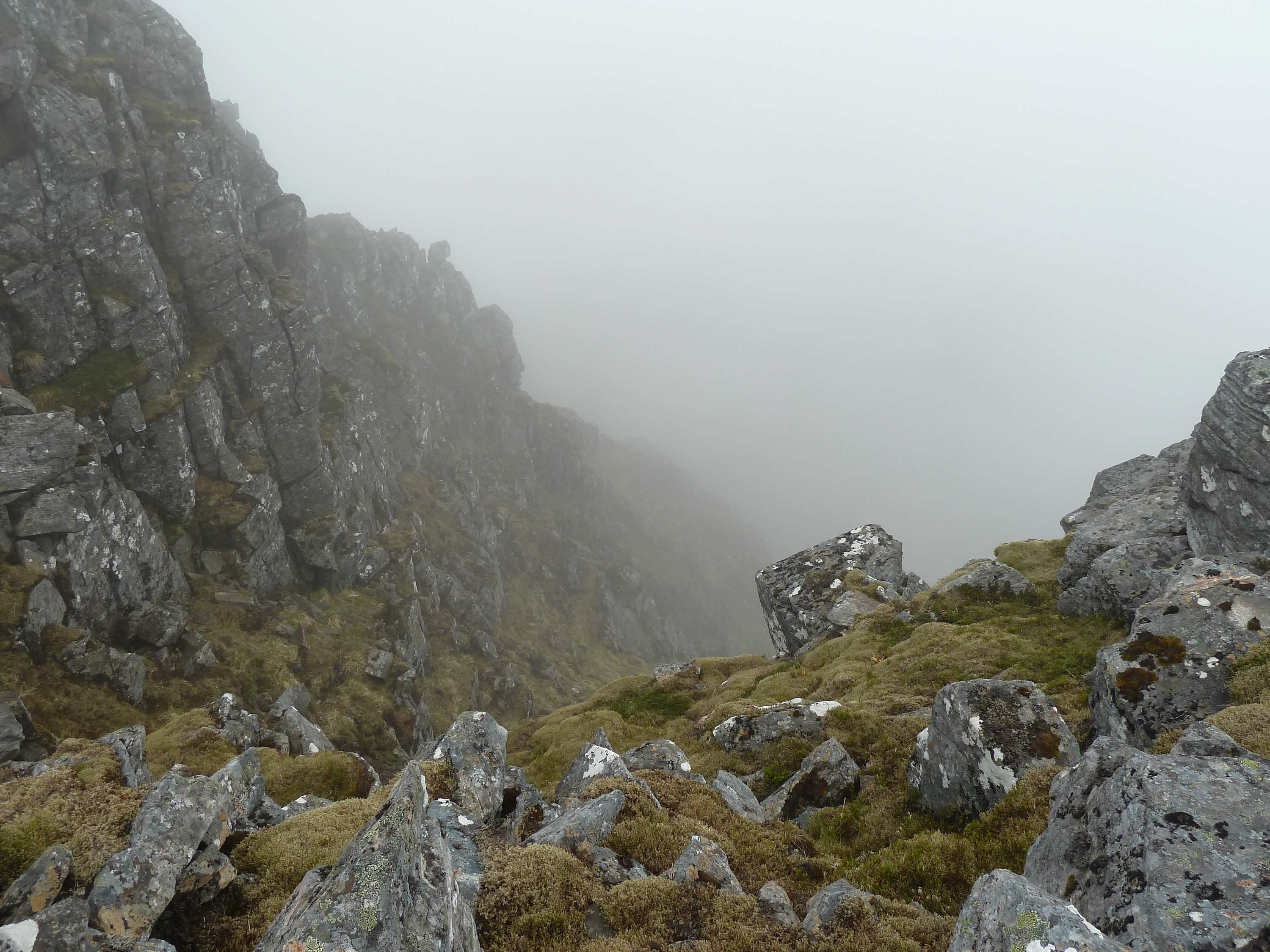 10.20 – Almost at the top, looking down
Close to the top we crossed this field with boulders of all sizes.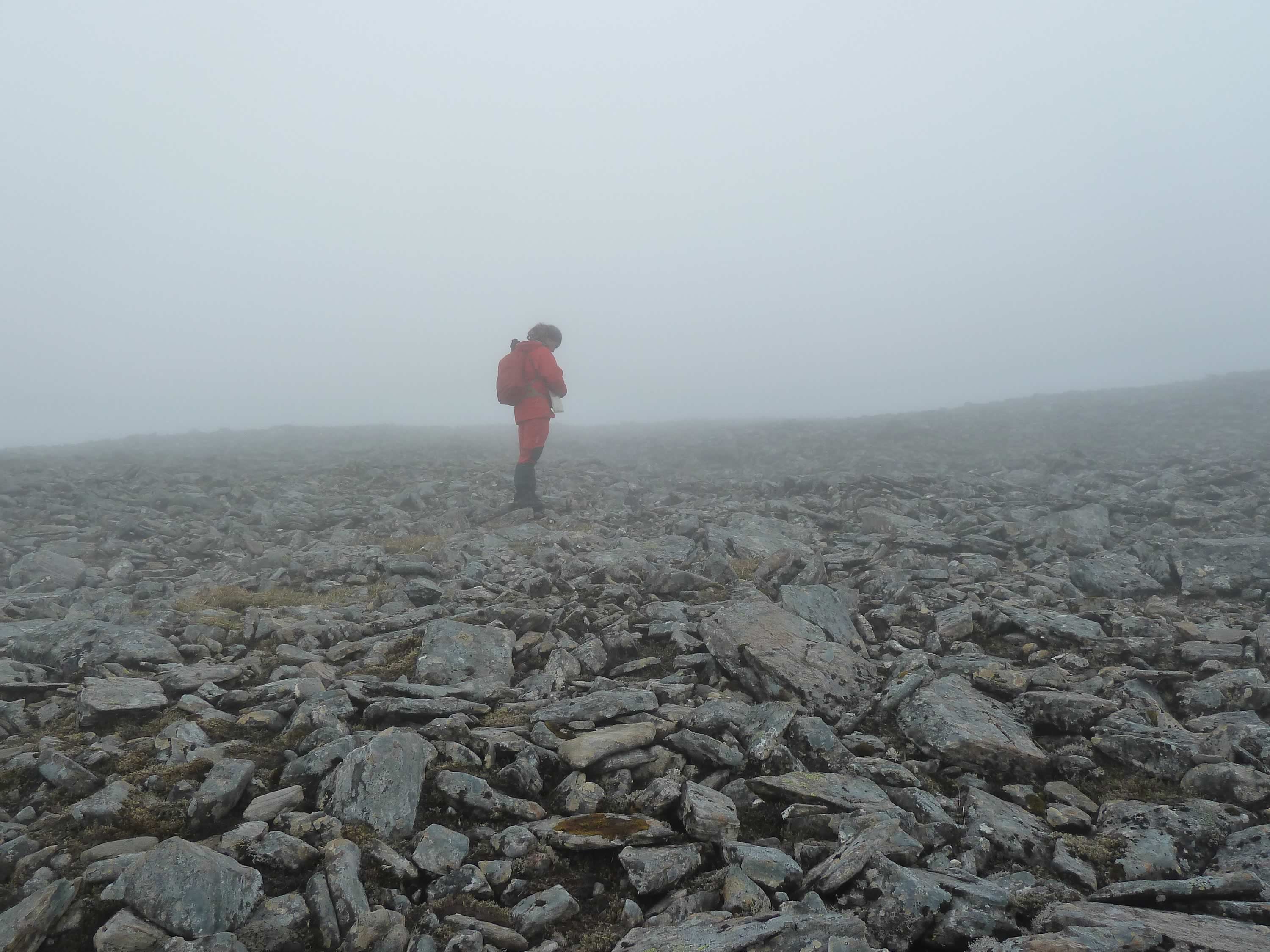 10.48 – Boulder field
The little snow we had had in winter was still sitting in crevices and north facing spots.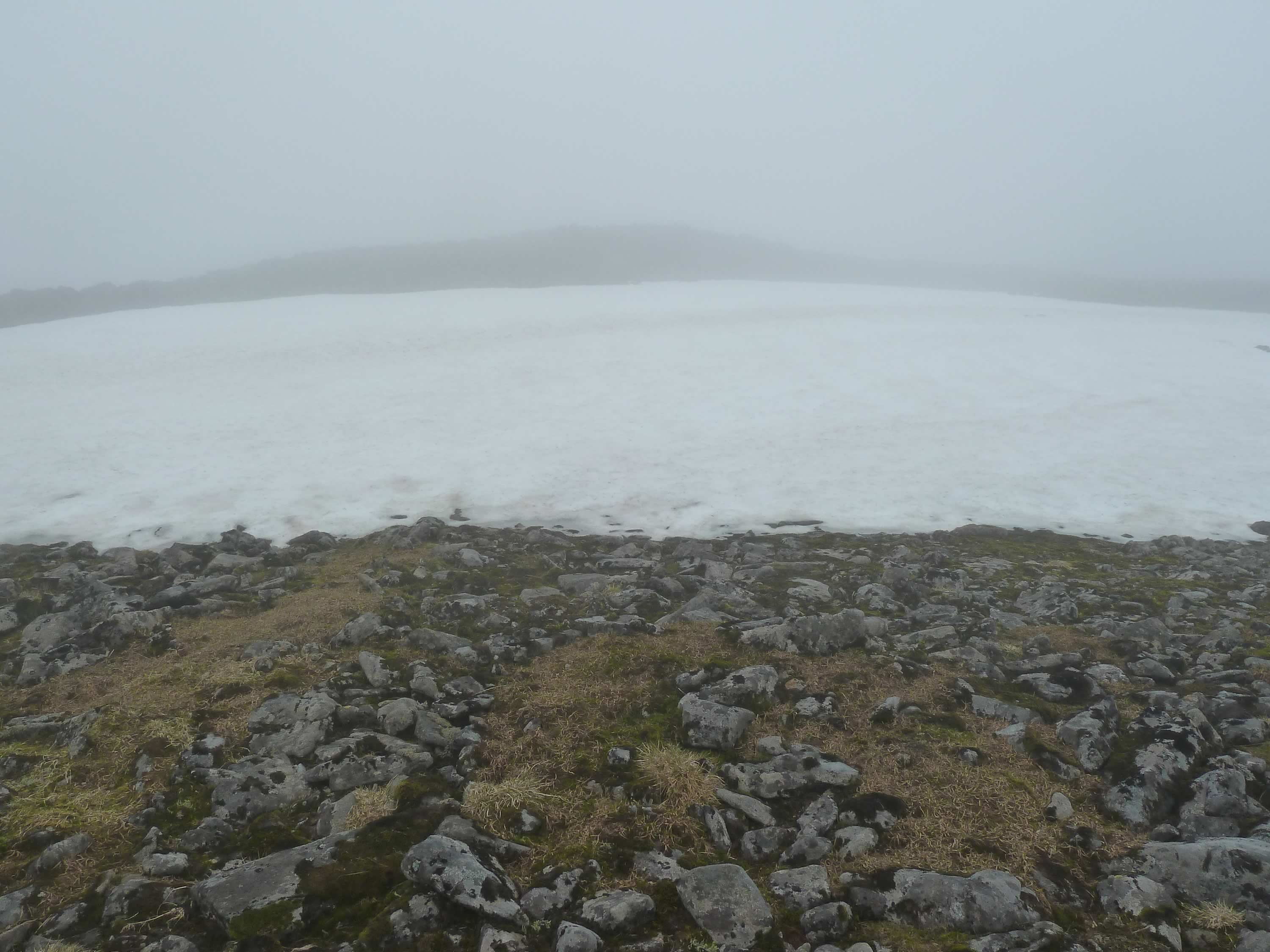 11.41 – A last remaining patch of snow
Thanks to Simon's navigation, we reached the real top.
We hadn't seen anyone since the early morning. Here we saw two pairs of guys. They seemed very familiar with Ben Alder.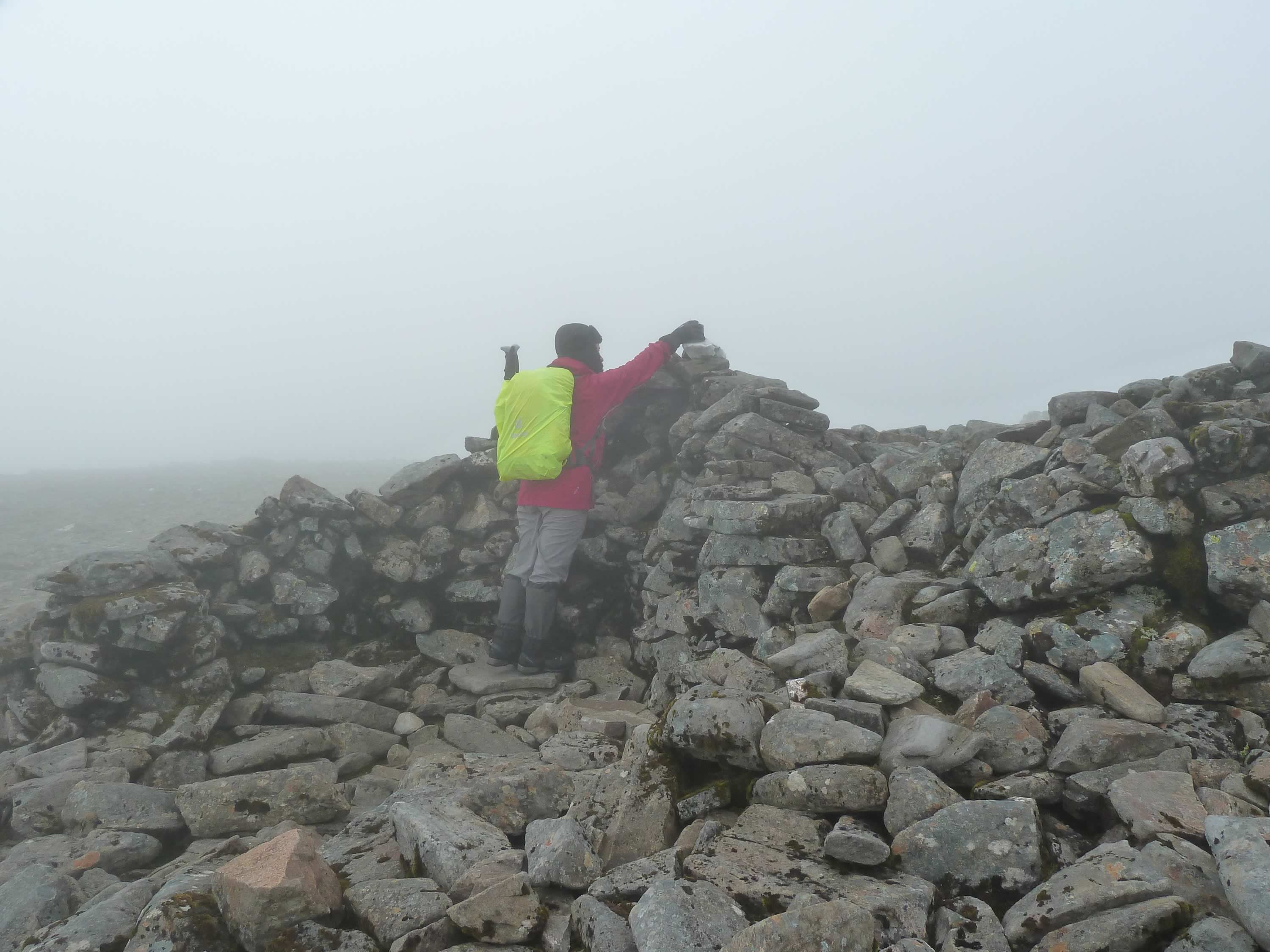 11.50 – Maria at the top of Ben Alder *
With poor visibility and great skill, Simon navigated along the ridge.
The way down was a lot less steep than the climb up.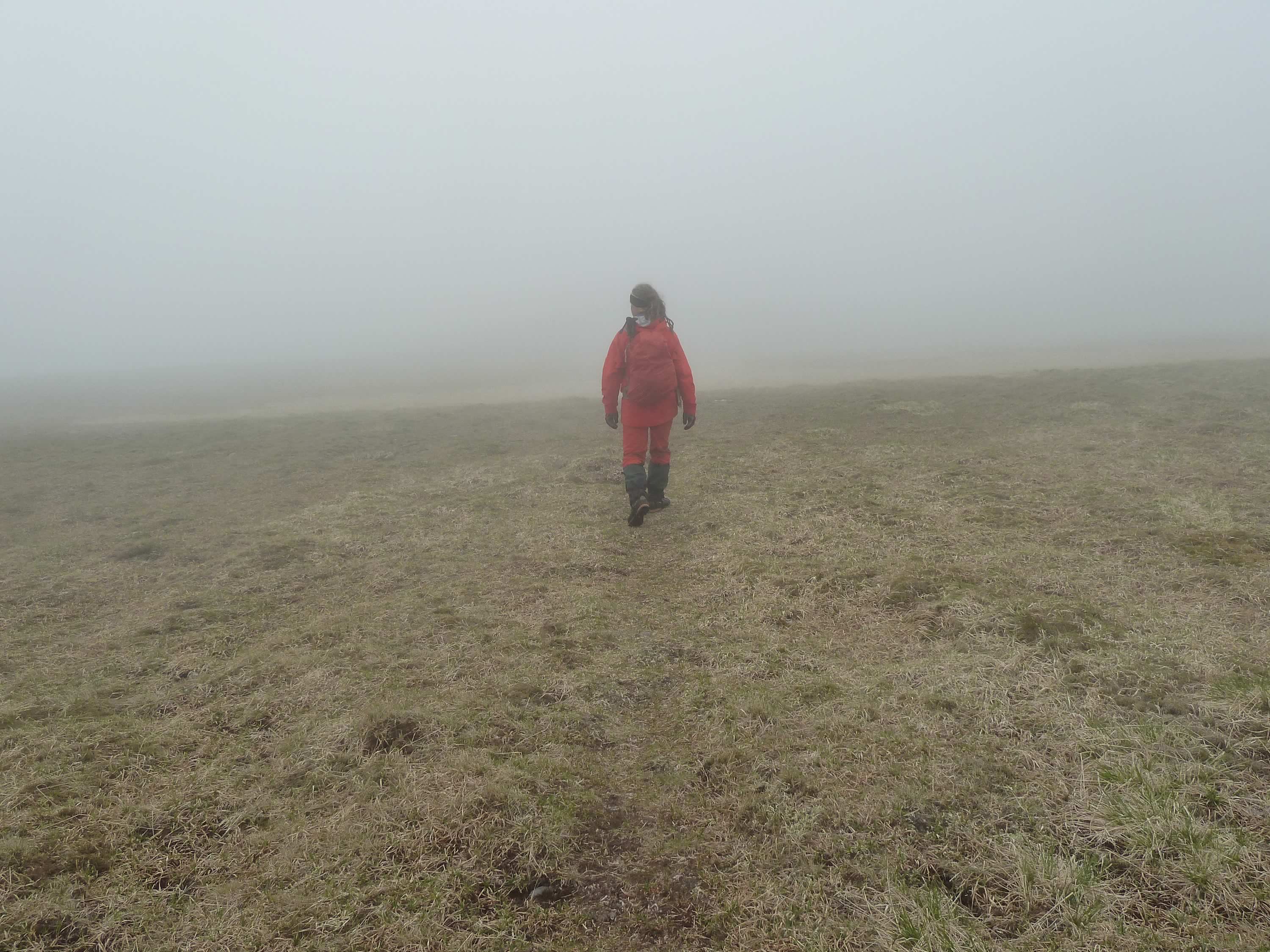 12.00 – Heading southwards along the ridge
At times it felt like the cloud was going to lift, but it clung on to Ben Alder stubbornly.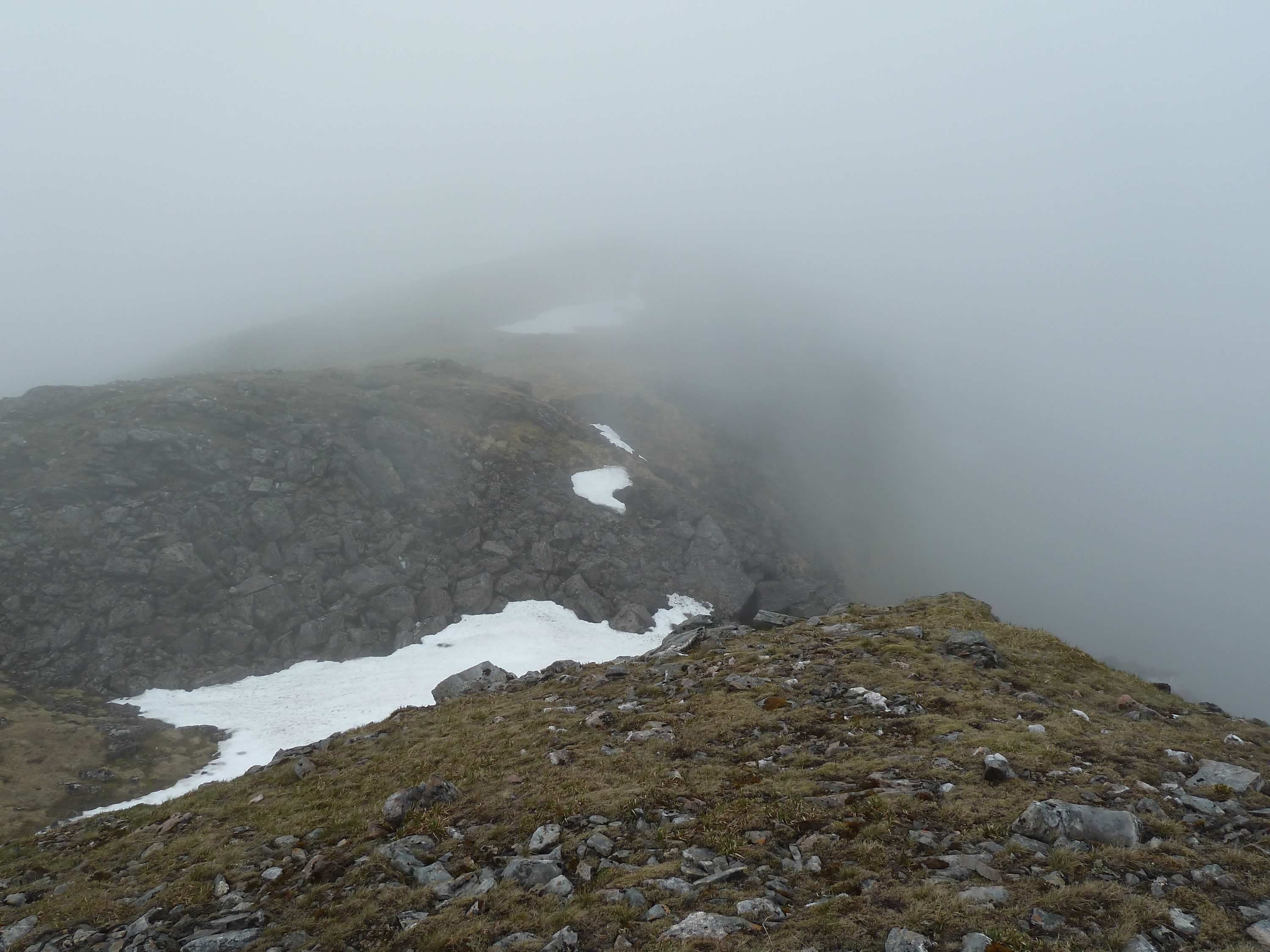 12.22 – Just before starting to descend
The descent was fast, even though there was no clear path.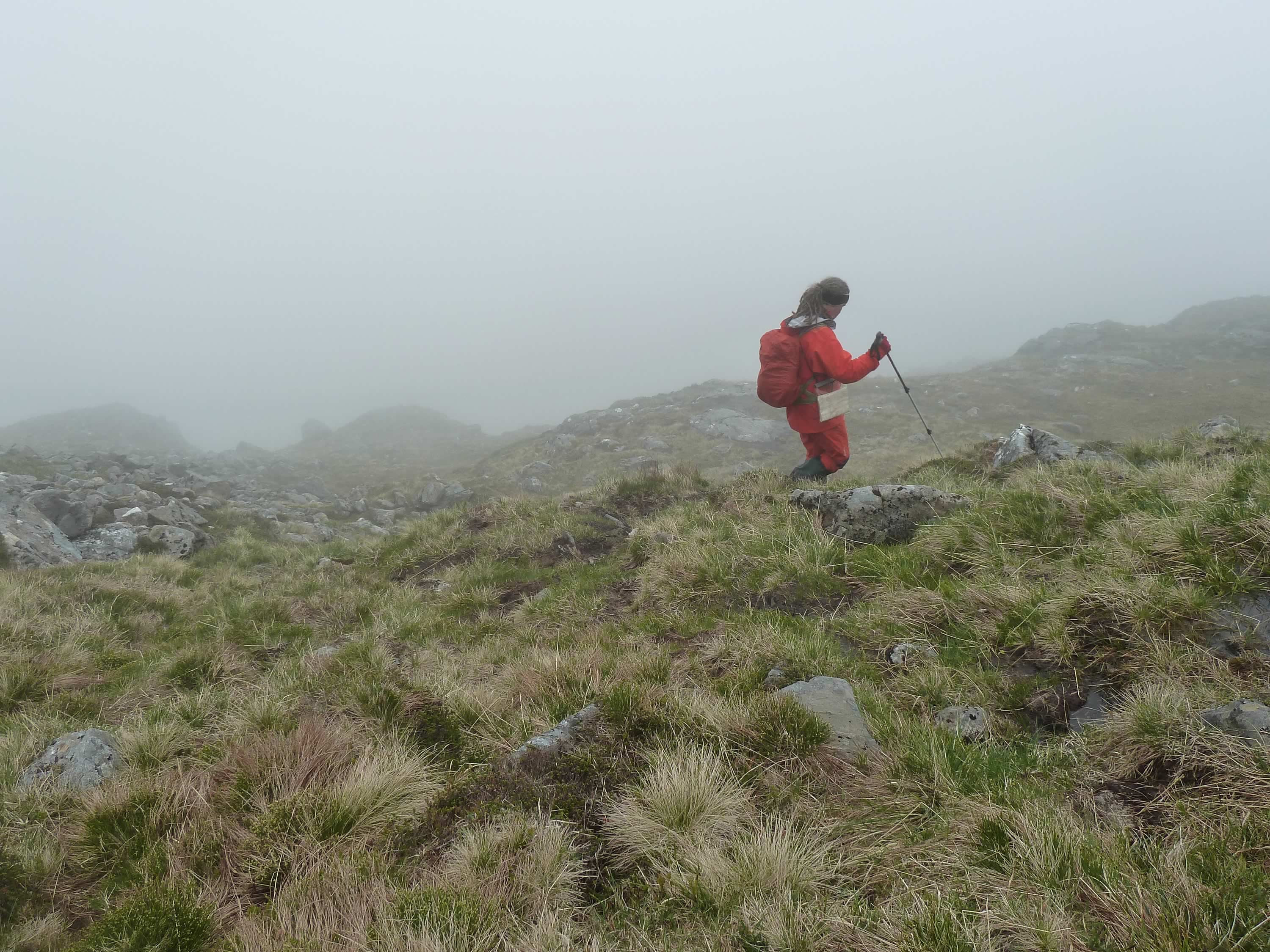 13.00 – Descending southeasterly
Like in the previous trip, we saw some large frogs. We also saw this tiny one. I love frogs. They always seem happy to see you.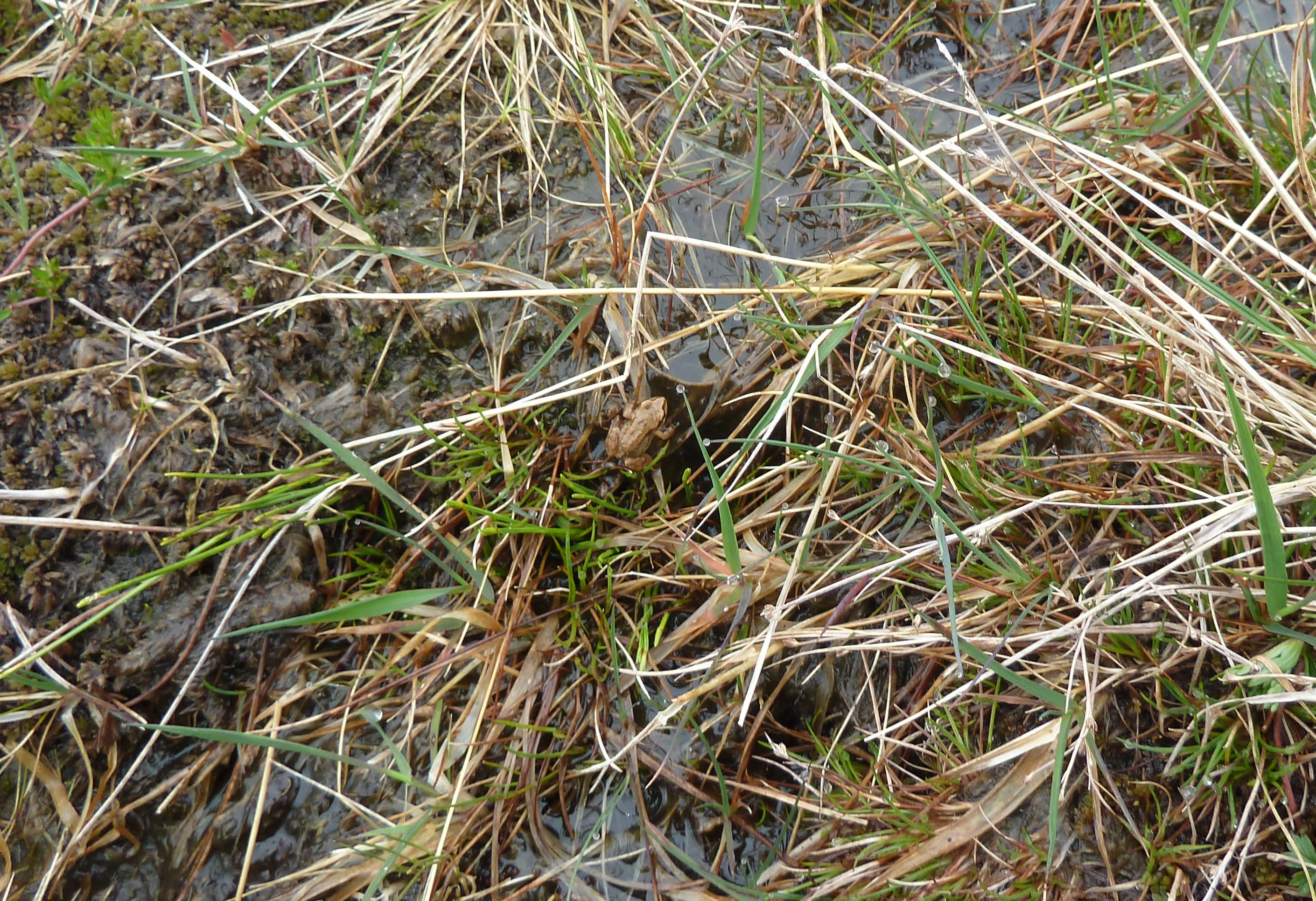 13.01 – A tiny frog saying hello
Soon we were back at the loch.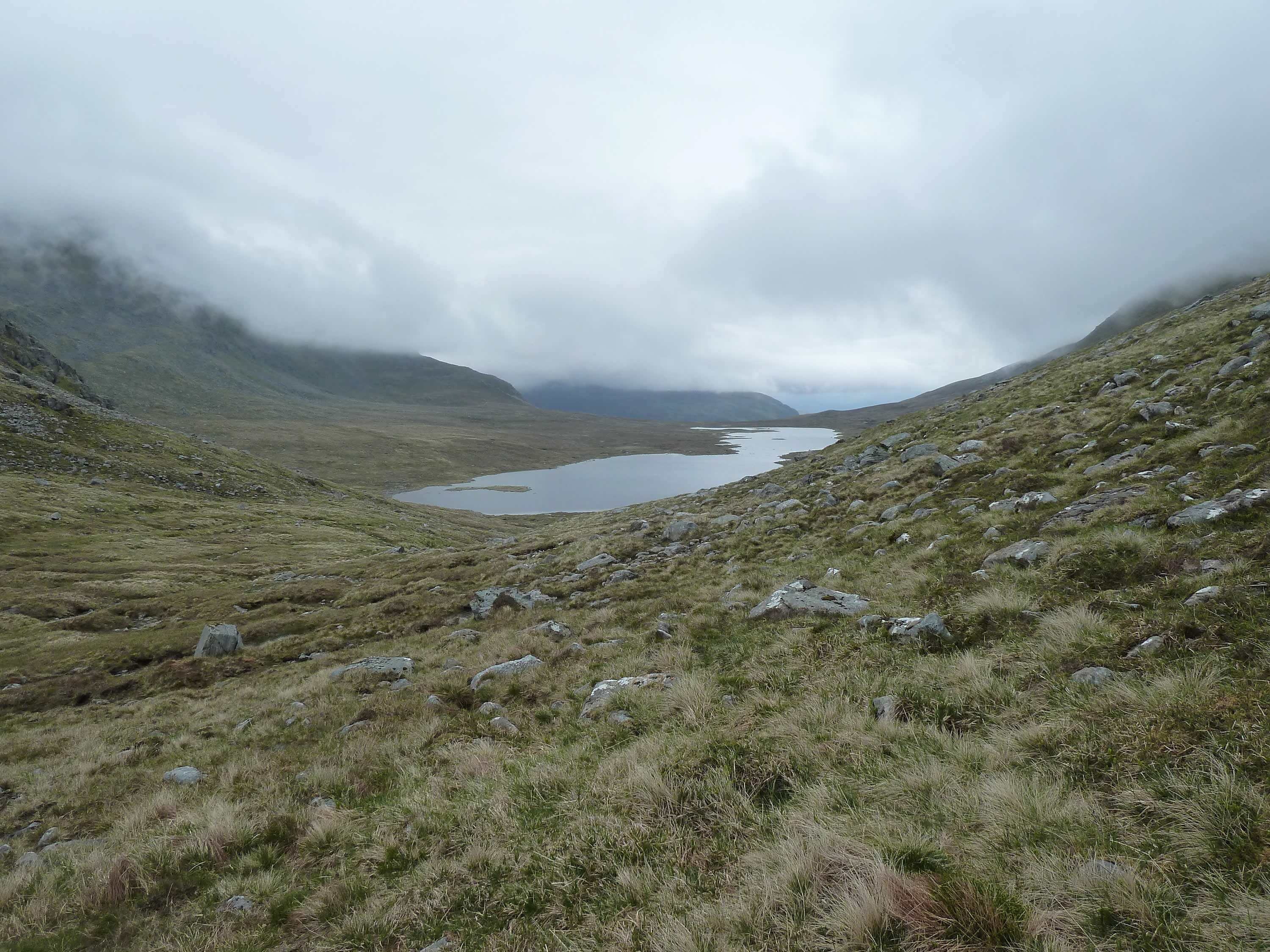 13.37 – Bhealaich Bheithe
There was a path most of the way and we walked along it.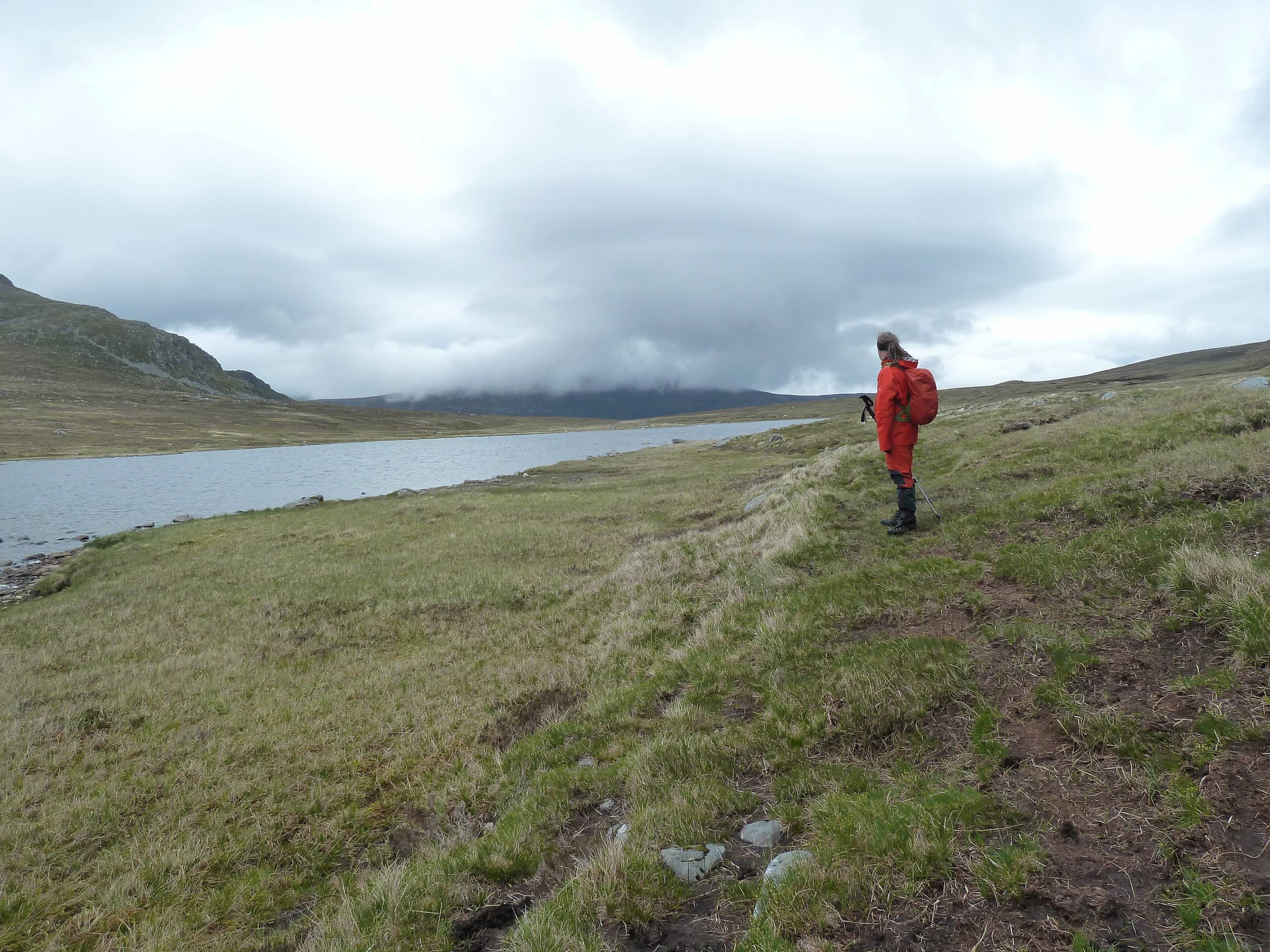 14.09 – Walking back along Loch a'Bhealaich Bheithe
We stopped to eat some sandwiches, and admire the view and what we had achieved.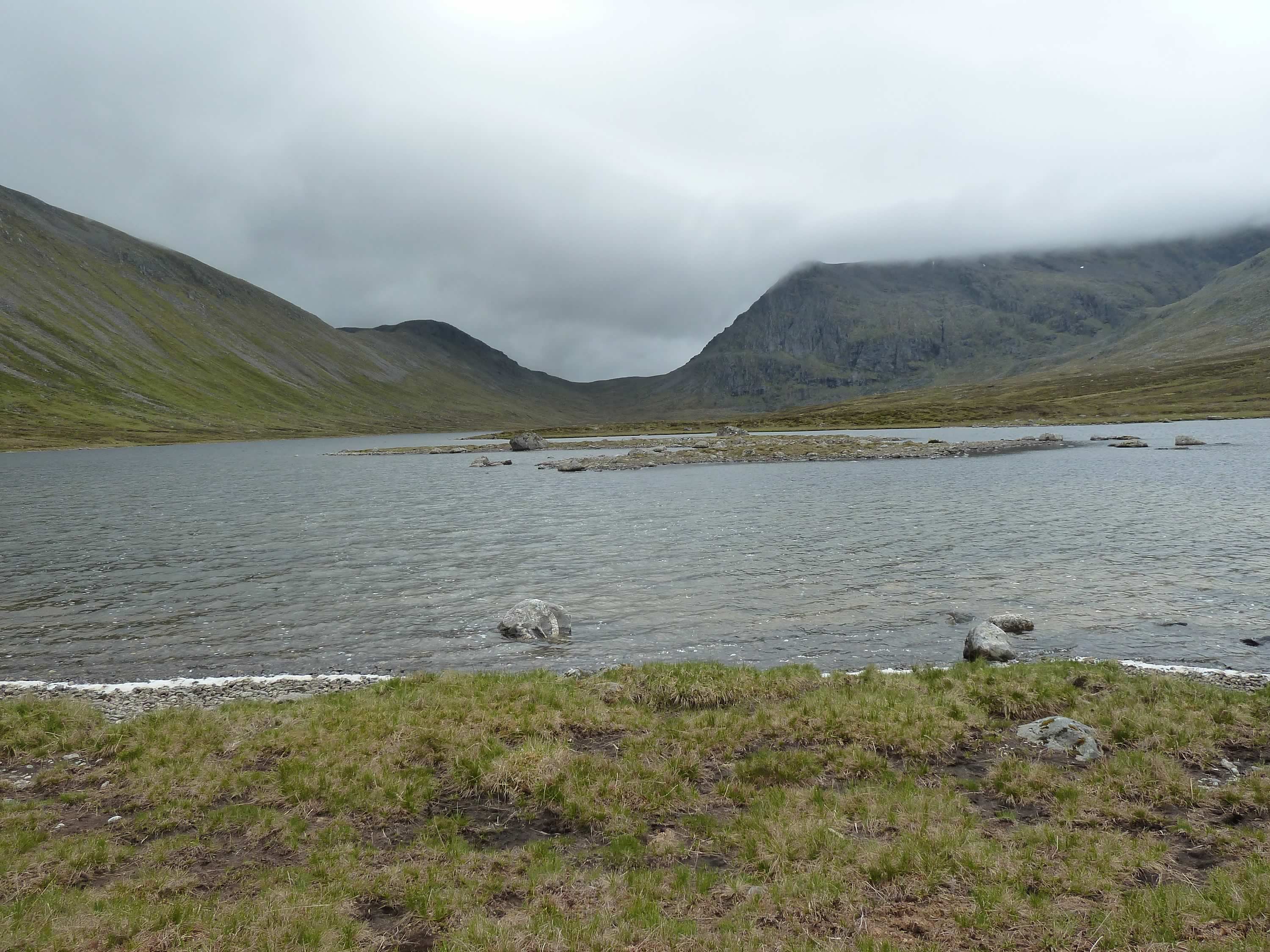 14.22 – Back at the north end of the loch
My iPhone had misbehaved in previous trips, so this time I decided to take a "panoramic" with the Panasonic.
It's nothing to write home about, but you get an idea of the landscape.

14.52 – Looking at Sròn Drèineach (the northern spur of Beinn Bheòil)
From here, we retraced our steps and got back to the tent at about 4pm.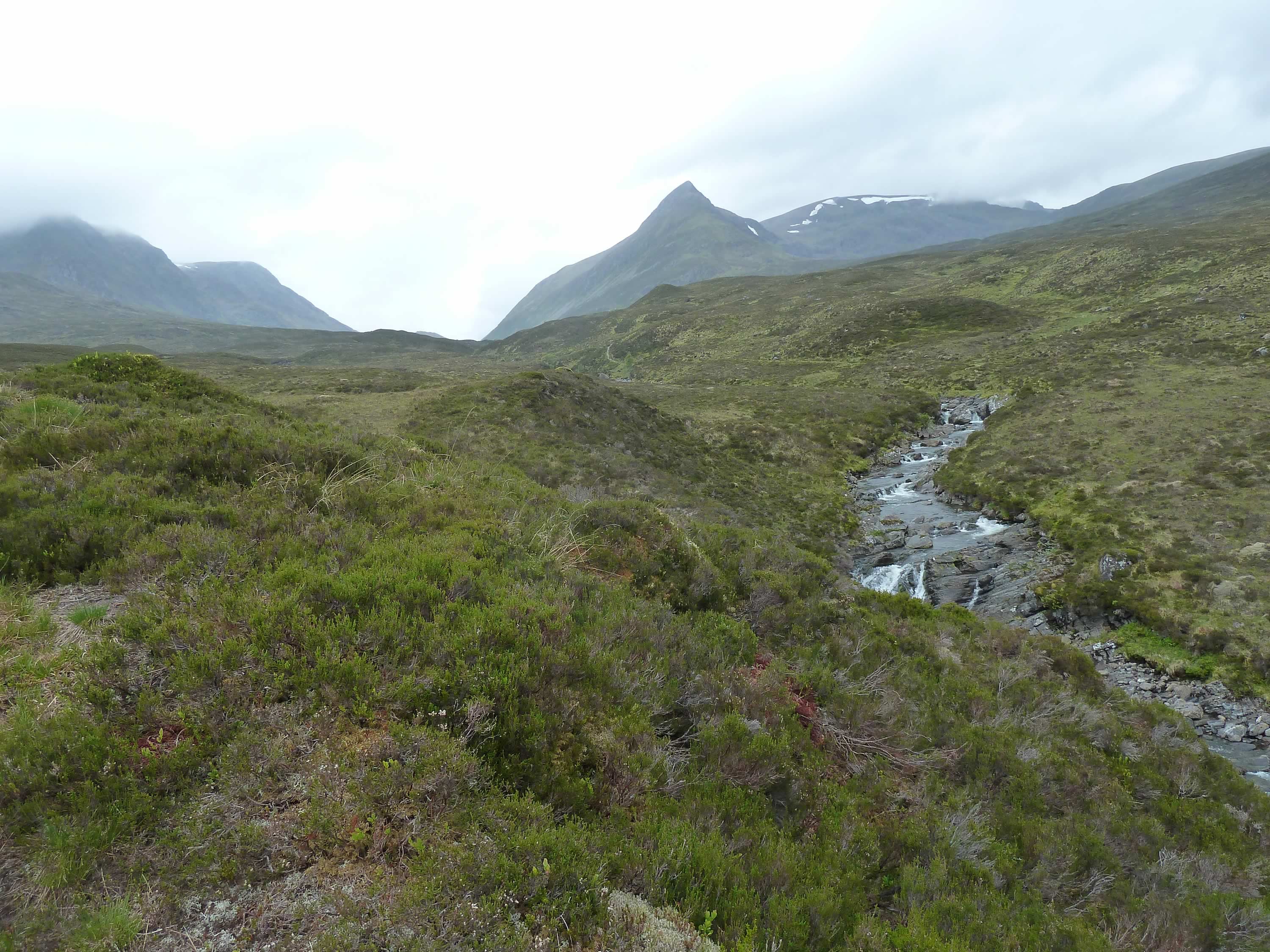 15.27 – In the centre, Sgòr Iutharn (?)
Thank goodness we had left the tent up. It had started raining and otherwise we'd got seriously wet changing into our cycling clothes.
We cycled back to Dalwhinnie following a different route. I thought it was going to be easier, but it proved just as rocky.
I really have to learn to ride on stones. It'd reduce the amount of sighing, groaning and lamenting.
Places like Dalwhinnie are a great reminder of how lucky we are. This tiny village helped bring about one of the most heroic actions in human history: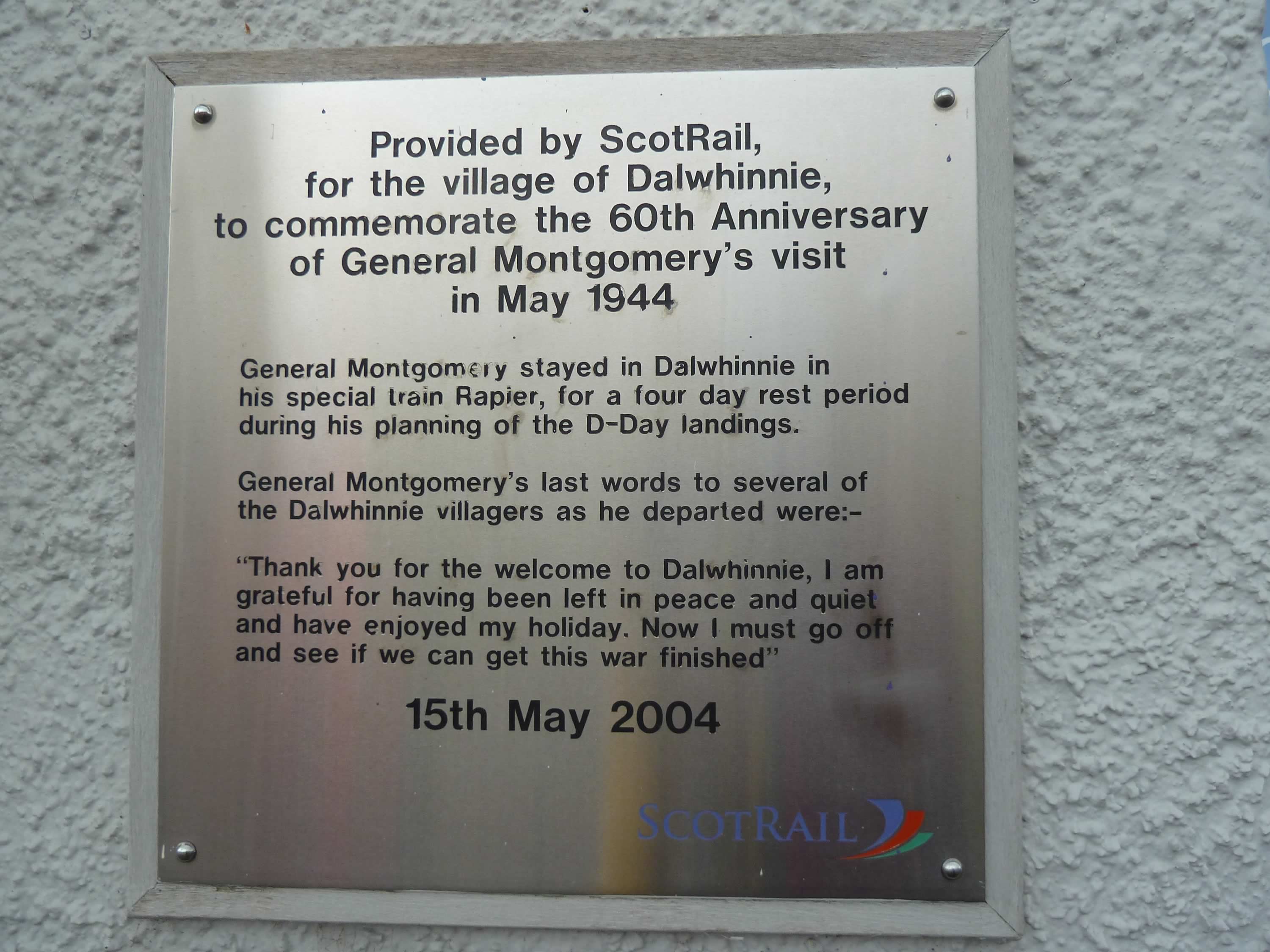 19.09 – Plaque at Dalwhinnie train station
I want to dedicate this post to all those who gave their lives to preserve our freedom.
---
I took all the photos with the Panasonic, except for the panoramic.
* Simon took these photos.