Total distance:
20.37 mi
Total climbing:
1820 m
Total Time:
11:39:54
Some interesting data
4-mile cycle in, 1h00 minutes from 7.40 to 8.40
12-mile walk, 9h20 from 9.00 to 18.20 – average 1.3 mph
4-mile cycle out, 0h40 minutes from 18.40 to 19.20
Carn Liath – 975m – Munro
Bràigh Coire Chruinn-bhalgain – 1070m – Munro
Càrn nan Gabhar – 1121m – Munro
The day before. Friday, 30 September
This was a 3-day weekend at the Relais Royal Lodge in Blair Atholl.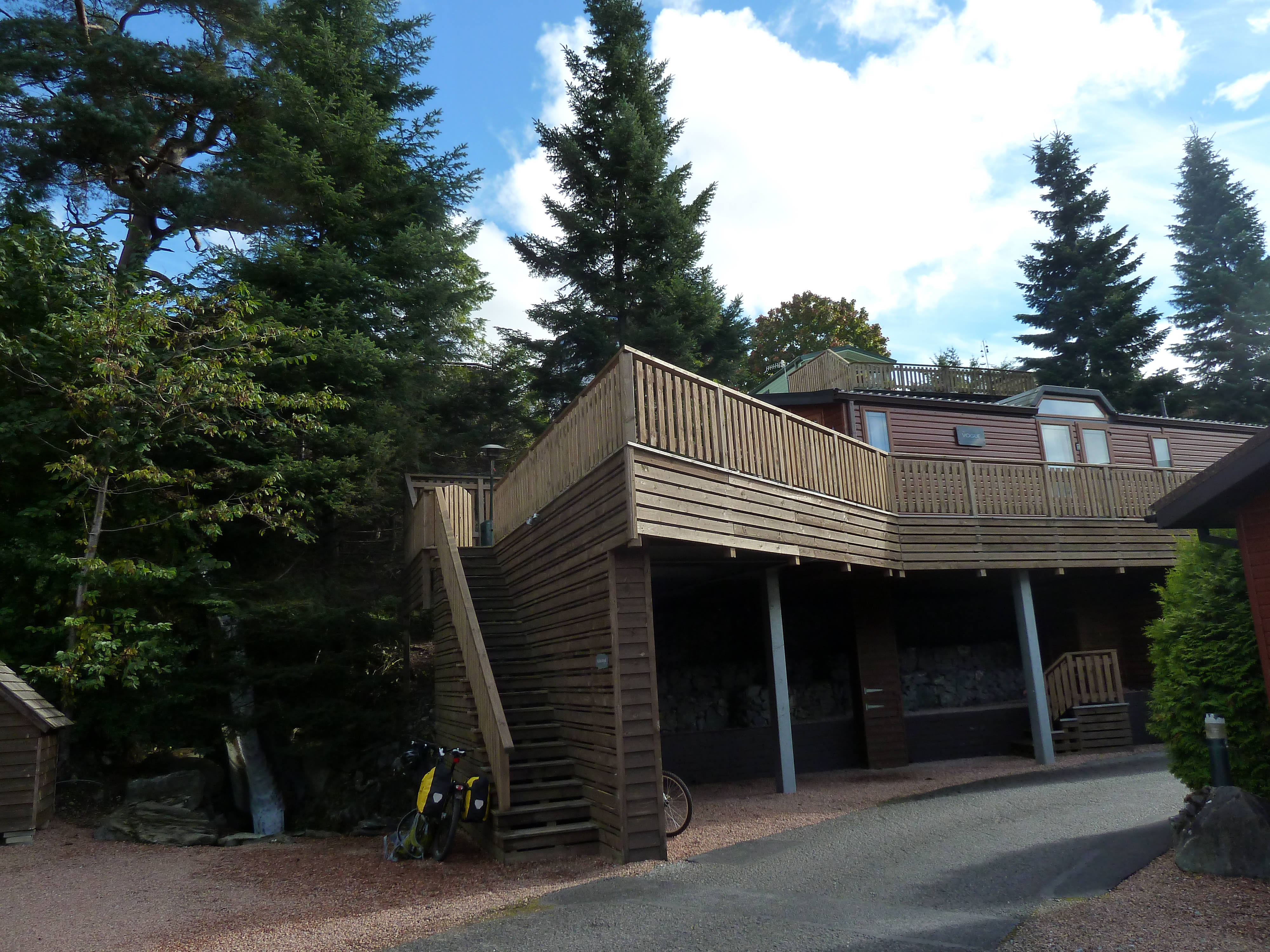 13.07 – Relais Royal Lodge, Blair Athol
We were there before earlier this year in March.
The weather forecast for Saturday and Sunday was great.
We left Edinburgh on Friday on the 10.36 train to Inverness.
There were about eight bikes with reservations on the train. It was an old train, with little space for bikes in the tiny compartment.
On the train we met Dave, a cyclist from Carlisle. He was heading to Inverness and touring back from there.
We got to Blair Atholl by one o'clock and went to the Watermill. Simon bought two loaves of bread: seeded and olive oil. And also some cheese scones.
We then went to the lodge. The keys weren't ready, so we had lunch on the decking.
At 3pm Simon picked the keys from the reception. We left our luggage in the lodge and walked to the shops to buy food for the three days.
Back at the lodge, I started cooking, while Simon unpacked and repacked the rucksacks for Saturday.
I made a huge amount of porridge, and pasta with bolognese sauce for Friday and Saturday night.
We had dinner, baths, and went to bed, looking forward to the big day.
Saturday, 1 October 2016, the big day
The plan for Saturday was to attempt Beinn a' Ghlò. That's three Munros in one day.
We had been planning that hike for a long, summer's day, but the weather was perfect. So we decided to go for it.
Simon calculated the times. Neither of us knew whether we'd manage it.
We left the lodge on the bikes just after 7.30am and cycled towards Carn Liath.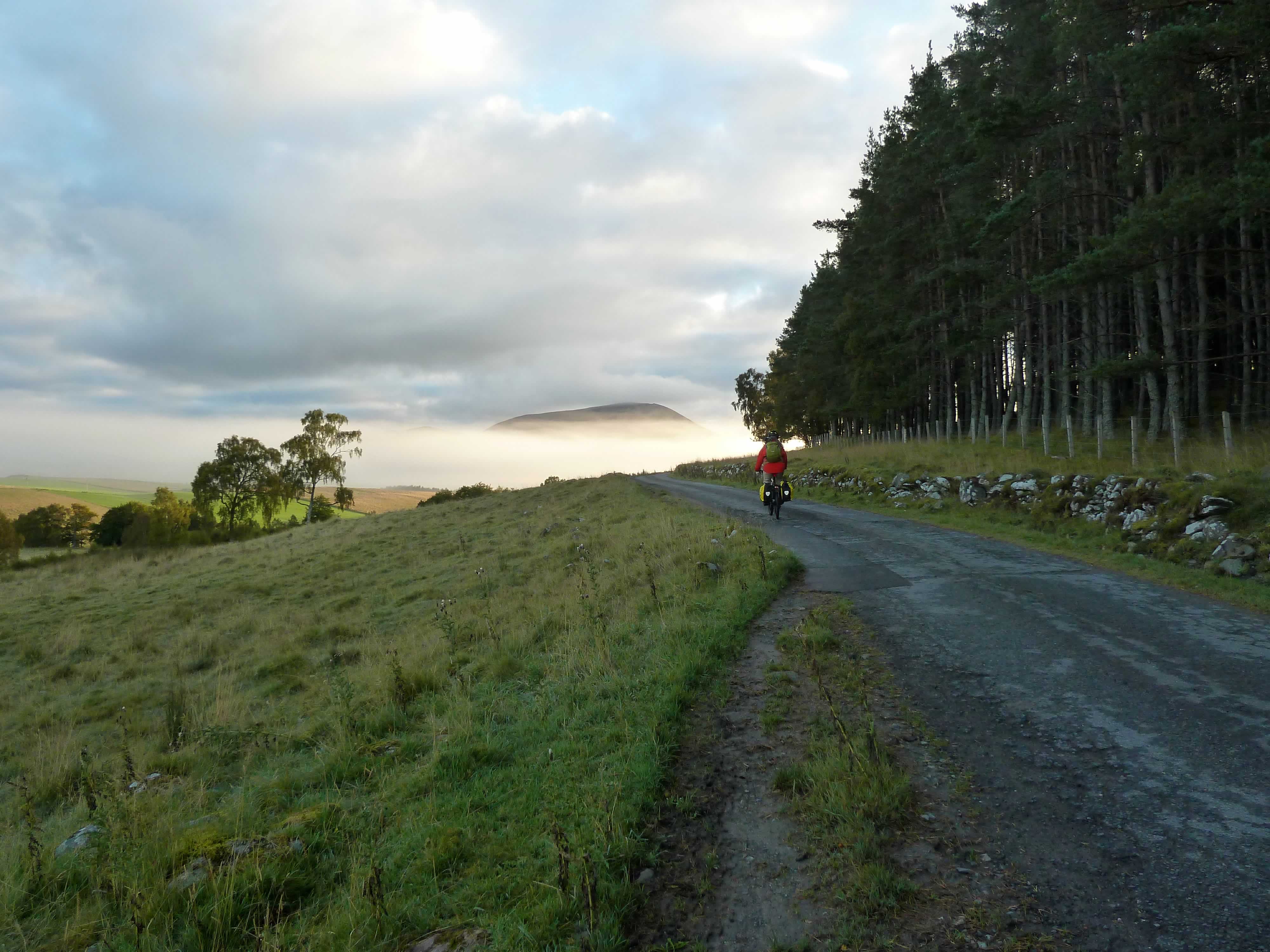 08.06 – Cycling towards Carn Liath
We had to be at the top of Carn Liath by 11am.
Carn Liath is the first Munro we ever climbed. I named my mountain bike after it.
That was September, 2015. The visibility wasn't good that day when we got to the top, so we were in for a wonderful surprise this time.
This time, the weather was spectacular. There was a low cloud lingering in the glen, and the light was magic.
We parked the bikes by the hut at the foot of Carn Liath. It was 8.45 am.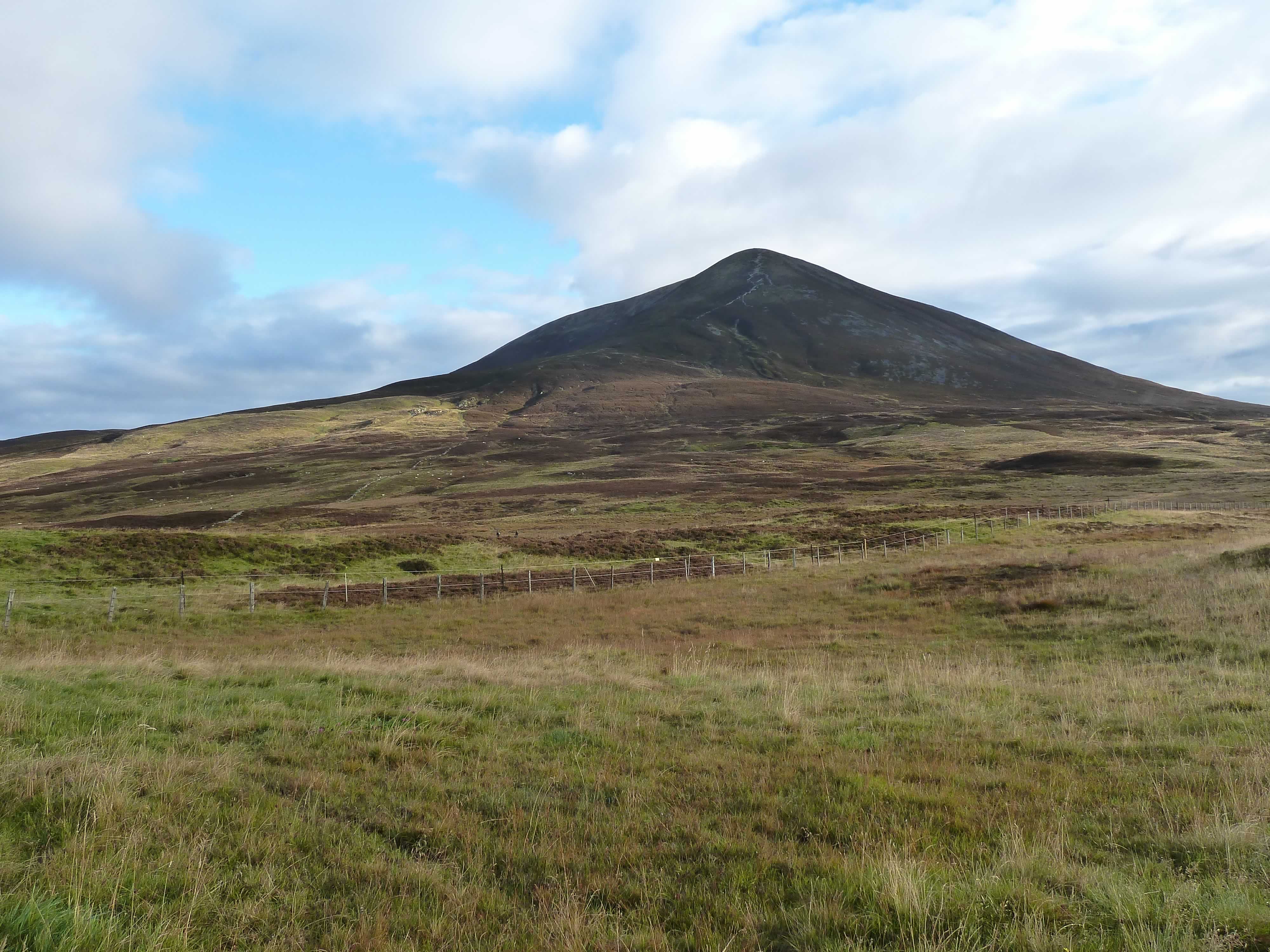 08.46 – Beautiful Carn Liath
We took the same route as last time. Somehow the climb wasn't nearly as hard. I guess it was partly because our new boots are better, and we both had poles.
The views as we climbed Carn Liath were like a dream.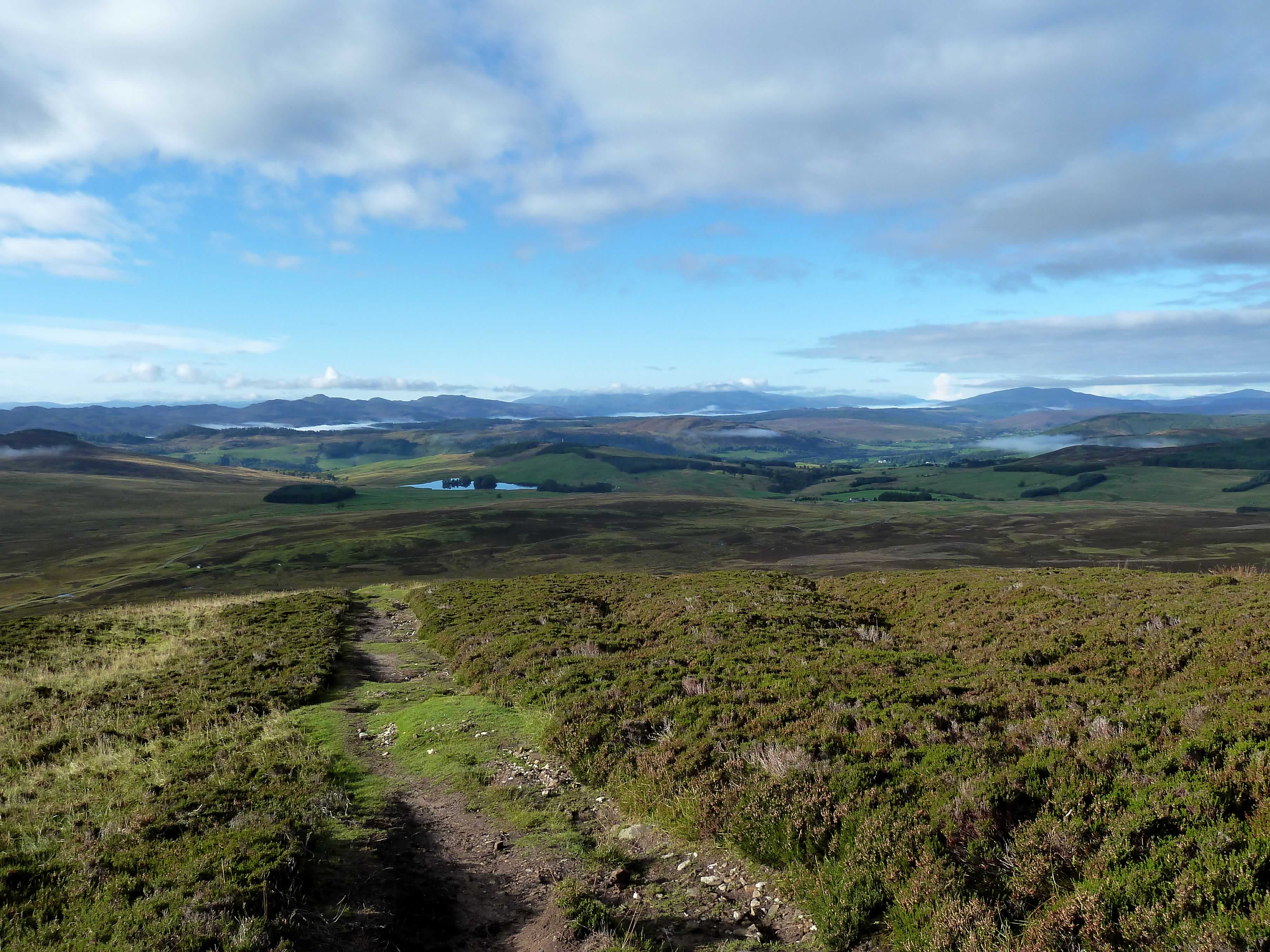 09.55 – Climbing Carn Liath
As you get closer to the top, Carn Liath becomes quite rocky and very steep. Last time I was almost crawling by now, but not this time. It was worth investing in the new equipment.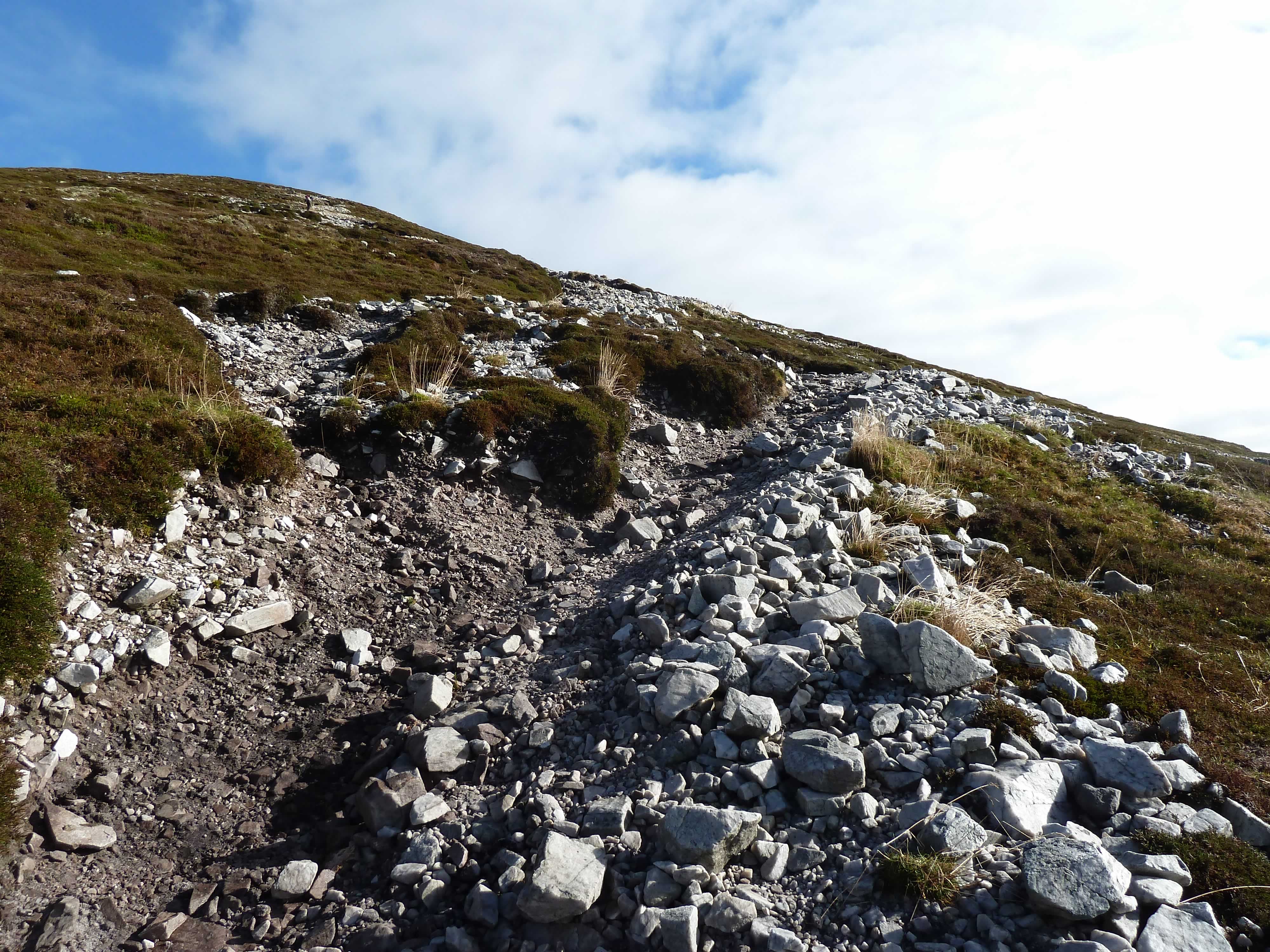 10.23 – Steep & meandering rocky path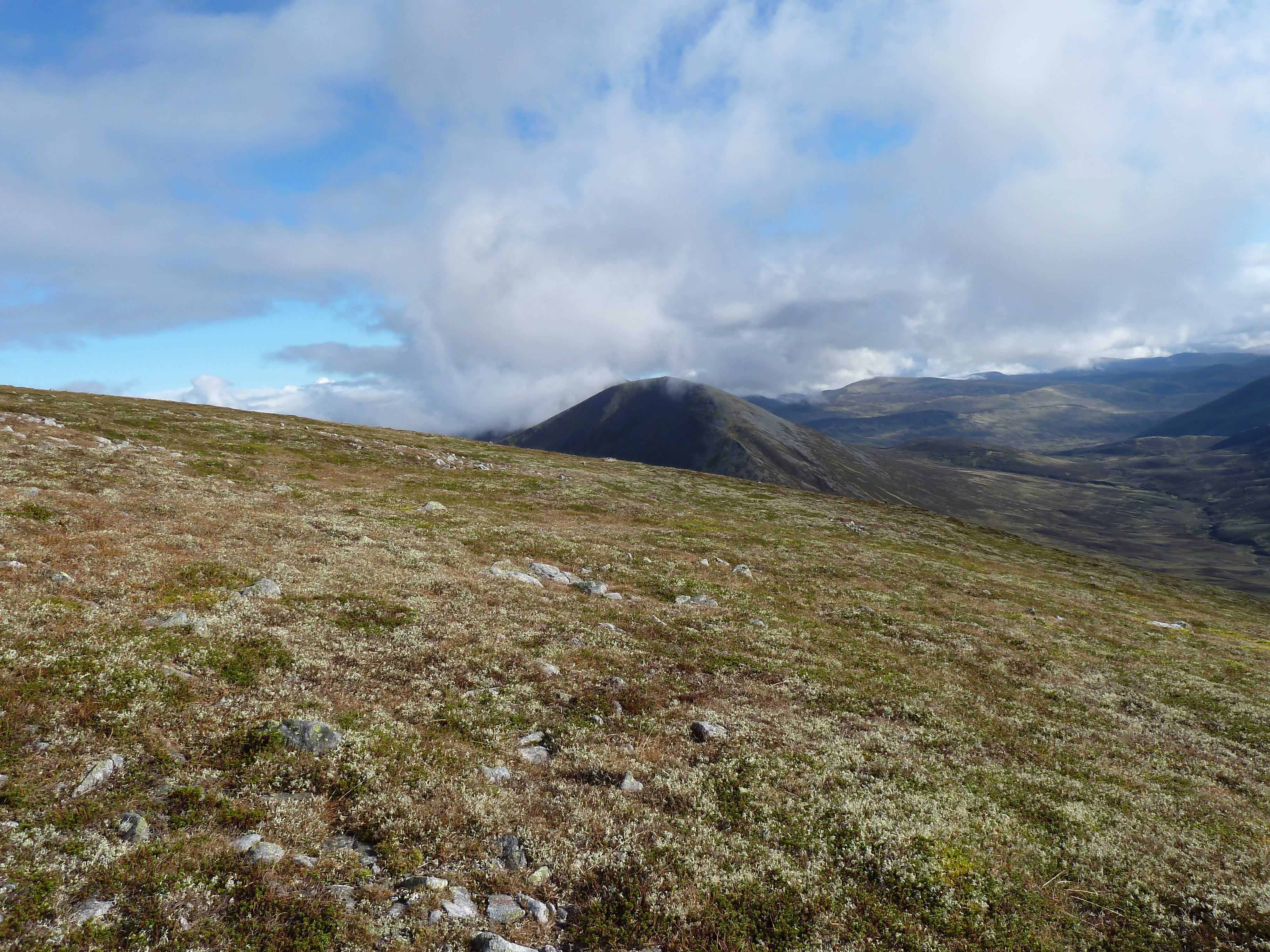 10.43 – View of # from Carn Liath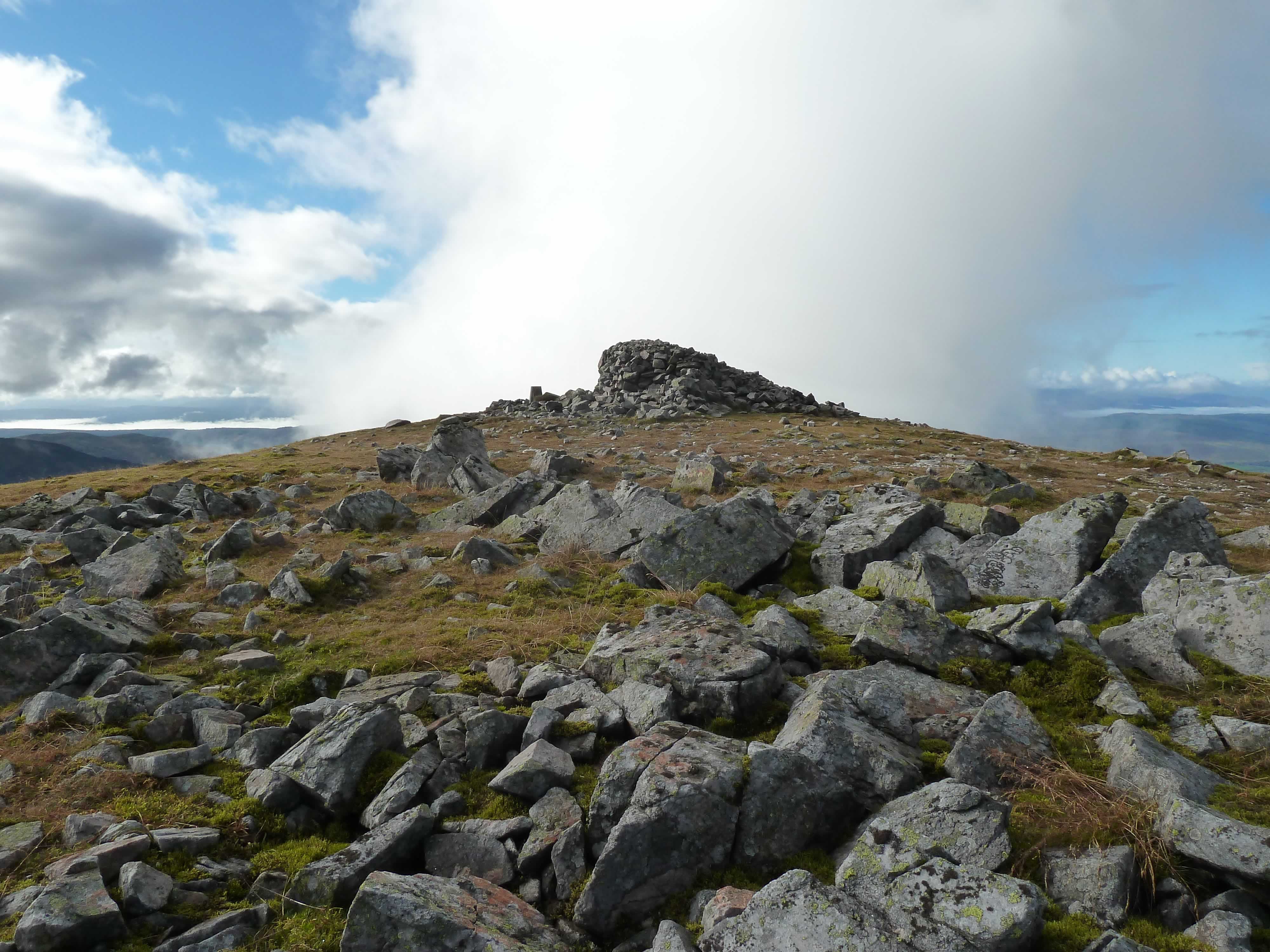 10.49 – Conquering Carn Liath
At the top of Carn Liath you could see the cloud forming, and then disappearing.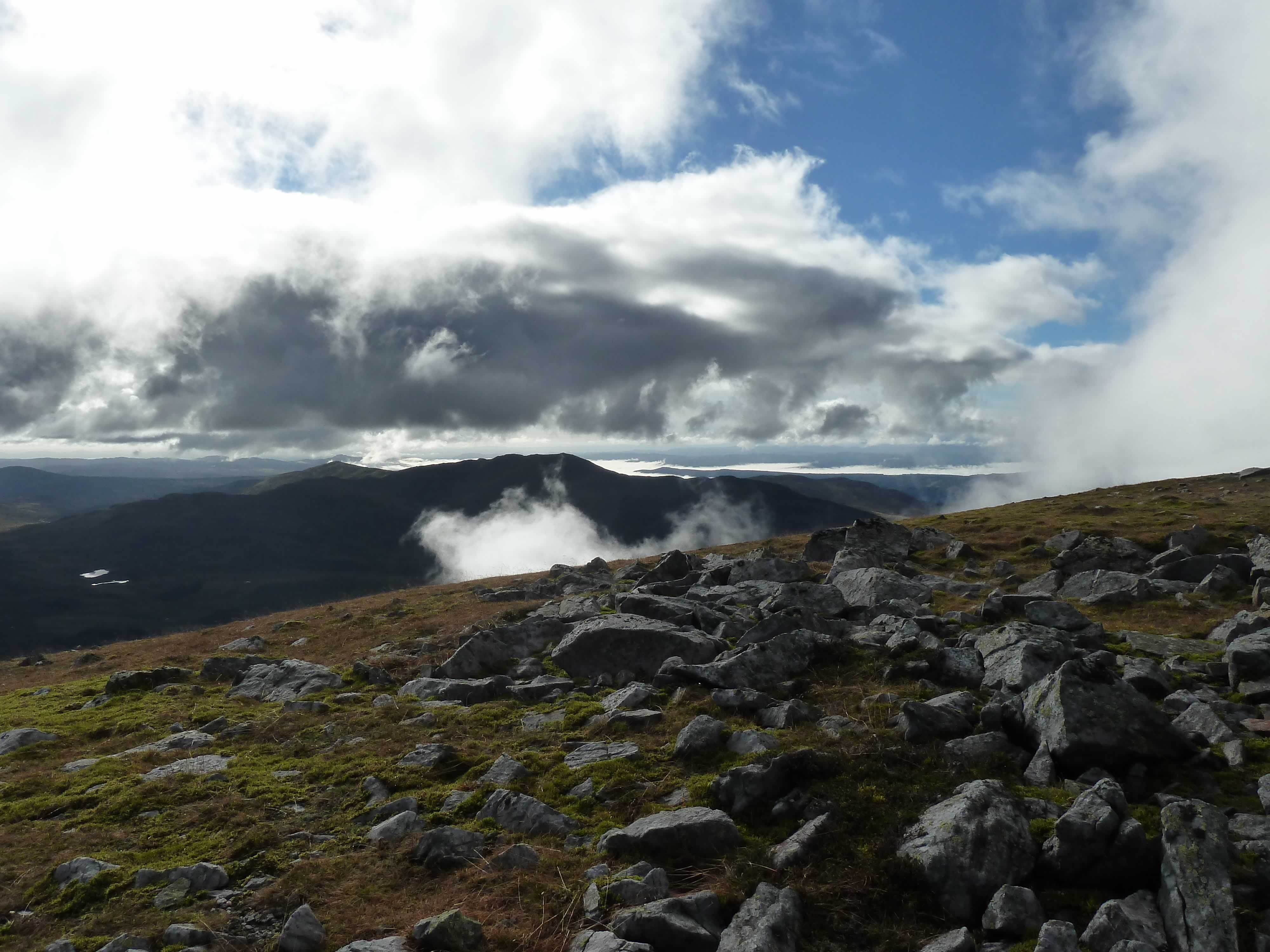 10.49 – Cloud forming in front of our eyes
This time, we were never surrounded by fog like last year. Instead, we had a fantastic view in all directions.
We reached the summit by 10.50 am, a few minutes before our target time. Perhaps we'd be able to conquer the three tops.
It was then that we saw what we'd missed in September, 2015. Then, the fog had engulfed us, and we couldn't see the rest of Beinn a' Ghlò.
This time the visibility was superb, and this is what we saw: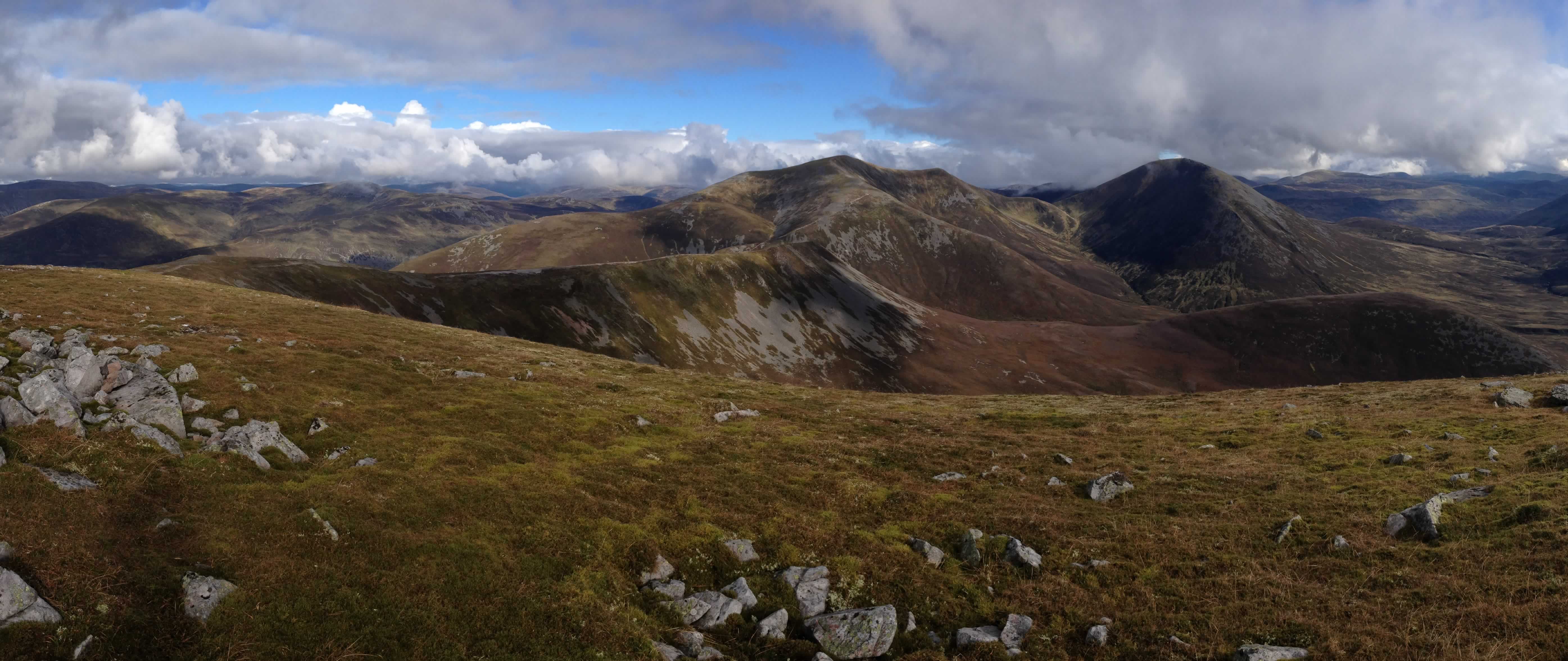 10.51 – View of Beinn a' Ghlò from Carn Liath *
One of the most beautiful sights in Scotland, and the world.
We could see the ridge between Carn Liath and Bràigh Coire Chruinn-bhalgain, the second Munro.
Carn Liath in English is Grey Peak (Hill of the Mist). Bràigh Coire Chruinn-bhalgain is Brae/Brow of the Corrie of Round Blisters ("blisters" referring to rock formations).
We walked along that ridge, then went down, and up again.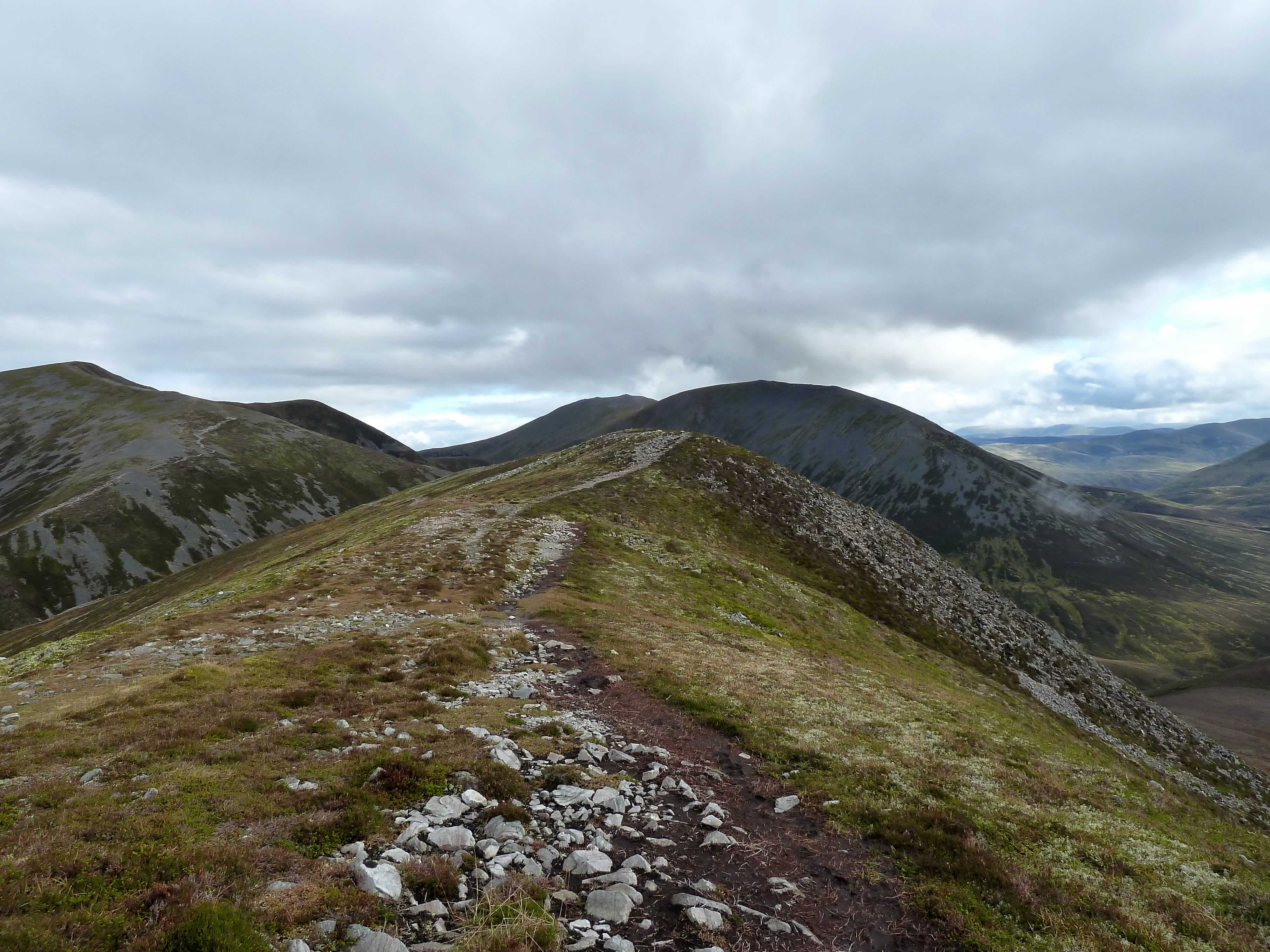 11.26 – The ridge to Bràigh Coire Chruinn-bhalgain
We needed to reach the summit by 1pm. We got there by 12.30 pm.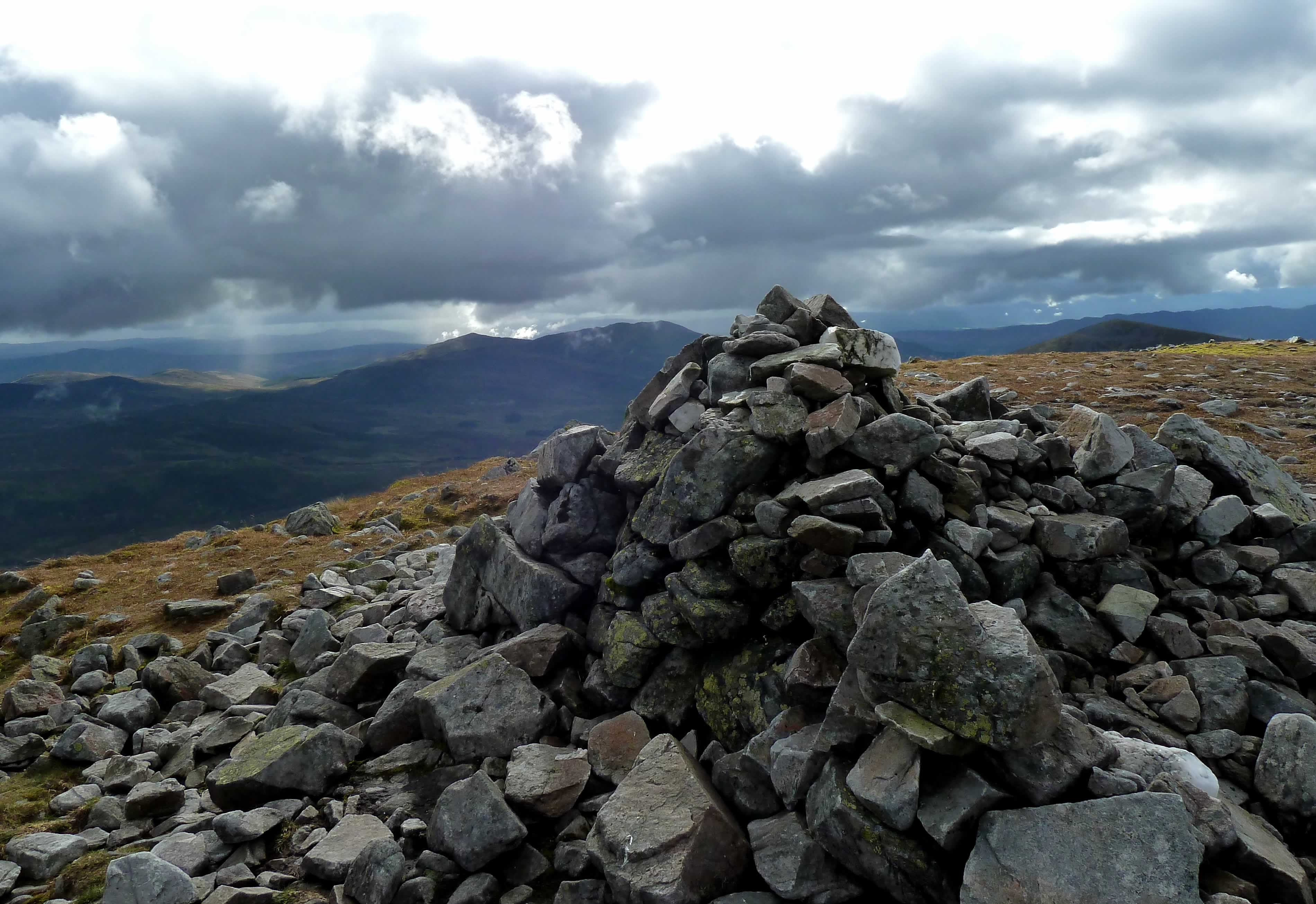 12.25 – At the top of Bràigh Coire Chruinn-bhalgain
After admiring the breathtaking views, we headed straight towards Càrn nan Gabhar, the third Munro.
Càrn nan Gabhar in English is Hill/Cairn of the Goats. We soon discovered why it's got that name.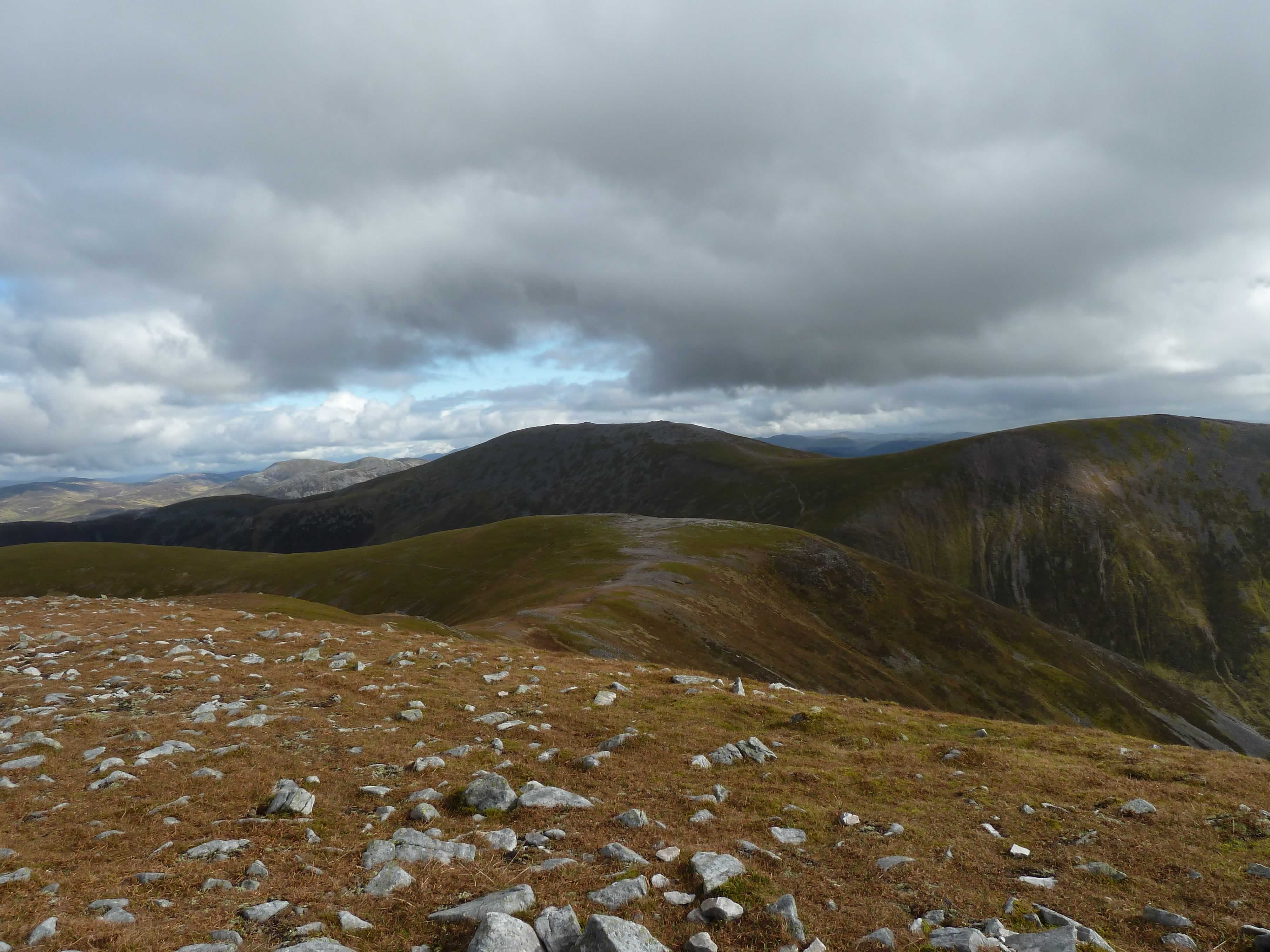 12.25 – View of Càrn nan Gabhar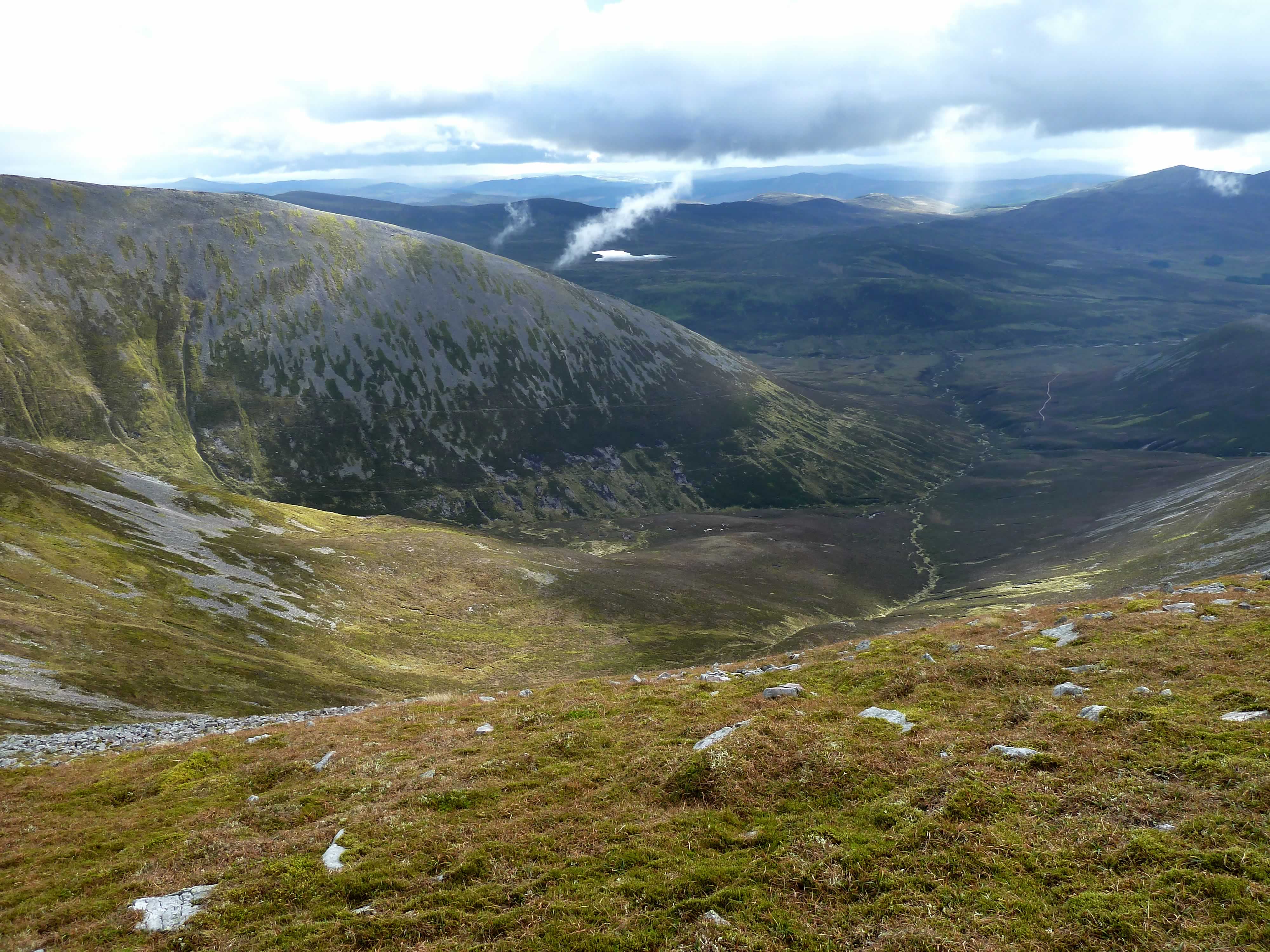 12.26 – #
Half way between the two peaks, we had lunch. Duck paté, and cheese and tomato sandwiches.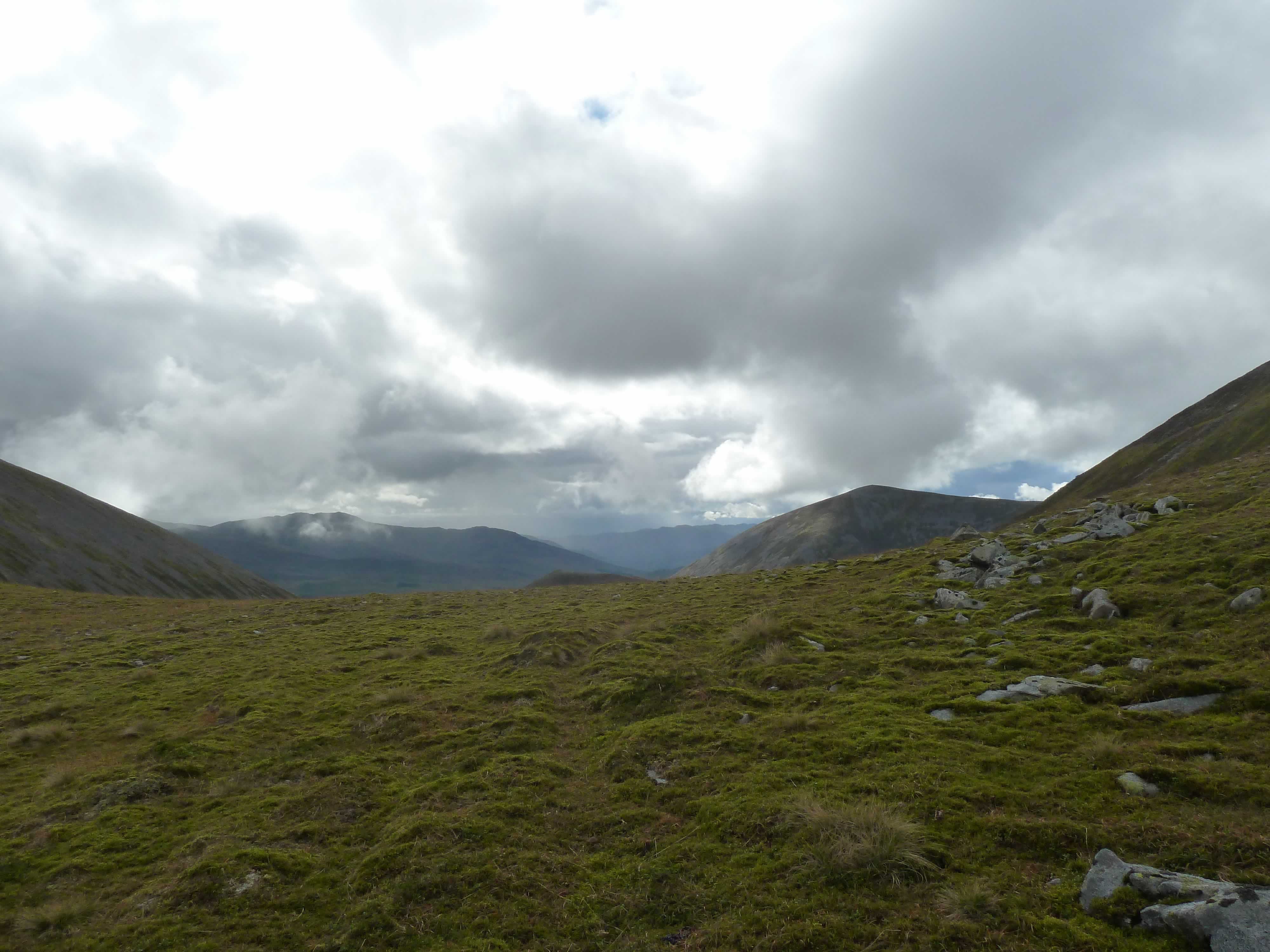 12.54 – Climbing Càrn nan Gabhar
Soon we found ourselves walking on large rocks. It'd have been easier as goats.
There were three very large piles of rocks.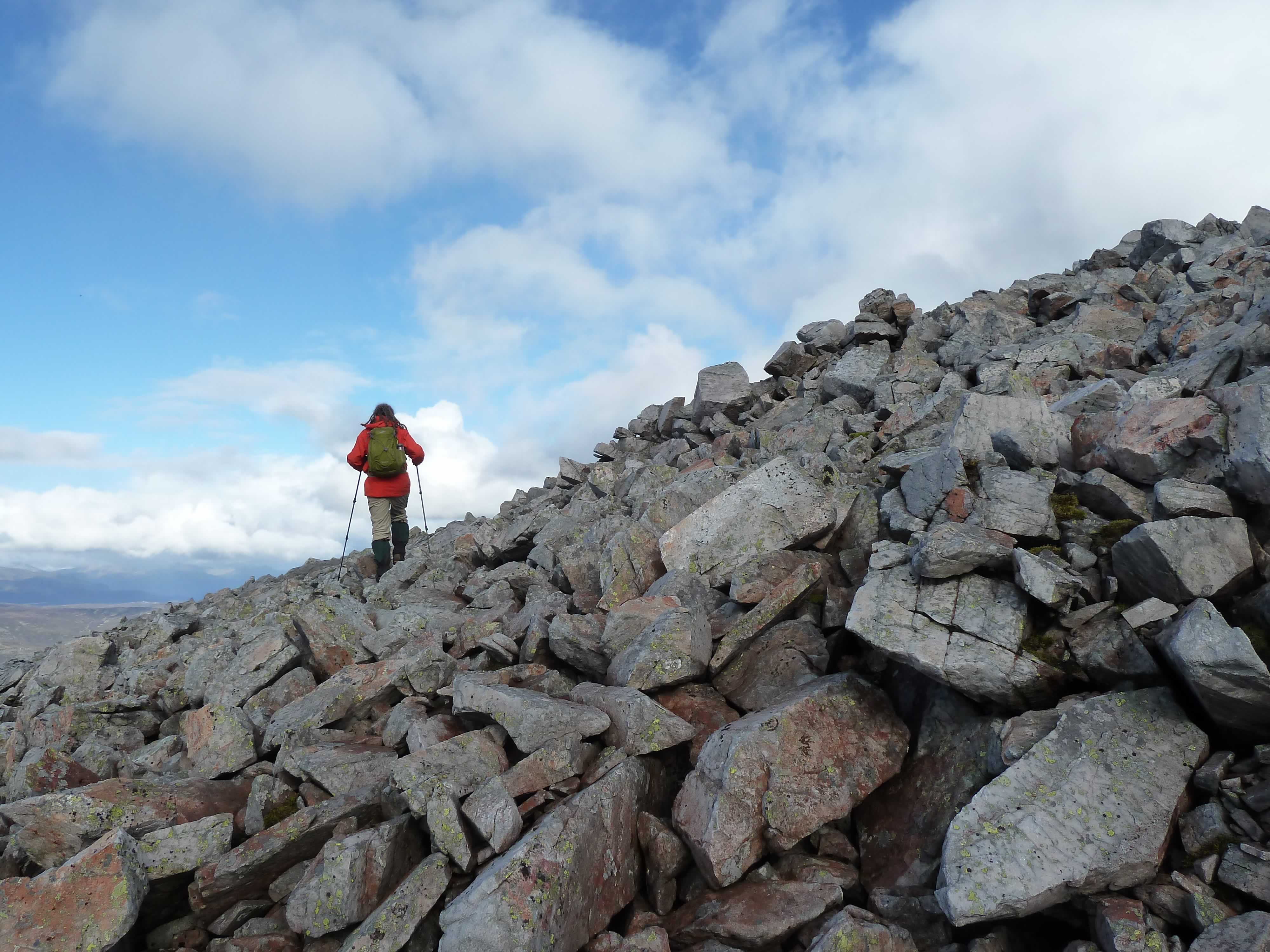 14.00 – Simon navigating through the rocks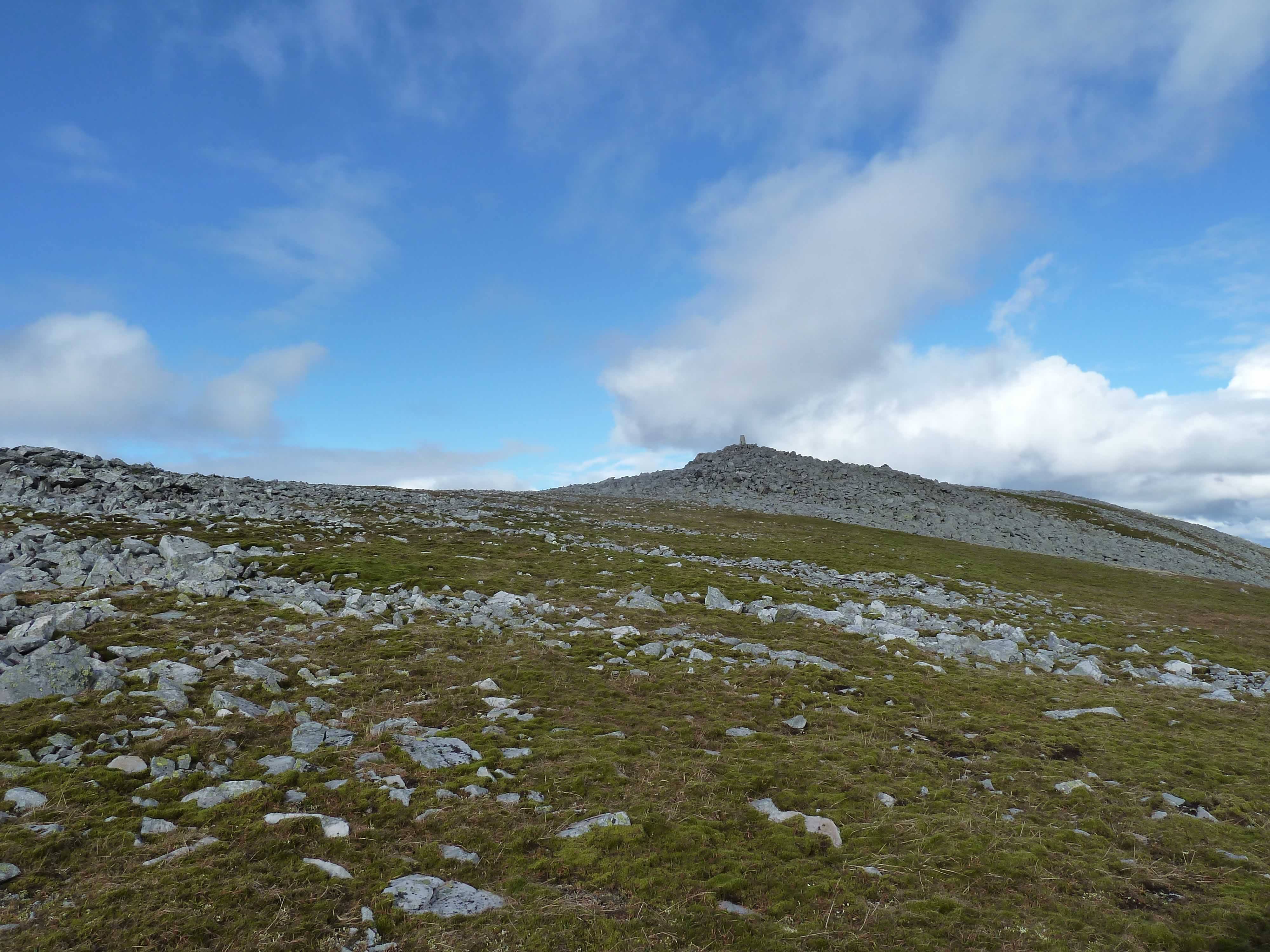 14.08 – Towards the summit of Càrn nan Gabhar
We reached the summit just before 2.30pm.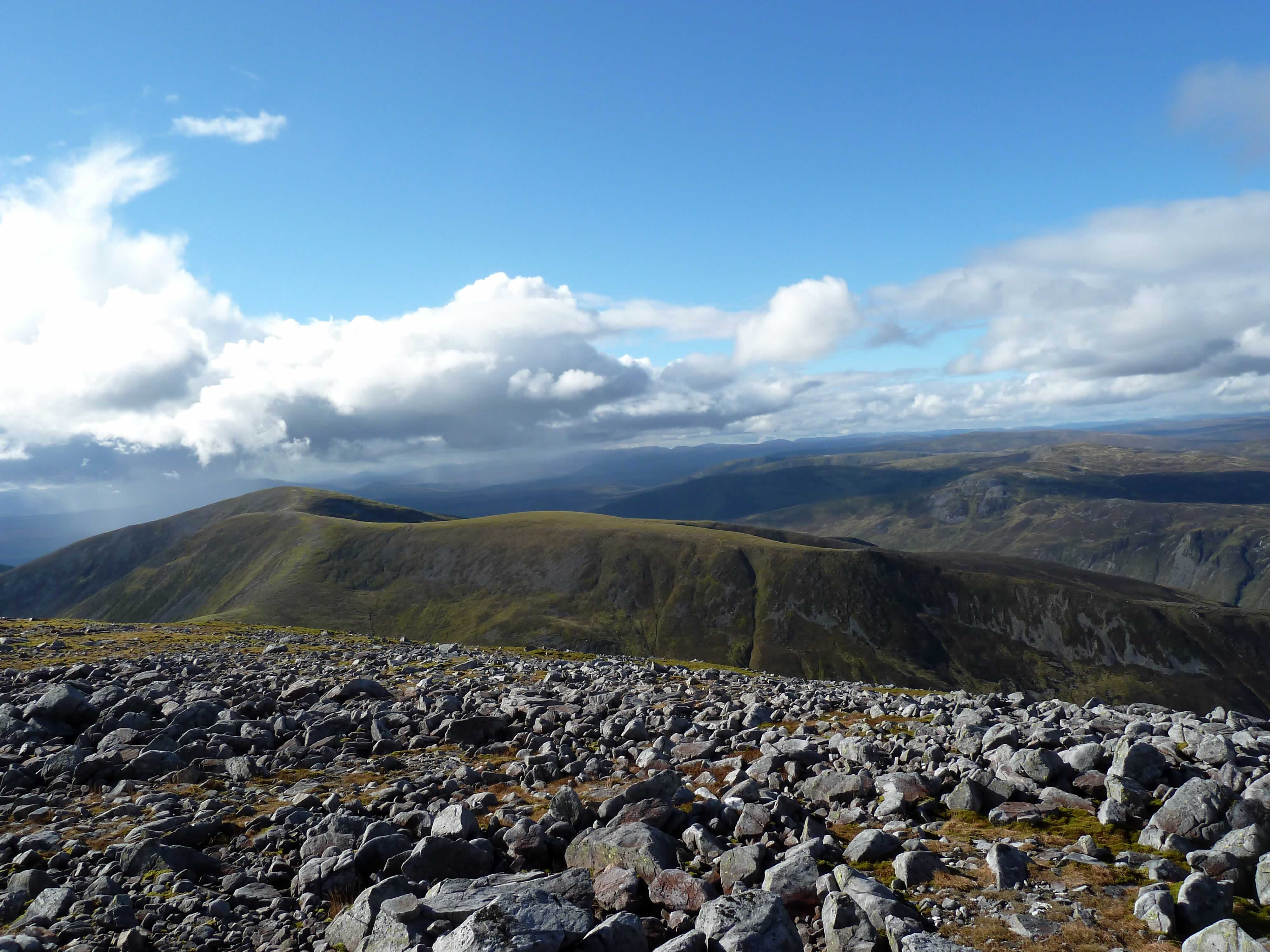 14.22 – At the summit of Càrn nan Gabhar
We were half an hour before schedule, so we ventured towards the next summit: a Munro top.
The ridge between the two tops is imposing, and the landscape feels immense.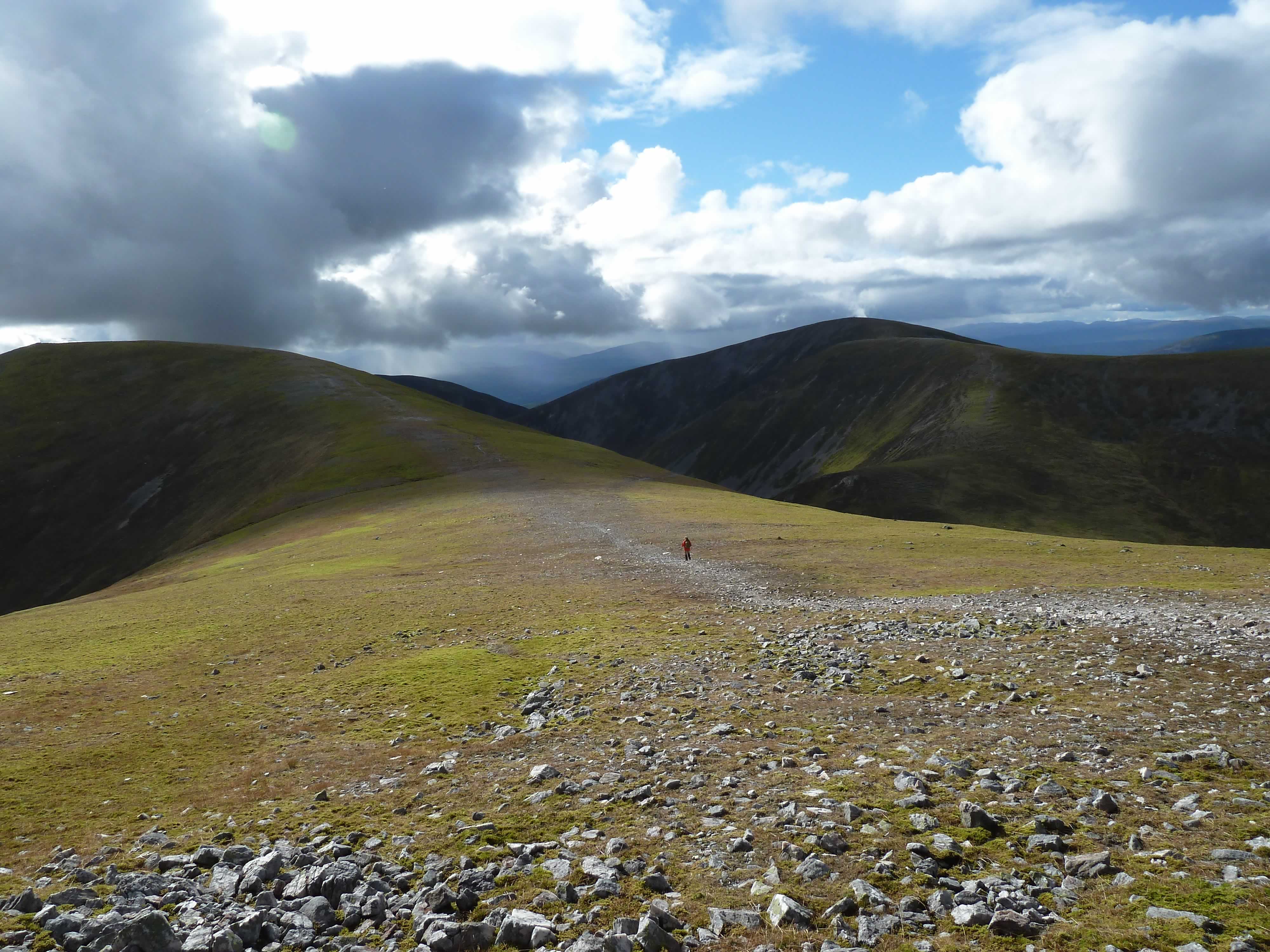 14.50 – Towards the Munro top
We reached the Munro top just after 3pm, and started the steep descent.
From time to time, we saw a rainbow on other hills, but the rain never got to us.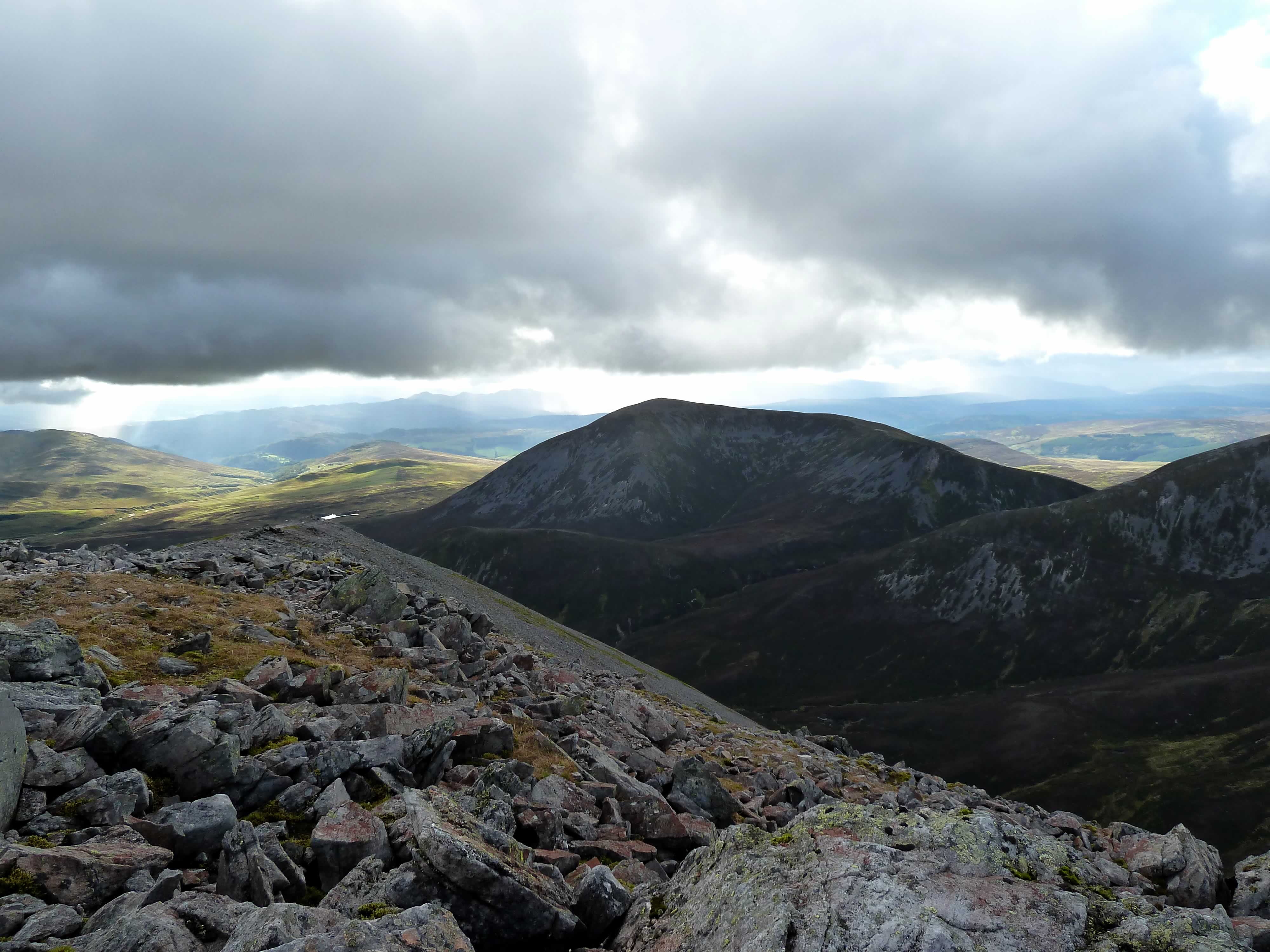 15.09 – View from the Munro top
We stopped for chai and lemon cake, and resumed our march through the heather.
Soon the path got muddy, very muddy.
Our boots got dirtier than ever. I even managed to put my foot in a rabbit hole, and my leg disappeared in it up to my knee.
Simon had his moment of glory too. He skidded and landed on his butt, taking some of the mud home with him.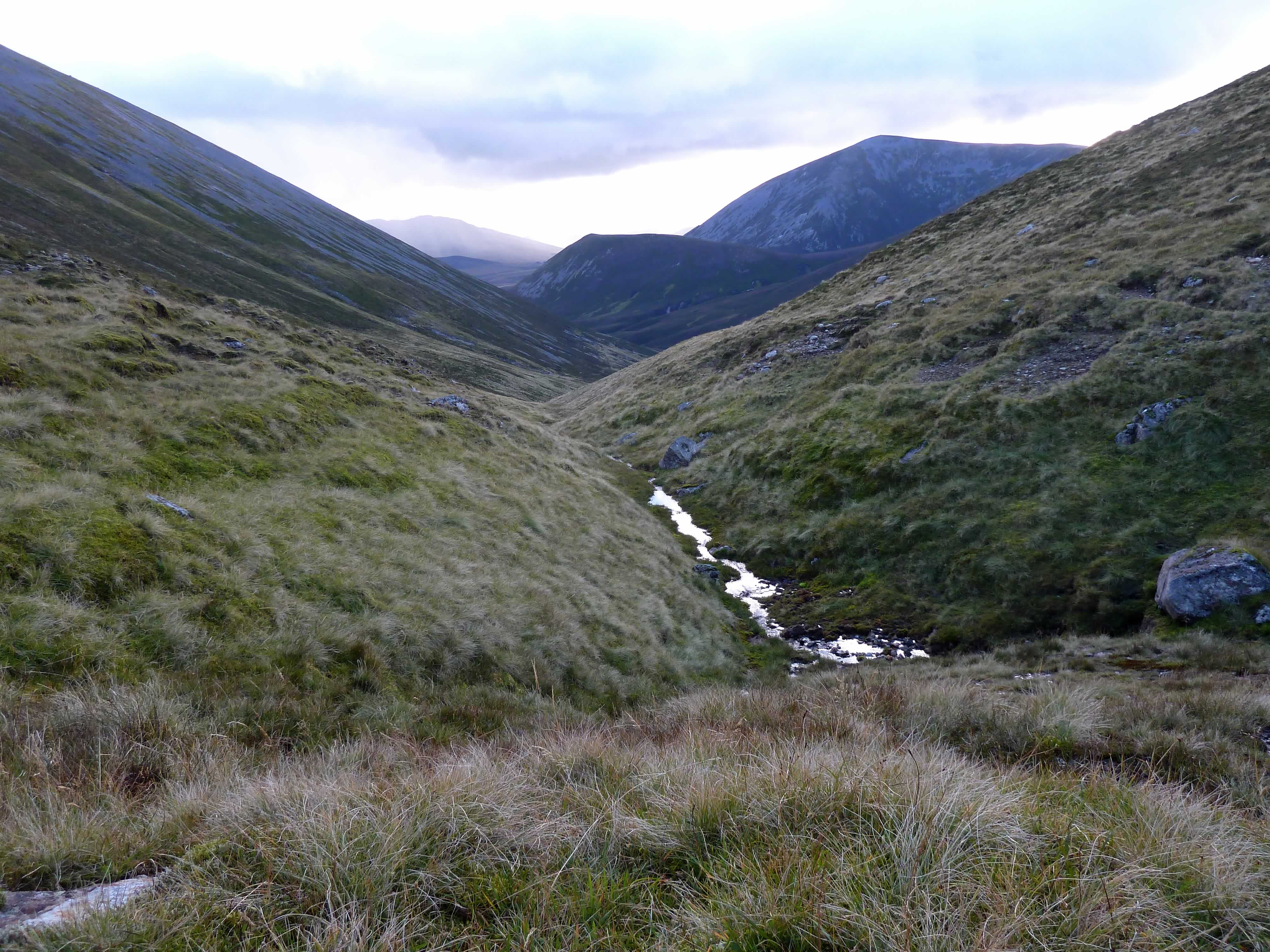 15.45 – Descending through heather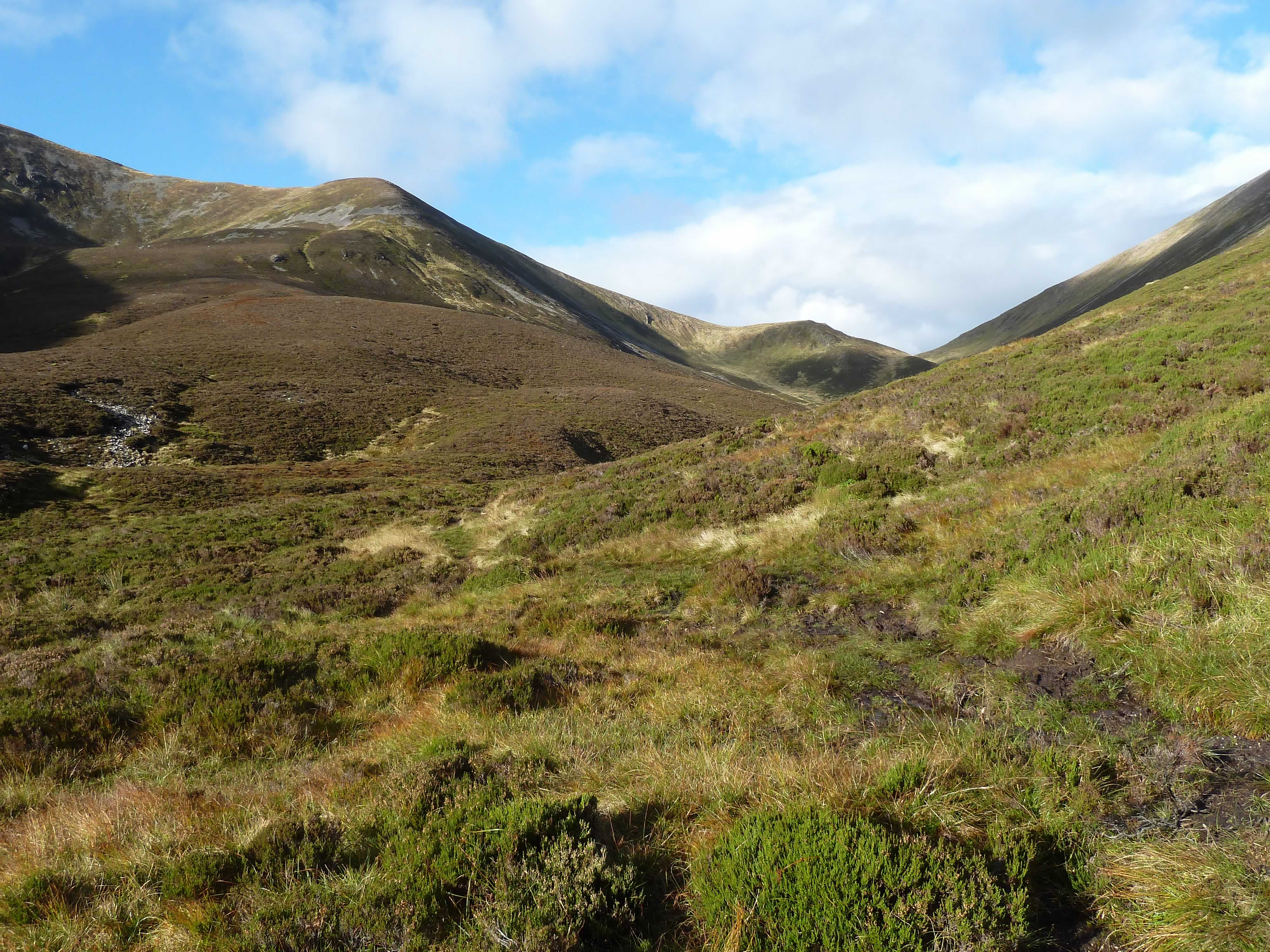 16.37 – Heading towards the dry path
But all was well. The muddy path soon became a dry path.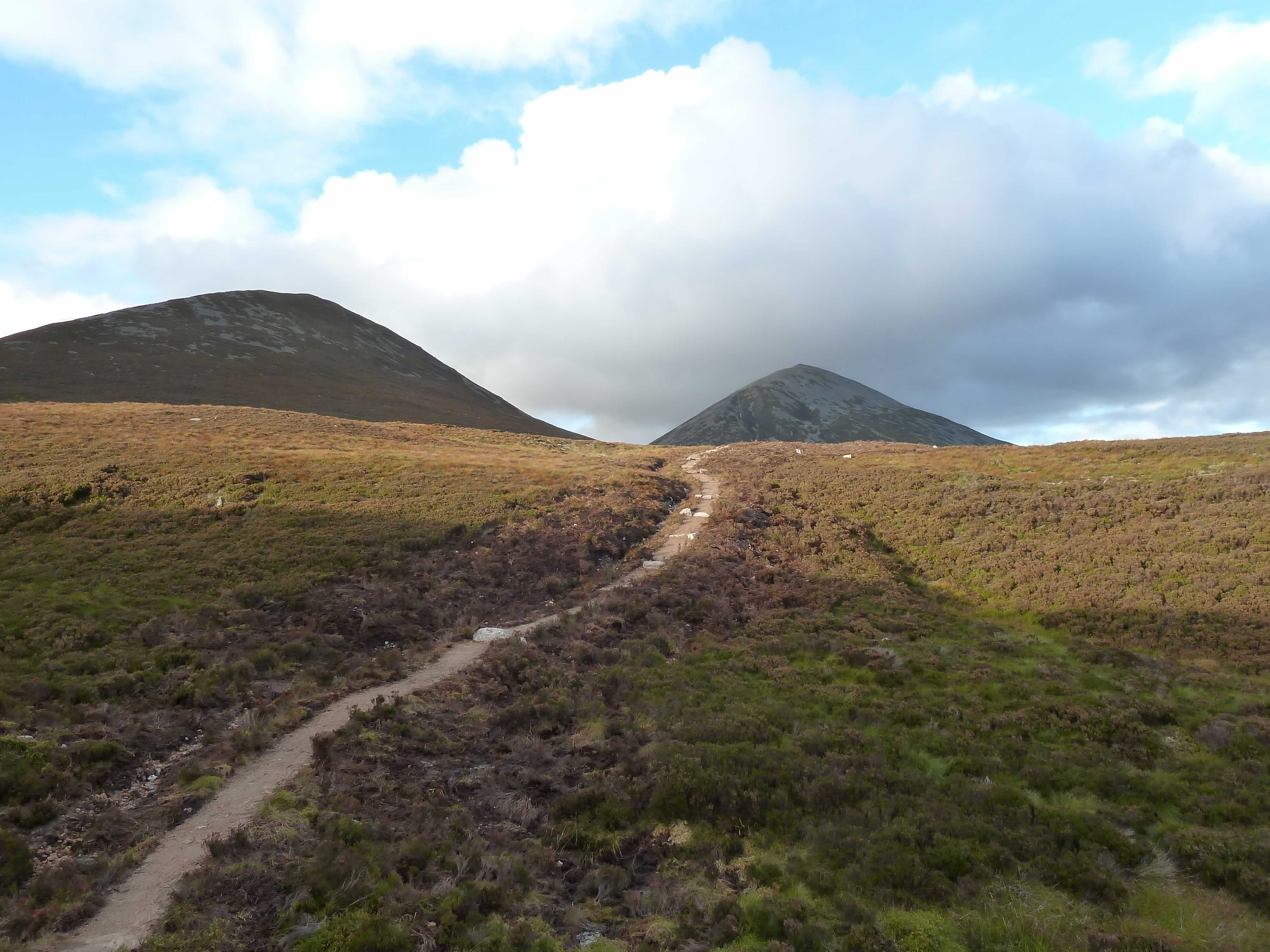 17.24 – On the dry path
And then a first class path.
17.46 – On the super path
We got back to the bikes by 6.30 pm. We were exhausted, but we still had to cycle another 40 minutes to get home.
To reenergise, Simon had some soup and I had a slice of "turrón de yema tostada".
It was a beautiful autumn evening.
The temperature had been pleasant all day, and there was very little wind. Nearer the summits there had been a bit more wind, which we welcomed as we were getting quite warm by then.
We didn't see many animals all day. We saw a few deer, very few grouse, noisy crows, and the usual sheep.
As for people, we saw a polish couple, a single guy, two girls, and a guy who'd gone straight to the third Munro. We saw them on and off, until we headed for the Munro top and lost sight of them all.
It got dark as we approached Blair Atholl. Before getting to the lodge, we went to the shop.
For dinner, we finished the soup, and had pasta bolognese, pea salad, and sticky toffee pudding.
We were a bit sore, but thrilled at having achieved our dream of conquering Beinn a' Ghlò.
Could we do Càrn a' Chlamain the next day?
---
I took all the pictures with the Panasonic camera, with the exception of the panoramic.
* Simon took this panoramic picture