Panoramic view of An Dun (right) from the tent
Some interesting data for the whole trip
16 mile cycle in, just under 5h – average 3.4 mph
6.5 mile walk, 7h30 – average around 1 mph (includes two steep ascents)
17 mile cycle out, 3h – average 5.7 mph
Friday, 12 May 2017
Total distance:
16.24 mi
Total climbing:
562 m
Total Time:
04:45:24
We took the 10.36 train to Inverness and arrived at Blair Atholl two hours later.
The weather was nice, there was little wind and a lot more sun that the forecast said.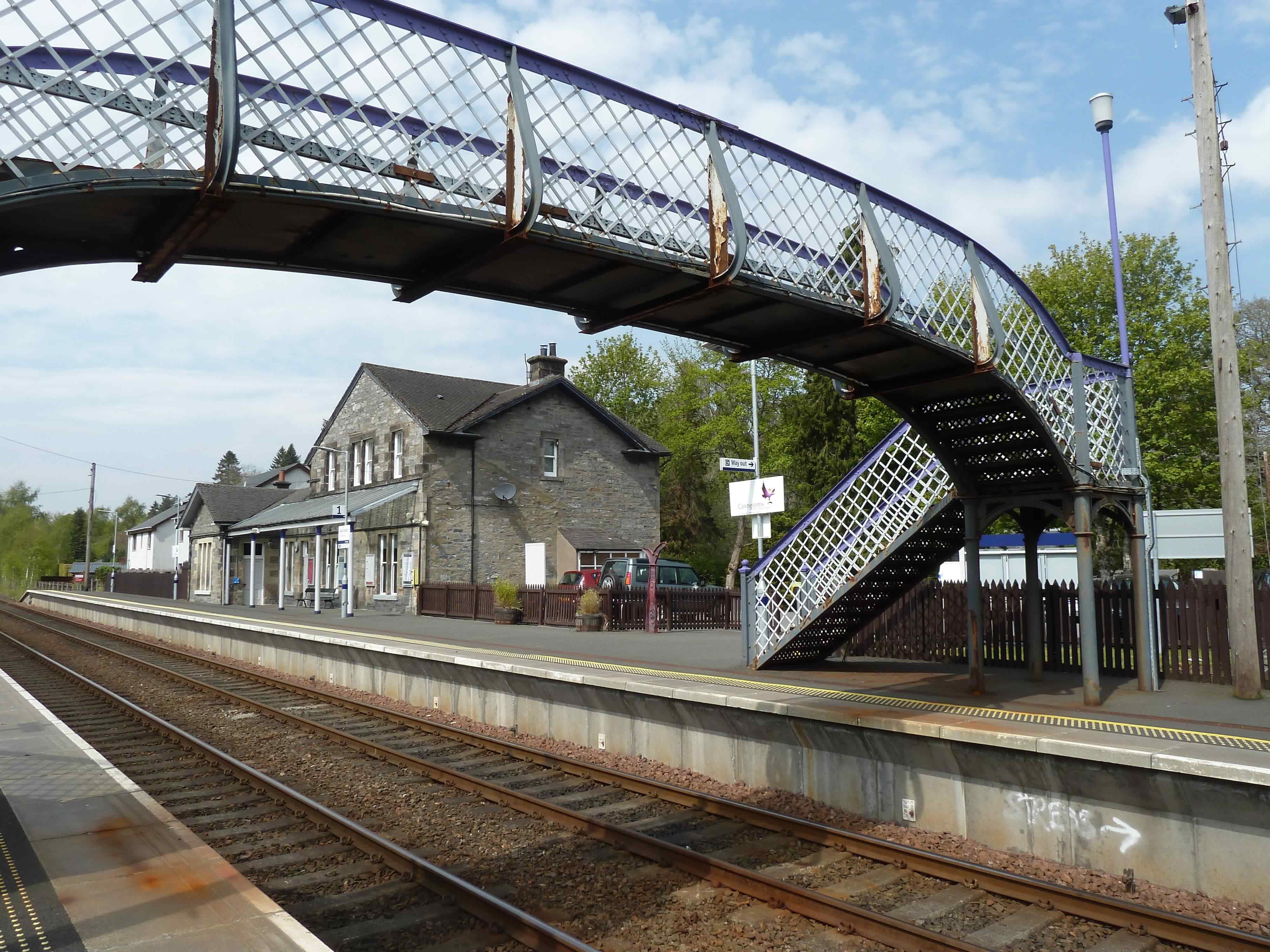 12.39 – At Blair Atholl station
We rode past the House of Bruar and headed for a village called Calvine.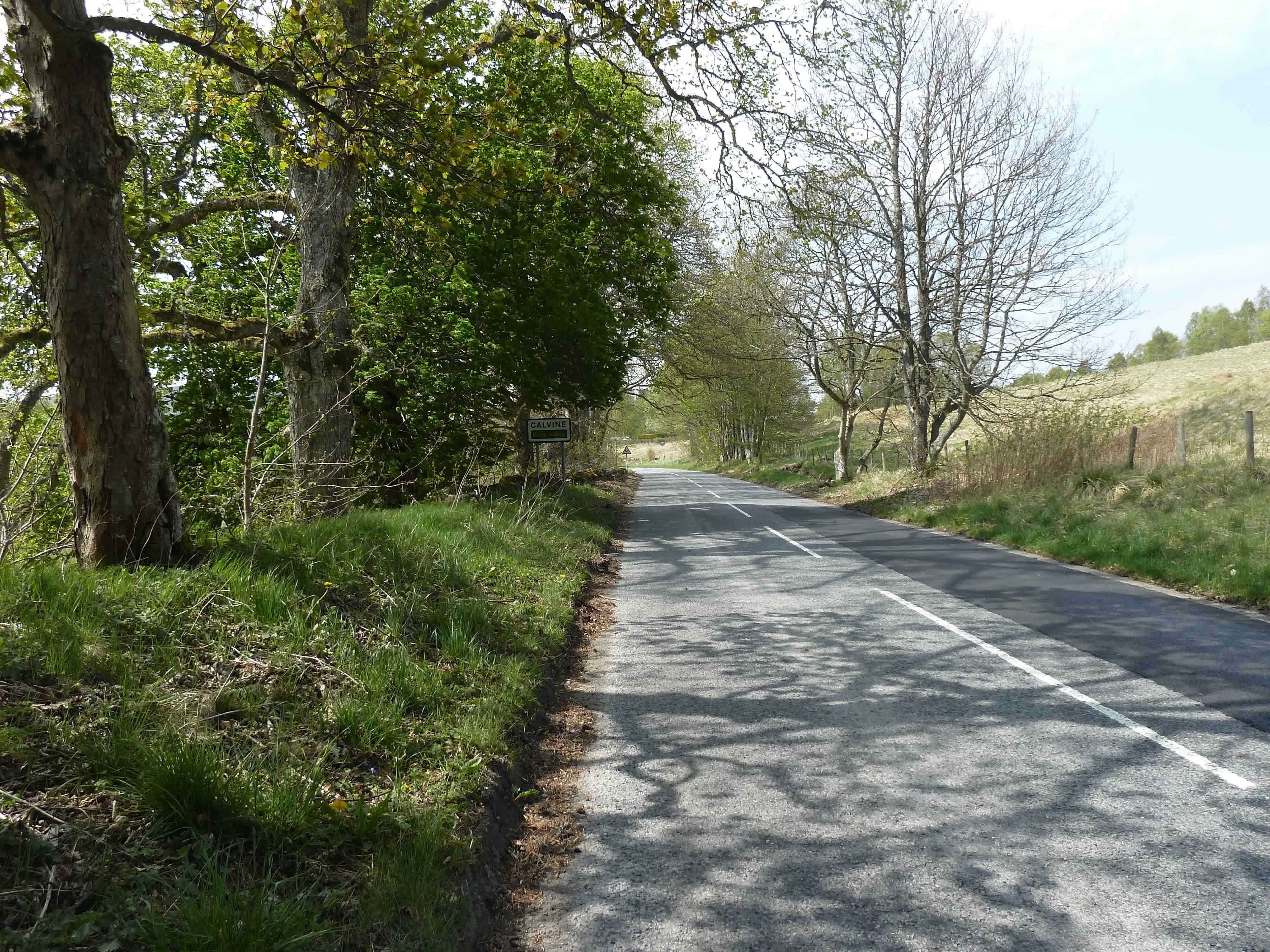 13.12 – On the road to the village of Calvine
We had lunch by this bride: Simon's sandwiches (tongue, cheese & chorizo, pate), tomatoes and apples.
When we were finishing, a cyclist stopped to say hello and we chatted for a while. He had taken the train from Bath to Glasgow and was touring Scotland.
Like most cyclists we meet in our trips, he was a really interesting guy and loves his days on the road.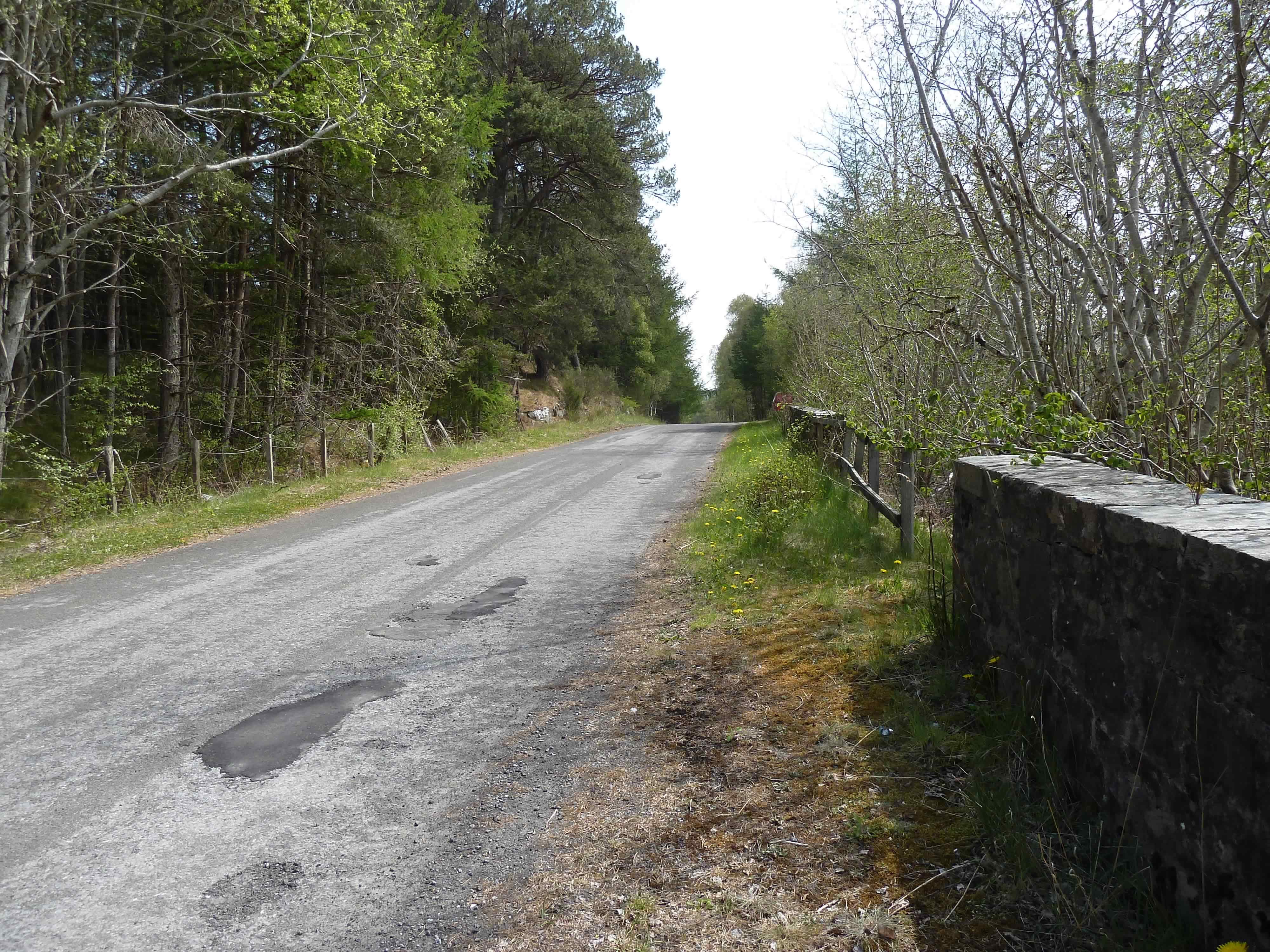 13.27 – Our lunch spot
We got back on our bikes. This part of the route is easy, smooth and fairly flat.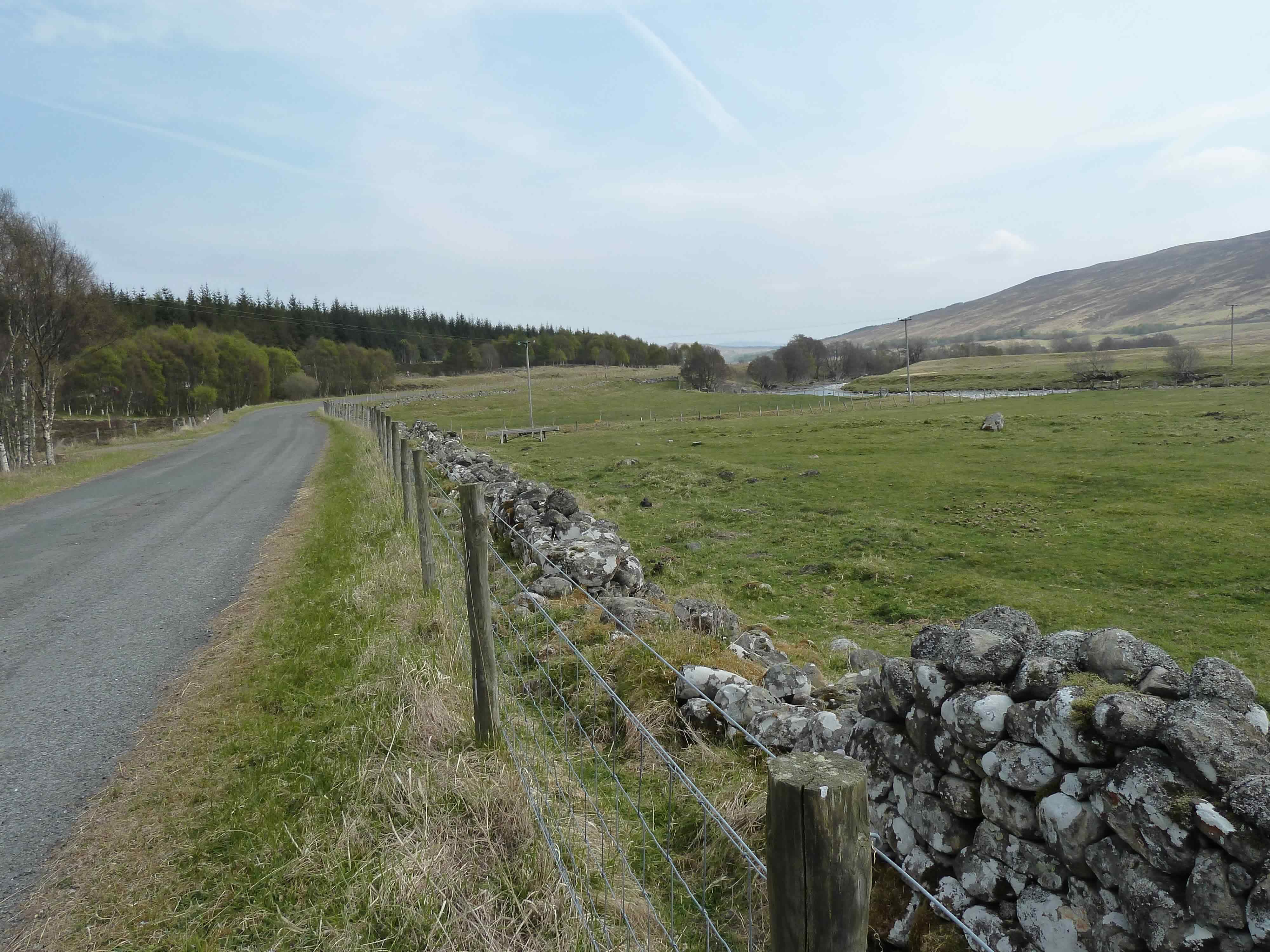 14.31 – The easy part of the route
We then crossed a not-too-busy A9 on foot and took the path up Dalnacardoch Estate.
From there on, the path is less smooth. At times it's quite steep and it's got a fair amount of gravel and rocks.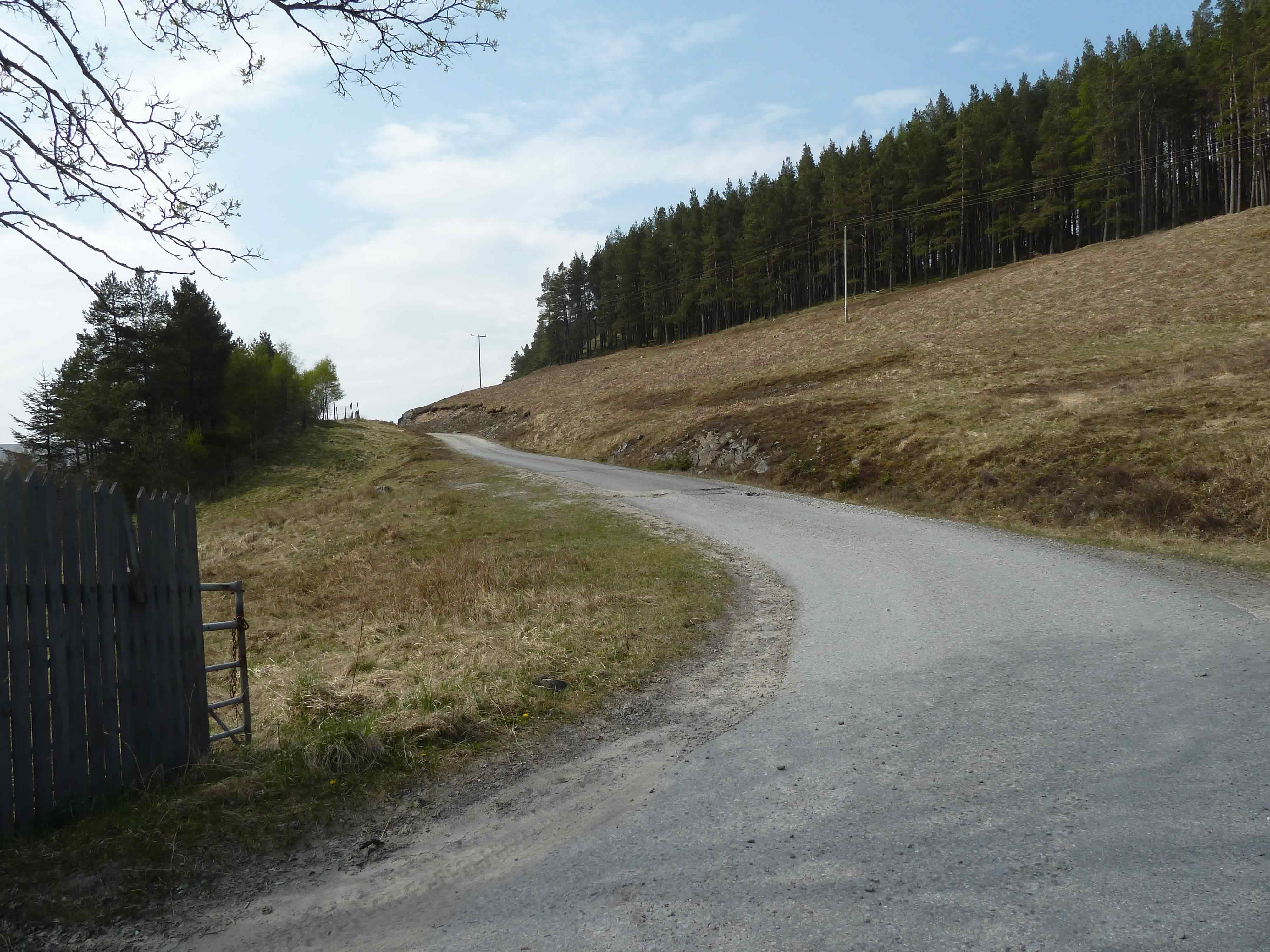 14.48 – Entering the Dalnacardoch Estate
Just past the forest area and the generator you get this great view: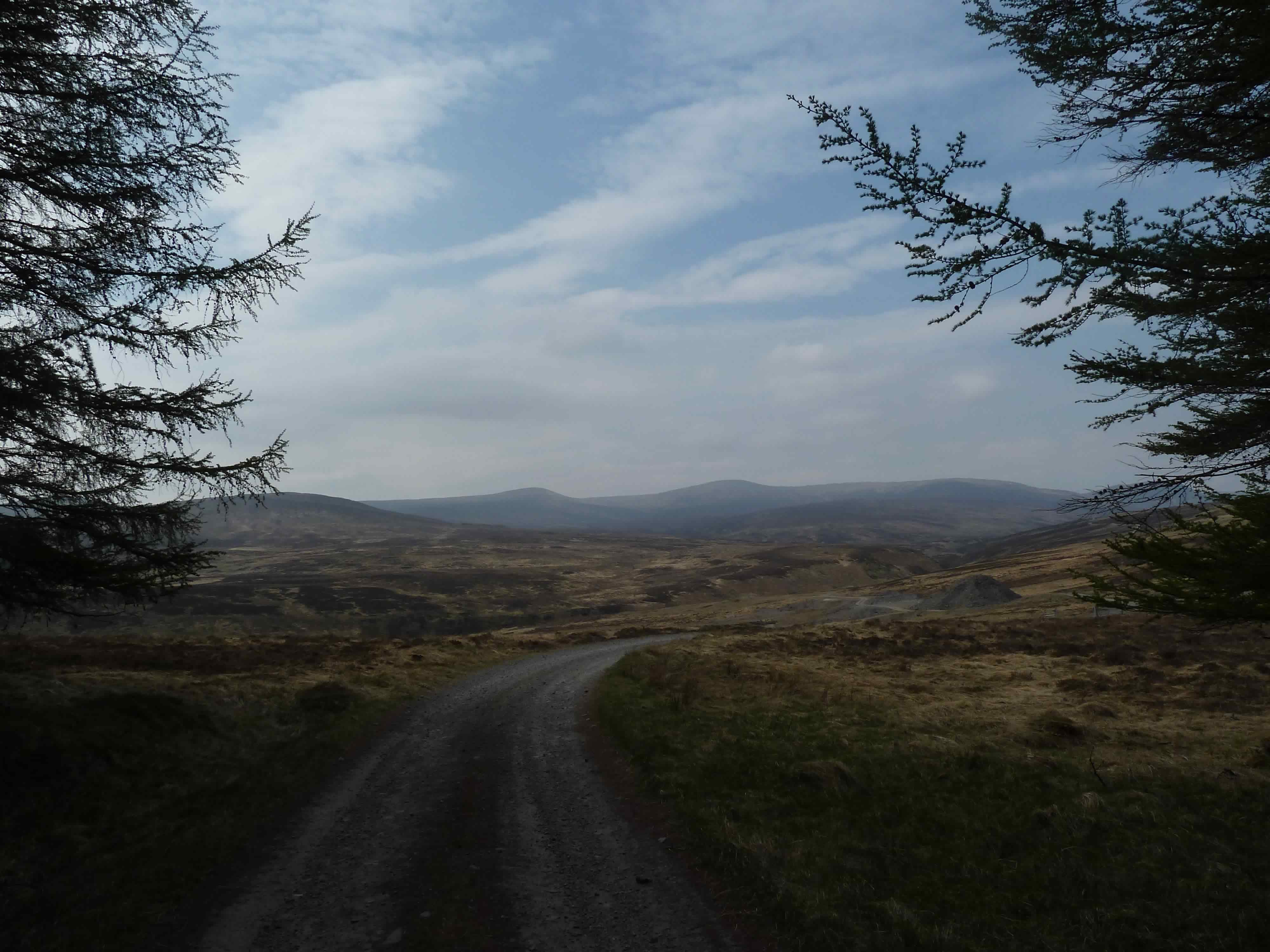 15.18 – View from the end of the forest area
It was so peaceful. We didn't see any cyclists and the temperature was perfect.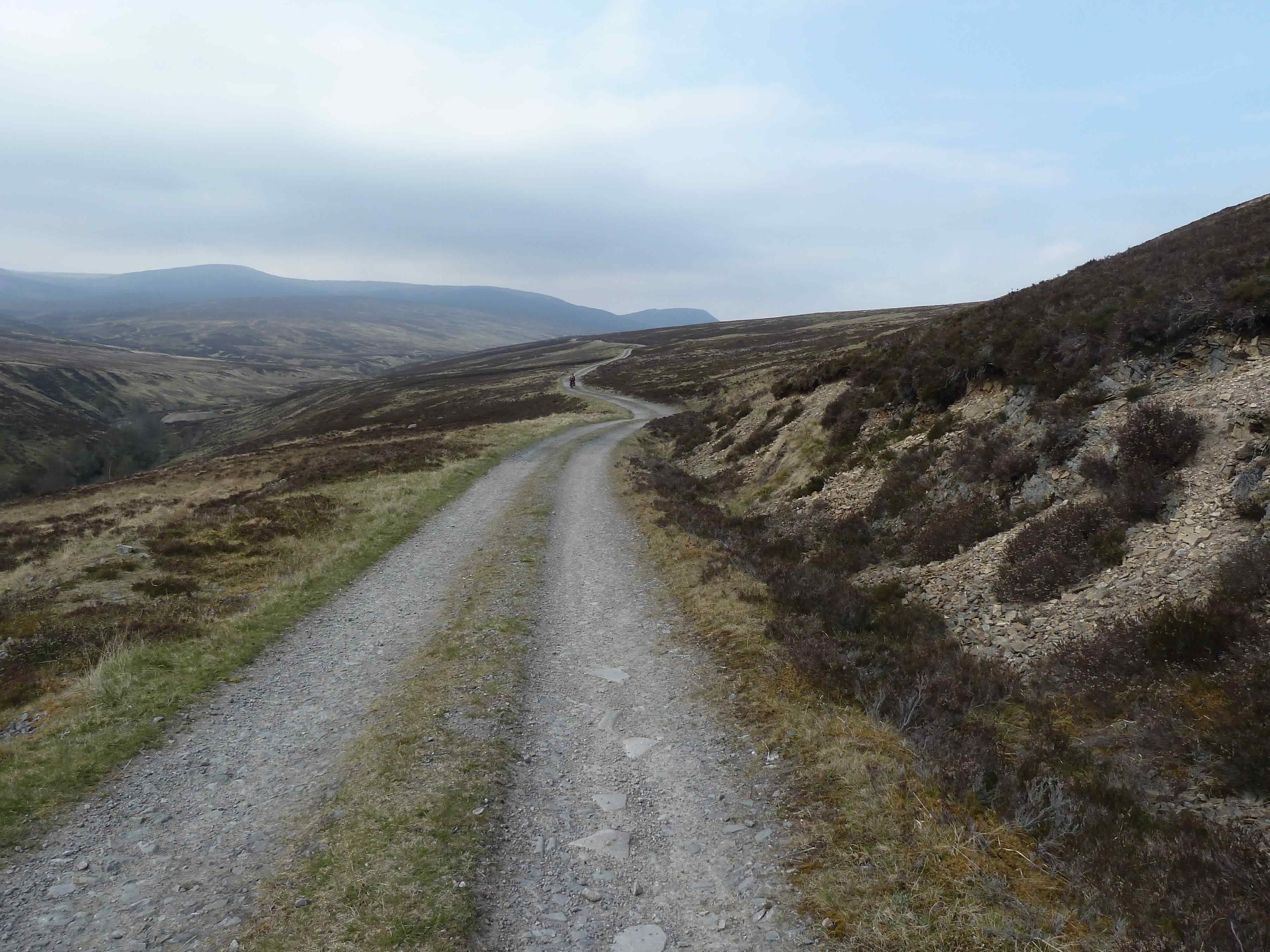 15.49 – The path before it gets rocky
We stopped at this memorial and then continued on our winding path.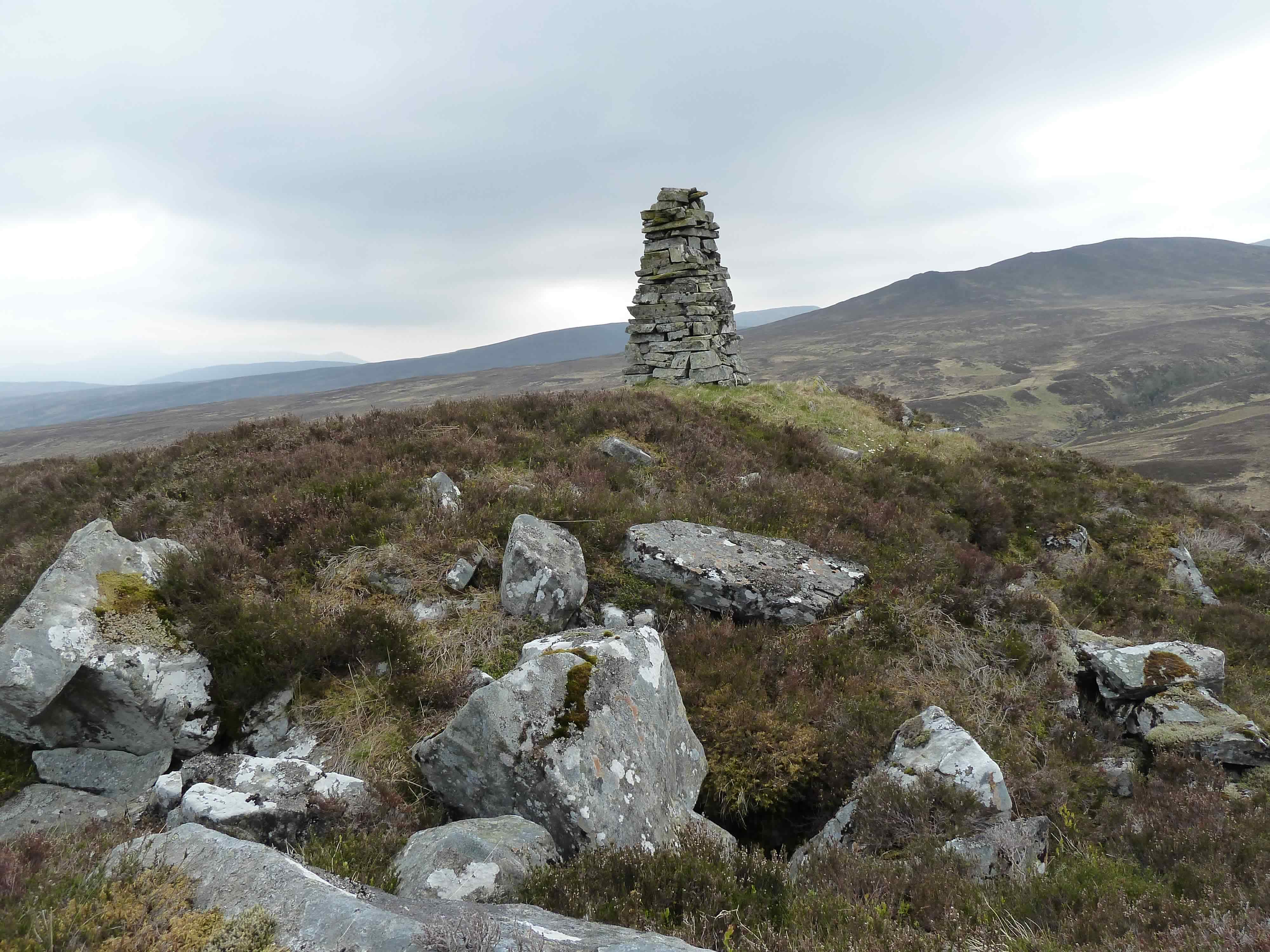 16.02 – Memorial with a view
We had great views all the way.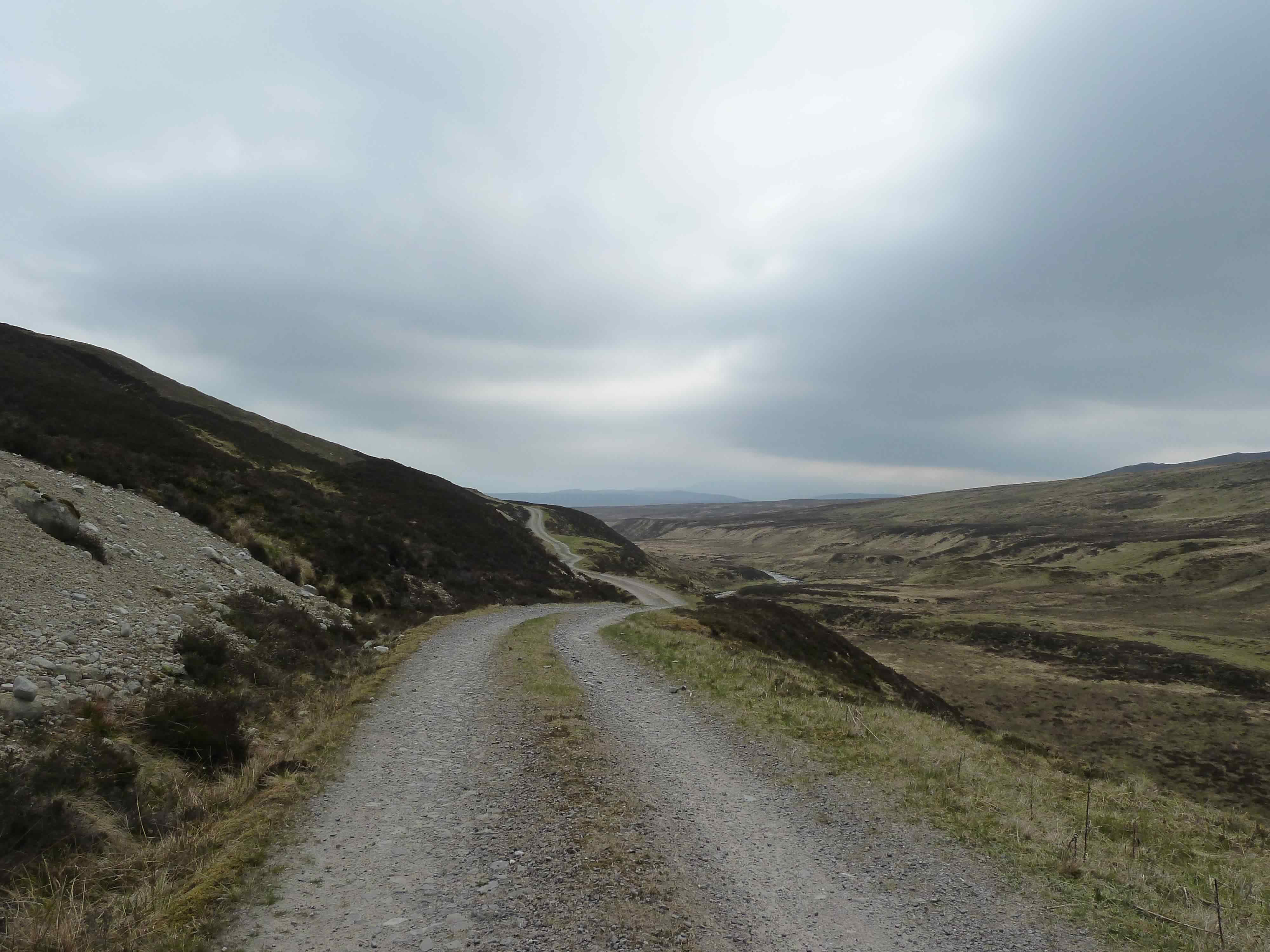 16.17 – And the winding path goes on
We had a short break by the stream, and here we crossed it.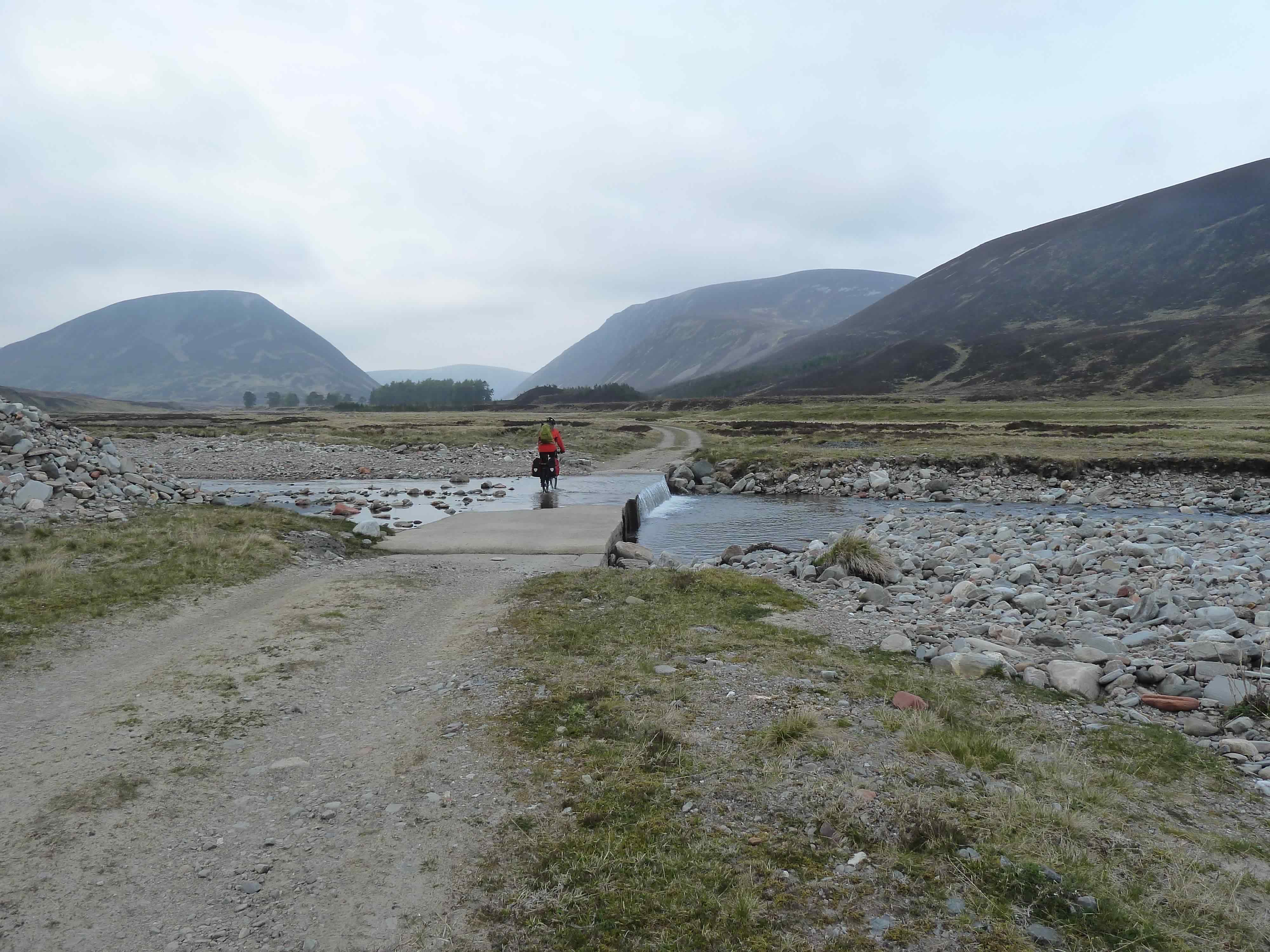 17.19 – Simon fording the stream without getting wet
An Dun was waiting for us.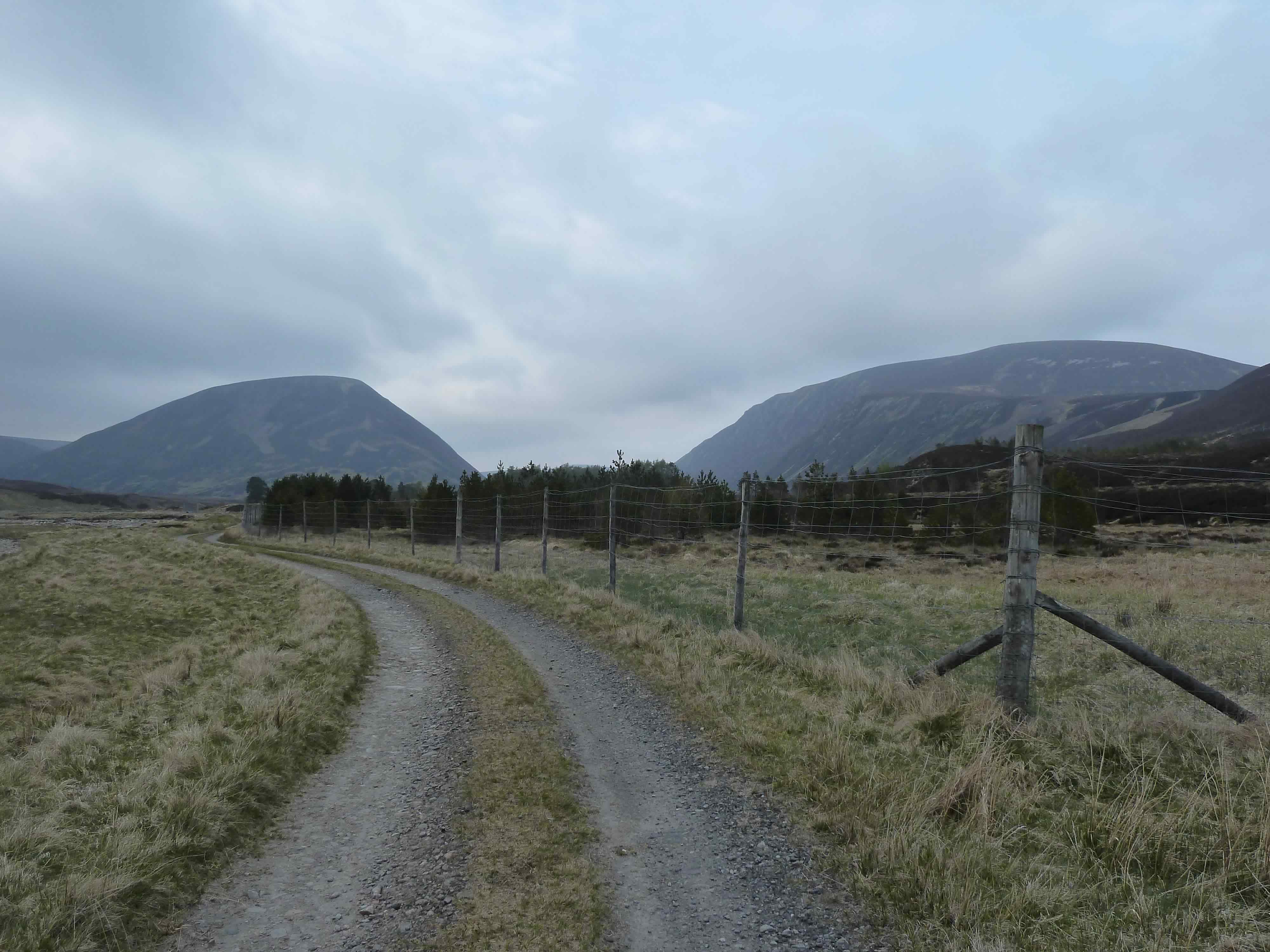 17.23 – An Dun and other hills
We arrived at the camp just before six. We had camped at this same spot twice a few years ago. The second one was, without question, the coldest night of my life.
That's why I now have an extra thick pair of Scottish socks and a silk liner.
We put up the tent quickly and went to our private stream to get water.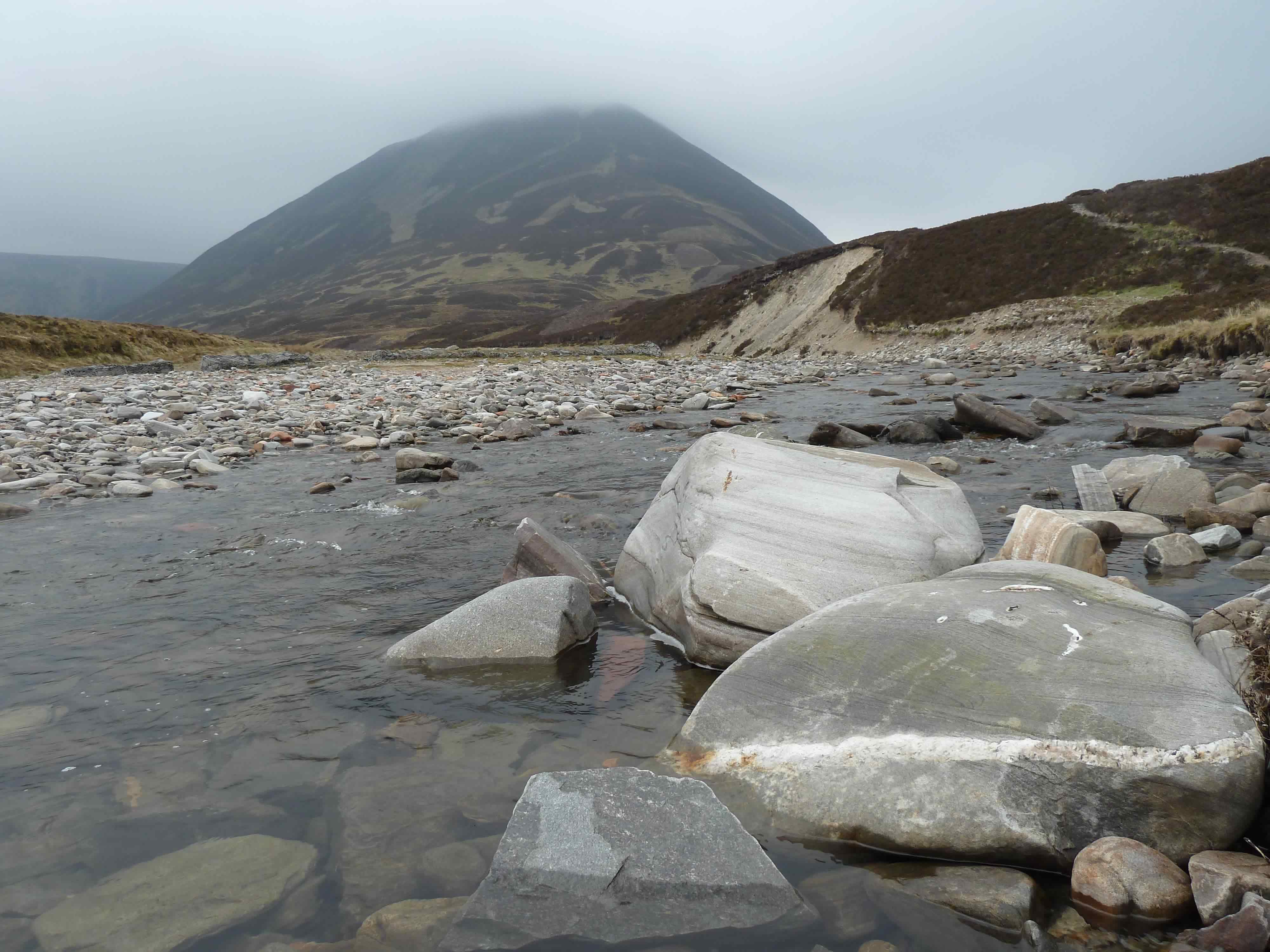 18.08 – Our pretty cold stream with superb water
While I inflated the mattresses and made the tent ready for the night, Simon cooked dinner: cheesy pasta with sausage.
It tasted great.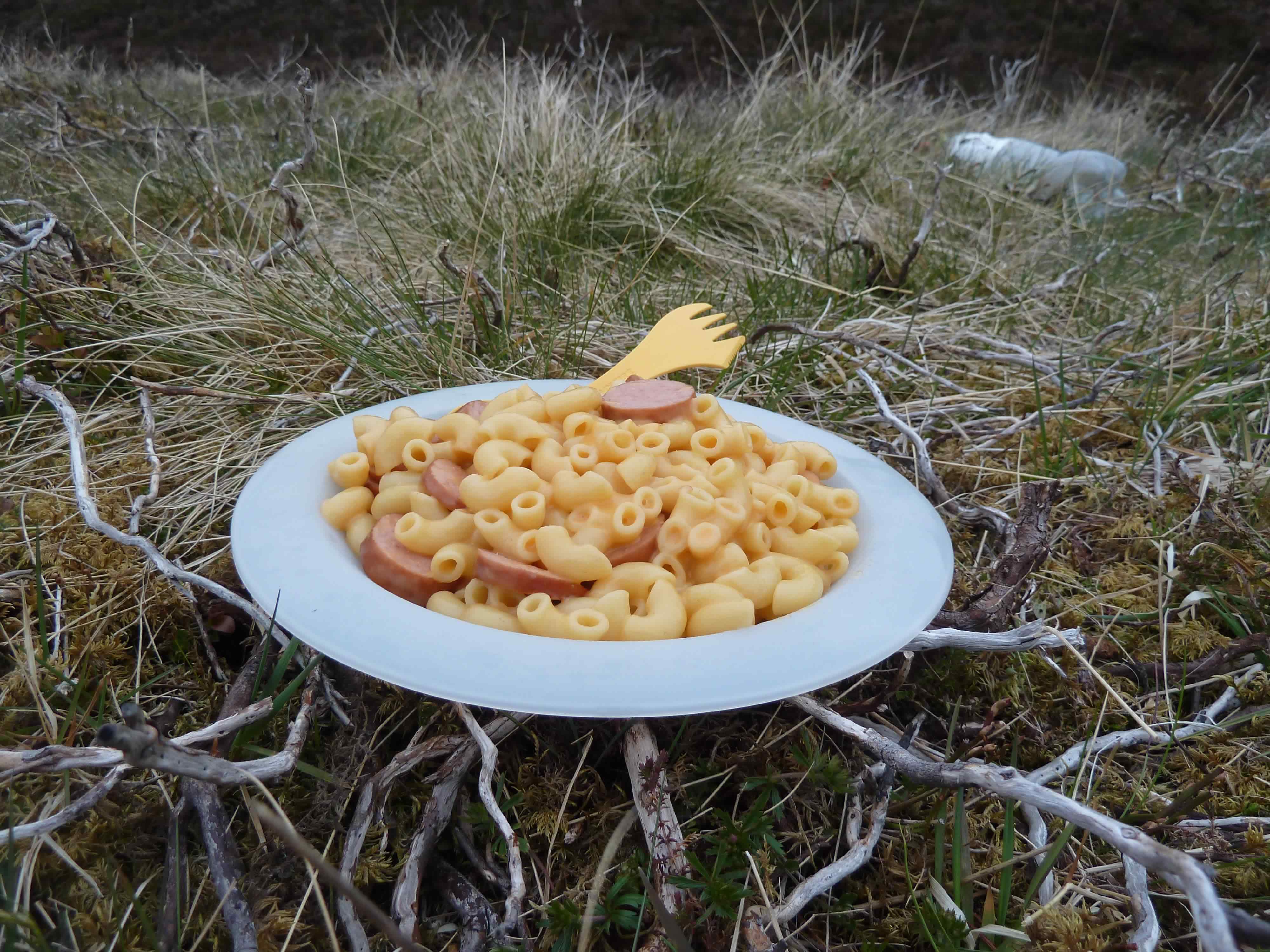 18.55 – Another gourmet concoction
We saw a solitary cyclist go past our camp. When he reached the steep hill he lifted his bike and disappeared in the distance.
We didn't see anyone else till mid-morning on Sunday.
We both slept well. It wasn't at all cold. In fact, I had to get rid of my hat and gloves during the night.
Saturday, 13 May 2017
Total distance:
6.46 mi
Total climbing:
817 m
Total Time:
07:26:48
When we got out of the tent we couldn't see An Dun or any of the other hills anymore. They were engulfed in a thick cloud.

9.15 – The hills have disappeared
We took the path up the hill and headed for An Dun, our first Corbett.
The temperature was good and there was little wind, but we had very poor visibility.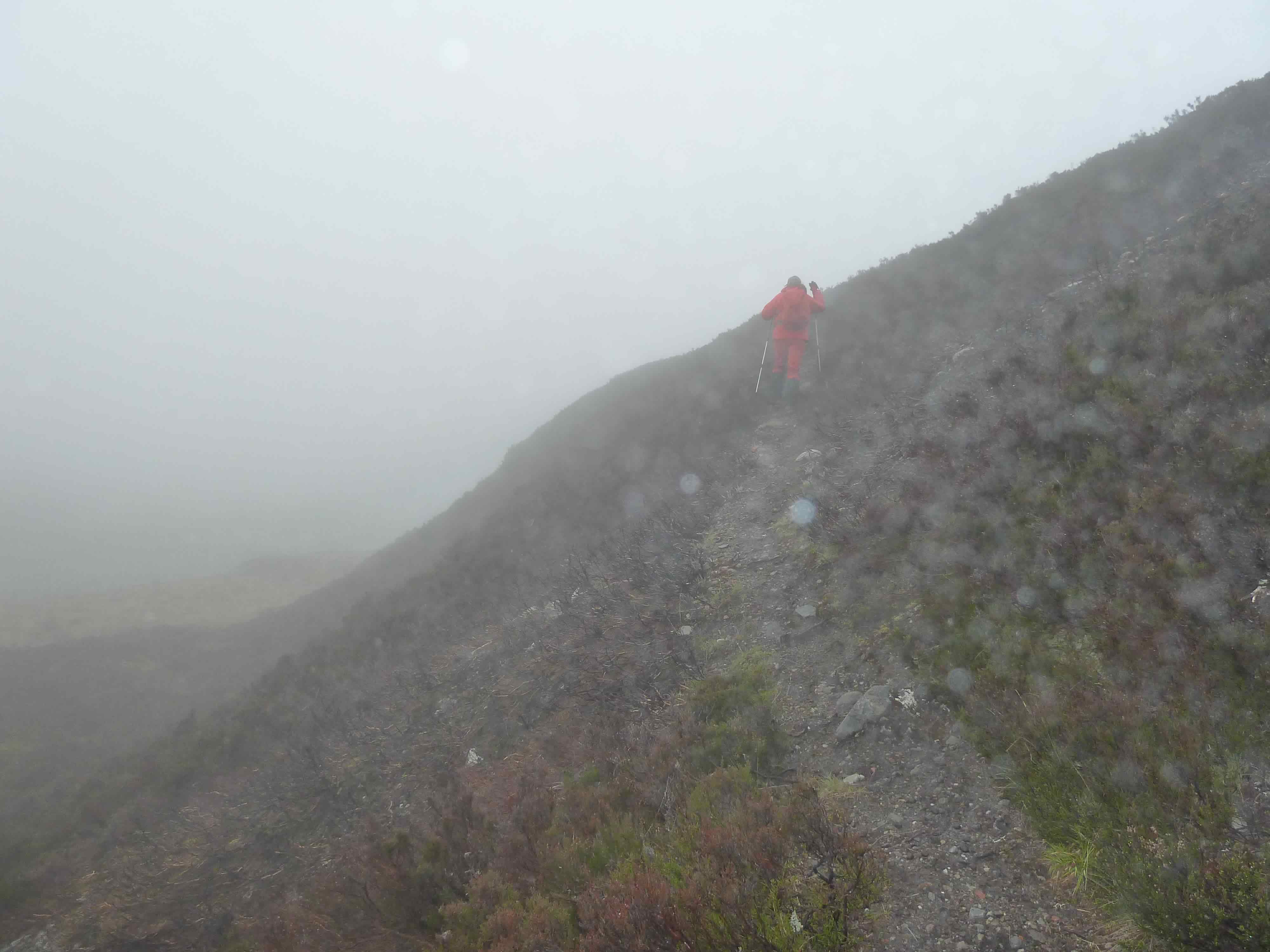 9.54 – On our way to An Dun, Corbett #1
In this trip we saw plenty of beetles and slugs, many more than in other trips.
10.12 – A friendly beetle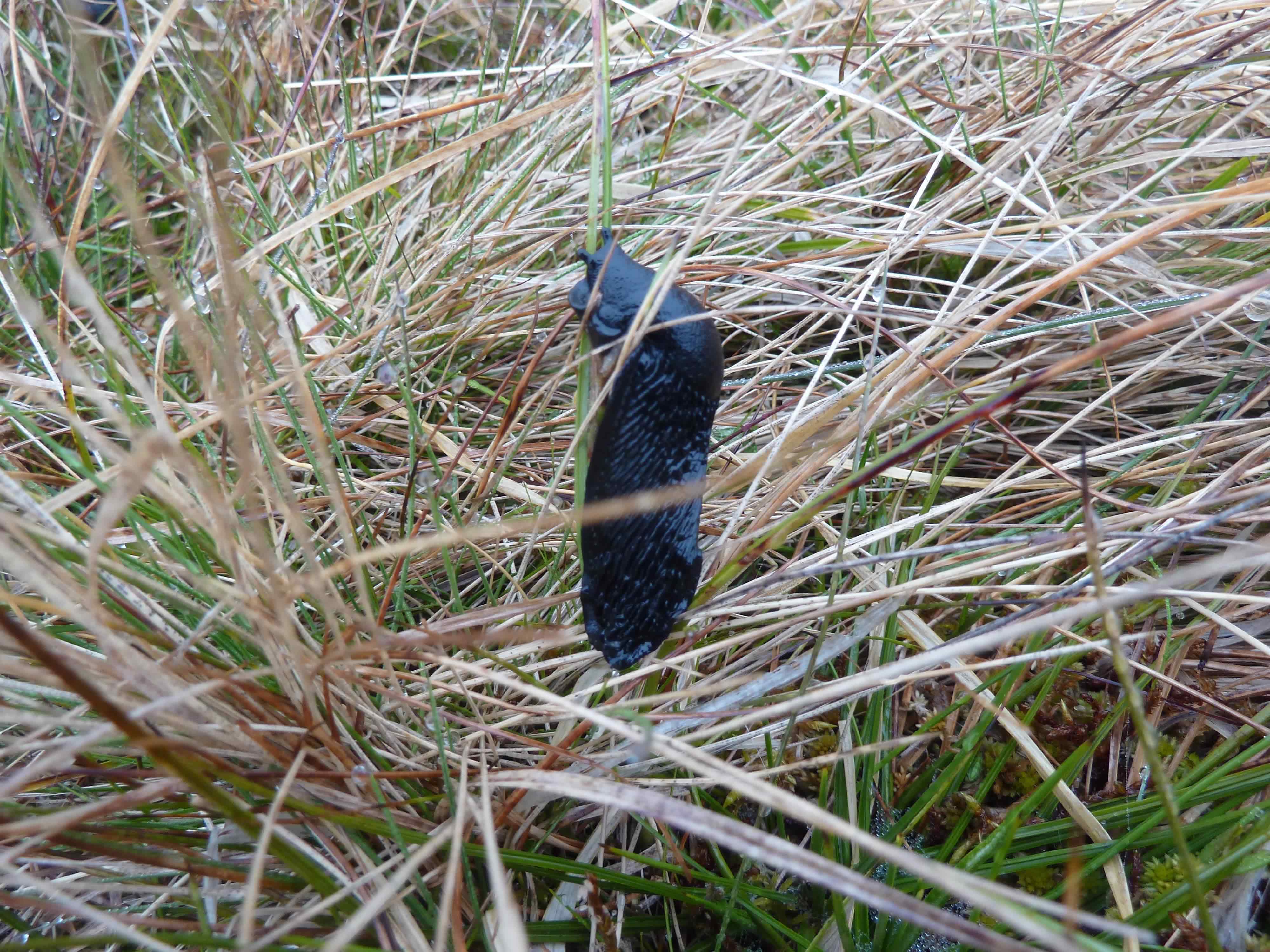 10.13 – A EUROPEAN BLACK SLUG (ARION ATER)
We stopped for breakfast at about 10.30. We had tinned pork (which neither of us loved), pasties (which weren't bad at all), and some bars.
We resumed our hike in thick fog.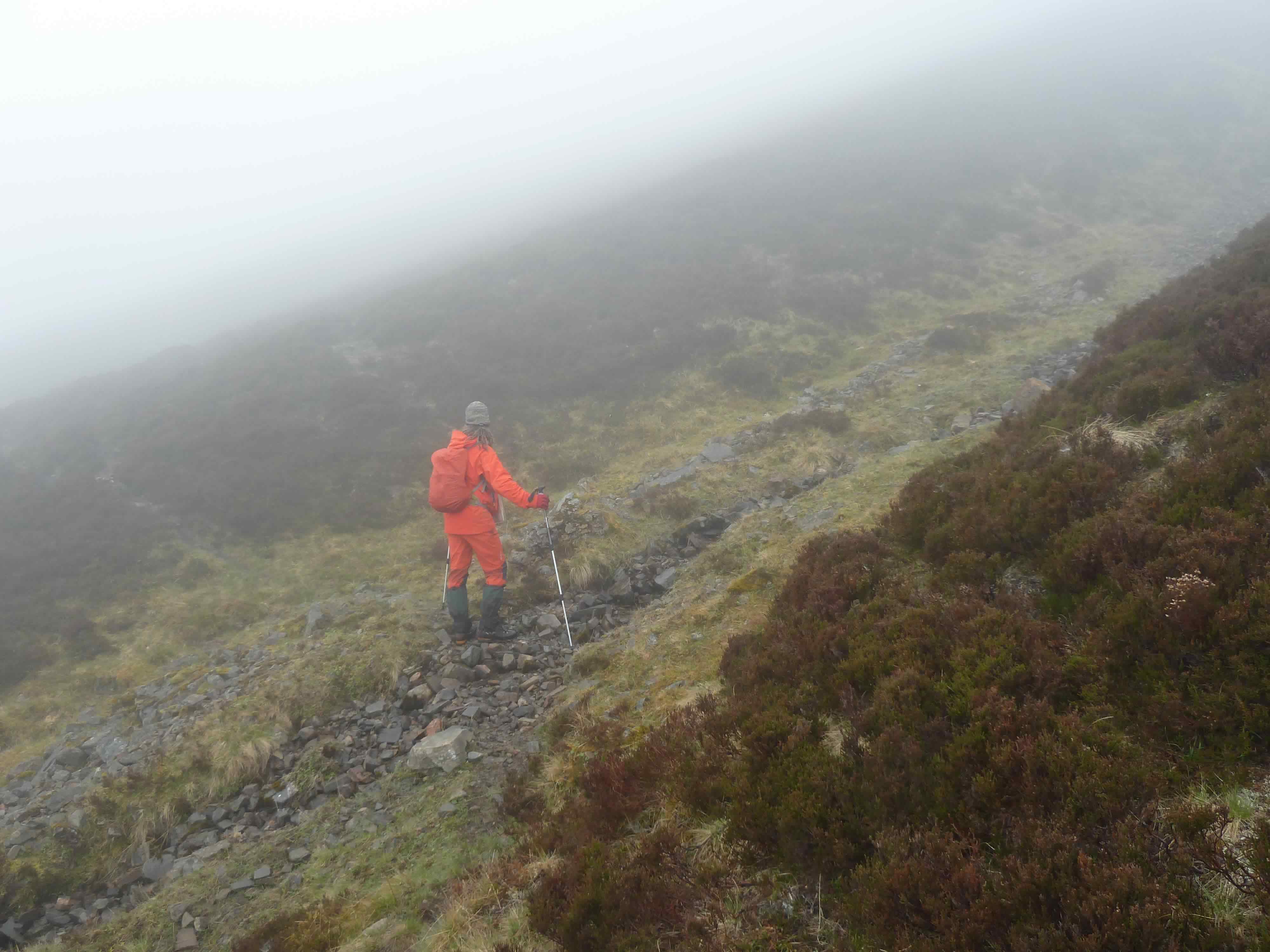 10.47 – Simon guessing the path
No more than a foot away from the path, Simon spotted this grouse nest.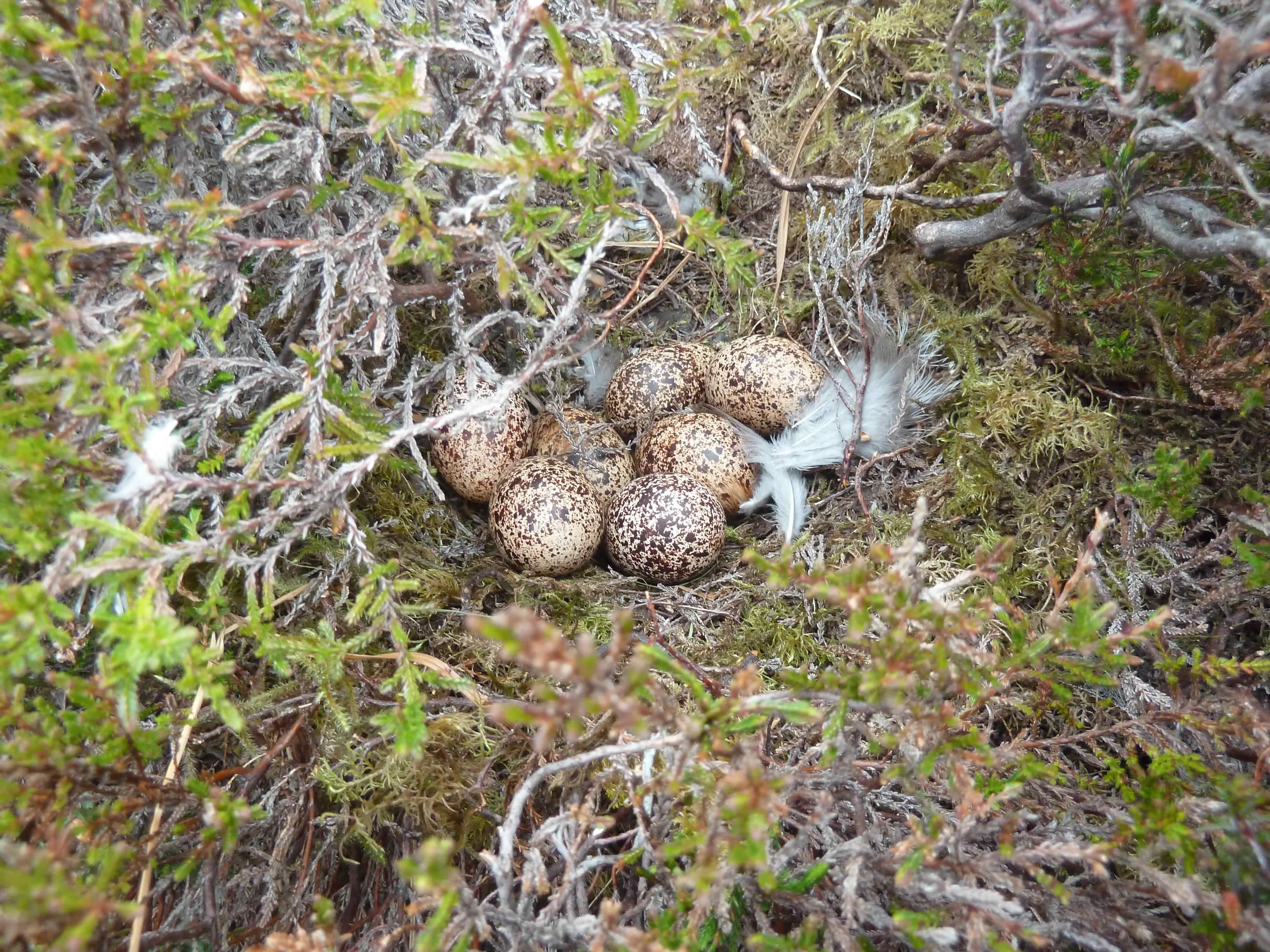 10.57 – Seven grouse eggs by the path
Every few minutes we stopped to look at the map and take compass bearings (or rather, Simon did) to make sure we were going the right way.
Later on, when we looked at the GPS, we saw some impressive straight lines.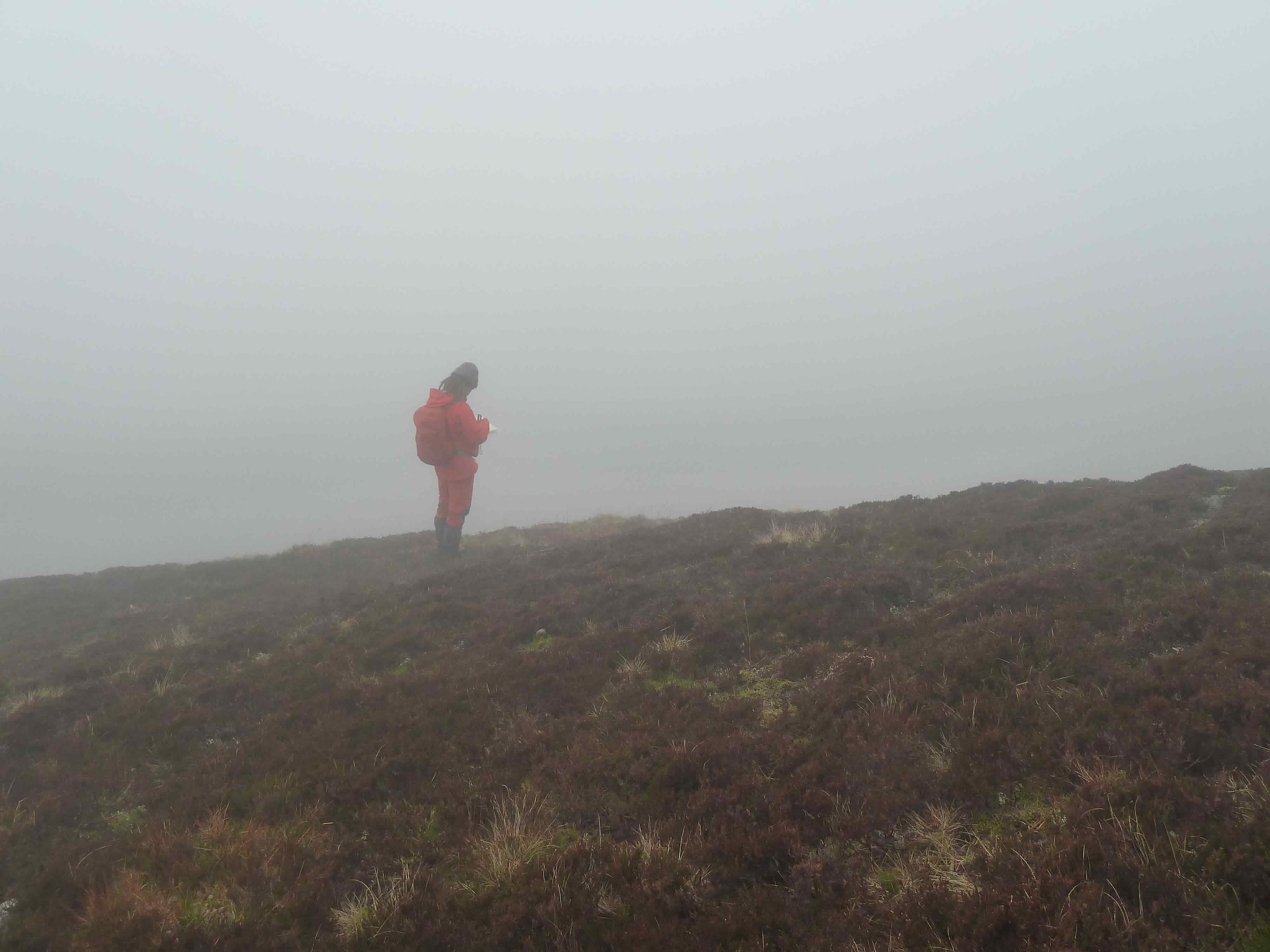 11.07 – Simon taking compass bearings in thick fog
Soon the path became steep.
11.16 – The steep rocky climb
We made it to the top of An Dun without trouble.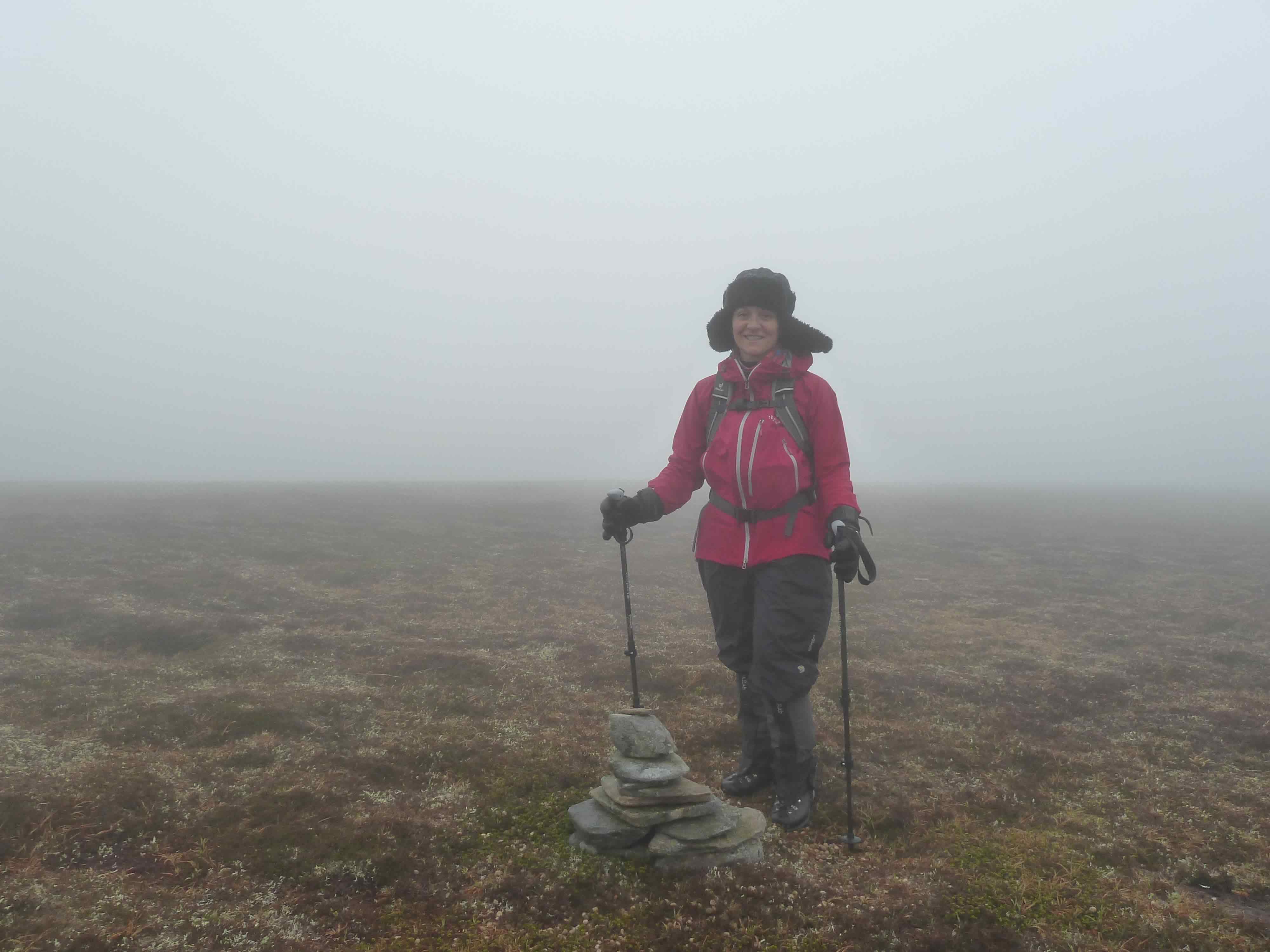 11.50 – Maria at the top not knowing where to go next *
Taking plenty of compass bearings we navigated from An Dun to our second Corbett.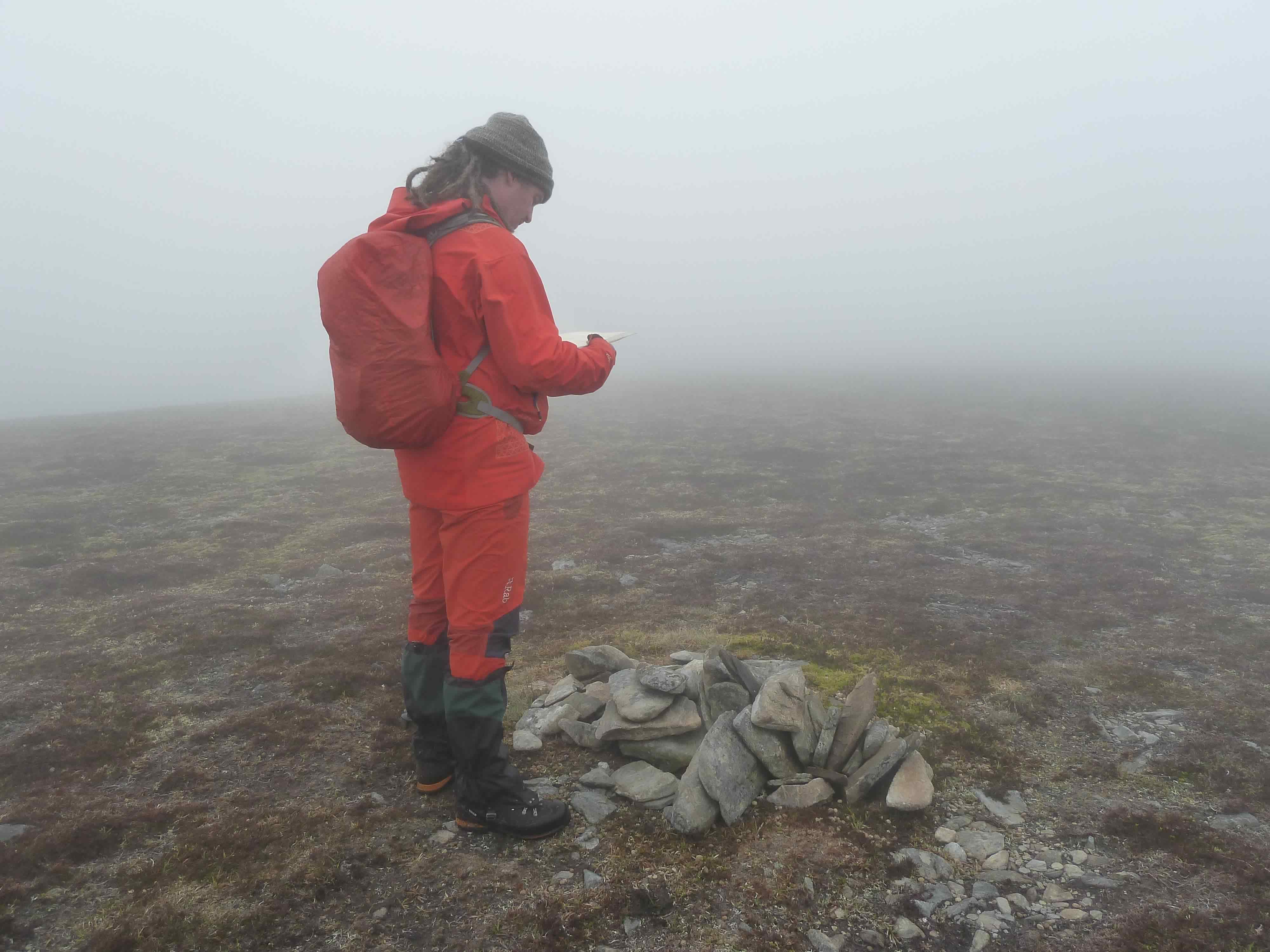 11.59 – Simon at the summit looking for the way out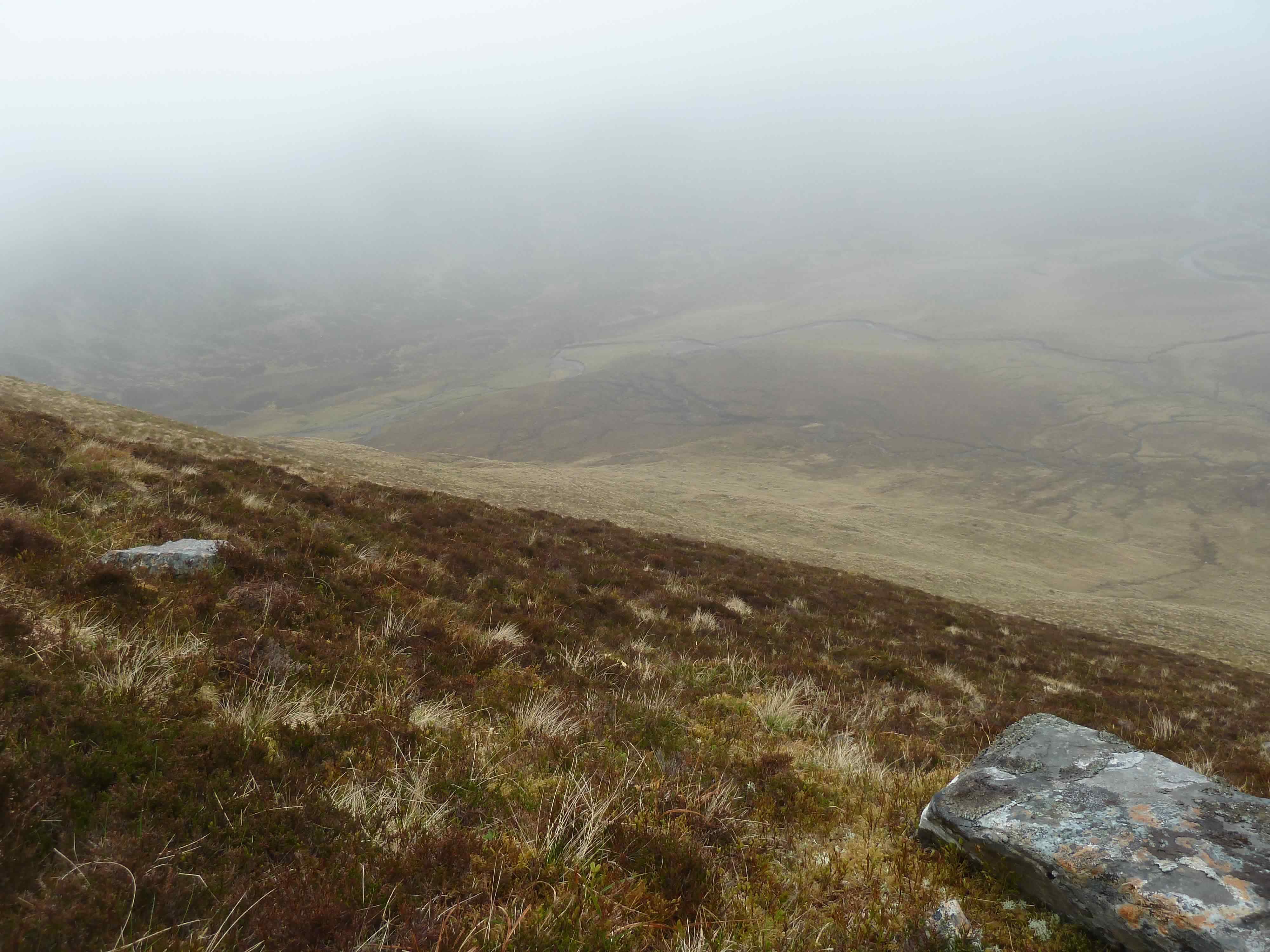 12.43 – The steep descent from An Dun
Loch An Dun, which sits between the two Corbetts, looked magic.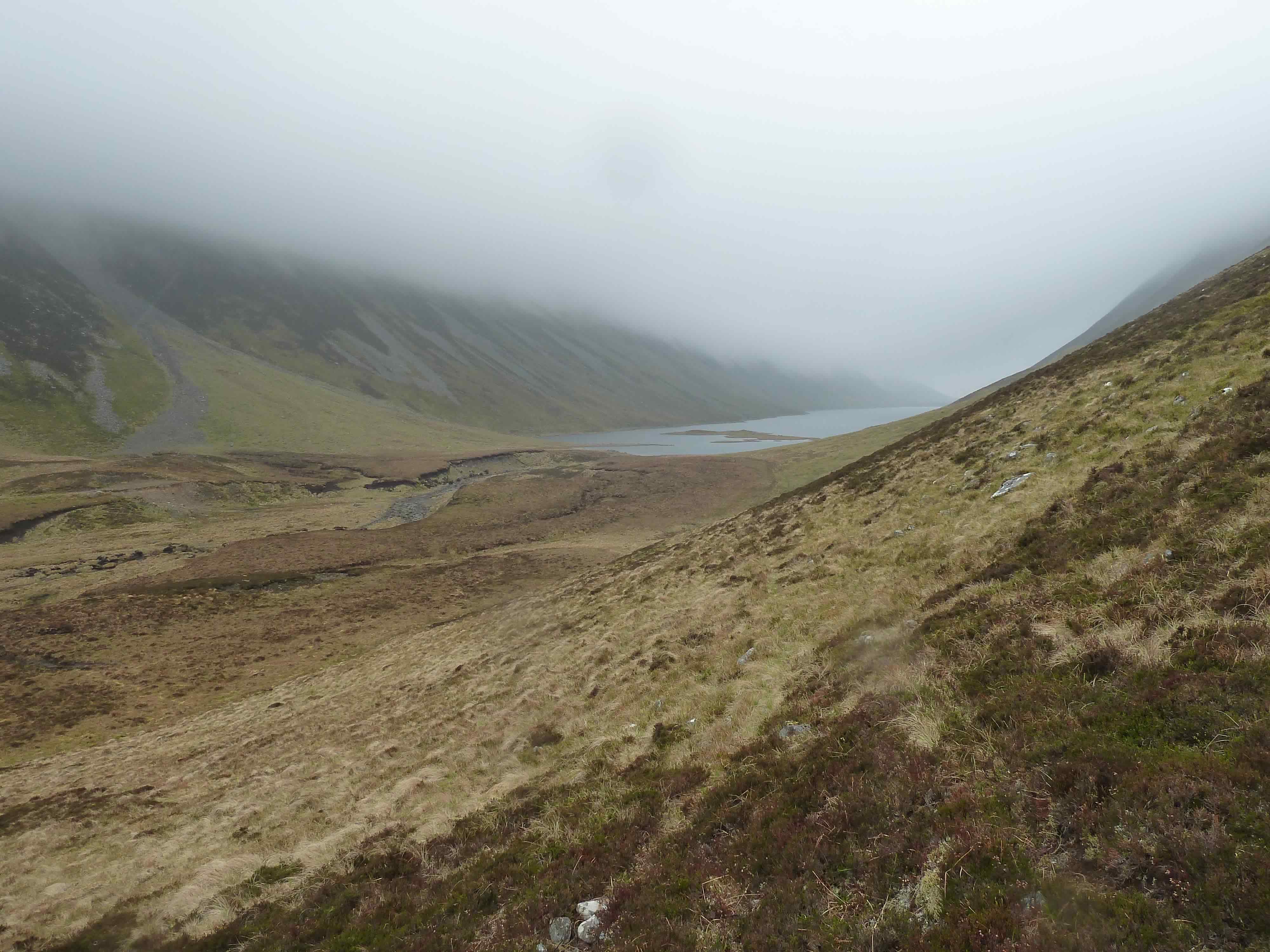 13.01 – A dream view of Loch An Dun
At the bottom of the hills we refilled our bottles and had lunch: sandwiches (tongue, cheese & salami, pate) and something sweet.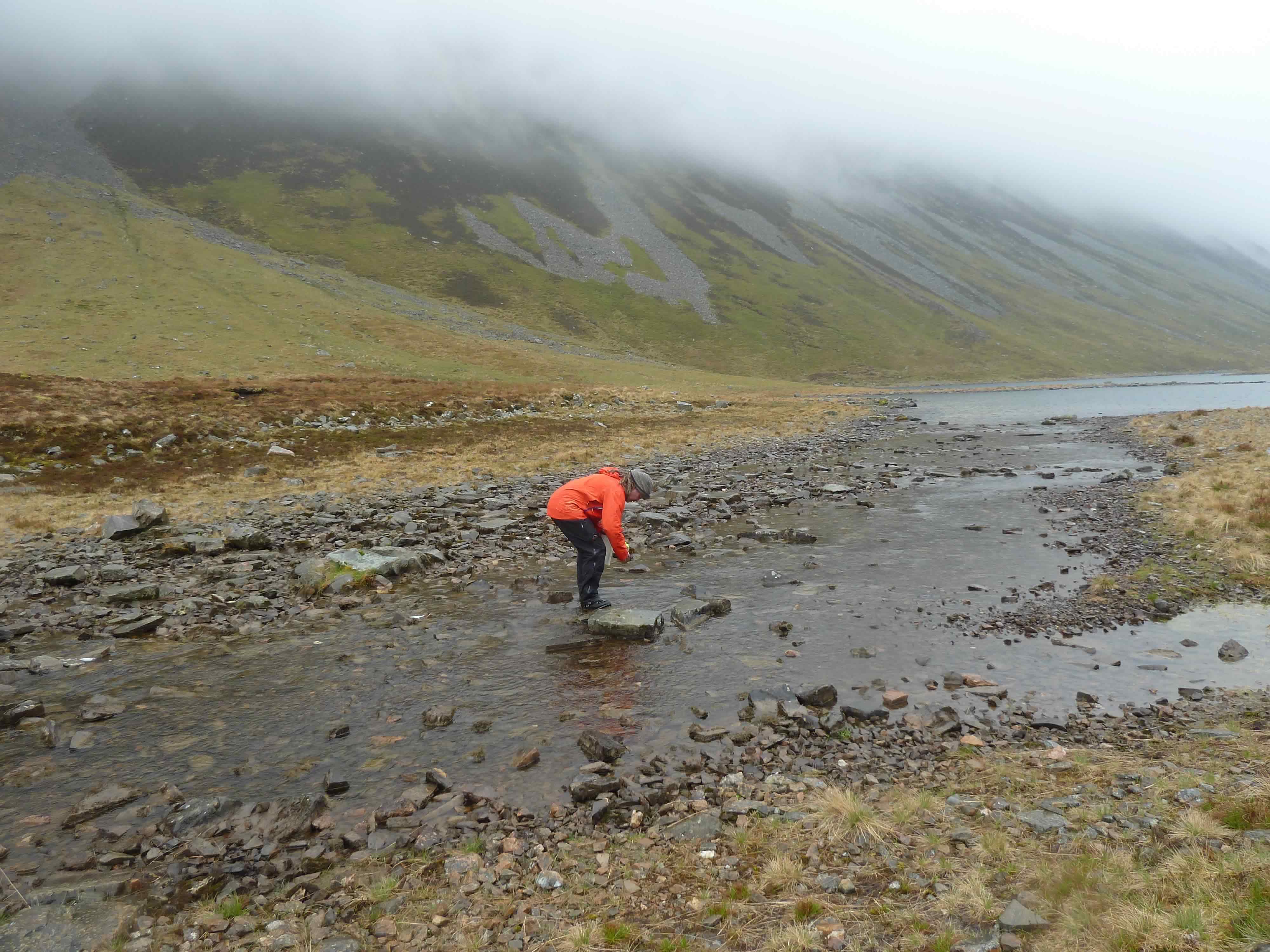 13.11 – Simon refilling the bottles for part 2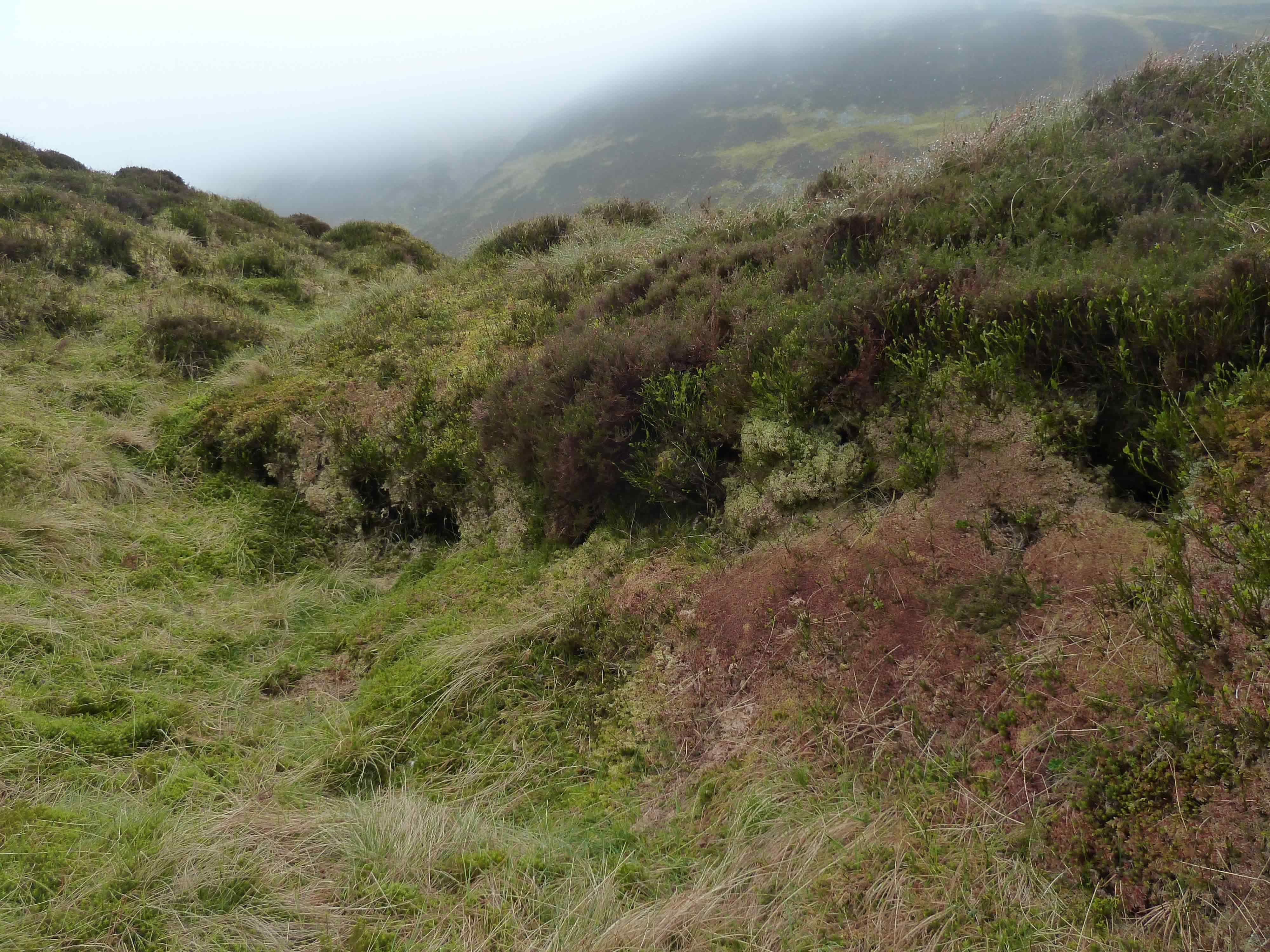 13.34 – Rabbit holes, plenty of them
The climb up A' Chaoirnich is steep, very steep. It felt almost vertical at times.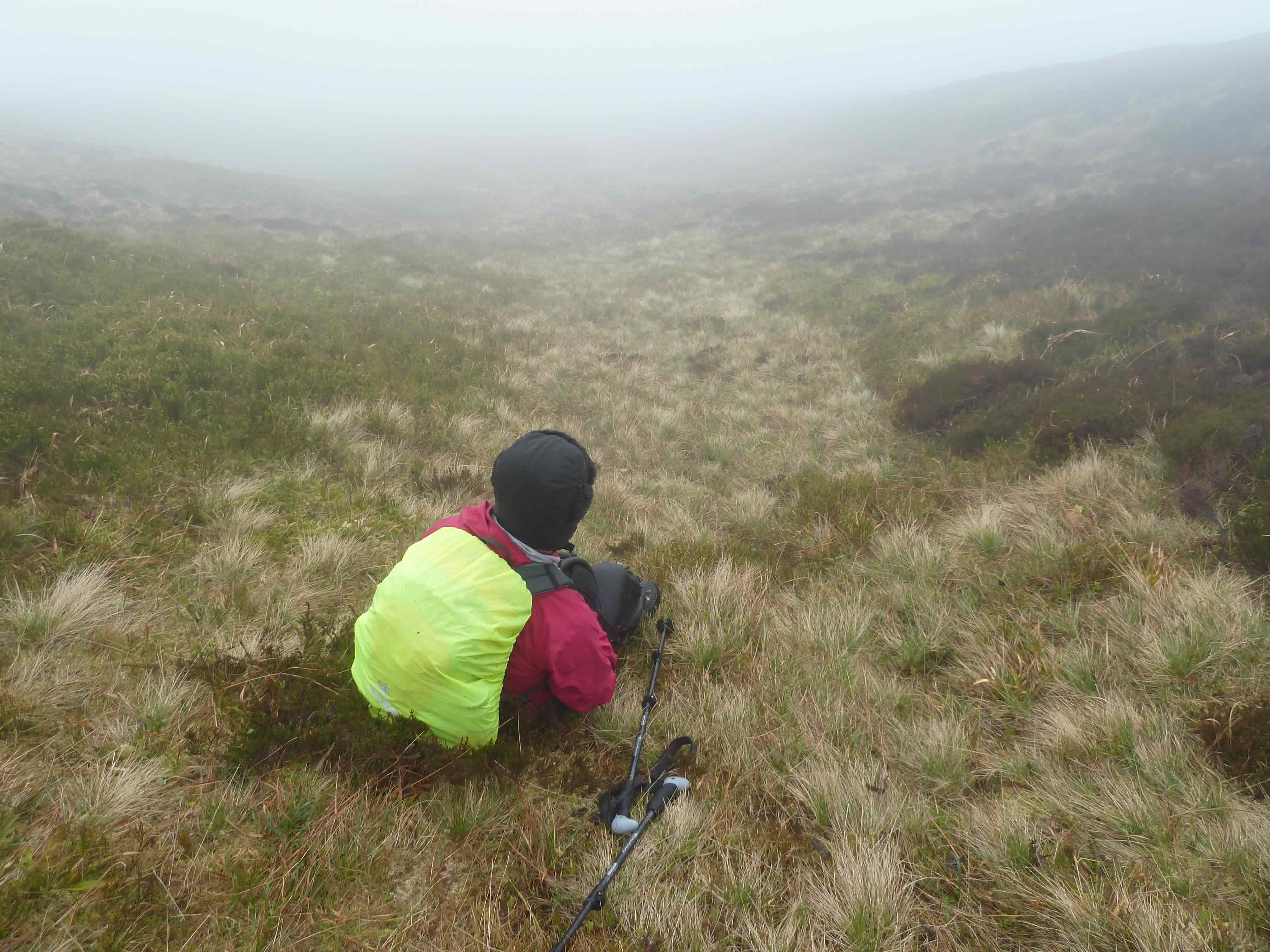 14.37 – Looking down. It's steep *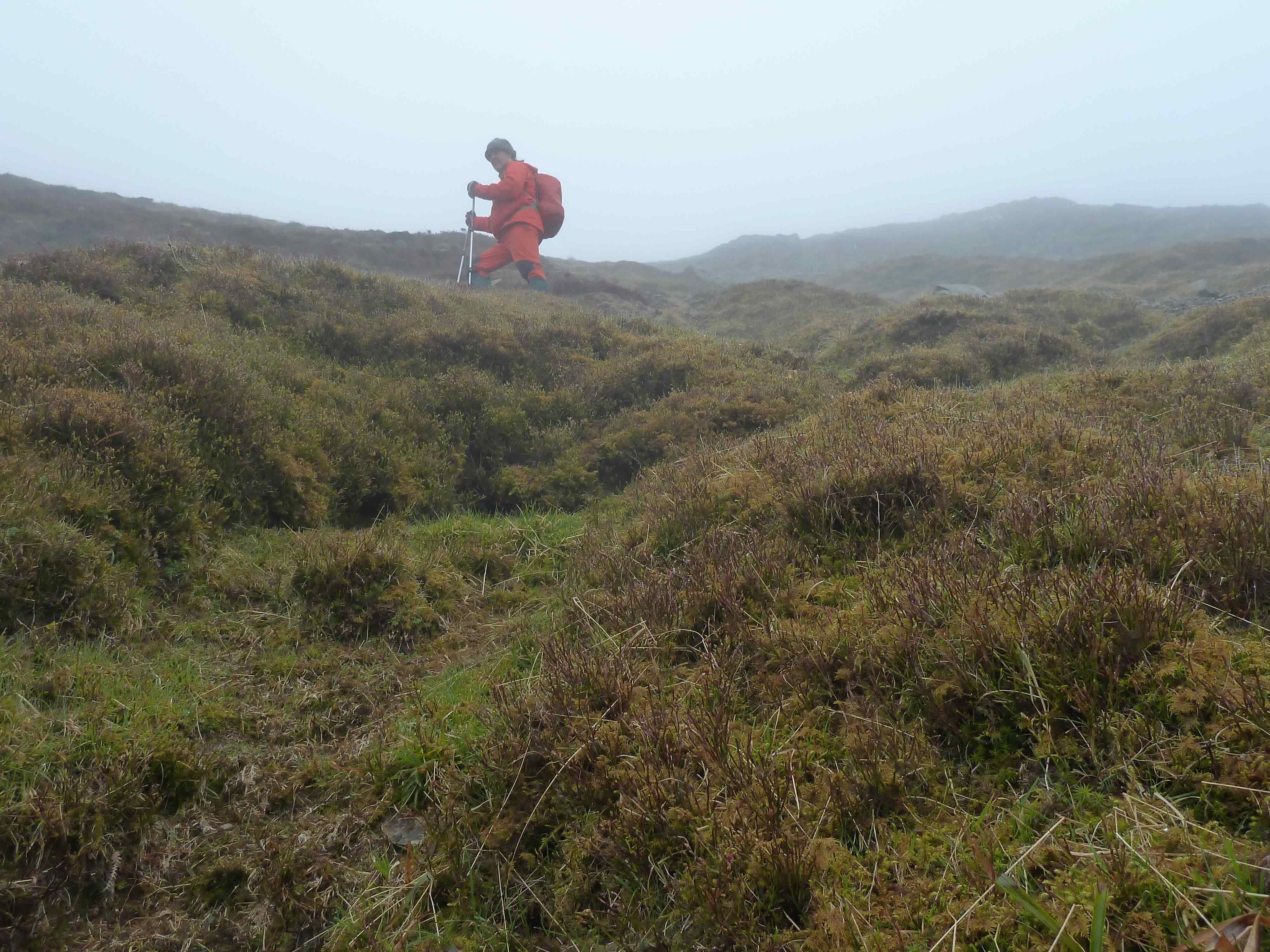 15.10 – Looking up. It's even more steep
After a lot of hard work, slow climbing and the occasional stop to look at nowhere, we reached the top.
It was then that I had that wonderful feeling of living for the moment, of wanting to be nowhere else other than here and now. That's why I love those trips so much.
While at the top, it started to rain. It was a steady shower that would eventually sip through our jackets and Rab gloves. We've got to find a way to keep our hand dry and warm.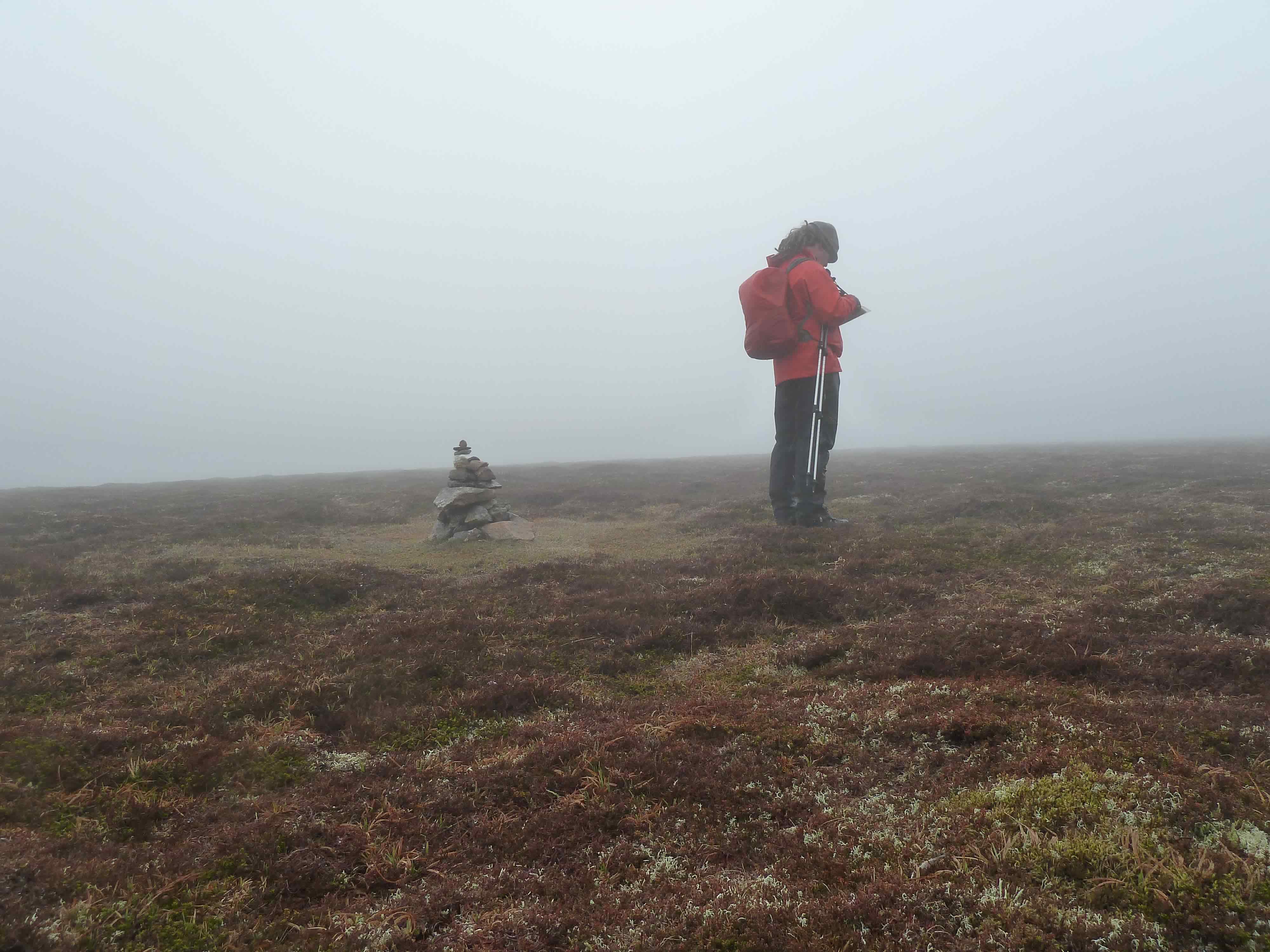 15.40 – Simon at the top of A' Chaoirnich
In this trip we saw plenty of large frogs, more than ever. I think they were happy to see some rain after the long dry spell.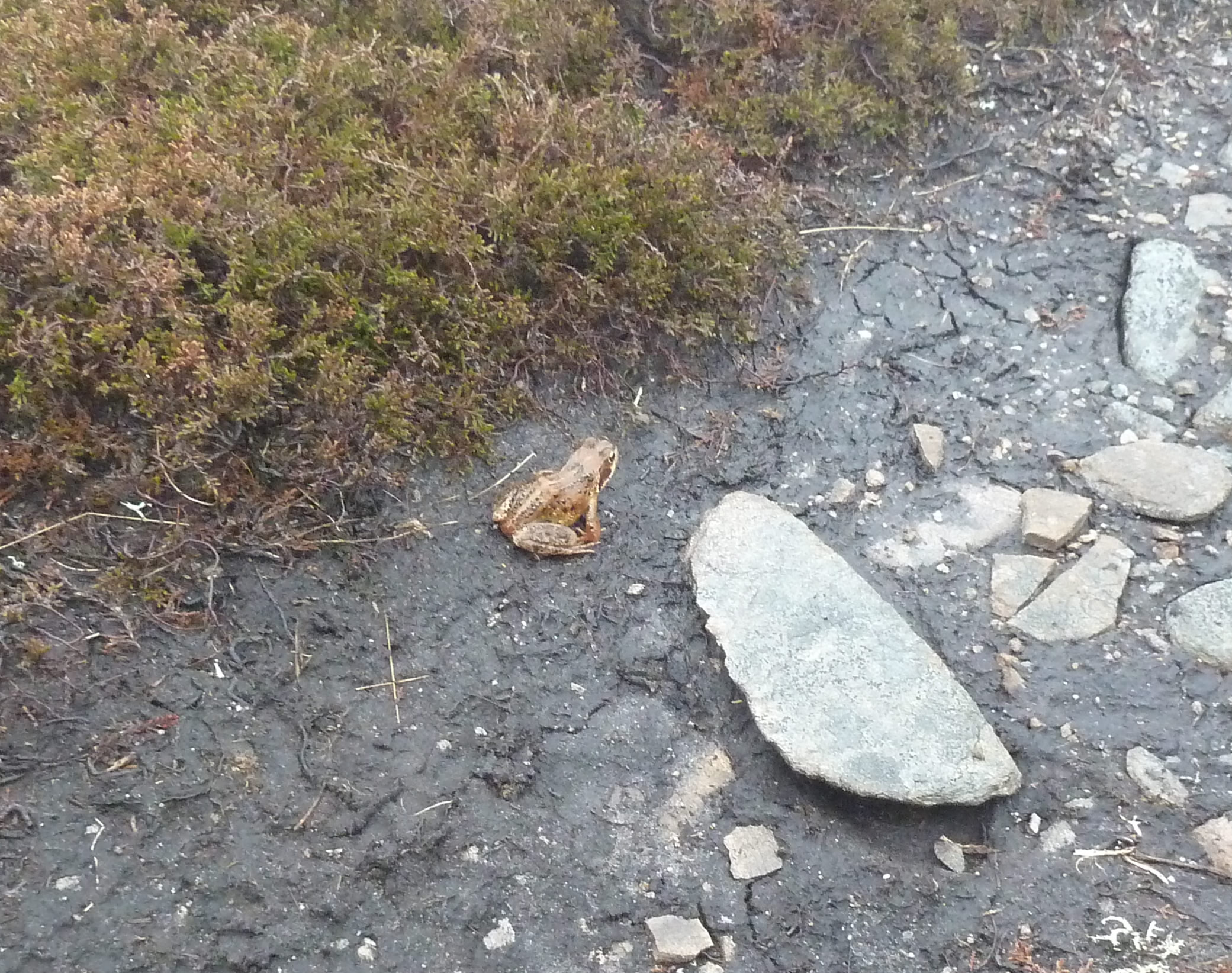 16.26 – One of many happy frogs jumping around
The descent from A' Chaoirnich is quite flat at first, but it then gets much more pronounced. There was no clear path, so we walked through the heather, not always the easiest way.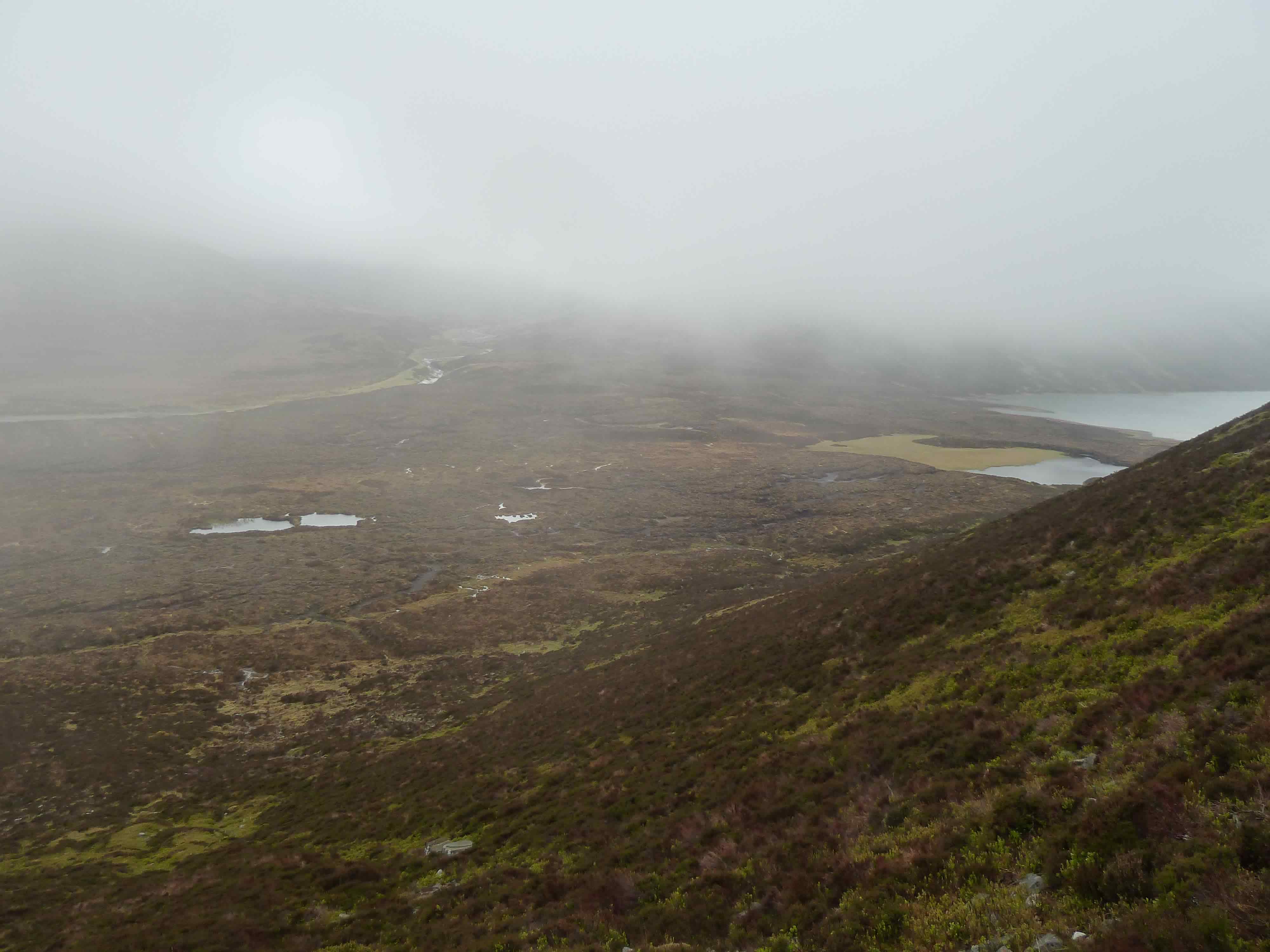 16.56 – View of the bog to come
When we got to the bottom we followed the fence, through the bog, and reached our tent without getting too muddy.
Alas, we were both somewhat cold from the rain that had drenched our gloves and jackets.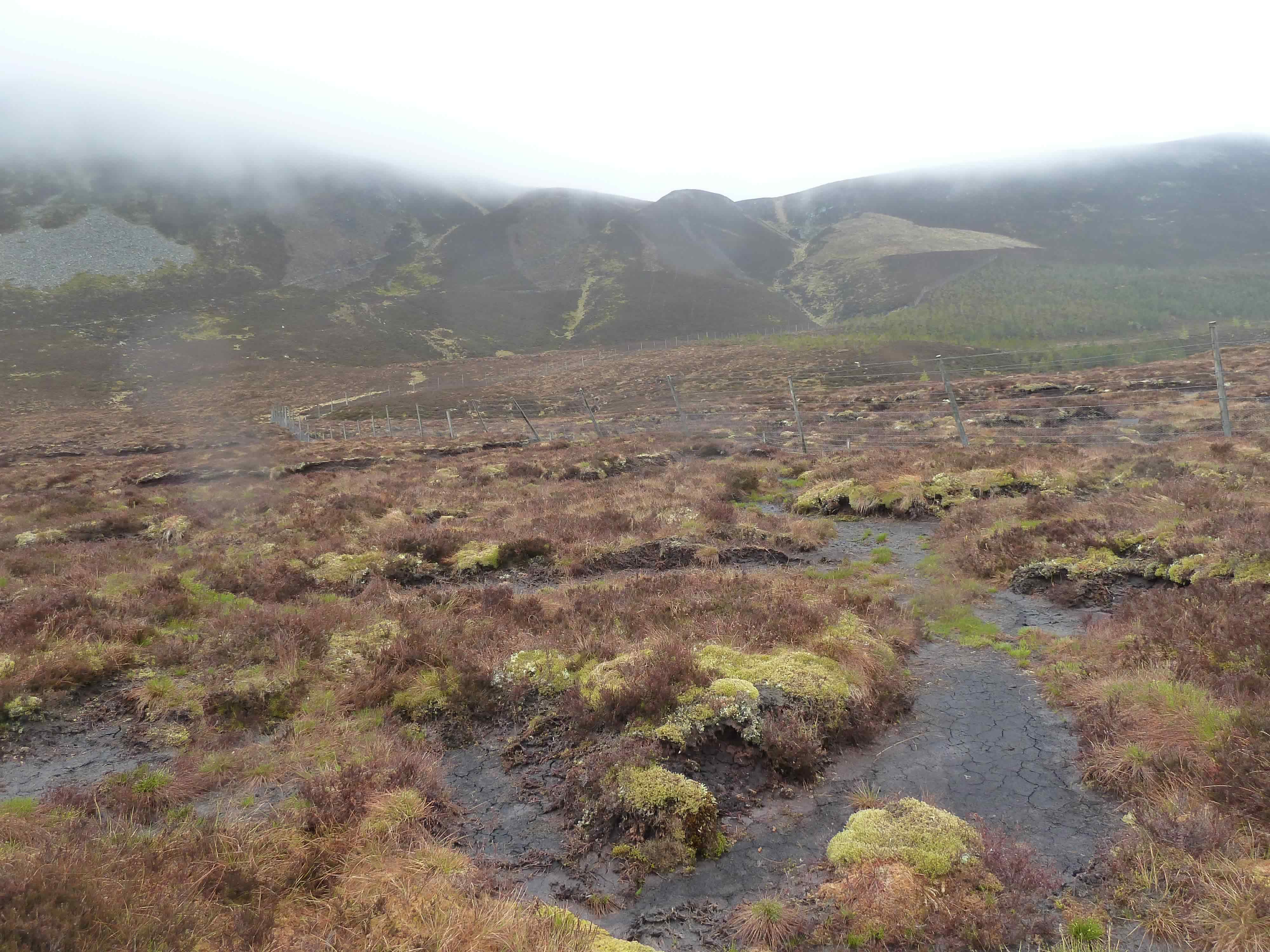 17.15 – Trying not to get muddy boots
For dinner we had rice with vegetables and chorizo. As the Executive Chef, I suggested that we fry the chorizo in the Trangia non-stick pan, and that we use a sachet of chicken soup instead of the dubious sauces we had brought.
We both agreed it was a superb idea, and one of the best camping meals we've had.
To fight the cold, we had porridge for desert.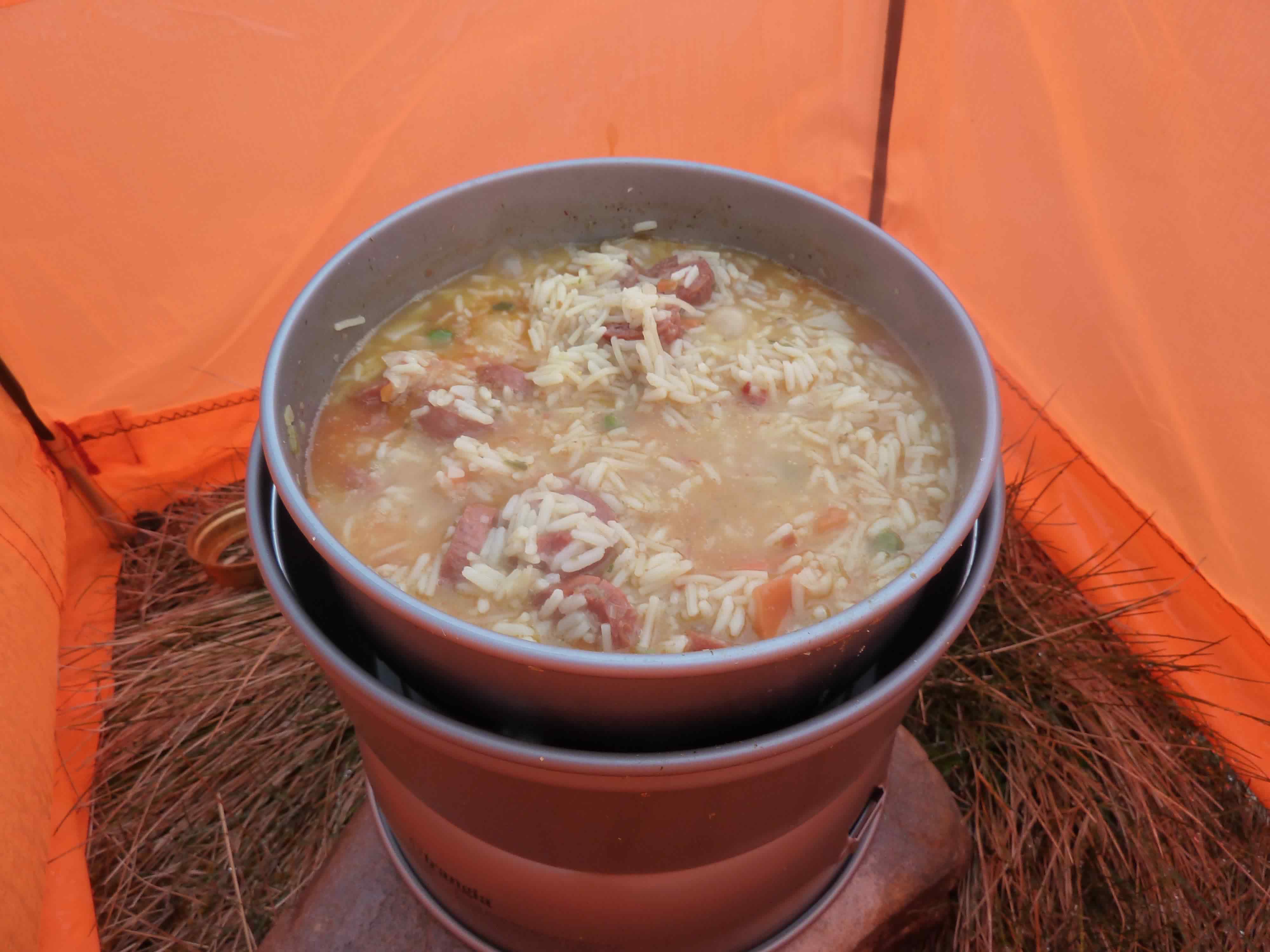 18.32 – Our second gourmet dinner
We both slept well this second night too. The temperature was good and there was no wind, but it rained for a few hours during the night.
The tent didn't let us down, though, and remained dry.
Sunday, 14 May 2017
Total distance:
16.76 mi
Total climbing:
193 m
Total Time:
02:54:41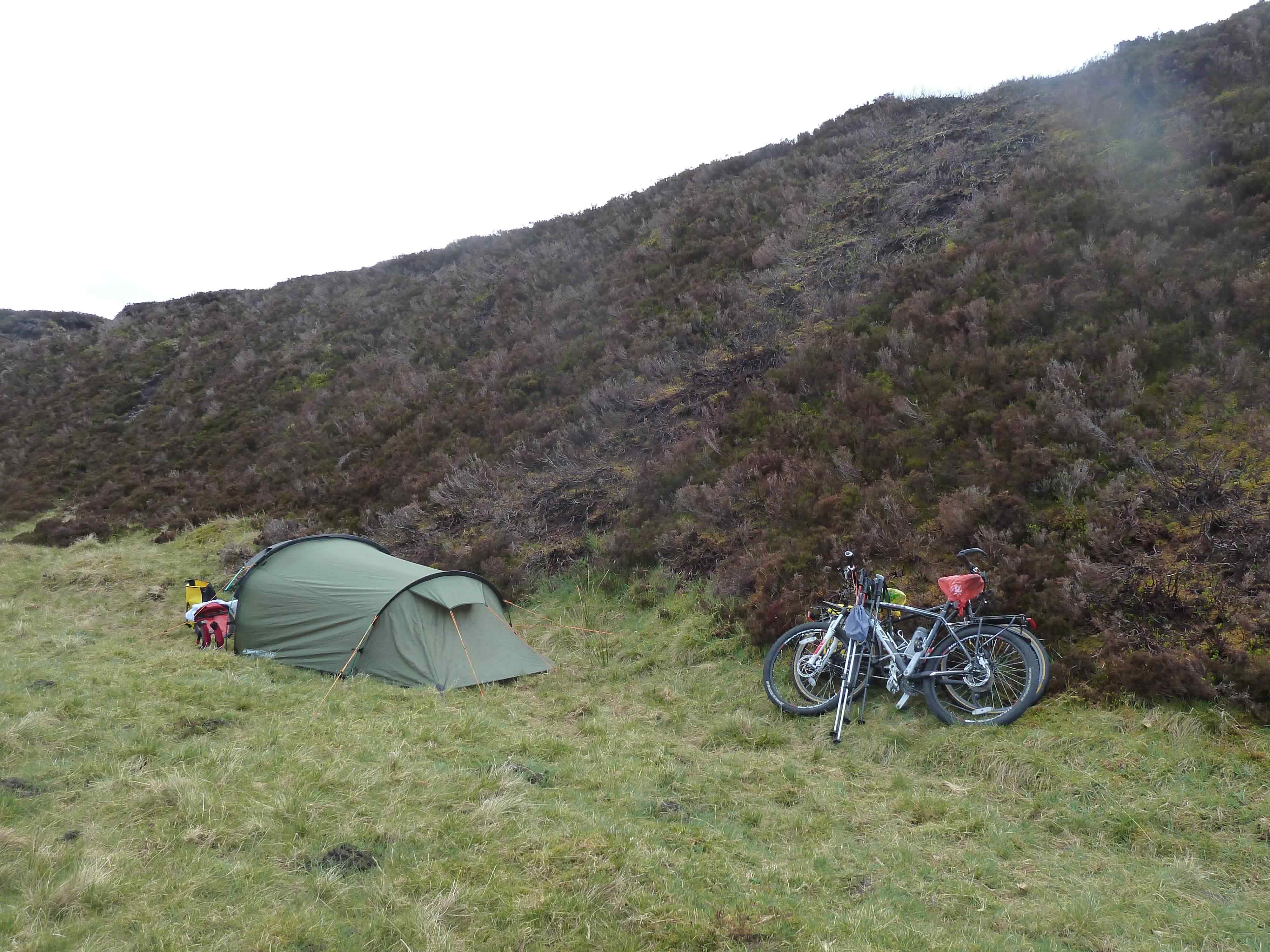 8.35 – Our beloved second home, Bumblebee & Mounty
When we got up, the sun was out. The view was gorgeous.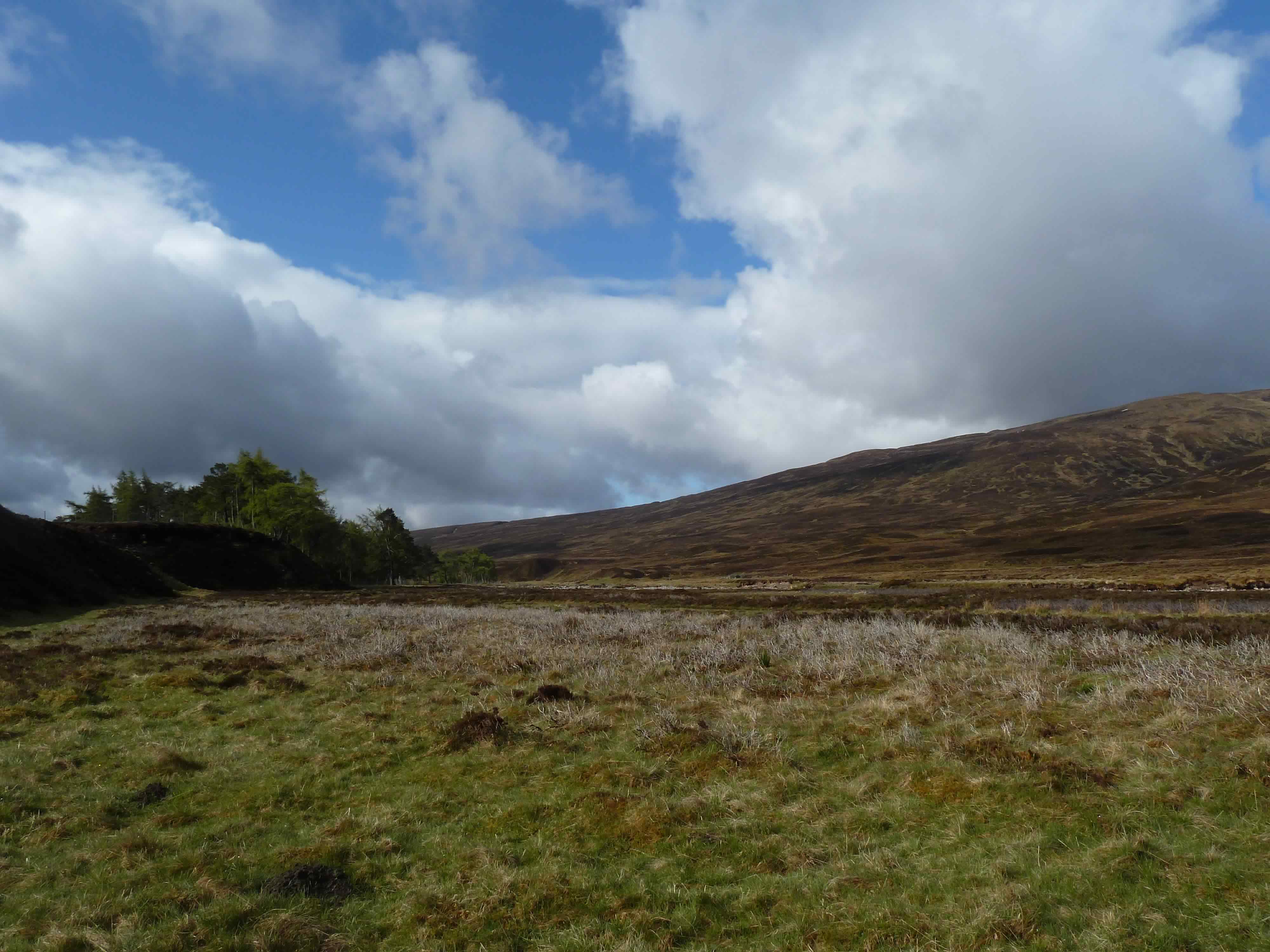 9.04 – Basking in the sun
We hang our jackets and waterproof trousers to dry. A luxury.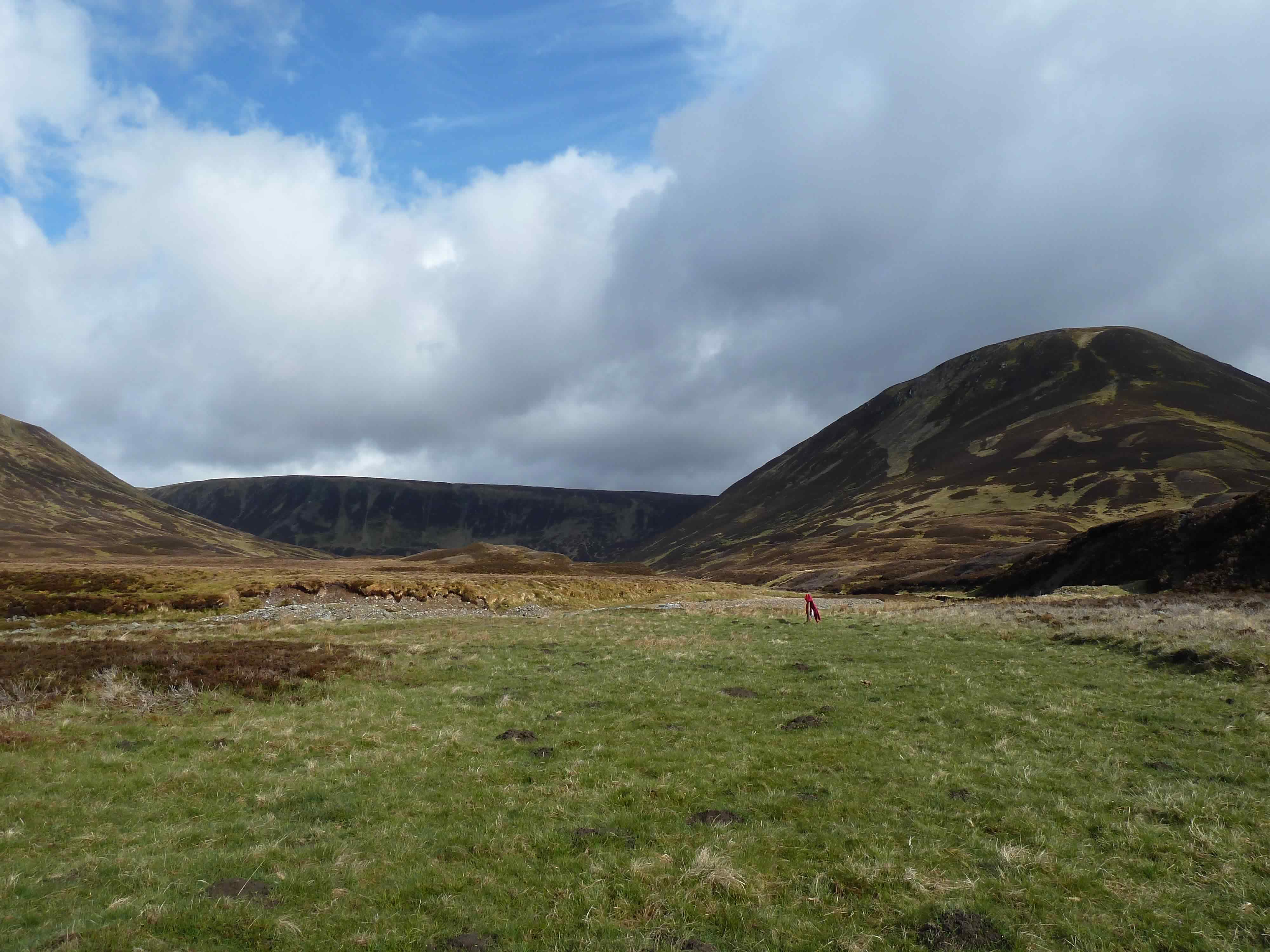 9.04 – An Dun and our drying jackets
When I was emptying the tent, I noticed that Simon had put small bag with some chocolate in one of the pockets. The bag looked chewed and I joked about his eating it during the night.
Then we saw what had happened.
A rodent, we guess, had had a go at the tent to get to the chocolate. It's the second time in a row we've had a rodent attack.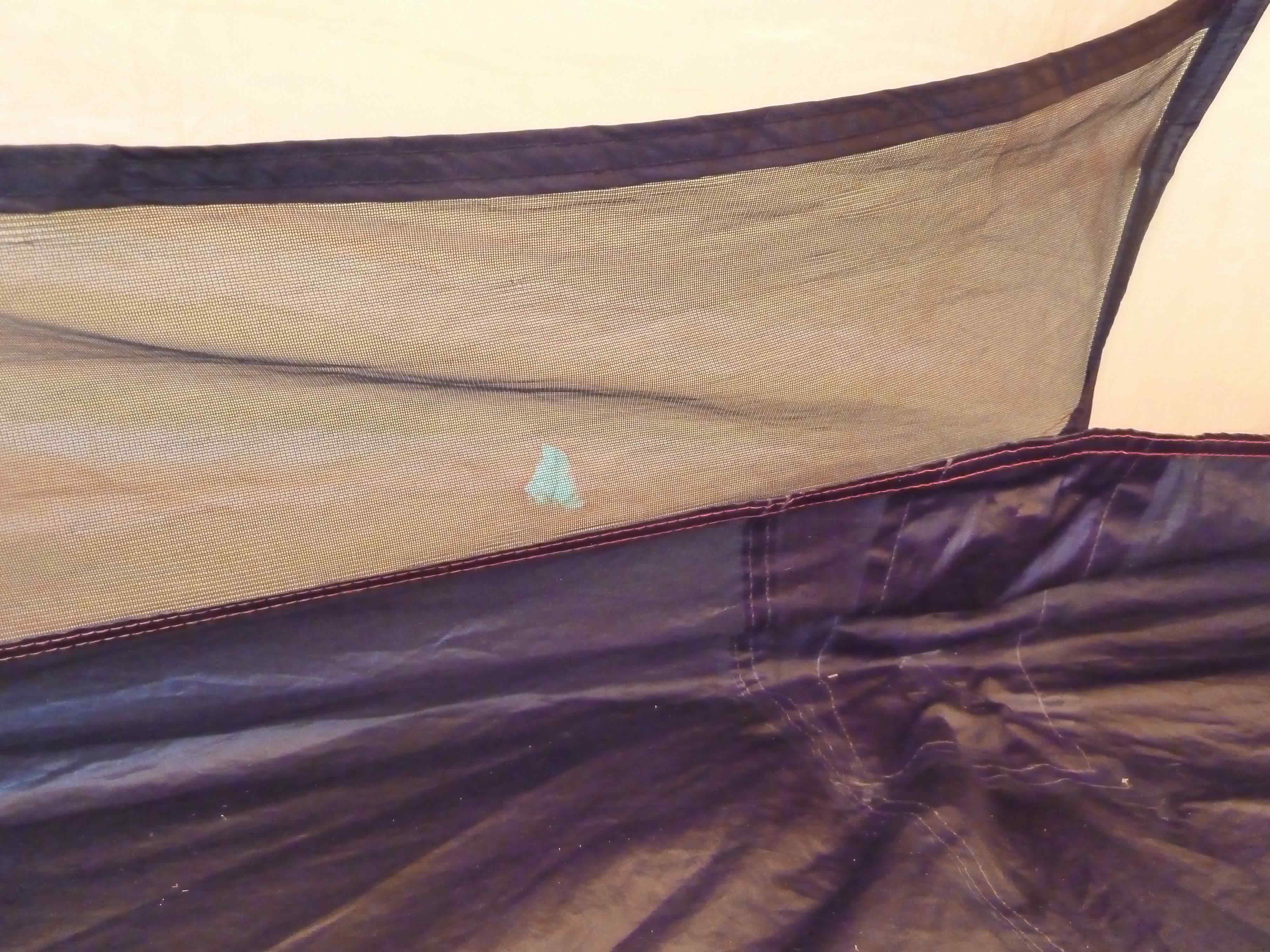 9.31 – Our gnawed tent
We broke camp at about 11.30. By the lodge we met a estate worker and we chatted for a bit.
We also saw a group of about six hikers heading for the Corbetts.
The ride out is easier than in. Somehow I hardly noticed the gravel and rocks.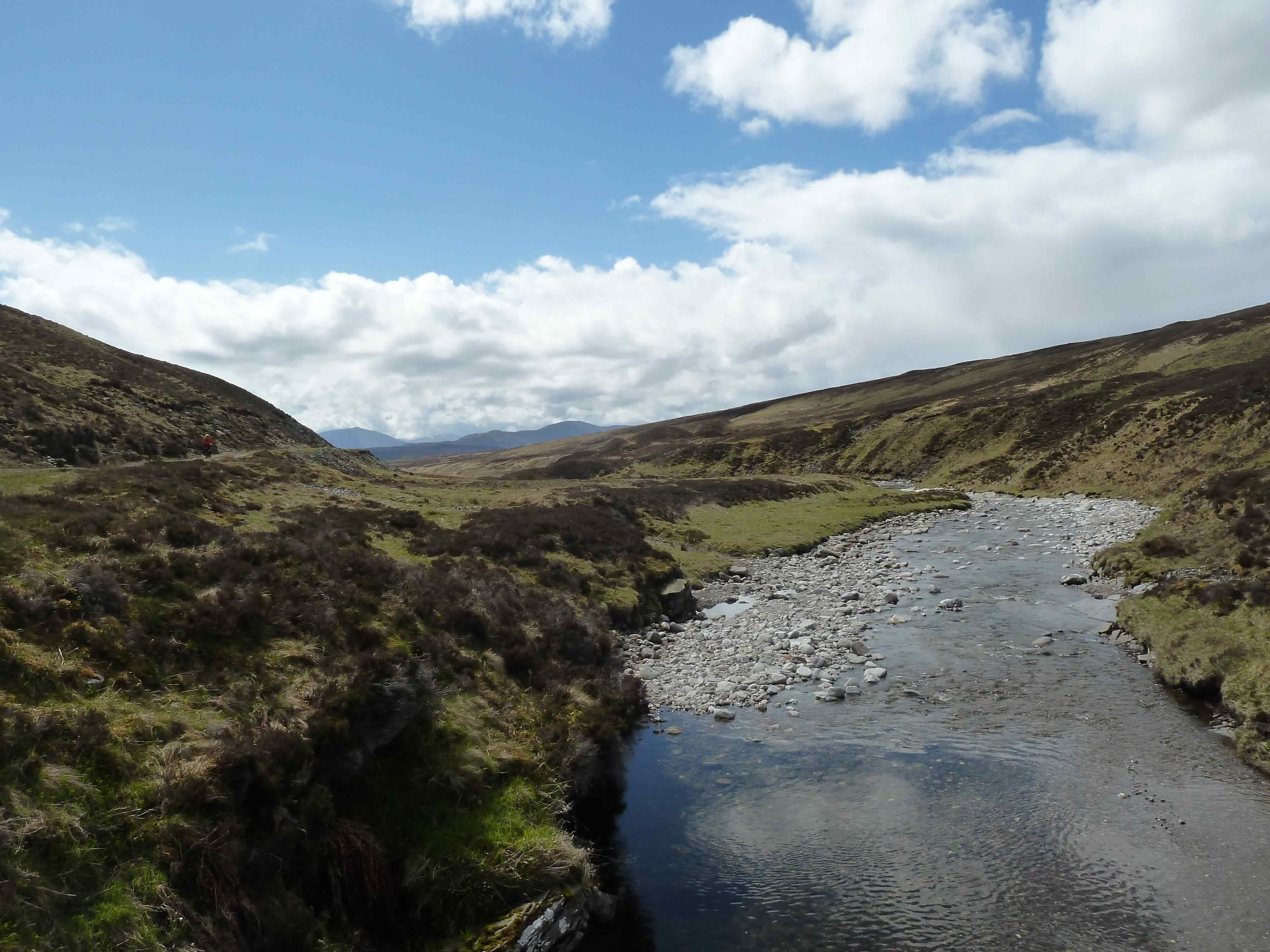 11.59 – Cycling out in no hurry
The views all around us were spectacular.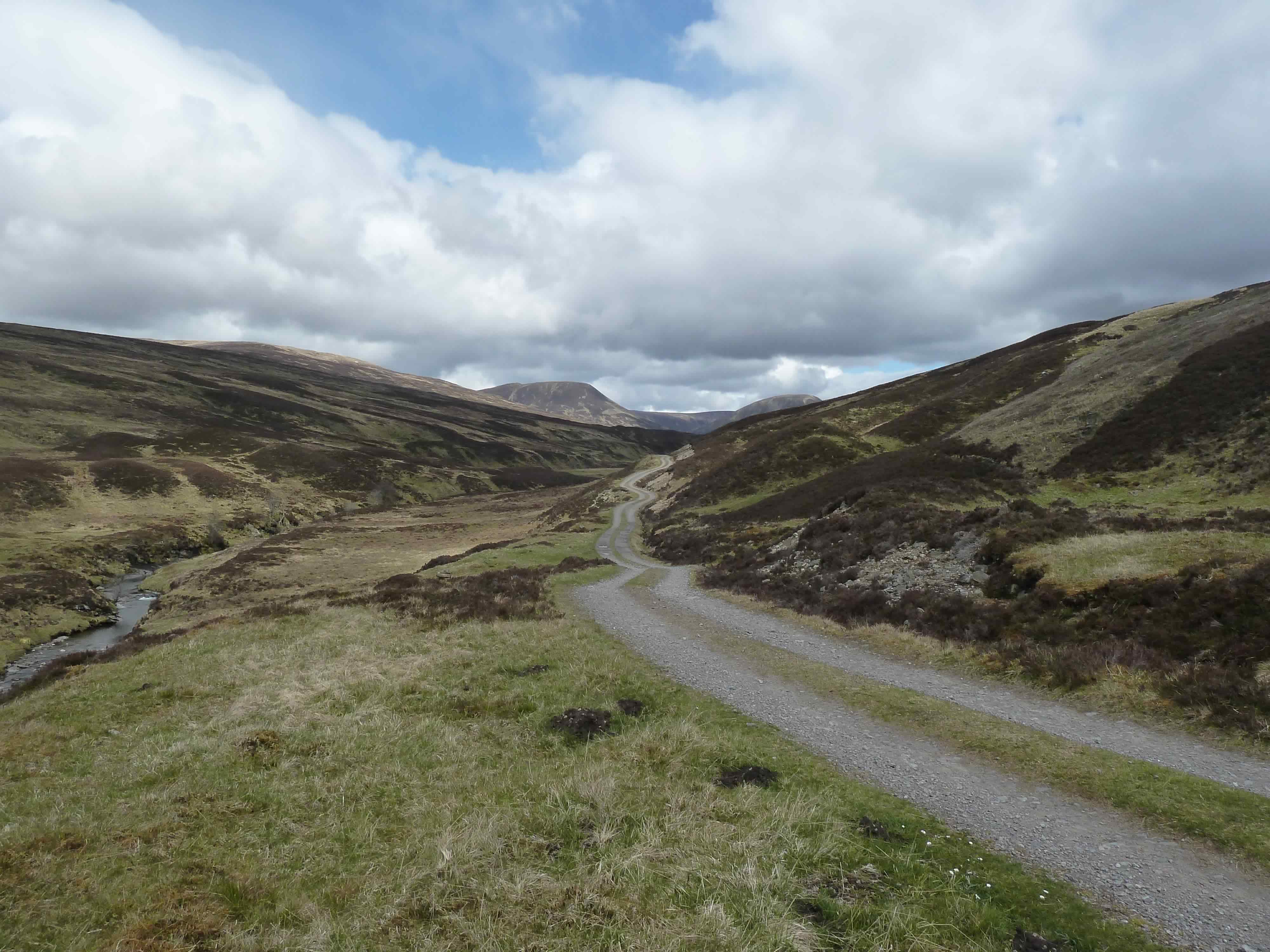 12.11 – Looking back at our path and hills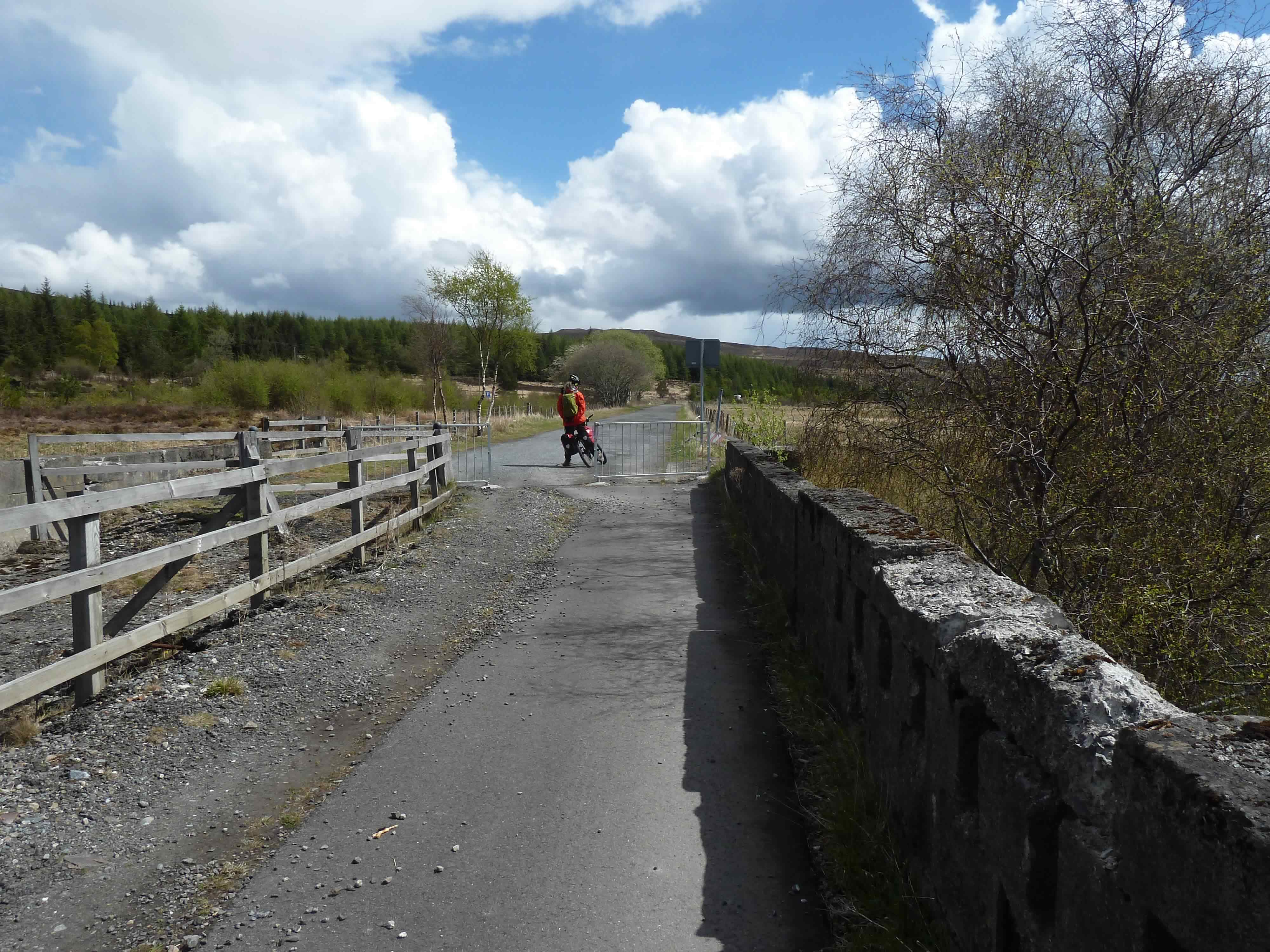 13.07 – Back on the smooth and easy path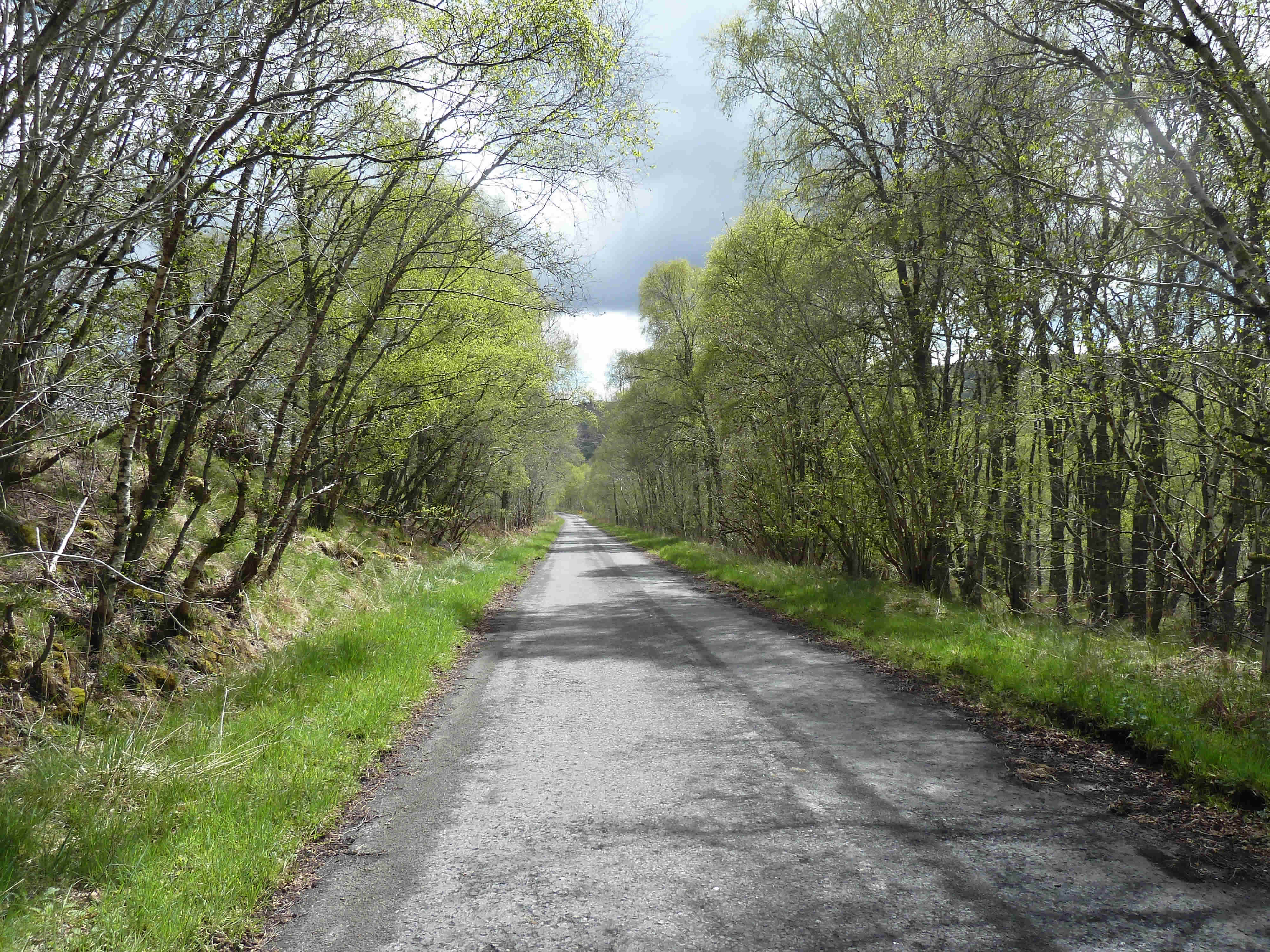 13.19 – Gliding back to Blair Atholl
We went back to Blair Atholl the same way we came, past the bridge and along the river Garry.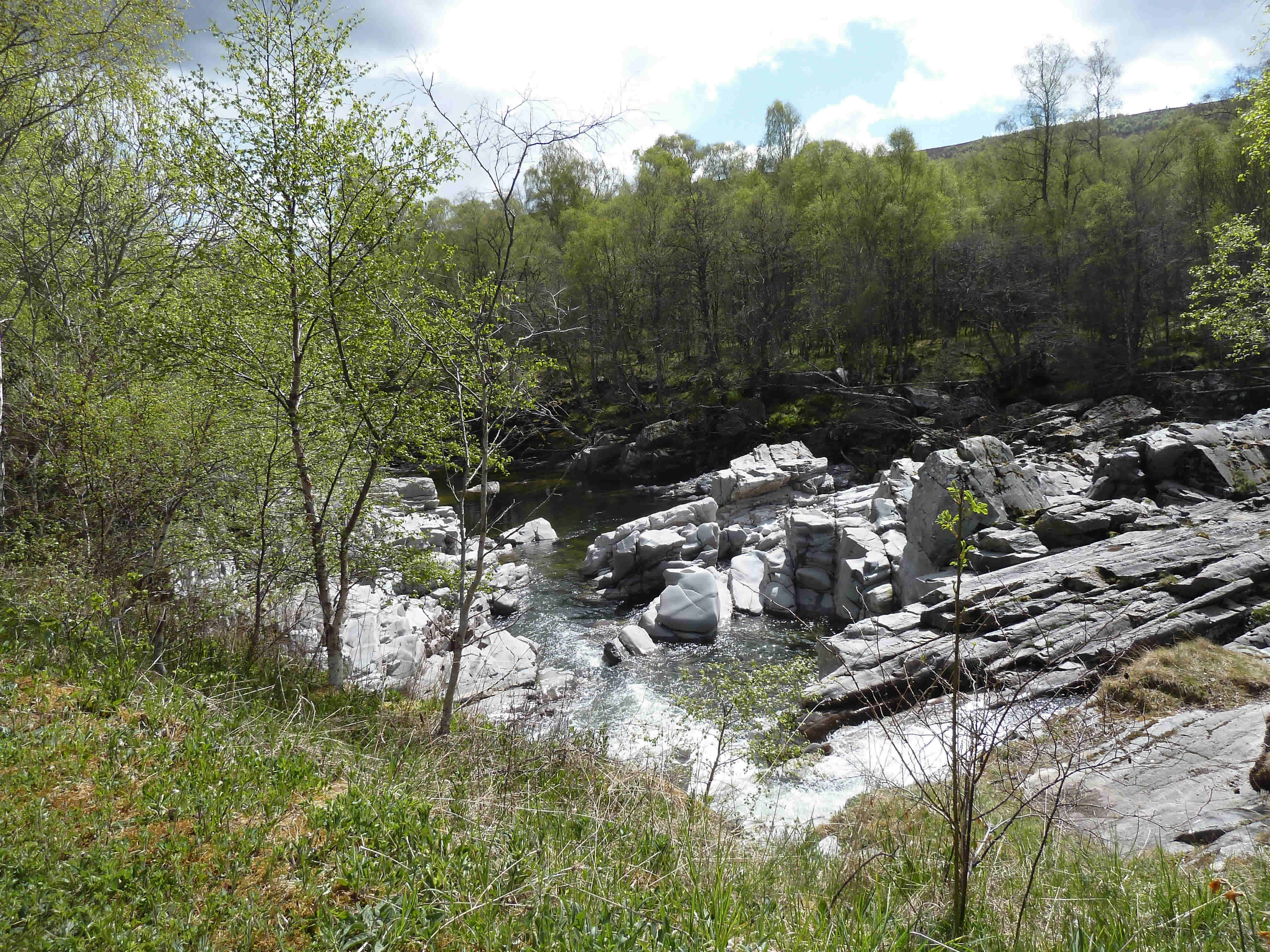 13.26 – The picturesque river Garry
We had time to spare, so we went to Calvine. First we saw this awesome bridge: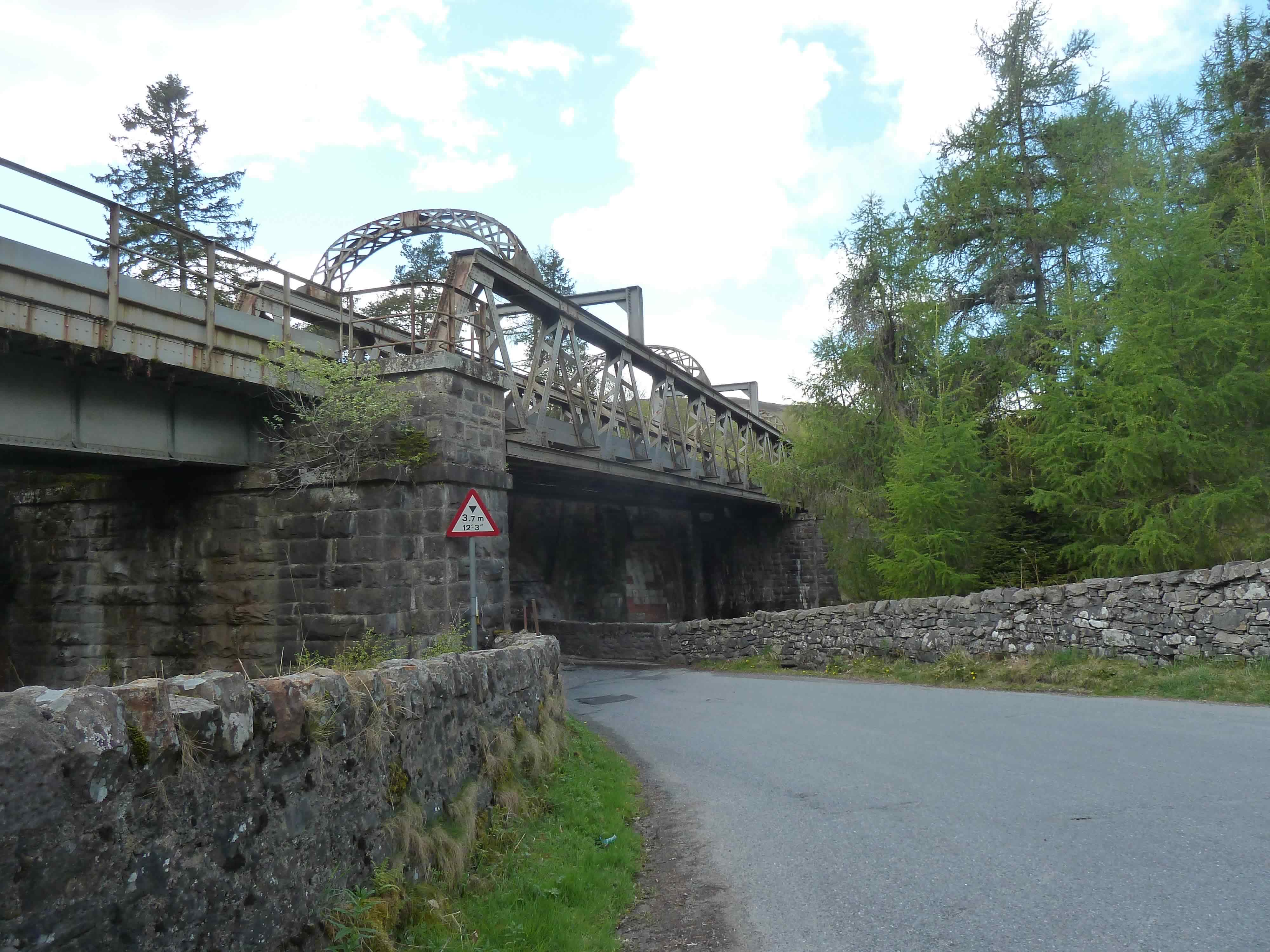 13.44 – Old metal bridge near Calvine
Then we found the Struan Inn. It looked lovely, but unfortunately it closes on Sundays.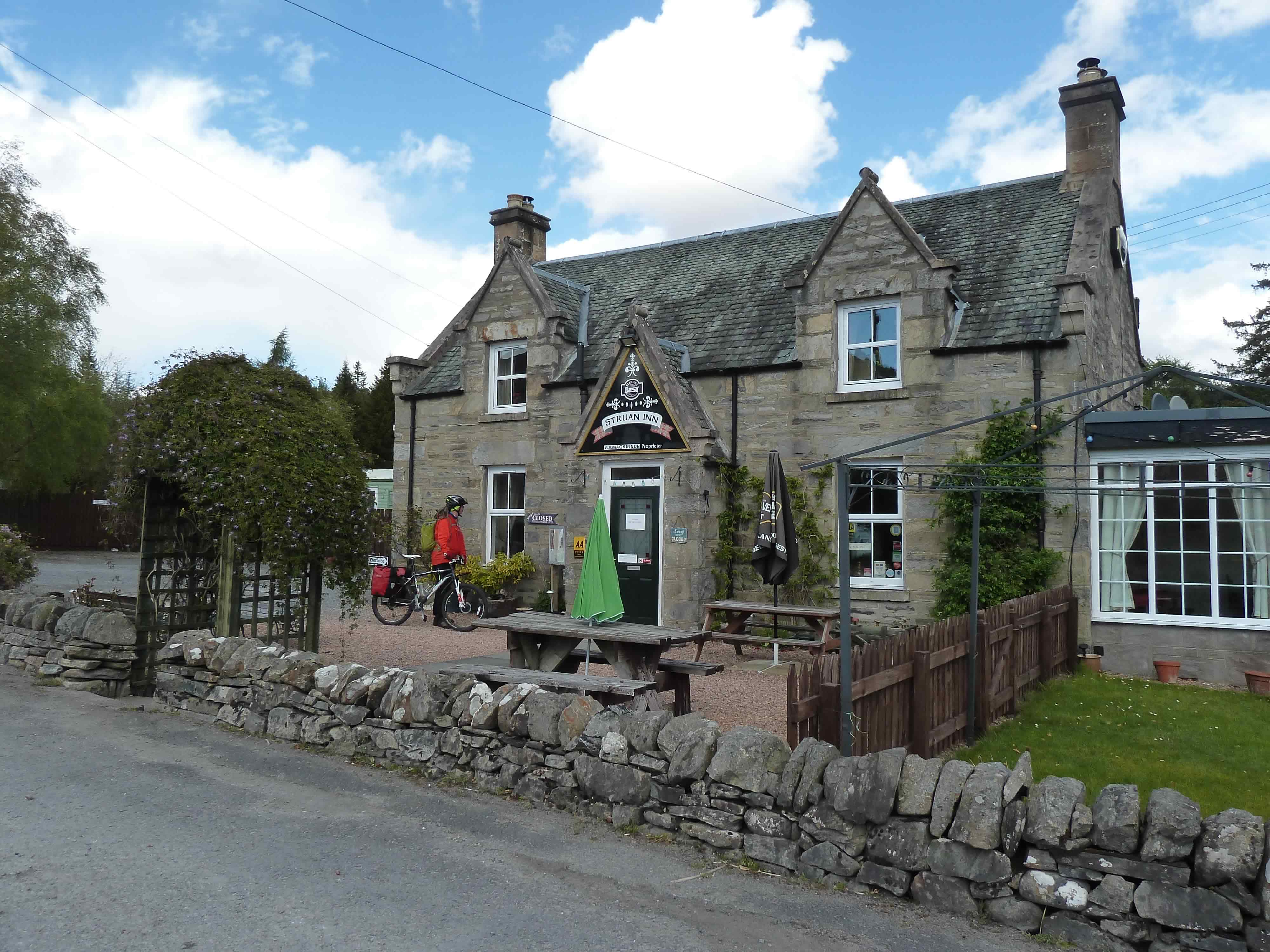 13.46 – The Struan Inn, for a future trip
We rode past Blair Castle, which looked majestic in the spring sun.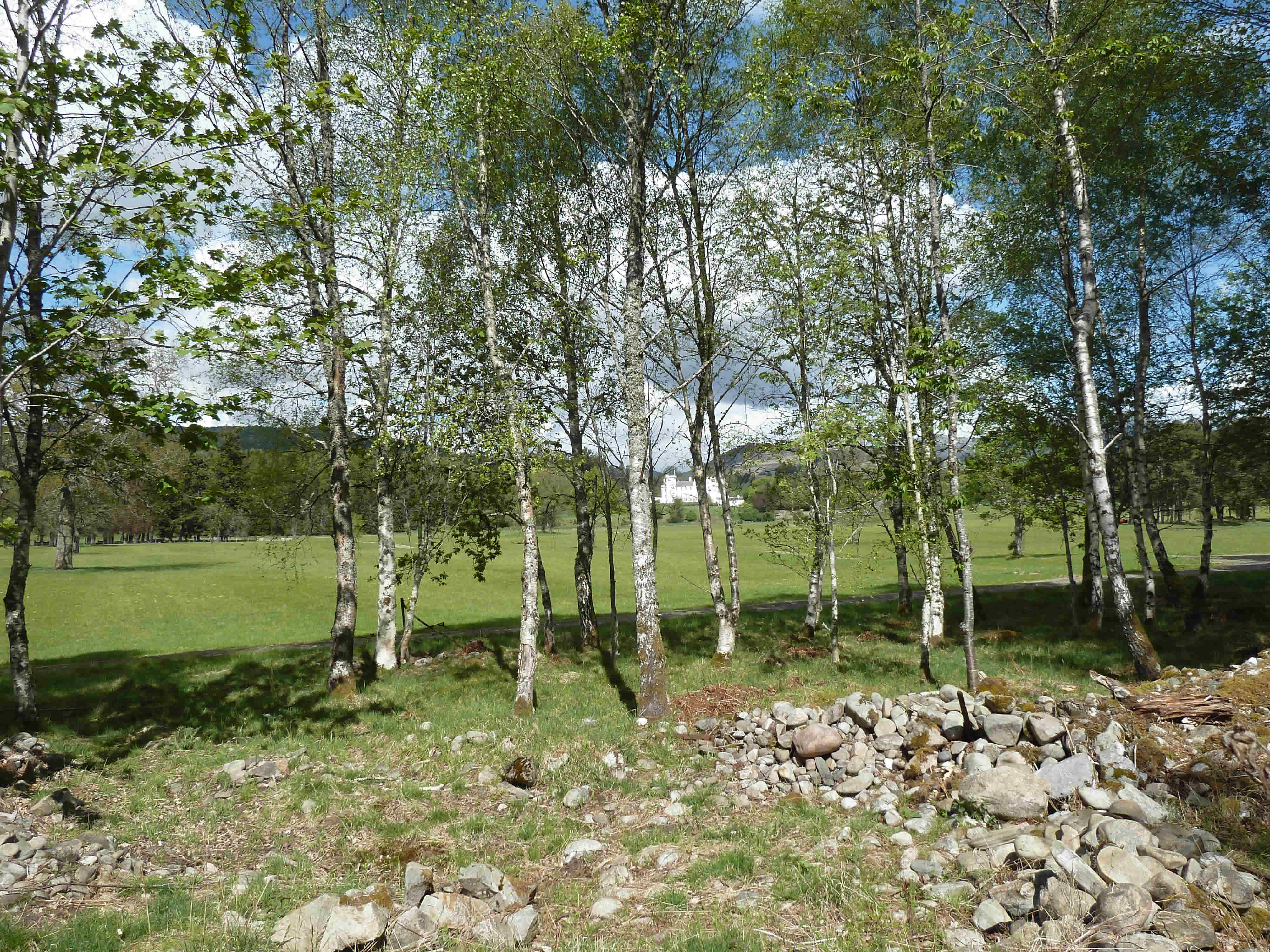 14.12 – The majestic Blair Castle in the sun
We got to Blair Atholl by 2.30 and parked ourselves at the Watermill Cafe.
We knew it had rained very little the previous weeks, and this announcement at the Watermill Cafe confirmed it: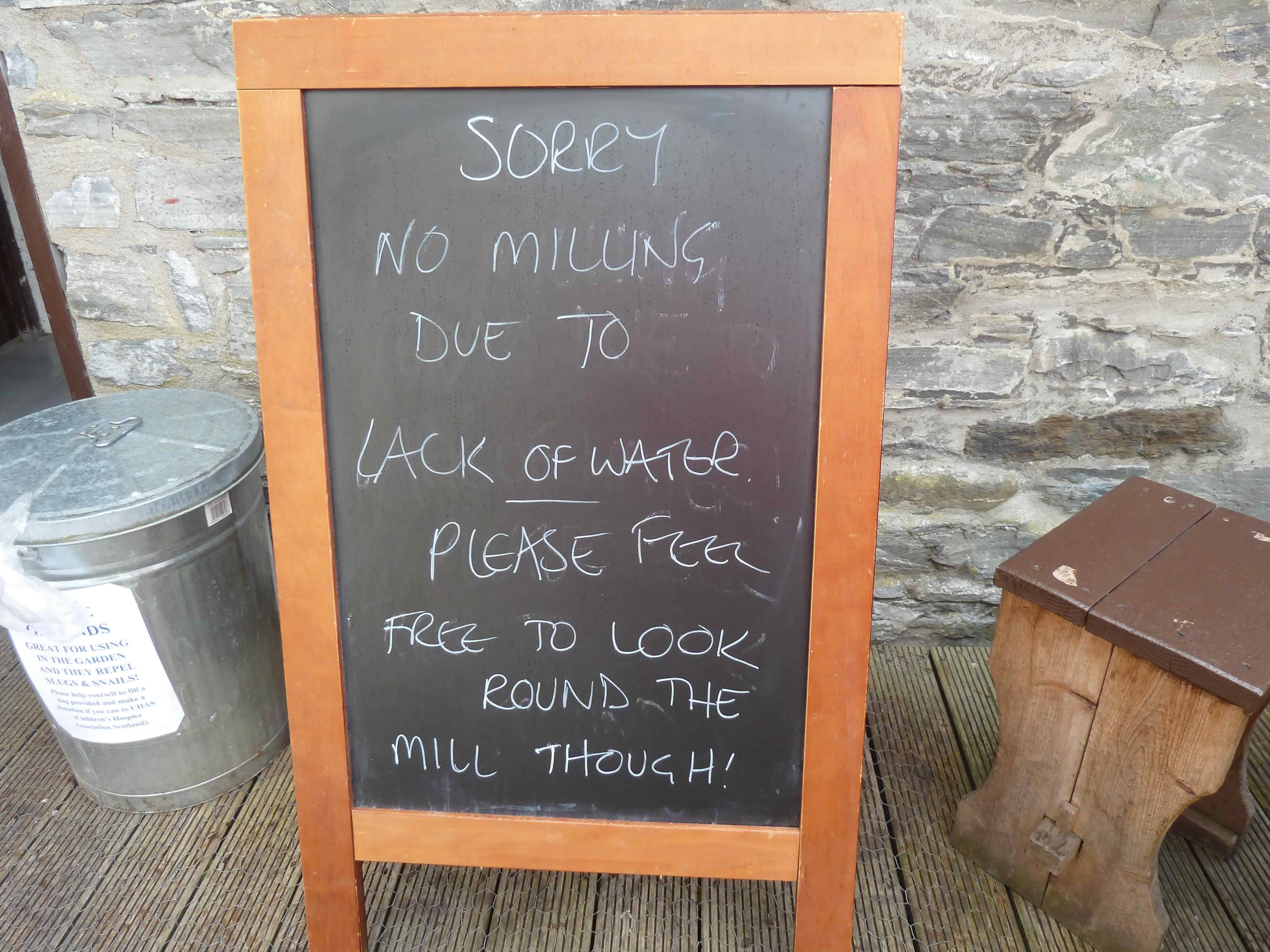 15.05 – Curious sign at the Watermill Cafe
We had lunch at the Watermill Cafe, outside.
Simon had a soup and bread, and I had the smoked salmon with cream cheese and salad. We also had a Victoria sponge and a Mars crispy.
Plus, we bought a sourdough bread for dinner.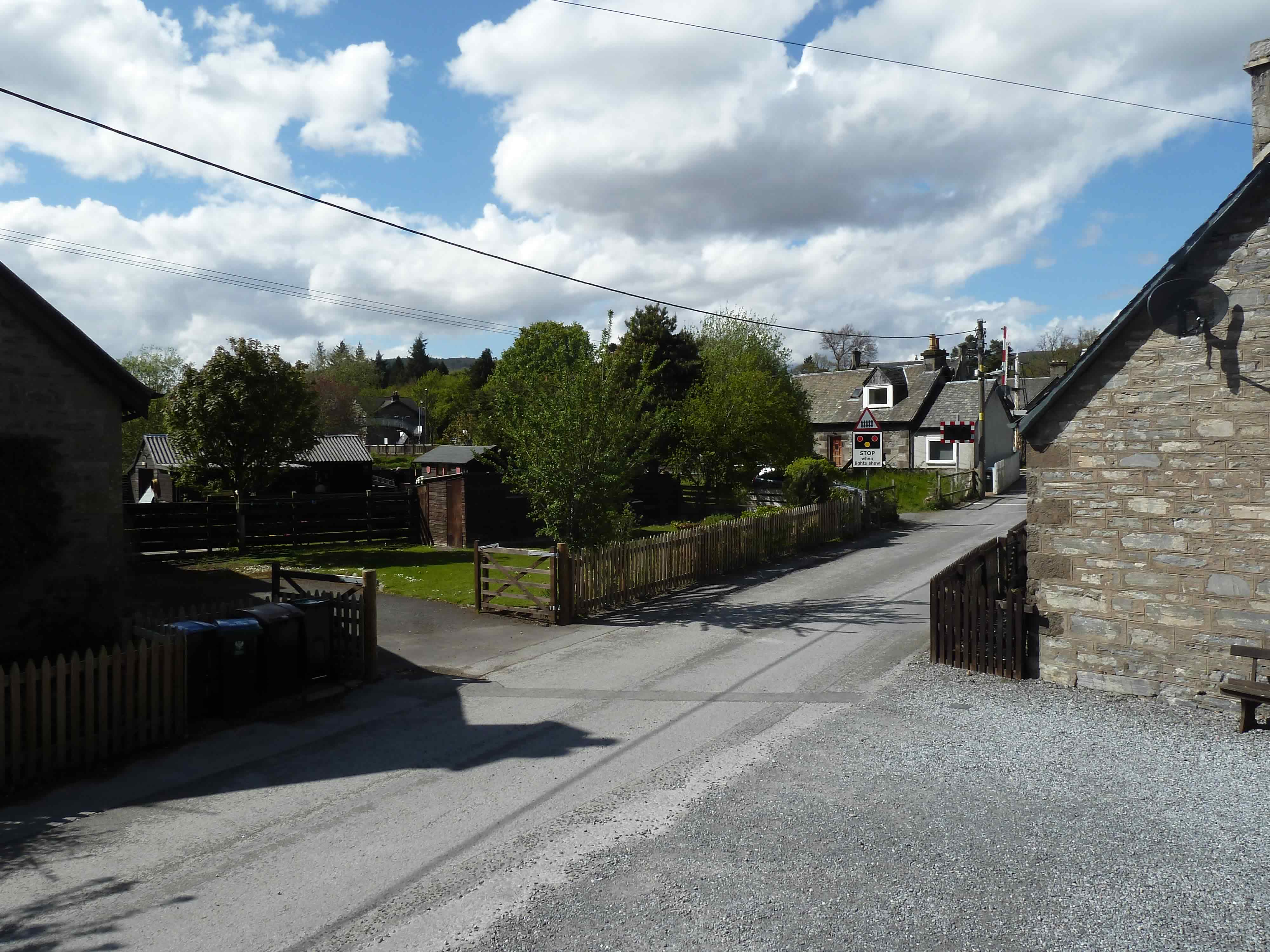 15.40 – View of Blair Atholl from the Watermill Cafe
After lunch we went to the Atholl Arms hotel and sat outside while we waited for the train.
16.43 – Lazing around in the Atholl Arms hotel garden
It was a lovely afternoon. We even got a double rainbow just before the train arrived.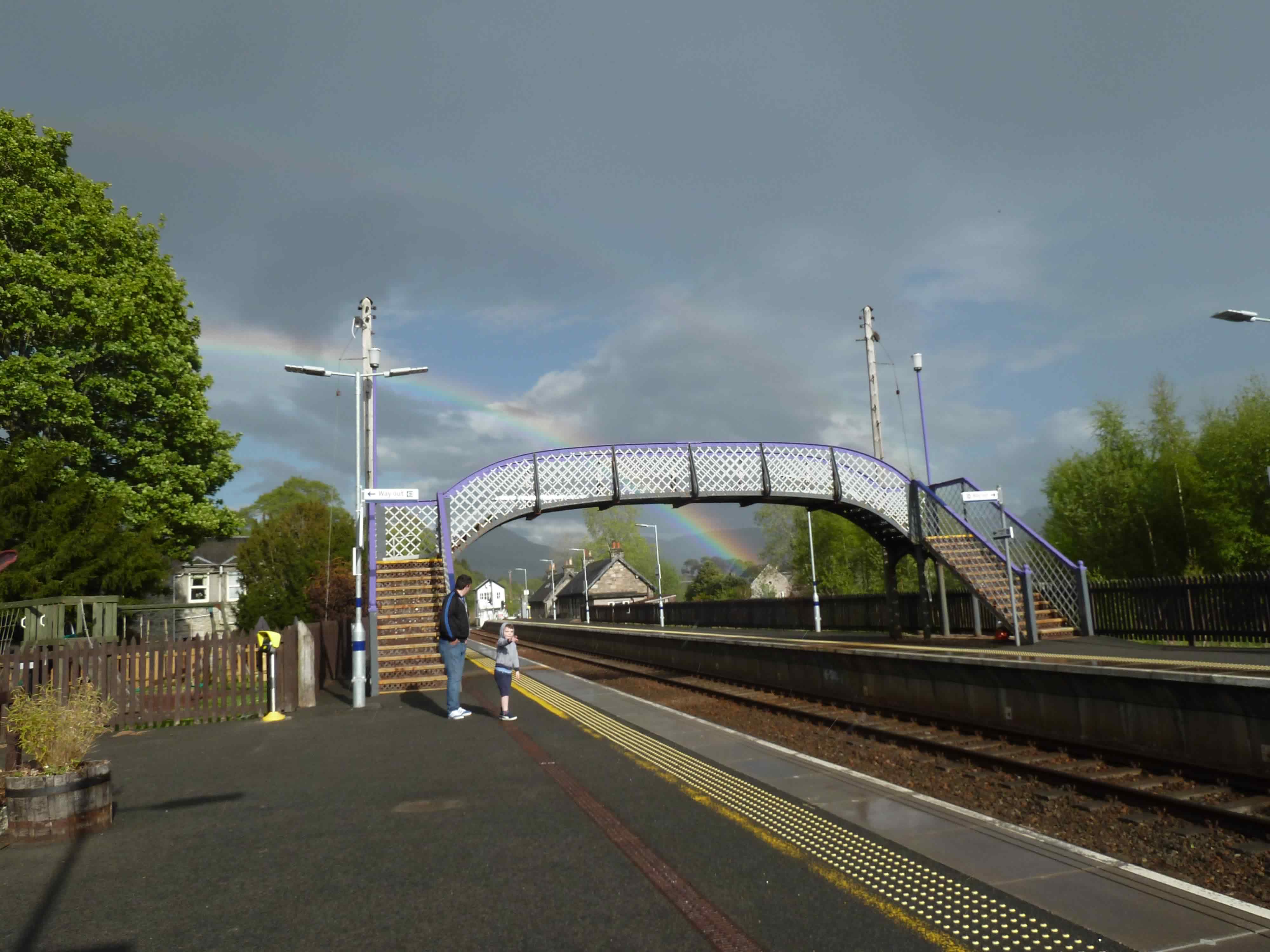 17.56 – Blair Atholl saying goodbye with a double rainbow
On the way back we had tickets to Stirling. The train wasn't too busy. At Stirling we took the train to Waverley from the same platform and got home at about 10pm.
It was a fabulous trip. I loved the mixture of familiar places and new hills, the sun and navigating in the cloud.
---
I took all the photos with the Panasonic, except for the panoramics.
* Simon took these two photos.